Cleans oxidized, yellowed and hazy headlights

Professional, clear finish

5-step restoration kit for a heavy-duty restoration job
Includes two sanding pads
The buffing wool pad attaches to a corded drill for easy use
Lacks coarse sandpaper to remove severe pitting
Premium option
Higher quality ingredients
Includes: 3 restoration pads of various grits
Excellent kit for heavily damaged headlights
A good option for manual sanding
Sealing wipe included for added protection
The restoration process is time-consuming
If you are having trouble seeing the trail on your nighttime drive, then poorly performing headlights are the most likely cause. Don't waste any time in getting to the root of the issue. I suggest that you check your headlight bulbs and the condition of your headlights at the earliest.
Due to repeated use and general wear and tear, headlights can become worn out and blurry, which can severely decrease their performance and make it difficult for you to see clearly at night and dimly lit roads. To ensure that your headlights are working effectively, you might have to restore them to their former glory by using a headlight restoration kit.
In today's post, I will share with you my choice of the best headlight restoration kit, as well as my essential considerations to keep in mind when buying a kit.
Things To Consider Before Purchasing A Headlight Restoration Kit
There are a few factors that you should be mindful of when making the purchase decision of a headlight restoration kit. Doing your research will ensure that you do not waste money on a lousy headlight restoration kit that will cause irreversible damage to your headlights.
Parts Included
One thing I would suggest that you look at first is the list of items included in the kit. Doing this will also give you an idea of the various equipment you might need to use the package, such as a polishing machine. Although, mostly polishing pads intended for tools can be used with hands, but that takes a lot of time and effort. Your kit should also include the different types of sanding paper that you would need.
The best headlight restoration kit is the one that doesn't require you to make additional purchases.
Price
Pricing is a significant consideration when buying a headlight restoration kit. It is most likely that you will get what you pay for in a package. The inexpensive kits might be lower in price because they lack essential items, which means you might have to make additional purchases that will add to the final cost of the restoration.
I would recommend that you spend a few more dollars to get a quality restoration kit with all the necessary items that are also of high quality so you can get a good result.
Read Reviews
One of the easiest ways of estimating the quality of a product is to check recent reviews. If, like me, you are buying your headlight restoration kit from Amazon, then be sure to read recent reviews first. Focus on reading good and the negative reviews to get a better understands of what's in store if you get the kit.
I recommend that you only consider a kit that has over a rating of above four stars to ensure that you are getting the right product that other users have also enjoyed using. It is easy to find information about a product on various social media platforms including YouTube.
Follow Instructions
Make sure (if you are new to restoring headlights) that the kit you are buying has detailed instructions included to guide you through the process. It would be best if you remembered that restoring headlamps to their full glory is a time-consuming task that requires a lot of effort.
I would suggest that you take your time and follow instructions carefully to avoid any costly mistakes later. Let us face it; nobody wants to pay hundreds of dollars for headlight replacement because of a poor restoration job.
Reviews of The 8 Best Headlight Restoration Kits
1. 3M Headlight Lens Restoration Kit, 39008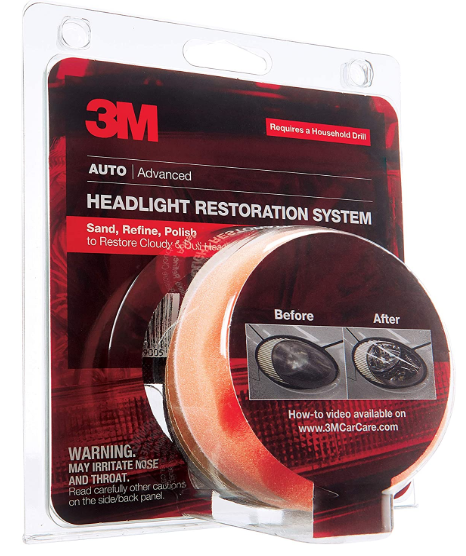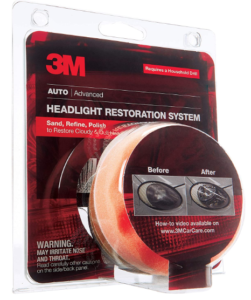 3M 39008 Headlight Lens Restoration System has got to be my top favorite headlight restoration kit. I have used several kits over the years, but if someone asks me to choose the best headlight restoration kit, 3M 39008 is always my top suggestion.
This affordable kit includes a disc holder for household drill, 3M Trizact sanding discs, compounding pad, and rubbing compound. My only complaint is that the kit doesn't include drill, tape, and clean cloth.
Pros & Cons
Pros
A trusted brand for automotive restoration kits
Pocket-friendly option
Includes adequate sanding disc for restoration
A quick 4-step 1-hour process
Cons
Masking tape not included
2. Turtle Wax T-240KT Headlight Lens Restorer Kit

Turtle Wax T-240KT deserves a place in my list because it is my go-to restoration kit when I have to restore heavily pitted and damaged headlights.
However, I wouldn't recommend this kit to first-timers because, according to my experience, the restoration process requires a lot of effort and time. But if you are looking for fantastic results and you are willing to invest both time and effort, the Turtle Wax T-240KT is hands-down the best headlight restoration kit.
Pros & Cons
Pros
Includes: 3 restoration pads of various grits
Excellent kit for heavily damaged headlights
A good option for manual sanding
Sealing wipe included for added protection
Cons
The restoration process is complicated and time-consuming
3. Meguiar's G2980 Heavy Duty Headlight Restoration Kit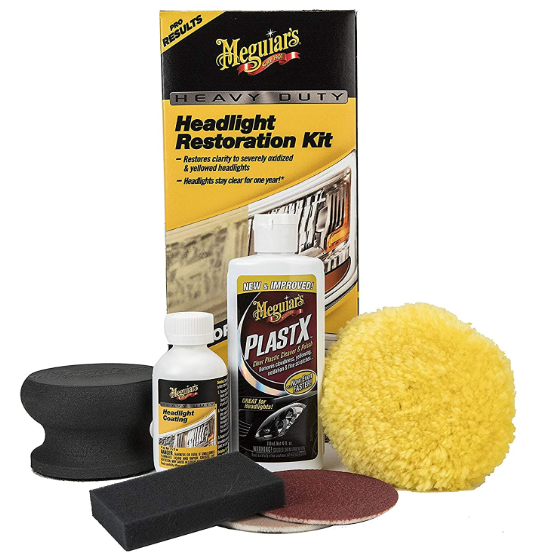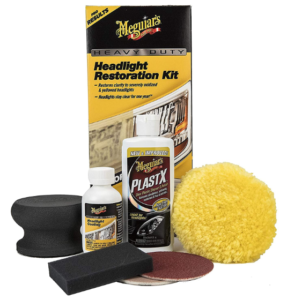 The brand is known for developing vehicle-specific products, and the Meguiars G2980 is among the best headlight restoration kit offerings from the brand.
It is a heavy-duty restoration kit that includes two 1000 and 3000 sanding pads suitable for use with power drills and manual sanding, a pad for manual sanding for fine-tuning, proprietary sealant that protect the headlights from of UV ray damage, a polishing buff wool pad and a polish applicator with a rich gel formula polish.
Pros & Cons
Pros
5-step restoration kit for a heavy-duty restoration job
Includes two sanding pads
The buffing wool pad attaches to a corded drill for easy use
Cons
Lacks coarse sandpaper to remove severe pitting
4. SYLVANIA Headlight Restoration Kit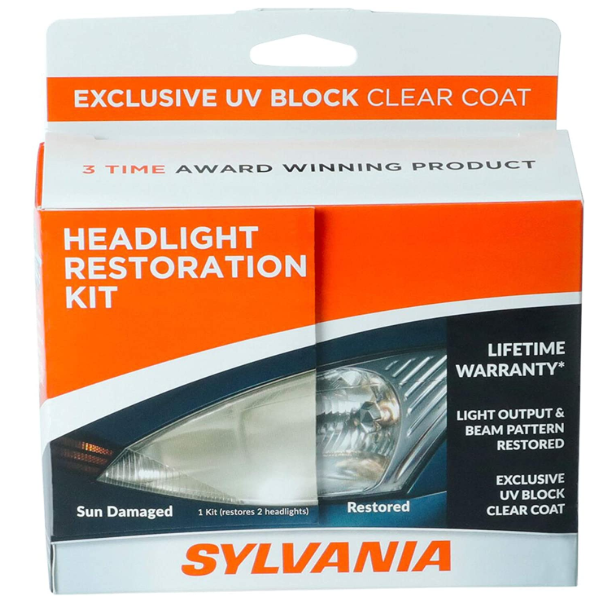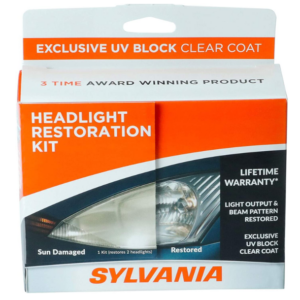 SYLVANIA Headlight Restoration Kit claims that it "restores headlight to a like-new appearance." It was difficult for me to believe this claim when it first came to know about this restoration kit.
After trying it out, I must admit that this is hands-down the best headlight restoration kit if your vehicle's headlights are severely blurry and sun-damaged.
Pros & Cons
Pros
The 3-step easy and effective restoration process
Complete kit with all of the necessary components
Widely popular and trusted brand
Lifetime Warranty
Cons
Time-consuming restoration process
5. Meguiar's G2970 Two Step Headlight Restore
When it comes to the best headlight restoration kit for beginners. The Meguiar's G2970 is always my top choice for its easy and hassle-free restoration procedure.
This kit is excellent for people who are searching for the best headlight restoration kit that does not consume too much time and offers excellent results.
However, if you need a kit that can restore stubbornly blurry and heavily damaged headlights, Meguiar's G2970 might not be the best option for you.
Pros & Cons
Pros
Quick and easy 2-step restoration process

Revolutionary coating protects for up to 12 months

No sanding required

Less time consuming
Cons
Not recommended for heavily pitted and damaged headlights
6. Mothers 07251 NuLens Headlight Renewal Kit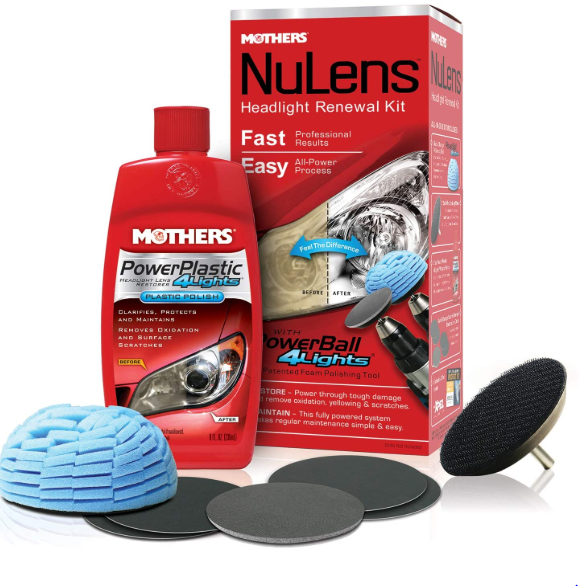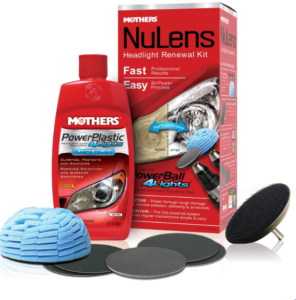 The restoration discs of the Mothers 07251 NuLens Headlight Renewal Kit have an impressive ability to remove minor scratches and grime easily. The backing plate is suitable for severe scratches and restoring shine.
The included polish does the dual job of restoring the shine of your headlamps and protecting it from UV ray damage and oxidation through a protective polymer coating. This best headlight restoration kit comes with an instruction manual, which I suggest you follow carefully to finish the renewal process in an hour. The 8-ounce bottle of polish will last long.
Pros & Cons
Pros
Comprehensive kit for removing heavily UV damaged headlights

Kit includes sanding pads, polishing tool, and 8-ounce polish.

Results will last for up to a year after restoration

Reasonably priced
Cons
Does not include protective sealant in the package
7. 3M Heavy Duty Headlight Restoration Kit, 39175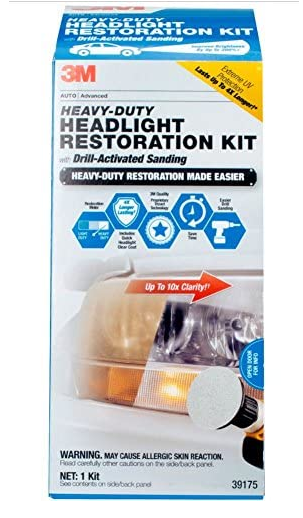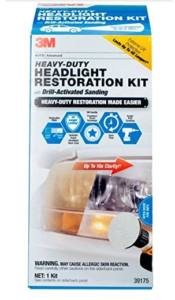 3M is one of my most trusted brands for all automotive care products. Whenever I'm asked to recommend the best headlight restoration kit for restoring heavily damaged headlights at home – 3M 39175 Heavy Duty Headlight Restoration Kit is always my top choice.
The best thing about this kit is that it effectively restores heavily damaged headlights without any specific tool requirement. You can use your common household drill (if required) and get impressive results with this professional-grade product.
Pros & Cons
Pros
Excellent kit for restoring heavily damaged headlights

Restores 10+ years of UV damage

Widely trusted brand for automotive care products
Cons
The restoration procedure is too time-consuming
8. Visbella Professional Headlight Restoration Kit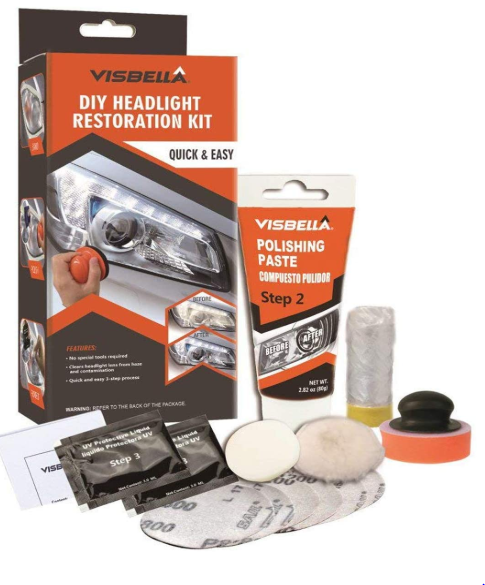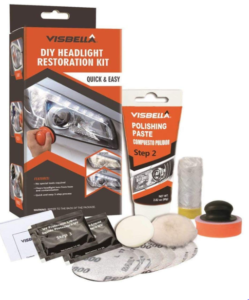 If you are a fan of the old-school, analog way of restoring your vehicle's headlights, then you'll love the Visbella Professional Headlight Restoration Kit.
The 3-step process can effectively restore heavily pitted, and sun-damaged headlights. You can manually restore the headlights, or you can attach the sanding discs of 400, 800 & 1000 grit to a corded drill for the sanding. The restoration process may be time-consuming, but the results are rewarding and long-lasting.
Pros & Cons
Pros
Excellent for restoring yellow, cloudy or foggy headlights

Comes with easy-to-use instructions

Three simple steps: sand, polish, and protect.
Cons
The kit does not include the domestic polishing machine

The components can restore two headlights only
Verdict
Purchasing the best headlight restoration kit does not only ensure a clearer road vision, but it also helps you improve the resale value of your vehicle. Buying the best headlight restoration kit also makes the process a breeze! So not only do you enjoy the process, but the results are also quick and highly rewarding.
If still, by any chance, your headlights' glory is not restored, then try upgrading your car headlights to one of the best led headlights.
Frequently Asked Questions
1. Why have the headlights of my new car gone blurry?
In recent years new vehicle owners complain about their new headlights going blurry earlier than their old vehicle's headlights. Many people have asked me the reason! And I always tell people that the main reason behind their new headlight getting blurred within months is that old vehicle models usually had glass headlights.
Glass headlights are more durable and scratch-resistant than the plastic ones, and they do not even turn yellow or look worn out over time as compared to plastic headlights.
2. Do I require a machine to polish my headlights or not?
It wholly depends on your skill and experience level. If you have polished your vehicle's headlights before by a polishing machine, you may not face any issues! Make sure you do not damage the parts or the paint around your vehicle's headlight.
Polishing with a machine will save you a ton of time! But if you want to do the job properly, I would recommend you to watch a few video tutorials and try polishing your vehicle's headlights by hand.
3. Is it a good idea to mask around the headlights with tape before I start polishing?
Although, I would recommend you remove to the headlight before polishing it. However, if you can't remove the headlight, it is an excellent idea to protect the paint around the headlight with masking tape. Please ensure the tape that you are using does not chip the paint or leave maskers.
4. Is it a better idea to get my vehicle's headlights polished by a professional?
Polishing a headlight properly requires a ton of patience, so it may not be everyone's cup of tea. If you do not have the patience or the skill to do the task, it is a smarter idea to let a professional handle this task.
Although it does not cost much to get your vehicle's headlight polished by a professional, if you want to do it yourself, please carefully read the instructions that are mentioned on the headlight restoration and do not miss any step.