In this article, we take a look at the LED headlight bulbs made by Cougar Motor. 
We made this review following a few weeks spent testing Cougar Motor's LEDs. Our testing focused on the performance and durability of these bulbs, but also the look and value they bring to the table. 
We have been testing automotive lighting for over eleven years, so suffice to say, we know our way around a headlight bulb or two. Our experience allows us to recommend the best headlights for your car. 
As such, Cougar Motor's LEDs are a breath of fresh air after using weak stock bulbs. These LEDs have a durable build, substantially better performance than the benchmark, and a lot of other cool features that we'll get into in just a bit. 
For a more in depth look at the Cougar Motor LED kits, keep reading our review.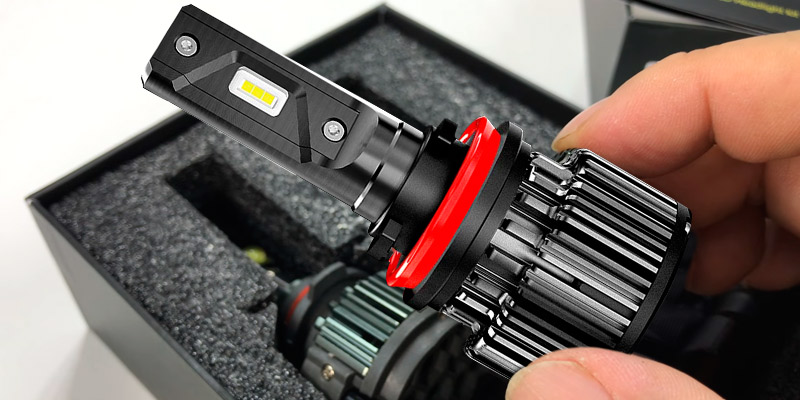 Our verdict
Cougar Motor have made a fantastic LED bulb that is designed to last longer and perform better. This bulb has a great build and provides powerful lighting to make your nighttime drive safer and more comfortable. 
This bulb was designed for the driver who is looking to swap out dim and yellowing stock bulbs for something a bit more modern. And at that, it exceeds expectations, getting our highest recommendation.
Pros
Dramatically improved visibility
Best in class brightness
Best choice for those who want the highest performance
Whitest light
Great look
Wider road coverage
Water and dustproof
Efficient cooling
Lower power consumption
---
Longevity and build quality
Starting off with the build of this bulb, we have an all aluminium construction. Fit and finish is among the best we've seen in the category. The aluminium build mitigates rust and damage over time. It also enables better heat diffusion. 
The design of this bulb is very straightforward so you can install it quickly. Wiring is not as complicated as some stock bulbs. The use of copper facilitates heat dissipation as well. 
Cougar Motor's bulbs use the latest SMD chips which are designed to run at lower power while outputting a more intense beam of light. The intelligent IC driver is a welcome addition, keeping everything running smoothly. It eliminates the risk of overheating.
Lifespan is rated for around 40,000 hours, thanks to the efficient power consumption and highly durable build. That means you won't have to go replacing bulbs any time soon.
Colour and brightness
Cougar Motor's performance is top notch. These LEDs deliver a 300% increase in overall output, making them indispensable for nighttime driving.
The brightness is further bolstered by the more powerful throw and wider angle of projection. These two features combine to give you enhanced visibility in all situations.
Colour profile is another area that benefits quite a lot. The 6000k colour temperature is pure white, making it easier for the driver to see different features of the road. It allowed us to see road signs and potholes more clearly, while also giving our test vehicle a much needed upgrade in the looks department.
Beam calibration is spectacular and we did not face any issues with a blurry or unfocused beam. Beam pattern is also uniform and we did not notice any dark spots.
Another benefit of the intelligent IC driver is that this bulb does not flash or flicker at all during operation. It is stable and looks phenomenal on the front of the car.
Perks and features
Besides the aforementioned high performance and durability, this bulb also has a couple other features that put it over the top. 
A high speed cooling fan makes short work of any excess heat. Running temperatures never exceeded normal ranges. This is also thanks to the extremely efficient power consumption of Cougar Motor's bulbs. In fact, the power draw of this bulb is significantly lower than stock. 
Another great feature that gave us peace of mind was the IP68 water and dust resistance rating. This is an industry leading weatherproof rating, ensuring that your new LEDs won't be damaged in the event of light rain or complete submersion during off road adventures. 
CANbus ready design means you won't have to face any distortion or interference with the radio or stereo.
Conclusion
To sum up, Cougar Motor LED bulbs are an awesome LED upgrade that offer brighter lighting, more efficient power consumption, and a longer lifespan. The colour profile not only looks amazing, but also gives you enhanced clarity and focus. 
Definitely consider Cougar Motor's LED offering if you are looking to improve the safety and comfort of your nighttime drive.