HID kits for cars are popular not only for their look (which is pretty hot) but also for safety reasons. HID (high intensity discharge) can brighten up the road about 300% more than traditional halogen lights can. They are also much longer-lasting and they provide a very cool, crisp looking light pattern.
Choosing the right kit comes down to two factors, personal choice, and the best option. Your personal choice does play a role in which kit is right for you, because you may have had a particularly good experience in the past, or heard good things, from a friend, about a specific hid kit. You can also choose from different colors and different installation applications, such as single bean, bi-halogen, and bi-xenon. But, of course, you want to choose from one of the best options that are reliable, with great reviews, and a proven customer service history.
Our Top 5 HID Kits for Cars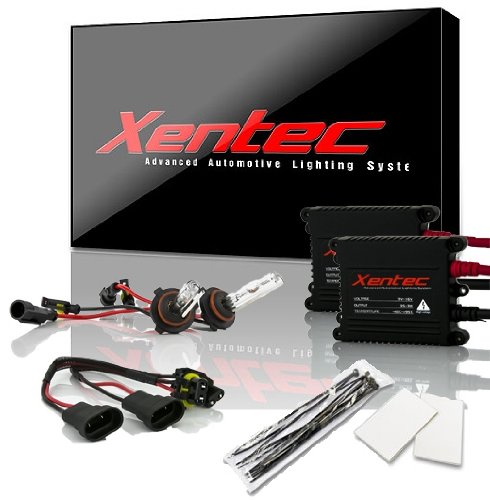 Xentec H4 is a great option. It comes ready to install with 3500-lumen Xenon bulbs. You can expect your new HID lights to last up to 5000 hours. The Xentec H4 offers a hi/lo option where the high beams are still halogen lit. The kit comes complete with plug and plays connectors to make installation super easy. The Sylvania bulbs offer up to 3X's the brightness of regular halogen lights.
Kensun HID Xenon Conversion Kit offers ballasts that are one hundred percent waterproof, one hundred percent shockproof and one hundred percent heatproof. The kit comes complete with its own carrying case 2 bulbs, 2 ballasts that are digital and slim for easy fit and of course step by step instructions. Install time on most vehicles is about 20 minutes.
TheRetrofitSource offers a kit that can easily be customized. You can choose from a full range of bulb colors and sizes. You get two bulbs that have an average of 229 days of life each and 2 fully weatherproof, heatproof ballasts and a full warranty on parts! It is a great deal and is made to fit most cars.
Installation may be done as a DIY project that will take under an hour.
OPTZ 7 Blitz is one of the most sorts after HID Kit for Cars on the market. Six Sigma quality manufacturing cuts back on the flickering greatly with non-cycling technology. A set of heavy-duty aluminum ballast that is fully warranted for 2 years guarantees that you are getting great parts at a great price.
The ballast is silicone sealed which guarantees that the ballast is waterproof, heatproof and rumble resistant.
SDX offers a great HID Kit of Cars. The digital ballast is completely sealed so they are 100% protected from the heat, the weather and from dust and other elements. The kit comes complete with 2 bulbs, 2 ballast and completes easy to follow instructions.