WASILLA — Shera Sowders Melson's first experience with a truck-mounted light bar came on a sunny fall day last year.
Melson was driving west on the Palmer-Wasilla Highway when she noticed a big pickup behind her with the multi-bulb illuminated bar mounted between the hood and engine compartment.RELATED:HID Laws in Alaska
"I glanced in my rear-view mirrors and was immediately blinded by lights, which seemed brighter than looking into the sun," she said. "I had never seen that before. I couldn't believe it was legal."
Throughout much of Alaska, a state where drivers on unlit major highways like the Parks and Seward combat more hours of darkness than any other, there is no limit on the maximum output of headlights. There are some state laws, but they're vague and hard to enforce.
"The state of Alaska's statute is antiquated. They don't have a nice measurable lumen intensity," said Sgt. Gregory Foster of the police department in Fairbanks, where officers pull over three or four potential headlight offenders every week but sometimes struggle to make citations stick in court. "Yes, it needs to be updated."
But it won't be easy to change the way Alaska polices headlights.
Time for the new law?
Sen. Bert Stedman of Sitka says the state started paying attention to public concerns about bright headlights a year or two ago, but the time wasn't right to make changes.
That's changed, Stedman said.
The legislator said last week he hopes to add language about night headlight regulation to a bill he's already introduced to end a daytime headlight requirement in Southeast Alaska.
He said he'd work with state troopers and others to make sure whatever changes suggested in a bill would resolve issues on the road.
But Lt. David Hanson, deputy commander of the state Bureau of Highway Patrol, said even if the Legislature approves something like a lumen standard, troopers would need some kind of light meter to properly enforce it.
"That type of technology is something we don't have," Hanson said.
The state is looking into new technology that could allow troopers on patrol to enforce headlight output regulations if the Legislature approves any, according to an email from troopers spokeswoman Megan Peters.
"(W)e are hopeful that something may be developed, at a realistic cost, over the next several years," Peters wrote. "Unfortunately, there is nothing that exists at this time that would meet that need, rendering us unable to enforce a statute or regulation that creates output limits."
Different kind of light
They started showing up in Alaska a little more than 10 years ago: the high-intensity discharge xenon headlamps that emit broad beams of light two to three times brighter than standard, yellowish halogen bulbs.
The HID lights help drivers see road shoulders, moose and road signs better. More recently, slightly less bright light-emitting diodes have begun showing up in headlights and light bars. Some Alaskans opt for LED over HID because the bulbs last longer and don't max out electrical systems on off-roading trips when winches or other gadgets are also running.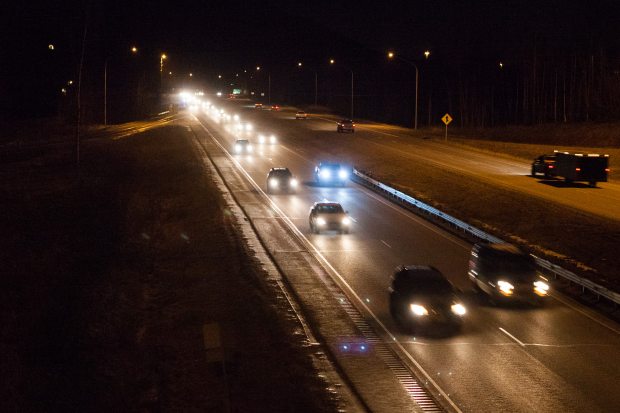 People love or hate the lights, depending on whether they're using them or driving toward them.
A question about HID and LED lights on Alaska highways posted by Alaska Dispatch News to a 14,000-member Glenn Highway commuter Facebook group elicited around 400 comments in just a day or two.
Most were negative, along the lines of "I hate them. They are blinding and should be outlawed." Wasilla resident Nathan Randolph wrote in a message that it's the poorly installed aftermarket lights that drive him crazy.
"I understand wanting to see better but at the expense of others? Many of these (lights) people install specifically say 'for off-road use only.' Using them on the road should be a crime," Randolph wrote. "I practically have to stop my car regularly due to the brightness of some of these lights so I don't run off the road. I hope some laws are enacted and enforced."
Proper installation is key
Fans of HID and LED lights say that's a crucial distinction. There's a major difference between a factory-installed headlight that's bright but contained beneath the level of the lamp and an aftermarket installation job that's not properly adjusted.
Plugging a xenon bulb into a standard halogen bulb reflector case will lead to a scattered beam because the light probably won't be aimed properly. And even a correctly installed bulb may tilt up into oncoming drivers' eyes if it's not adjusted after installation.
Randi Matheson owns a pilot car service and grew up in a truck shop in the 1980s and 1990s.
Matheson, of Anchorage, converted her Dodge Ram headlights to LEDs and added a light bar. She said the change made "over a 2,000 percent difference" and lets her see road signs and conditions ahead on dark, rainy nights.
"It's white light versus yellow, dingy (light)," she said. "It's like having an oil candle versus the sun."
She had friends at an Anchorage shop do the installation after another business put on the light bar and made it "look like a blind person did the wiring."
Matheson said it's crucial to make sure whoever installs new aftermarket lights also adjusts them to make sure they're aimed properly. Even a trailer can make all the difference.
Say you've got a Ford F-150 and hook up a snowmachine trailer. The weight on the trailer tongue could raise the alignment of the lights at least a few inches, Matheson said.
"That's putting it right in the line of vision to the opposing driver," she said. "That's what's causing the road rage incidents. And there are just people who don't care."
Accidents from glare
State troopers couldn't say how many accidents — if any — have been linked to glare from HID or LED lights.
Preliminary data from a 2013 state database shows 74 crashes associated with glare out of more than 12,000 statewide, according to Clint Farr, crash data manager for the Alaska Department of Transportation & Public Facilities.
Of those, 24 were associated with the sun and two with bright headlights, which could have been regular high beams, Farr wrote in an email. Reports on the other 48 crashes didn't indicate the source of the glare, he said.
Farr said he has yet to come across a report that singles out HID or LED lights as a crash cause.
Melson, the driver blinded by a light bar last fall, said she actually changed her route to escape the pickup. She said bright lights can trigger migraine auras that cause a temporary loss of central vision.
"It's a good thing I didn't have a baseball bat in my car or I would have gotten out at a light and taken care of the problem," she said.
Letter of the law
Alaska does have laws regulating headlights, but critics say they were written for halogen bulbs.
Alaska administrative code requires that headlights emit white light and be mounted no more than 54 inches high. Drivers within 500 feet of oncoming traffic must ensure "the glaring or high-intensity portion of the light is not projected into the eyes of the oncoming driver."
Drivers coming up on someone from behind need to dim their brights within 300 feet. Drivers using auxiliary lights projecting more than 300 candlepower can't drive with more than four lights on.
Municipal police officers from Fairbanks to Anchorage say they do stop vehicles for headlight violations. Fairbanks Police Department traffic officer Ron Dupee makes three or four traffic stops for headlight glare every week. A few years ago, Dupee investigated an unusual complaint: Two drivers called 911 to say the other blinded them with bright lights at a stop sign.
One driver had bright lights on the front of his pickup, Dupee said. The other had "BACK OFF" spelled out in 18-inch letters on the rear of her little Honda Civic — along with a lightbar.
Dupee, who said he uses glare stops to educate drivers before ticketing them, didn't cite either one.
But the Honda Civic with the rear-mounted light bar shows how tense things can get, he said.
"People are mounting LED light bars on the back and turning them on in traffic to flash people behind them."
He and his sergeant, Foster, say they'd rather not take headlight violators to court. But when they do, they have to argue the case based on high beam violations rather than too-bright lights causing glare, and that doesn't always convince a judge.
"What we're dealing with ultimately is case law and how the courts interpret it," Dupee said. "It depends for us which magistrate or hearing officer." Source: Alaska Dispatch News