This is a review of Hikari's LED headlight kit.
We tested the Hikari LED headlight kit, considering factors like the performance, durability, and even the look of these headlight bulbs when installed on the car.
We have been reviewing automotive lighting for over a decade, and after testing thousands of headlight kits, we know all the ins and outs of lighting.
That is why we are confident in recommending these bulbs to you.
HIkari left us stunned by the powerful output of their LED bulbs. They also feature a sexier colour profile and drastically better lifespan, making them an easy recommendation.
Keep reading for more of our thoughts on Hikari's LED headlight kits.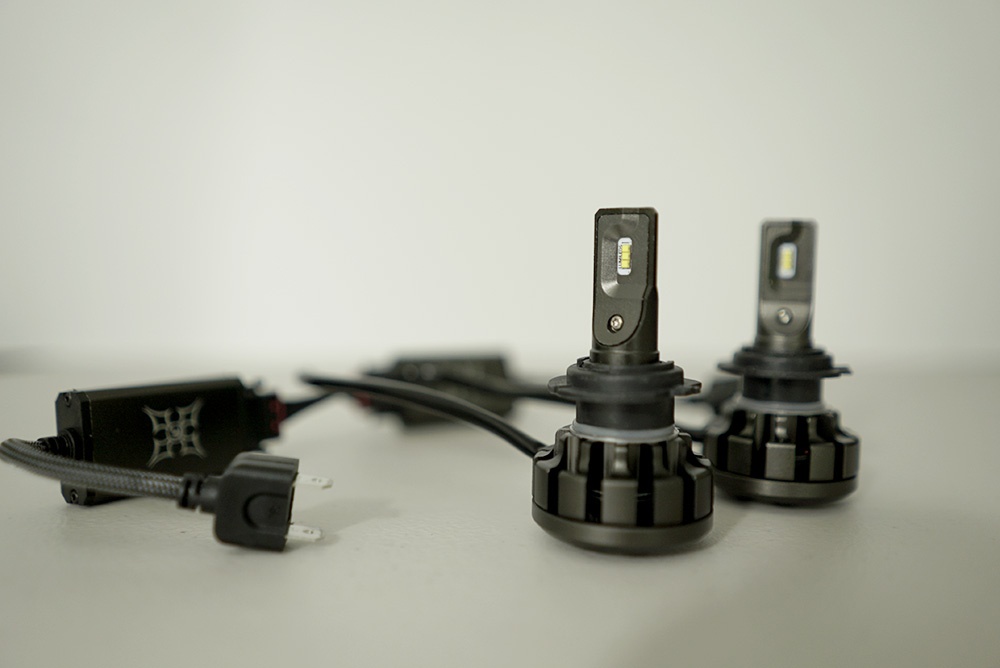 Our verdict
Hikari's LEDs offer a lot of power and high brightness. In addition to the performance, they are also a lot more durable and long lasting than the competition.
It is easy to recommend these awesome bulbs to most people thanks to their flawless performance and best in class longevity.
Pros
12,000 lumens
6500k
CANbus built-in
More intense light output
Whiter color
Farther throw
Wider projection
Uniform beam pattern
Lower power consumption
Extended lifespan
Hikari provides additional decoders free of cost
2 year warranty
---
Longevity and build quality
Build quality is one of Hikari's strong suits. These LEDs are constructed with aluminium and other high quality materials that resist damage over time. The use of the latest Philips LEDs makes these bulbs more efficient and better performing.
Aluminium allows for faster heat diffusion and the addition of copper only makes it more efficient. These Hikari's have 6 LED chips per bulb which enables brighter output.
The intelligent IC driver seen here is another welcome addition as it regulates power going to the LEDs and keeps the whole setup running smoothly. The durable build also facilitates best in class longevity of around 50,000 hour
Colour and brightness
The real star of the show is Hikari's fantastic performance. Light output is rated for an astounding 12,000 lumens. This gives you substantially better illumination and a safer driving experience. Visibility is top notch thanks to the bright output and superior calibration of these bulbs.
Speaking of which, we loved the more powerful throw and wider angle of projection that you get with this kit. It brings more of your path into view, both in front of you and to the sides.
Overall, the beam pattern is uniform, and we only noticed the tiniest dark spot in the very edge of the beam. It is barely noticeable and does not distract while driving.
The colour profile is also quite nice. 6500k is an ultra pure white that makes all road features and imperfections stand out so that you can avoid them. The beam is also stable and focused, without any blurriness to tarnish the experience.
In summation, the Hikari LEDs provided a lot of illumination. Visibility gets a dramatic improvement and we can't think of any missing features as far as the performance is concerned.
Perks and features
Hikari also outfitted their LED kit with some really useful features. One such feature is the CANbus ready design. This allows you to install the bulbs quickly and without any errors. Furthermore, you won't have to put up with any distortion or interference with the stereo/radio systems.
A two year warranty is unheard of for most LEDs, but Hikari provide one that gives us a lot more confidence when recommending these bulbs. Any manufacturing defects, shipping damage, or unexpected failure are covered.
A unique hollow heat sink design further aids heat diffusion. Combine that with a high speed, 12,000 RPM turbo cooling fan and you get the best heat management of any aftermarket LED. And the fan is also completely silent so you won't get any jet engine noises coming from your car at stop lights (we are just as disappointed as you).
Conclusion
So that's Hikari's LED headlight bulbs. They offer best in class durability and build quality. Their performance leaves nothing to be desired, and the longevity seen here is unlike any other LED bulb.
All said and done, Hikari's LEDs are an absolute beast and one you should definitely consider if you're looking to upgrade your stock headlight bulbs. Happy lighting!
---
Full Test Details & Facts
Low beam Reflector Lux (per): 4390
High beam Reflector Lux (per): 6670
Low beam Projector Lux Hotspot (per): 3030
High beam Projector Lux (per): 6140
Lumens per Kit: 5470
Low Beam Pattern Rating: 5 stars
Low Beam Reflector Glare Lux (at 4″): 50
Tested Kelvin: 6450k
Running Temp: 100°F (38°C)
Rotatable?: No
Heat sink Size: 32mm
Noise: 71db
LEDs/bulb: 6
Direction: Flat, Unique
Driver Type: External, removable
Wattage (per): 23.1
Cooling Type: Fan
DRL/High-beam Dimmable: No
Warranty: 2 years