Luminics offers a wide variety of halogen headlights for those looking to take a step up from their factory headlights, but who aren't quite ready to fully convert to HID. They provide headlights that are larger and brighter than stock headlights (see comparison photos) and offer these bulbs in various colors.
Based in California, Luminics is a smaller company that takes pride in excellent customer service. Any time I've called Luminics, I've always gotten someone on the line in a matter of 30 seconds or less.  Part of the reason for this is because their call-center employees not only provide support for their headlights, but they also act as salespeople. Therefore, the employees have an incentive to answer the phone as quickly as possible in order to generate sales.
This offers many benefits to you, the consumer. First, Luminics employees are very well versed in their product line; able to answer any questions you have about a particular Luminics bulb you are purchasing.  In addition, their salespeople are not "off the hook" once they sell you a product, but they could very well be the employee who answers the phone when you call for technical support.
Because Luminics bulbs are larger and brighter, they actually burn a little hotter than do standard bulbs. Because of this, Luminics also sells wiring harnesses for about $10.00, providing a more heat-resistant barrier between your car's electrical wiring and the headlamp.  This prevents your stock wiring from becoming overheated and possibly being damaged by the aftermarket headlight.  We highly recommend, along with your Luminics bulbs, that you also purchase the wiring harness.  It's better to damage a wiring harness than to damage the electrical wiring on your vehicle.
One of our test units from Luminics actually heated up so hot that it damaged the wiring harness, but a quick call to Luminics and a spare harness was in the mail, along with a complimentary set of their newest bulbs.  Now THAT is customer service. We are led to believe that the problem was not with the actual bulb, but was due to the current being generated by the vehicle, as the harness on the other side of the vehicle never experienced any issues whatsoever.  So, you don't need to worry about harming your vehicle as long as you have the relay harness connected.
So, how did the Pure Blue Krypton headlights perform? We installed them in our reflector housings on a 2008 Nissan Pathfinder and took several photos to give you a good idea of what they might look like in your car.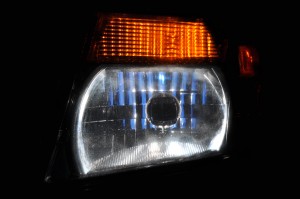 When looking directly into the housing, the headlight almost appears to be blue.  This color comes from the actual color of the bulb.  The class on the bulb has a blue tint to it, which reflects off the housing of the headlight, giving you a blue color.  Because these are not HID lights, they are not quite as bright, but they do have a more attractive color to them, as opposed to standard halogens.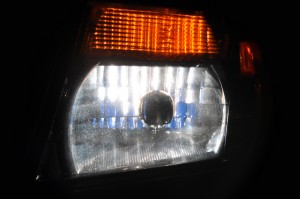 This photo shows the truer color of the headlights.  When you're not looking directly into the headlight housing (which is most of the time), the headlights do not appear as blue, but more of white color.  The photo below shows what the light looks like from the driver's perspective.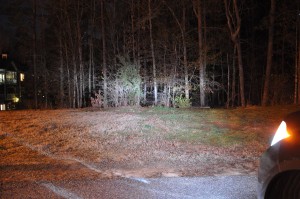 The image below shows the blue tint to the glass of the actual headlight.  This is what gives the blue color to the light.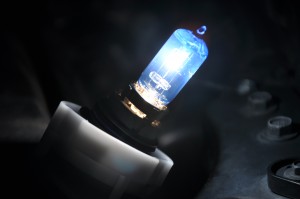 Overall, the Luminics headlamps were quite a bit brighter than the stock bulbs that come most vehicles. As with any halogen lights, the bluer you go, the less light output you get.  Therefore, we stuck to their "Super White" bulbs and were able to see the road much more clearly than before.  In fact, with the Luminics bulbs in, the headlights were considerably brighter than a comparison vehicle's headlights + fog lights.
We recommend Luminics for the following type of customer:
You are displeased with the brightness of your stock halogen bulbs
You are not prepared to modify your electrical system to add HID lights to your car.
You want more light on the road ahead of you.
You are on a tight budget (about $34.50/pr)
If you do choose to stick with halogen bulbs, it can't hurt to restore your headlight housing in order to ensure maximum brightness. 3M offers a great headlight restoration kit for a very reasonable price, and we've got a full tutorial here.