For those of you trying to stay away from the blue light, but are looking for a crisp, clean, bright white headlight, Luminics actually has a great option. A couple of years ago they released a new line that really improved on their previous models. The bulb is larger and produces a whiter, brighter light than its predecessors. When the sales staff informed me of this bulb, I was initially skeptical; however, based on my prior experience with the firm, they offered to send me a complimentary set of the bulbs so I could try them out. The verdict? They provided a clean, crisp white light without having to make any modifications to my vehicle.
So, the bulbs came in the mail, and the first thing I noticed was the nice shimmery color of the bulb. Here's what the bulb looks like up close: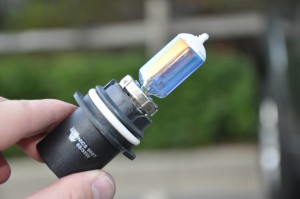 Once installed, the bulb offered a pure white color, providing for more visibility at night. It was refreshing to find a bulb that would give me additional light without blinding oncoming passengers. Up next to a standard halogen bulb it was much whiter and brighter.
The front view looked like this: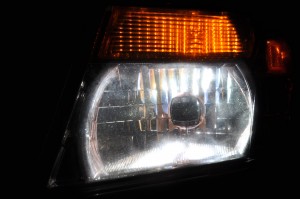 It's pretty easy to see the iridescence of the bulb, even when it's turned on. You can see various colors of the rainbow being emitted from the bulb. This photo is a pretty accurate depiction of what the bulb looks like in person. It's not blue, it's not purple, and it's not yellow. It's truly a pure white light.
While stock halogen bulbs tend to offer a yellowish light for your vehicle, these Luminics bulbs offer a clean, pure white light. The bulb is also about 25% larger than a standard headlight bulb, which helps shine more light onto the road ahead of you. If you do get the Krypton version, we do recommend getting the wiring harness, as your traditional headlight cable probably isn't made to withstand the heat given off by this headlight. You'll want to protect your vehicle with the harness.