This is our review of Novsight LED headlight bulbs.
Novsight has a long list of really cool LED headlight bulbs that deserve your attention. These bulbs offer high brightness, a cool look, enhanced visibility, and other stuff you'd expect from a high performance set of LEDs.
Still, we think your purchase decision would benefit from a couple more details about Novsight and their LED headlight bulbs, which is why we wanted to share our experience.
We have been testing and reviewing LED headlights for over a decade. So if you needed help figuring out if Novsight's lineup is for you, you came to the right place.
Keep reading for more of our thoughts on Novsight LED headlights.
Novsight Headlight Bulbs Overview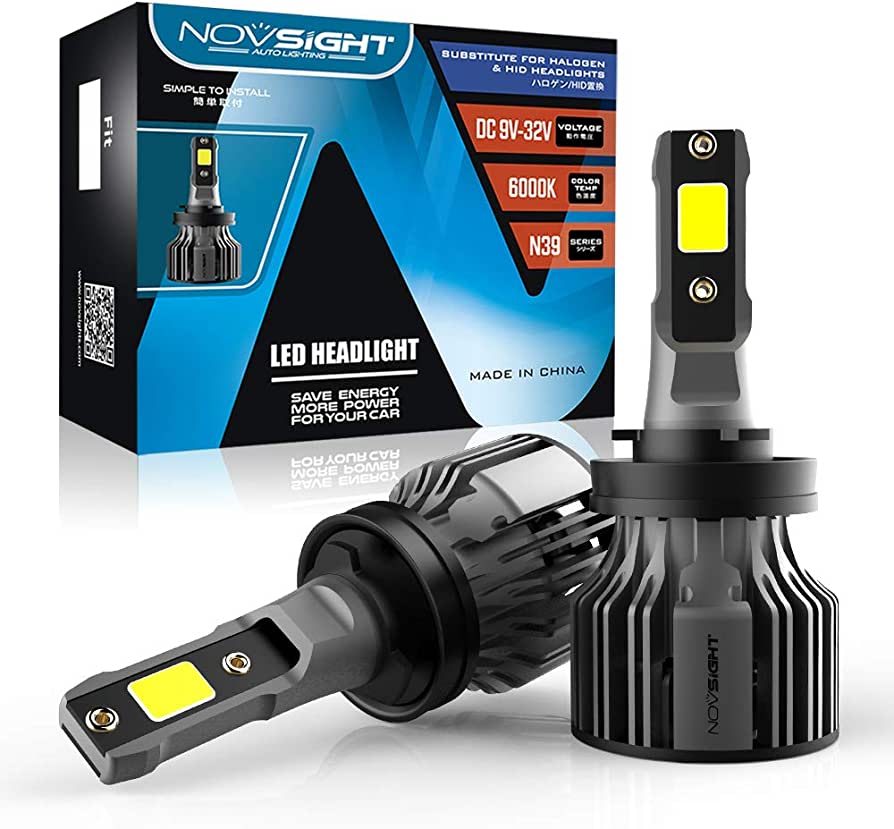 One of the best features of Novsight LED headlight bulbs is the variety of options you have. You can find a set of LEDs at just about every price point and with different levels of performance.
And whichever one you end up going with, you can expect great longevity, efficient cooling and power consumption, and best-in-class performance.
Build Quality
Novsight's LED headlight bulbs get a lot of positive reviews for their build quality in particular. These bulbs use high-grade 6063 aluminum for the entire build, which makes them lightweight, but also longer lasting compared to the competition.
We found Novsight LED bulbs to be quite durable for both general driving and also the occasional off-road jaunt. Here, we think the IP68 water and dust resistance rating comes in really handy.
Other than that, it's as you would expect from a high-end LED headlight bulb. They use the latest CSP chips for better heat management and performance, which is always nice to see. The beam is fully adjustable, which improves visibility a ton.
Performance
Speaking of visibility, you will find that the performance of Novsight LED headlight bulbs is second to none. At the high end, you can expect as much as 40,000 lumens of brightness from a pair of Novsight LEDs.
The throw is also longer, which means you get to see further down the road. You get a wider angle of projection too, which means more of the roadside is brought into view.
Overall, there isn't much to be said about the performance of Novsight's bulbs, except that it is some of the best we've ever seen.
Color Profile
The same goes for the color profile. While less expensive LED headlight offerings might be capable of lower brightness, you will get the same pure white 6500K color profile on the entire lineup.
More than that, the beam pattern is uniform, so you don't have to suffer dark spots in your vision. The beam calibration also deserves praise, as we didn't have to put up with any blurriness or poor visibility in low-lit conditions.
Power Consumption
Power consumption is a bit of a tossup. On the one hand, Novsight's LEDs don't draw nearly as much power as some of their competitors that have similar performance. Conversely, the high brightness and powerful beam need a lot more power than less capable bulbs.
That's not to say that these bulbs will drain your battery or cause electrical issues; the smart internal chips and drivers actually ensure the opposite. However, if you have a very old vehicle that can't support higher power draw, you might want to look elsewhere.
Cooling
All of that power and performance need equally capable cooling to keep everything running smoothly. Thankfully, that's one area where the Novsight become a bit of an overachiever.
Their lineup benefits from the aforementioned aluminum build that aids heat dissipation. It is helped along by a built-in copper plate that gives you better conductivity and a high-speed turbo fan that boosts airflow.
High performance LEDs tend to be pretty reliable when it comes to heat management, but Novsight's lineup really goes the extra mile. We never found these LEDs to be at risk of overheating, which is no doubt thanks to the high-end cooling hardware and intelligent power management.
Noise Levels
And you won't have to put up with high noise levels from that fan either. It is really quiet and even when it needs to ramp up for more airflow, it doesn't produce that annoying humming/buzzing sound that some LEDs are notorious for.
Lifespan
If you were worried about the high performance causing the lifespan to suffer, put your fears to rest. Novsight claims an industry leading longevity rating of over 100,000 hours for their top-of-the-line LED headlight bulbs.
That means, even if you drive all night long every night, the earliest you'll have to swap these LED bulbs out for new ones is sometime early next century!
Price
Of course, you'll have to pay for the privilege of having such high-end performance. Novsight LEDs tend to be on the pricey side, with most of their LED headlight bulb models being a bit more expensive than the competition.
Still, when you factor in the amazing performance, we think even Novsight's pricey LED headlight bulbs are more than worth it.
Alternatives
If Novsight's take on LED headlight bulbs isn't quite to your taste, there are a few alternatives that might be.
Fahren
Fahren's LED headlight bulbs are about as direct a competitor to Novsight as there can be. These bulbs offer similar performance and are also priced in the same ballpark.
Speaking of performance, Fahren LED headlight bulbs offer some of the brightest and most reliable lighting in the business. They beat Novsight when it comes to power efficiency, and the heat management setup is just as effective.
Firehawk
While highly unlikely, it is possible that even Novsight's impressive performance is not enough for you. If so, there's only a couple brands that can offer better brightness, wider projection and farther throw, and Firehawk is the best of the bunch.
You can get as much as 50,000 lumens of brightness output from a set of Firehawk LED headlight bulbs, which combined with the 6500K color profile gives you unparalleled lighting.
The obvious drawbacks are the exorbitant price, and the slightly higher power consumption. But even then, we think Firehawk's LED bulbs are a great alternative to Novsight's.
Conclusion
So to sum up, Novsight makes a stellar lineup of LED headlight bulbs that give you higher brightness, better visibility, and industry-leading cooling. You will have to contend with slightly higher power draw, but that's pretty much par for course.
And the Novsight lineup isn't exactly cheap, so expect to pay a little more than other brands. All in all though, you'll be hard pressed to find a better LED headlight bulb!