In this review, we'll be outlining and reviewing  the headlights made by Spec D. 
Spec D have been manufacturing aftermarket headlight kits for a wide variety of cars since 2003. Their kits have been quite popular so we decided to take a closer look and see how they perform and whether or not they are worth putting on your car.
For testing purposes, we used their headlight kit compatible with the Honda Accord. We were impressed by the powerful brightness, vibrant color and unique look that these headlights offer. 
For more of our thoughts on the Spec D headlight kits, keep reading.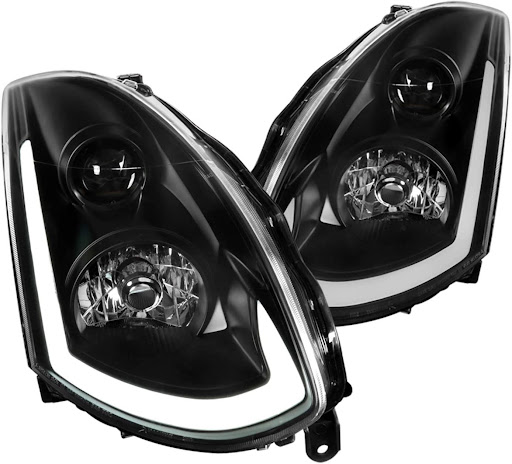 Our verdict
Putting the Spec D replacement headlight kit on our Honda Accord, we were treated to a brighter, and more well calibrated beam of light than the stock setup. Moreover, the unique look of these headlights turned a lot of heads and added a bit of drama to the front of an otherwise boring looking car. 
We recommend the Spec D headlights for anyone looking to upgrade their stock setup to a kit that not only performs better but also looks better. Overall, the build quality and performance is top notch, with the cool design being an added bonus. 
Pros
Brighter than stock
Powerful throw
Wider angle of projection
High clarity
Uniform beam pattern
Stunning color
No dark spots
No flickering
Extended lifespan
Premium build quality
Cool glowing halo design around bulb
Cons
May not be available for all models or manufacturers
---
Longevity and build quality
Starting off with the build quality of these headlights, we appreciate the use of premium, high quality materials like aluminum throughout the construction. Not only does this make for a more durable kit, but it also helps improve the fit and finish of the whole package. Heat management also benefits from these materials. 
We used the headlights for extended periods to test how well they withstand excess load. The durable materials used allow the Spec D headlight kit to outlast most stock alternatives. They resist damage and hold up better to wear. 
The premium materials, efficient heat dissipation and lower power consumption combine to give the Spec D kit better durability and lasting power. Overall, the lifespan of these headlights is noticeably improved over stock.
Colour and brightness
As for the performance, Spec D's kits are nice and powerful in addition to being durable and power efficient. High brightness is aided by a more powerful throw and wider projection which result in superior road coverage and enhanced visibility. 
The color is vibrant and helps with nighttime visibility. Bea pattern is well calibrated and does not lack focus. We didn't notice any unsightly dark spots or blurriness in our line of sight. Moreover, the bulbs do not flicker or flash even when under heavier load. 
Finally, the look of these headlights is unmatched. The high brightness and awesome color profile aside, we really liked the boost in clarity and focus. Furthermore, they add a lot of visual appeal to your car's front end.
Perks and features
Spec D's headlight kit for the Honda Accord has a unique halo of light that surrounds the bulb. This adds a nice design detail to the kit and also functions as a daytime running light (DRL). At night, besides adding a cool look to the car, it makes the car more noticeable, thus improving safety. 
The attention to detail that went into the design of this headlight is also worth commending. A special coating on the lens surface resists wear and keeps your headlights from fading over time. 
Mounting provisions are identical to stock, thus ensuring perfect fit and an easier installation process. The headlight also includes both low and high beam bulbs and the whole setup is DOT approved. 
Conclusion
All said and done, the Spec D is one of the best options for aftermarket headlights on the market. They feature a powerful and bright beam of light that improves road coverage, aids visibility, and enables a safer drive, without being too power hungry. 
Build quality is durable and long lasting thanks to the premium materials used. The kit performs outstandingly well and does not force you to put up with any flickering or flashing. A halo design adds one of a kind aesthetics to your car. 
Overall, the Spec D has our highest recommendation for delivering a lot of useful features and visual appeal in a single package.   
---