**Toyota Nation, contributing members and myself are not responsible for any damage caused by the implementation of the information in this thread. Modifying your car in any way may void your warranty. Please know your limitations and use this information at your own risk.
Venza Lighting Application Guide
Low beam headlight (non-HID), H11 (x 2)
High beam/DRL, 9005 (x 2) This discusses aftermarket halogen options for this application.
Rear turn signal, 7440a (amber) (x 2)
Tail light, 7443 (x 2)
Tail light, 194 (x 2)
Stop light, 7443 (x 2)
High mount stop light, LED
Fog Lights, H11 (x 2) This discusses HID fogs.
License Plate, 194 (Buy one. Best output from flank style bulb)
Reverse lights, 921 (Buy two. You must buy the highest output led available)
Front side marker, 194 (x 2)
Rear side marker, 7443 (x 2)
Glove box, 74 (x 1)
Front dome, 194 (There are three)
Rear map light, 194 (There are two, buy flank style bulbs for the best output)
Front courtesy, 194 (One per door. Only on the front doors, Buy two flanks)
Front turn signal, 3157ck (Buy two either in amber, or switchbacks)
Cargo area, 3022 29mm festoon (x 1)
Led vs. Stock Bulb Numbers 
– 194 replaces T10 147 152 158 159 161 168 184 192 193 259 280 285 447 464 555 558 585 655 656 657 1250 1251 1252 2450 2652 2921 2825 (Wedge)
– 921 replaces 906 579 901 904 908 909 912 914 915 916 917 918 920 921 922 923 926 927 928 939 (Wedge)
– 3022 replaces 3021 3175 6428 6430 (Festoon)
– 3157 & 3156 replaces 3057 3155 3357 3457 4157
– 74 replaces T5
____________________
A little bit about me: I have performed LED conversions on my last four vehicles, (a 2001 Silverado 2500 HD, 2003 Infiniti G35 Sedan, 2007 Cadillac Escalade ESV, and now our 2010 Toyota Venza). I learned what I know from Mr. Google, and automotive forums. I do it primarily to keep myself occupied and because I like the look they give the car. I am married, have two children, and a full-time job. So, basically I'm trying to establish the fact that I am not a boy racer, and almost anyone with very basic tools (screwdrivers, etc.) can do this.
The purpose of this thread is to bring all the information we currently have regarding Venza lighting (and whatever we gain in the future), to one thread. I'd like to give credit to Toyotanation Moderator bandit, as I have used his lighting thread (in the Camry forum) as a template for this, as well as all contributing members.
If you haven't seen his thread in the Camry forum, please check it out. Our Venza's are very similar to the Camry.
The Magnuson-Moss Act
This basically says that you can do your own work and use aftermarket items on your vehicle, without voiding your warranty. If the dealer chooses to deny a warranty claim due to an aftermarket item, they must prove that the aftermarket item was the cause of the problem/failure.
Example: A customer swaps his OEM stereo for an aftermarket one and installs it himself. The next day his/her transmission fails. If the dealer decides to deny this individual's warranty claim due to the aftermarket item, they must prove that the aftermarket item caused the failure.
more information on this act here.
Incandescent/Halogen Bulb
An incandescent/Halogen bulb produces light by heating a filament wire until it glows. Every bulb in the Venza is this style, (until 2012) with the exception of two – those equipped with factory HID headlights, and the LED 3rd brake light (standard equipment). As of today, most incandescent bulbs have better output than their LED counterparts.
HID Light
HID (high-intensity discharge) lights are a type of electrical discharge lamp that produces light by means of an electric arc between tungsten electrodes housed inside a translucent or transparent fused quartz or fused alumina arc tube. This tube is filled with both gas and metal salts. The gas facilitates the arc's initial strike. Once the arc is started, it heats and evaporates the metal salts forming a plasma, which greatly increases the intensity of light produced by the arc and reduces its power consumption. High-intensity discharge lamps are a type of arc lamp.
The Venza OEM HID's are 4300K and (once fully ignited), and have a power draw of 35 watts. The OEM HID headlights housings differ from the incandescent housings as they have a different projector lens and no squirrel spotters. This creates a more defined cutoff line and allows them to operate at around three times the output of incandescent without blinding oncoming drivers.
There are many different aftermarkets HID kits available to automotive enthusiasts. They are sold in both 35w and 55w kits. I would only recommend the 35w kits for street use. The 55w kits will blind oncoming drivers and there is a very high probability that they will eventually melt your stock housing. I usually buy 5000K kits (this is the color temperature most European manufacturers use for their HID's). But, I am not opposed to anything in the 4300K – 6000K range. Anything above 6000K will compromise output for color. Most of the aftermarket kits are of low quality, but there are a few good ones out there.
I have Morimoto 5000k 35w HID'sw/ their double relay harness installed in my Venza and I am very happy. I have heard great things about supporting vendor XenonDept's kits, but I haven't had the chance to use one. The only other brand that I would consider is DDM but they have ballast misfire issues and inconsistent color temps. But, for the price, they aren't a bad deal. Here is a link from the Camry forum. Morimoto appears to be the most popular aftermarket HID kit. XenonDepot is likely of the same quality (or higher), but they haven't been used as much and they are a bit pricey. But they are a supporting vendor and this should be taken into account. A lot of people also use DDM. I don't really know why. For an extra $40-$50 you can get a Morimoto kit if you haggle with them on eBay.
Here is a common complaint from owners who install low quality HID units, "I checked my bulbs and ballasts and they are fine, but a lot of times when I turn my car on, only one light fires. If I turn them off, then back on again, the problem goes away. What's going on, and how do I fix it"
Here is a link to the explanation, and solution to the problem. I have actually experienced this myself after adding HID's to my 2500HD. It was equipped with auto on/off headlights, but at night they wouldn't come on if the parking brake was set. So my solution was to make certain my parking brake was set at night. Then I let the truck run from a few seconds before I released the brake, which in turn allowed the headlights to ignite. Problem solved
Here is a thread I started in the Camry forum discussing HID fog lights.
Relay harnesses are available to enthusiasts who upgrade their incandescent headlight bulbs to HID. These relay harnesses use the trigger from the stock headlight switch but draw power directly from the battery. This completely eliminates any possibility of harming the stock headlight wiring by converting to HID headlights. This thread discusses installing aftermarket HID's without using a wiring harness. I always use a relay harness when installing HID's, but other members have installed them using the stock Venza wiring and have had no problems.
Here is a link from the V-LEDs blog which discusses relay harnesses.
LED Lights
The LED lights I will be covering in this post are direct replacements for their incandescent counterparts. LED lights typically use about 90% less power than incandescent, and have a lifespan of 50,000 hours vs. 1200 hours for incandescent. The downside to LEDs is that they are expensive, and only the top-notch LEDs can meet the output of their incandescent counterparts. Most enthusiasts who replace their stock bulbs with LEDs do so because of the pure white to slightly blue light the LEDs are able to emit.
Led's are available in many different colors. I typically use 6000K for all of my bulbs with the exception of those that will be on in the front of the car at the same time as my HID's. For both my HID's and the LEDs close to them I use 5000K so they all match. The higher the Kelvin rating the more blue (and eventually purple) the light is. Although a bulb with a higher Kelvin rating may look bright, its lumen output is less than its lower Kelvin counterpart.
If You Replace Incandescent Turn Signal Bulbs With LEDs
Factory turn signal modules are made to sense when a turn signal bulb is out by checking the current draw. If not enough current is being drawn your turn signal will hyper-flash to alert you that you have a bulb out. Here is a great link that explains hyper-flash in more detail, and suggests solutions that I will address below. Here is V-LEDs synapse of hyper-flashing and their solutions.
Since the LEDs draw so much less power than the incandescent bulbs, they will cause the signal to hyper-flash. There are three ways (that I am aware of) to correct this problem:
1. Buy an aftermarket LED flasher module. This module will stop the turn signals from hyper-flashing and usually cost around $10. The downside to this method is your exterior lights won't flash when you arm (lock) or disarm (unlock) your car. Here is the part number for the aftermarket flasher module that the Camry and many other Toyota uses: CF18-08 – #81980-50030 – MAX 150W At this point I don't know of anyone that has used this aftermarket module on their Venza, so use at your own risk. If someone does use this flasher module on their Venza please let us know.
2. Modify your OEM flasher module by adding a 500k variable resistor. Again, I only know of this being done on a Camry. If you try it on your Venza, please let us know either way. The Camry original part number is #81980-02030. If someone verifies that this is the same module the Venza has, I will modify this post. Here are a few DIY links providing instruction on how to perform this on a Camry: flasher module mod / flasher module mod 2(using stock flasher module and adding 500k variable resistor)
3. Install load resistors. I added led switchbacks to my Venza and I used this method. I felt that it was very easy, and it would be just as easy if I decided to reverse it. I only changed the two front turn signals to LEDs, so I used two 6 ohms 50-watt load resistors (one per side). If I decide to replace to rear turn signals (in addition to the front) all I need to do is swap my existing 6-ohm load resistors for 3-ohm load resistors. The OEM flasher module in the Venza senses the current draw per side of the car. I installed my load resistors on the front turn signals and mounted them with foam, double-sided tape to metal horizontal surfaces in the engine bay. Check out this post for pictures and explanations of which wires to add load to.
In this thread on the Venza forum we initially discussed the location of the flasher module, then deviated to discussing load resistors and switchbacks.
Here is a video of mine. I have 6ohm load resistors on each of the front switch-backs. As you will see, they are white when the headlights are on, and flash amber when I turn on the signal
Here is The Method I Use to Figure Out What Style Bulb Each Fixture/Housing Uses
You will find that there many different numbers assigned to the same bulb. The only explanation I can come up with for this is manufacturers giving their bulb a proprietary number in an attempt to increase sales.
I use the Sylvania Lamp Replacement Guide to figure out which bulbs are in a given car.
If this guide specifies a bulb that you aren't familiar with, just google the bulb number in question followed by same as.
Sites to Buy LEDs from Online
http://www.autolumination.com
http://www.superbrightleds.com
http://www.v-leds.com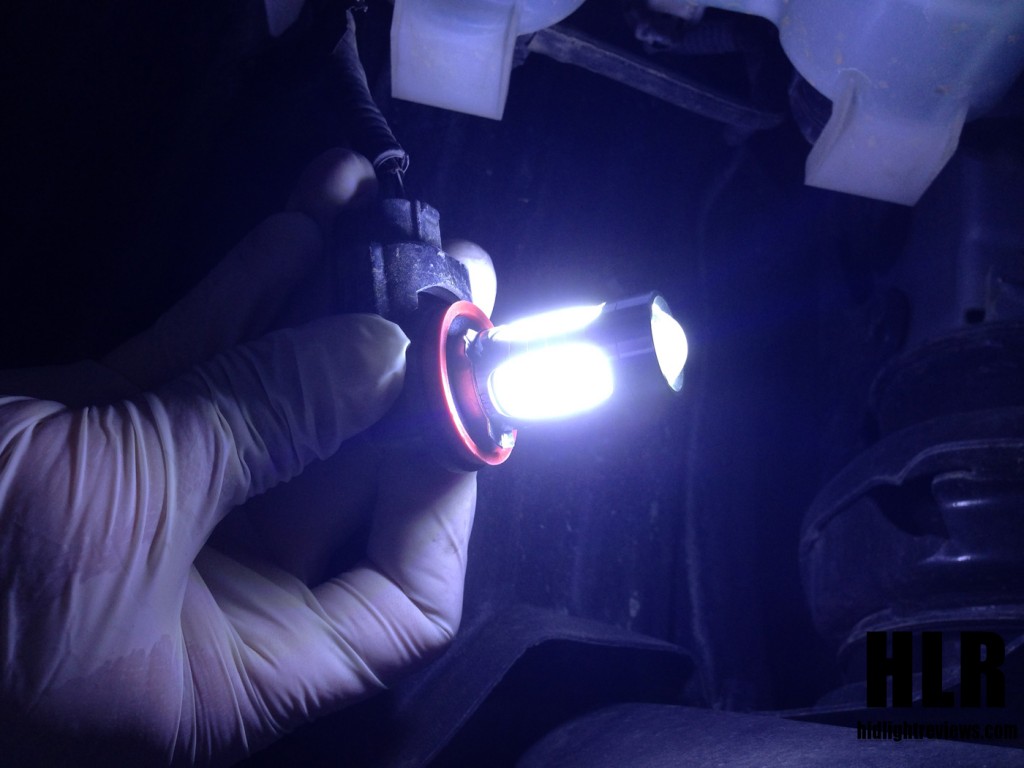 Regardless of who you order from, try to order everything you are going to in one shipment. Also, it really is good to pop the lenses and look at the bulbs you are replacing before you order, so you can see their orientation. (Really this is for future replacements because I will tell you exactly what style of the bulb, to order). YOU GET WHAT YOU PAY FOR !!
Links to Member Venza Lighting How-Tos, and Related Posts
HID and interior LED lights installation (lots of pics)
The infamous "Venza HID" thread
Venza LED Conversion
How to replace interior bulbs
LED Dome Lights FailingLED lights for sun visor
How to remove light covers
Mission: Light the Cargo Area
Venza with Eyebrow – (LED strip above headlight)
Foot-well ambient lighting install
Switchback LED Bulbs (from Bandits post)
Type 1 alternates white and amber when the turn signal is applied
Type 2 only the amber flashes when the turn signal is applied.
The CK bulb is designed for special applications commonly found on Toyota vehicles like the Camry, RAV4, 03-08 Corolla, and all Tundras. If you have a standard socket and try installing this bulb may cause a dead short and blow your fuse or will not light on the parking element. (info from V-LEDs) The Venza uses a CK type bulb.
SWA probably means Switchback White Amber CK
SA probably means Standard () Amber CK
Here is another great discussion from the Venza forum in which we talk about switchbacks, the "CK" configuration that Toyota likes to use, and DRL's
Member DIY Lighting Requests
-How to change the DRL from the stock 9005 to another bulb (front turn) and have it operate as it does when its stock. i.e. It comes on when you start the car during the day just as it does now.
Deciding Which Bulbs to Replace
I usually replace the easily visible bulbs (glove compartment, no), which are in clear housings. If the bulb is not in a clear housing the only way to differentiate the led from an incandescent is the instant on/off of the led, and maybe a bit brighter of a light. In my opinion, the cost isn't justified when the housing is not clear.
On our Venza, I replaced the dome light bulbs in the front (Three forward-facing 194 bulbs), the front door courtesy lights (194 flank style bulb, one per door, total of two), the rear map light (two 194 flank bulbs), the cargo area light (one 3022 29mm festoon), license plate (one 194 flank bulb) and the front amber turn signals with 3157ck type II switchbacks (one per side, total two).
Purchase lists
Please post or send me your purchase lists (with your impressions) and I will add them.
Here is my Venza purchase list
Low beam headlight – H11 Morimoto 5000K HID's I'm very happy with these.
License Plate I replaced it with one of these from v-LEDs I don't know of any bulbs that have a higher output for this application.
Reverse bulbs I replaced them with two of these from v-LEDs I am not thrilled with the output. It may be less than the stock incandescent bulbs. A friend bought these for the cargo lights on his Tundra. They look a lot brighter than my Cree's and if I purchased today, I'd give them a shot.
Front dome I replaced them with three of these from v-LEDs. I don't know of any bulbs that have a higher output for this application, and I am thrilled with them.
Rear map light I replaced them with two of these from v-LEDs. I don't know of any bulbs that have a higher output for this application.
Front courtesy I replaced them with two of these from v-LEDs. I don't know of any bulbs that have a higher output for this application.
Front turn signal I bought two of these switchbacks from v-LEDs Make sure you buy CK! Excellent thread discussing the "CK" setup. These are likely my favorite bulbs. I like the fact that they get rid of the amber in the housing, and I think it's pretty slick that they change color.
Cargo area I bought one of these from v-LEDs They have 3 1/2 watt LED's on them. Previously they sold the same style bulb with 4 1/2 watt LED's (2 watts total). The output is pretty good, and they are the brightest I know of for this application, but I want the 2 watters back!
Updates
I have ordered Vled's V3 bulbs for another vehicle I own. They claim to emit 600 lumens, which is the most of any LEDs available at the date of this writing. I'll comment when they are installed.