The transfer went through if this shows on the iPhone. We recently got ahold of a few different types of automotive floor mats to compare, and just in time for some winter storms. Â We're comparing the Weathertech Floor Mats
 against the Husky Liner Weatherbeater Floor Mats.  With the winter snow approach, combined with fishing and hunting, we wanted to make sure the carpet in our test vehicle was well protected.  There's nothing worse than walking uphill both ways in two feet of snow only to get into your car with snow-covered boots that melt a liter of water onto your floor mats.  There's no way that water is drying until next spring, at which point the smell has already overcome that Car Freshener
on your rear-view mirror. Â Or how about finishing a week of hard work on the job only to get to Friday night, when you've got that hot date planned. Â You get your truck all washed up…well, except for the floor mats… which are stained with Georgia red clay. Â That's never coming out. Ever.
There are countless reasons to get a nice set of waterproof floor mats for your car. Â We shopped all the auto parts stores and were disappointed by the selection available. Â Floor mats come in all shapes and sizes. Â Getting a set of one-size-fits-all carpet for your vehicle is like buying a pair of one-size-fits-all running shoes. Â It doesn't make sense.
We found the top two brands of floor mats, Weathertech and Husky, and compared their two top-selling models available for our 4Runner test vehicle. Â Take a gander and decide what works best for you.
We rated the floor mats on a set of five criteria:
Shipping and Customer Service
Price
Looks
Quality of Construction
Fit
1. Shipping and Customer Service:
I ordered both floor mats on Sunday evening. Â The Husky mats were at my door on Friday afternoon, while the WeatherTech floor mats took an additional 2 business days. Â They both came in similar sized boxes and were packaged similarly. Â The WeatherTech floor mats came inside an additional layer of protection, individually placed inside plastic bags. Â Either way, I was pleased with the shipping time, but the Husky mats did ship a little quicker.
A note on customer service: I ended up choosing the WeatherTech mats to leave in the vehicle, so I returned the Husky mats. Â I called and spoke with customer service and the representative I spoke with was very pleasant, and even gave me a tip when mailing the mats back to them. Â She said that when they get the returned mat in the mail they simply recycle them, so she recommended I find the smallest box possible and stuff the mats inside, thus saving on shipping charges. Â That's precisely what I did. 🙂
2. Price:
WeatherTech: $179.90 + $18.00 shipping = $197.90 Total
Husky WeatherBeater: $179.95 + FREE SHIPPING = 179.95 Total
Husky boasted free shipping and still managed to get the box to my doorstep a few days before WeatherTech.
3. Looks:
WeatherTech beat in this department.  Their mats are classier looking than the Husky mats.  To be honest, I thought they would be closer to each other, but the look of the Weather Tech is much more polished.  Here are a few photos to give you an idea of what I'm talking about.
Husky Floor Mats: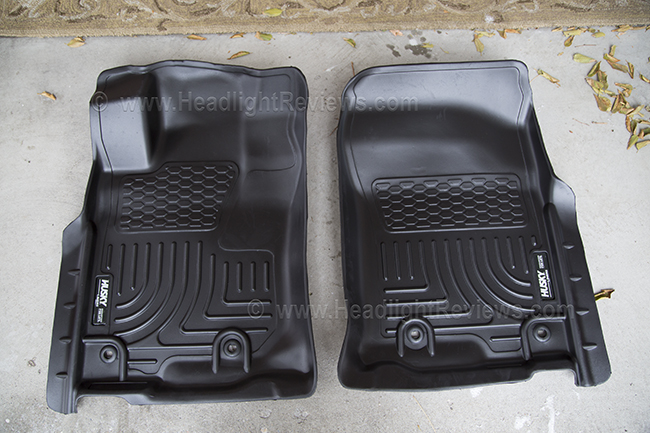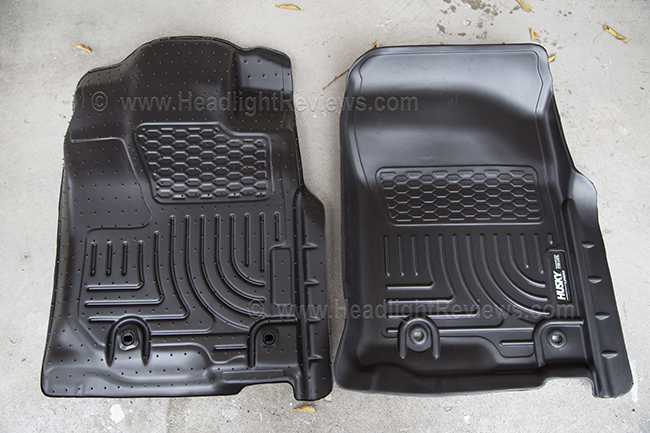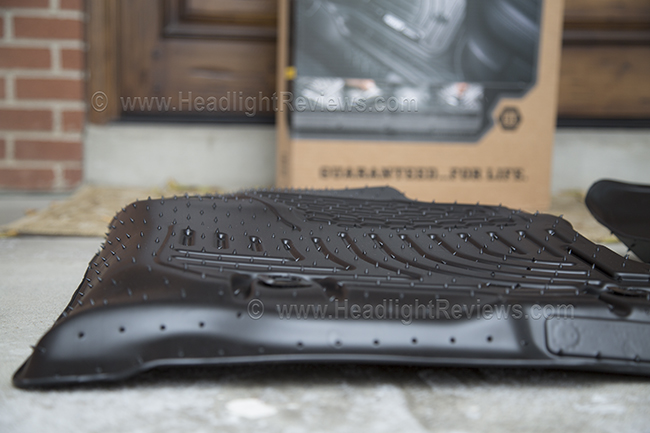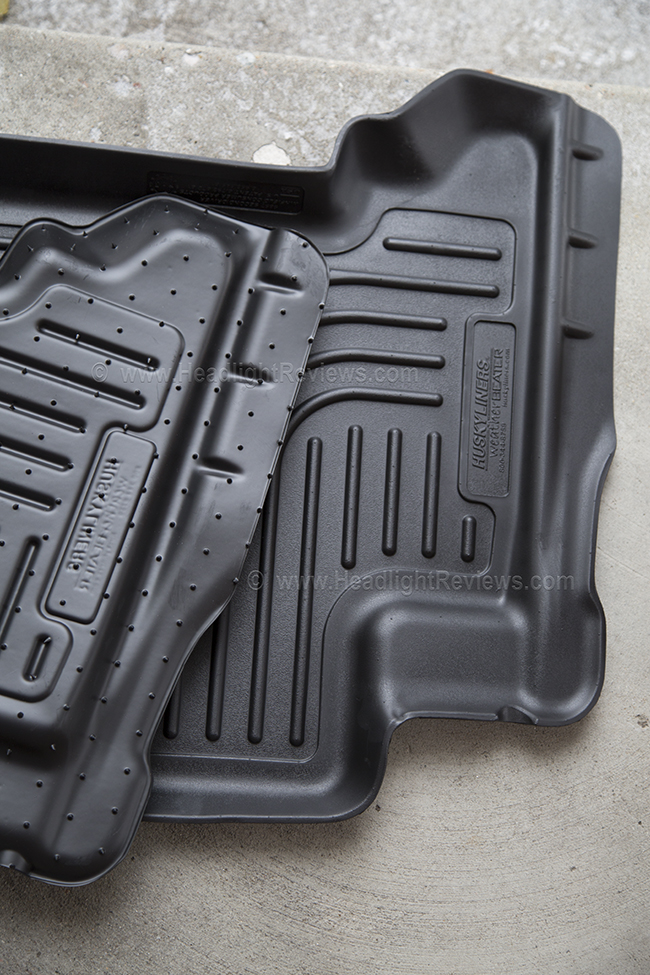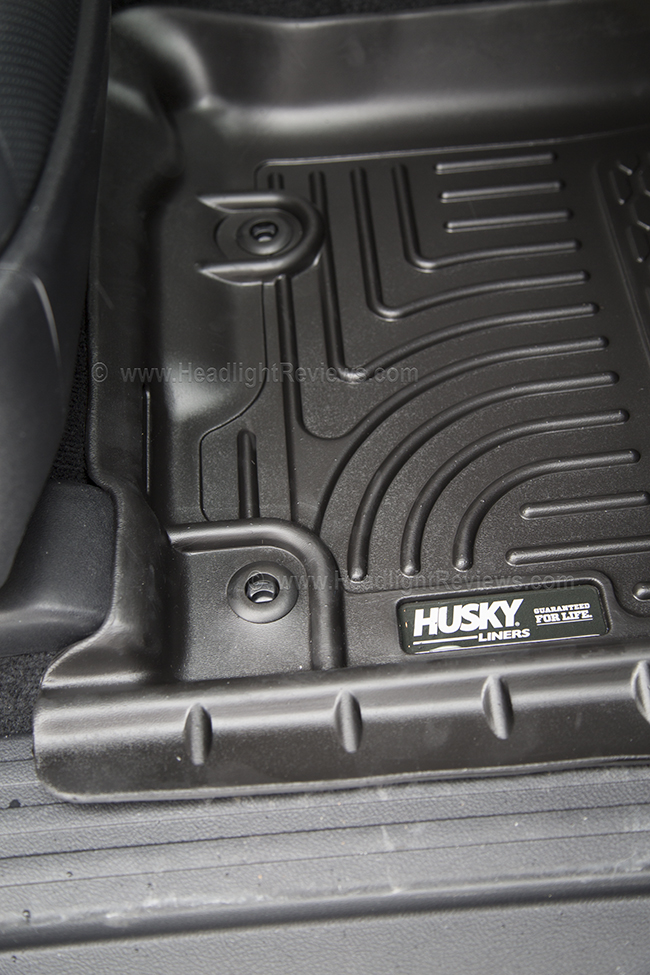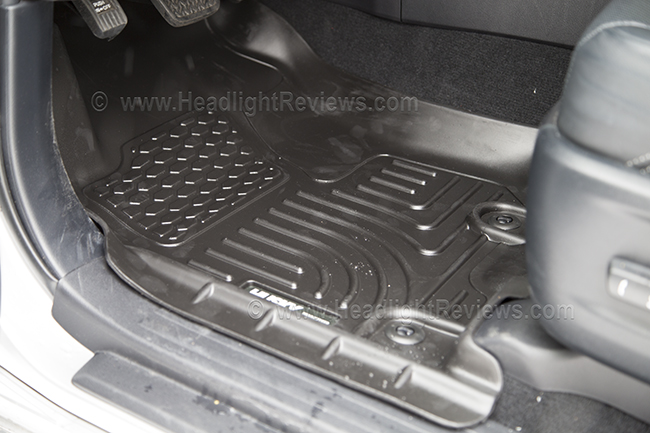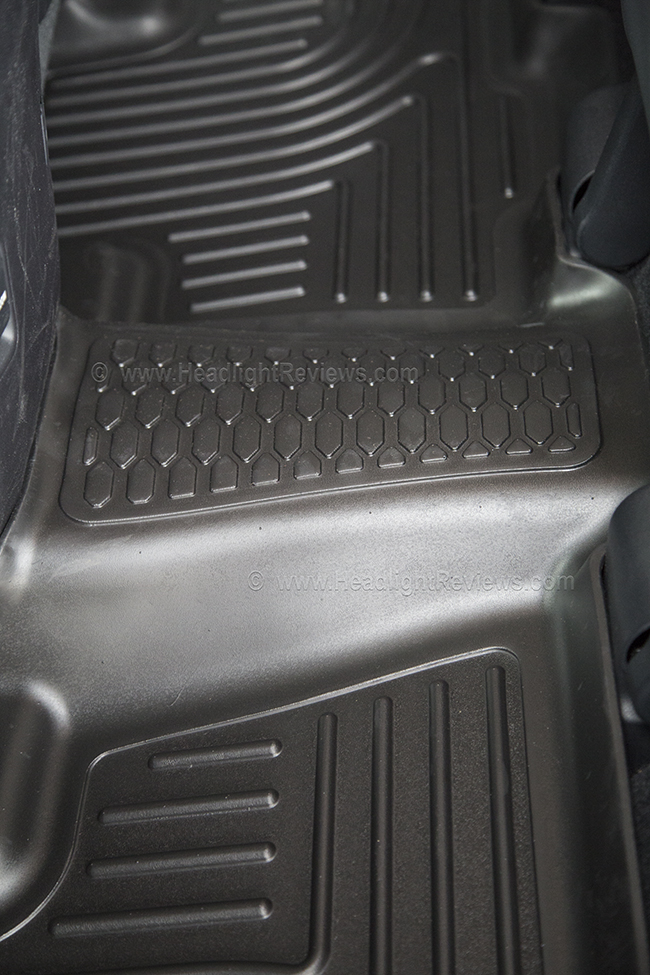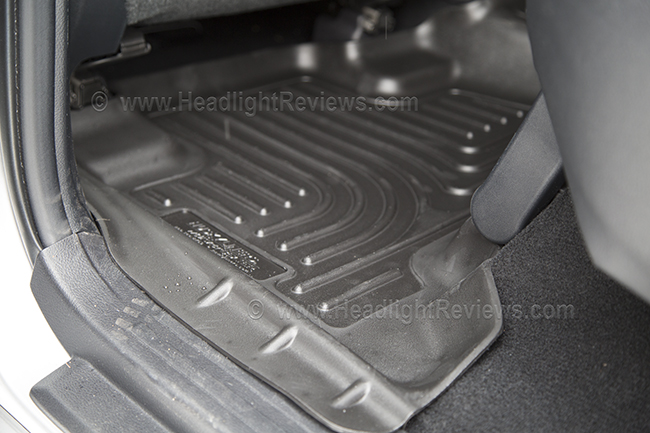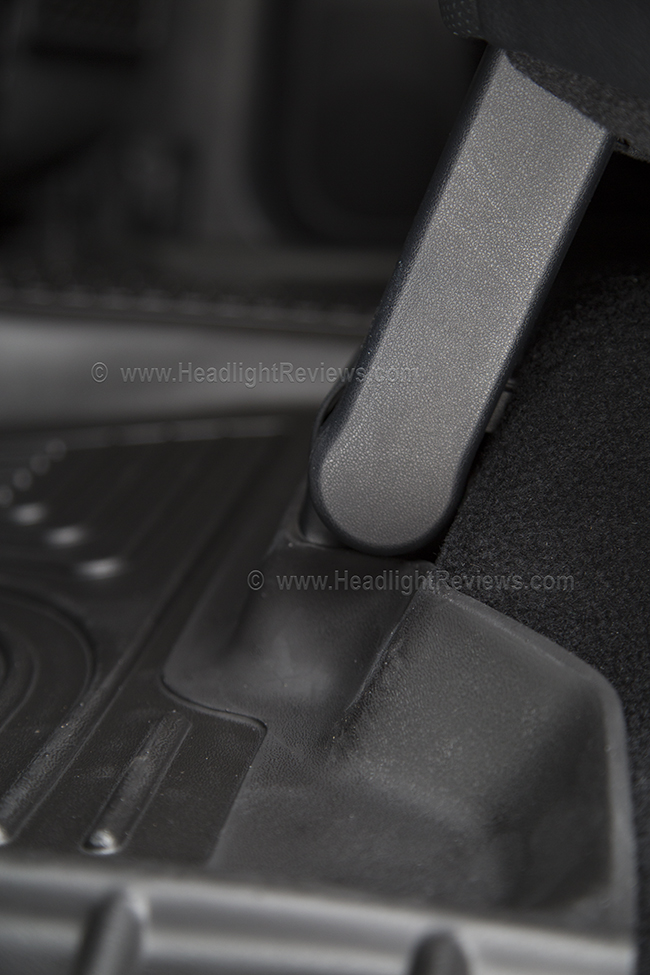 WeatherTech Floor Mats: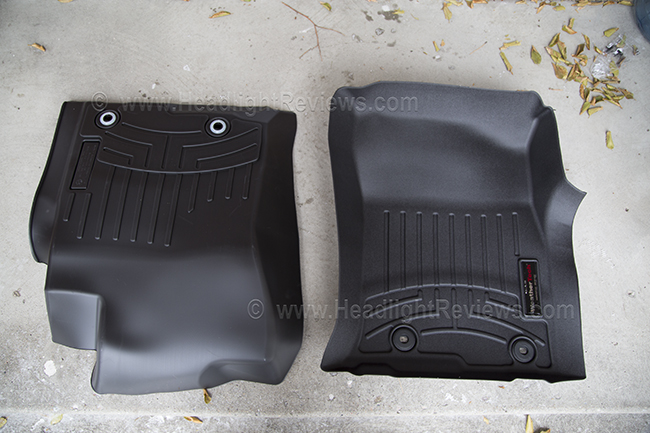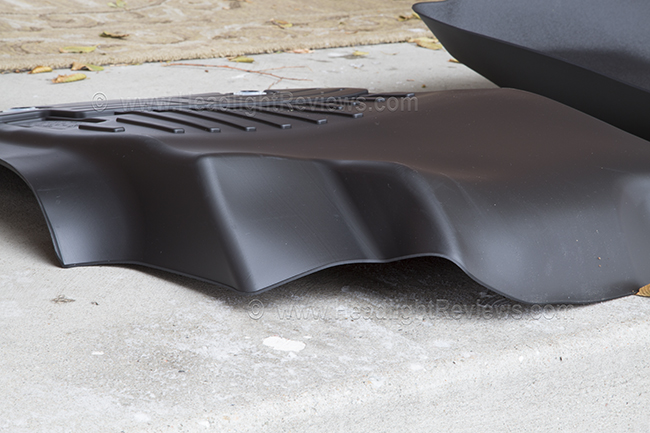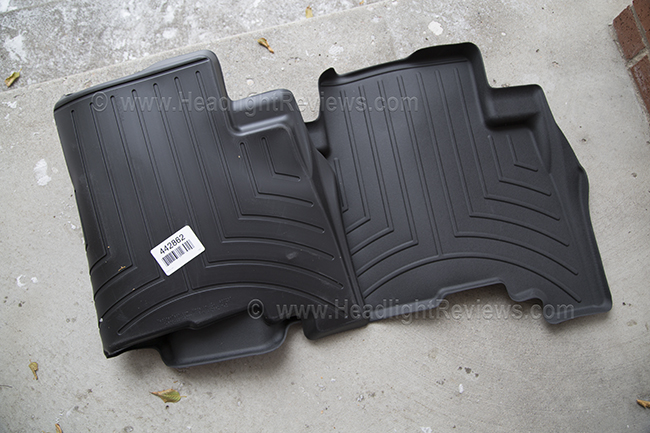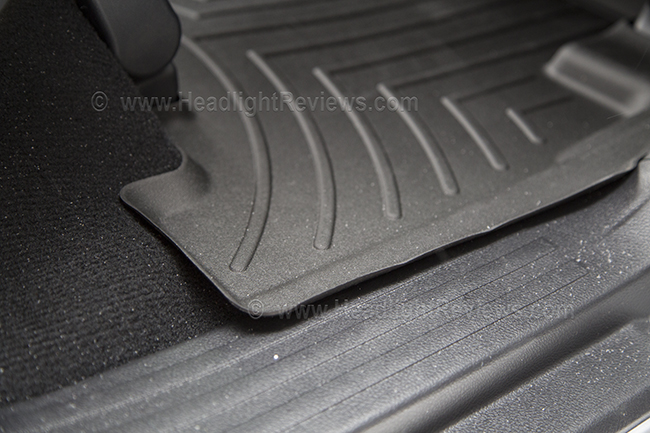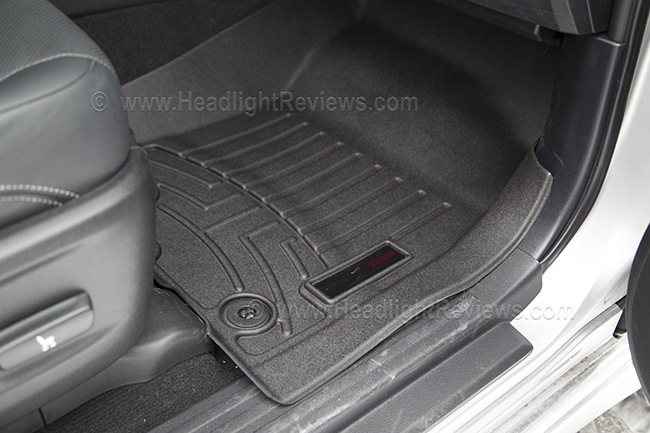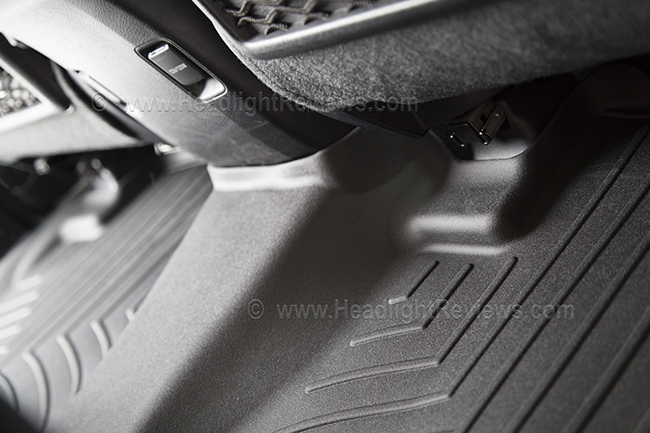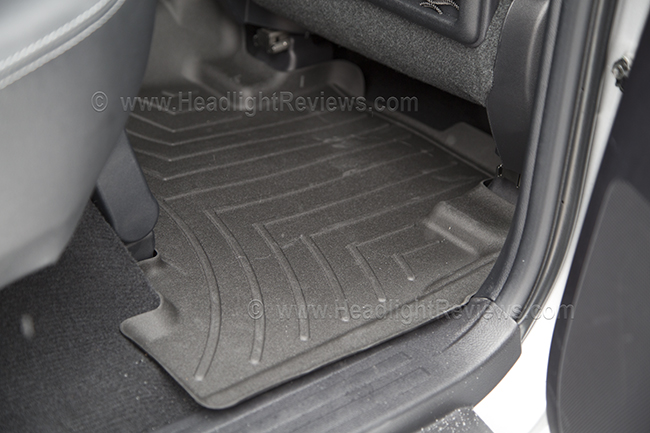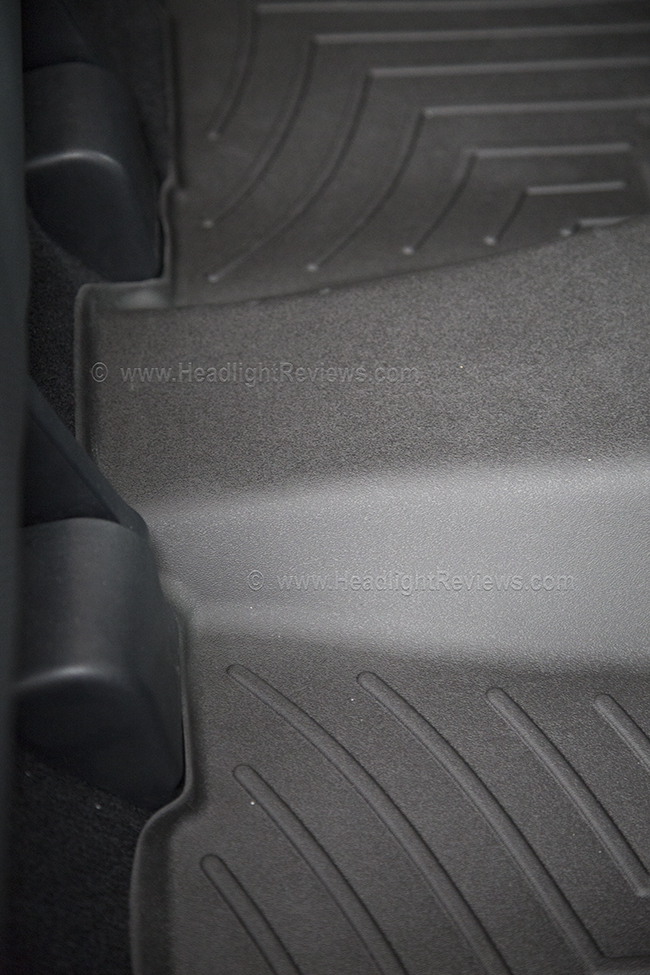 I must say, the Husky mats would probably be a great fit if you are looking to outfit a rugged truck and simply want to protect the carpet (not to mention, they come with a lifetime warranty as long as you own the vehicle). Â In our case, however, outfitting a new 4Runner Limited, we needed something that could provide protection when used for the outdoor activities, while simultaneously not look out of place when driving a client to a business lunch. Â You can see pretty clearly that the WeatherTech accomplishes both of these quite well.
Best Headlight Restoration Kit
5. Quality of Construction:
Both sets of floor mats were of similar quality construction. Â There are a few main differences I'll highlight here that set WeatherTech apart.
First, the Husky mats have spikes covering the underside of their mats.  This has some benefits, but also some drawbacks.  First, we found it slightly difficult to install the mats without scratching the leather on our seats.  Second, the spikes don't just cover a small area of the mat in order to keep it in place, but they cover the entire mat, including the portion that doesn't cover carpet.  The result is an extremely hard plastic spike rubbing up against the plastic trim in your vehicle.  Again, if you're outfitting a work truck and are simply looking to protect the carpet, then this might not matter to you.  If, however, you want to take care of your baby, this is a drawback.
The image below shows the underside of the WeatherTech mats on the left and husky on the right. Â Weathertech is smooth and Husky comes with spikes.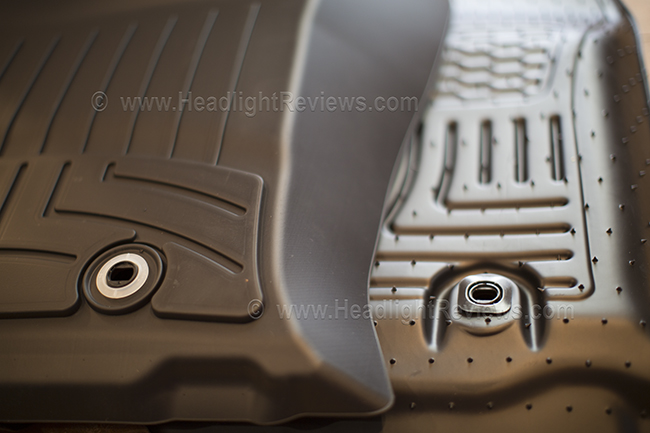 Here's a shot of the Husky mats installed, with a good view of the spikes up against the trim of the vehicle. Â Not sure why they extend these spikes across the entire underside of the mat.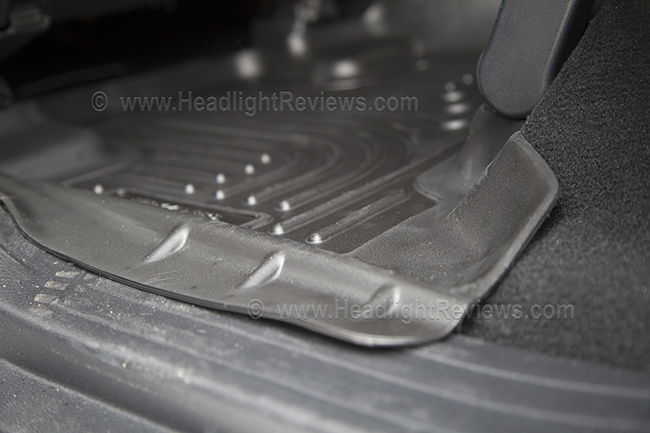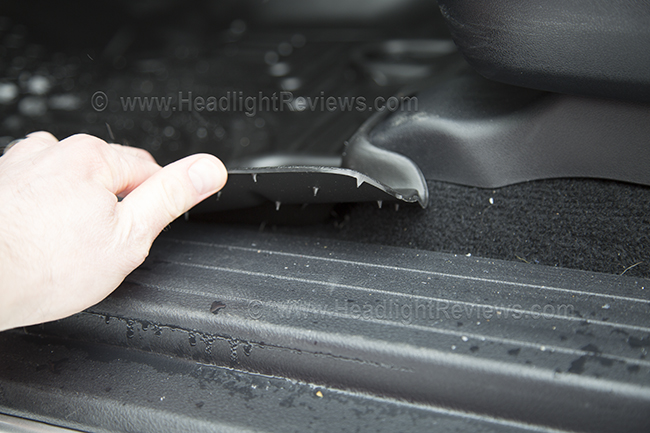 In our case, the 4Runner comes equipped with a mechanism for keeping the floor mats in place, as do many other current vehicles, and both brands come equipped to handle such clips. Â As such, the sharp spikes are unnecessary and were one of the main factors in our decision.
6. Fit
It's tough to get an accurate image showing fit of the mats, but I've included a few photos below anyway. They both actually fit almost identically in both the front and the back. Â The Husky mats were a little tougher to install, perhaps due to the hard plastic spikes on the underside and my new leather seats (I tried really hard not to scratch my seats with the spikes).
WeatherTech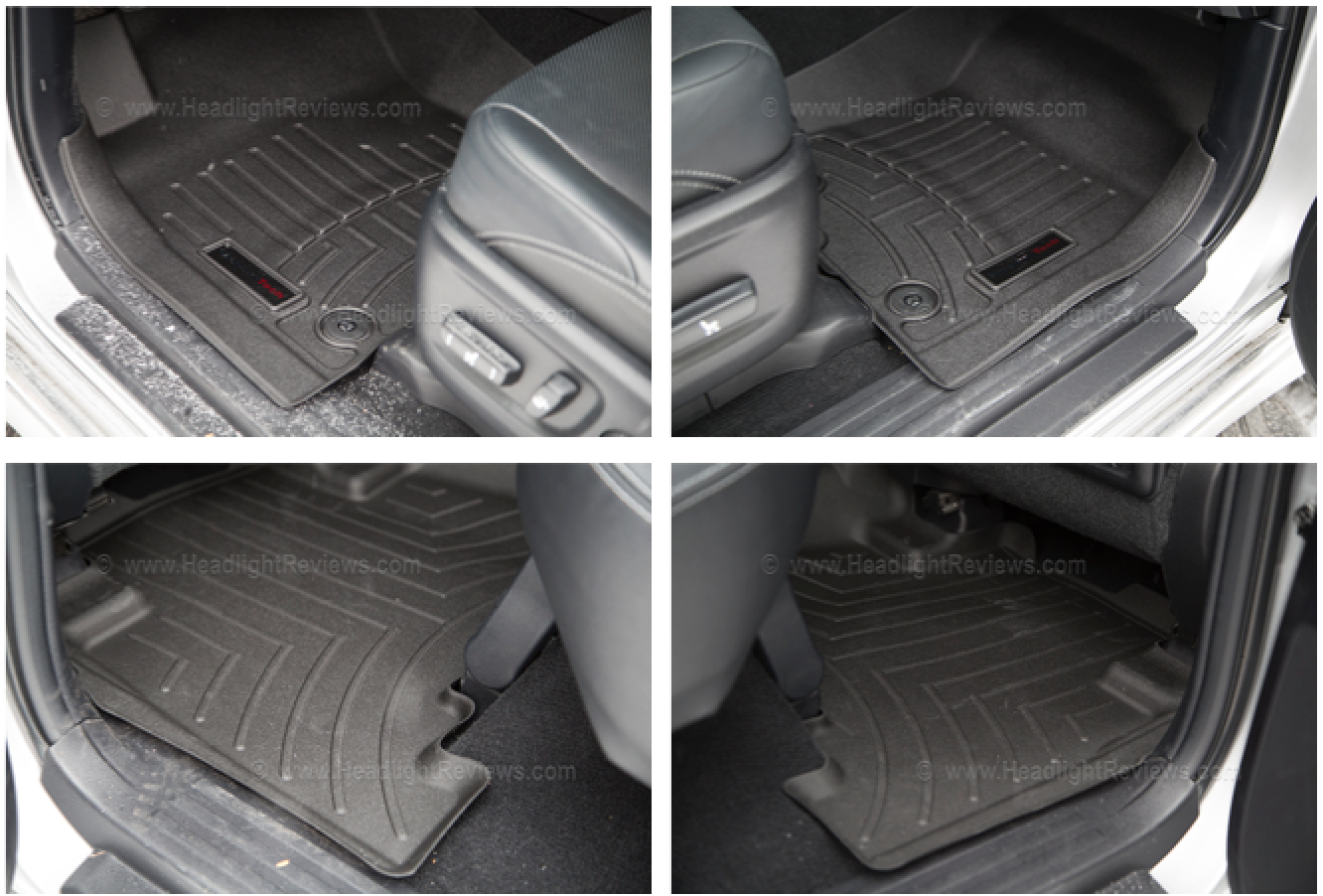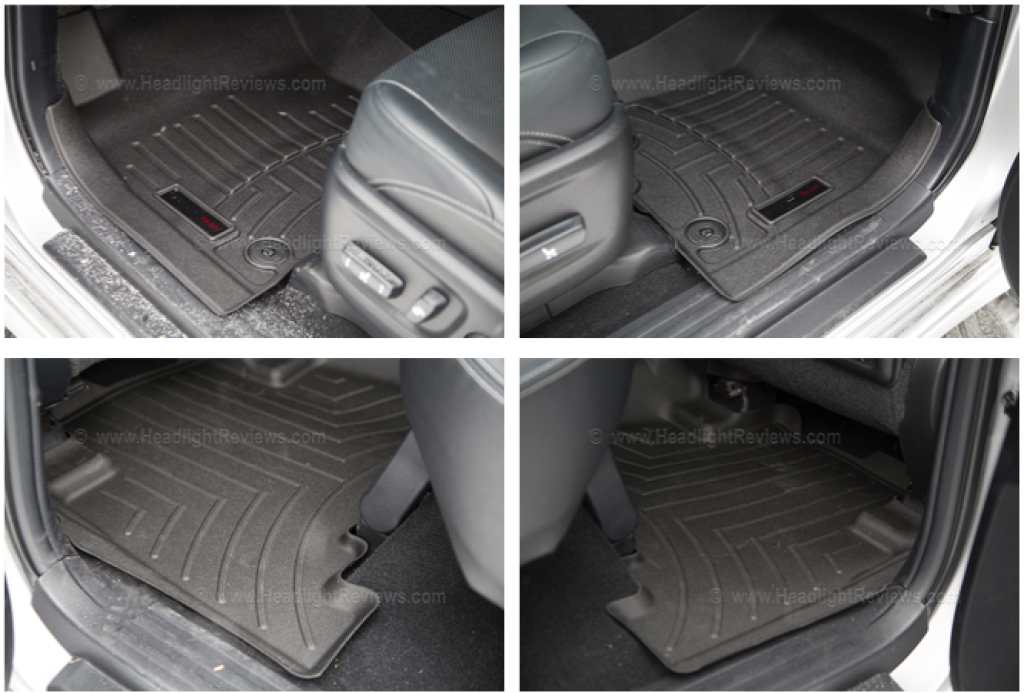 Husky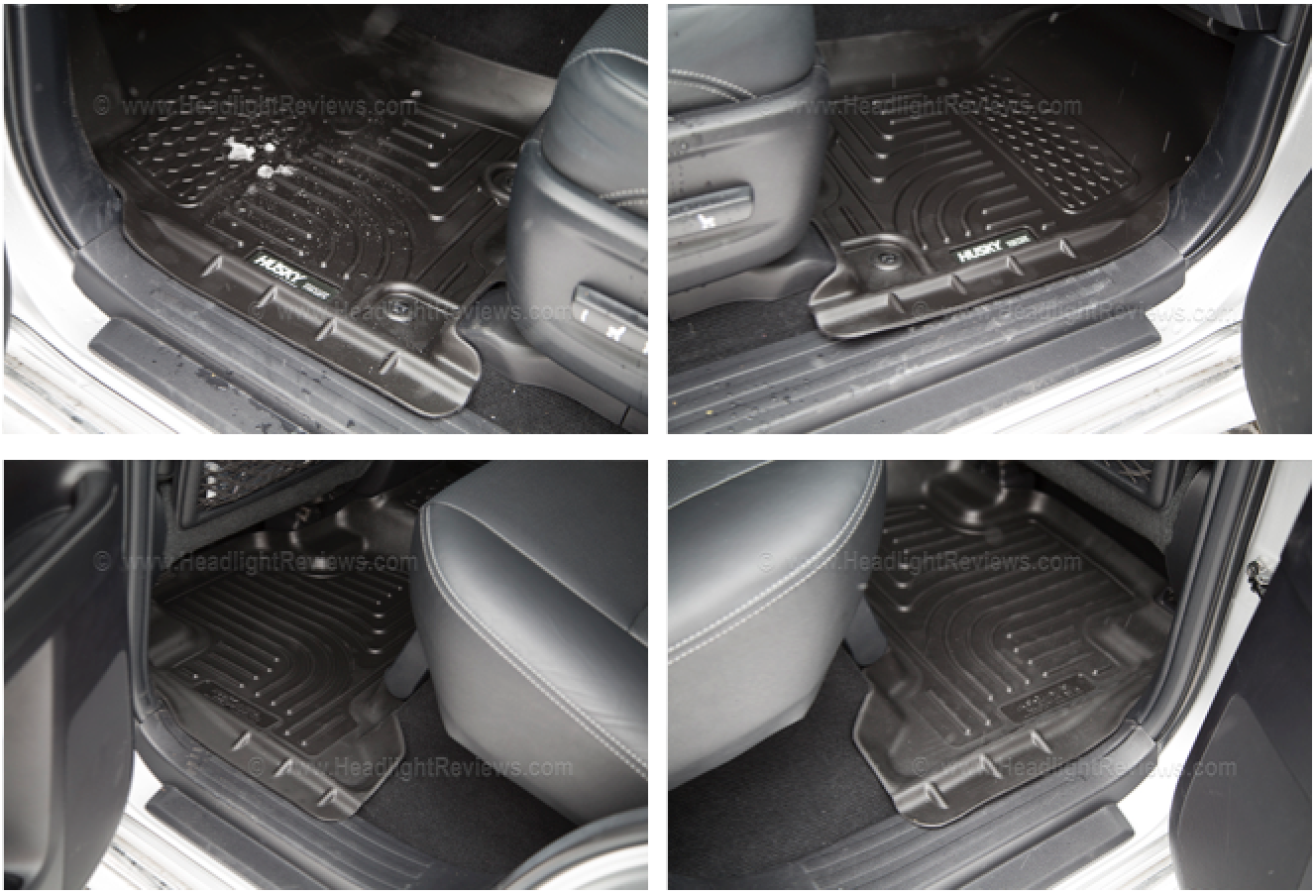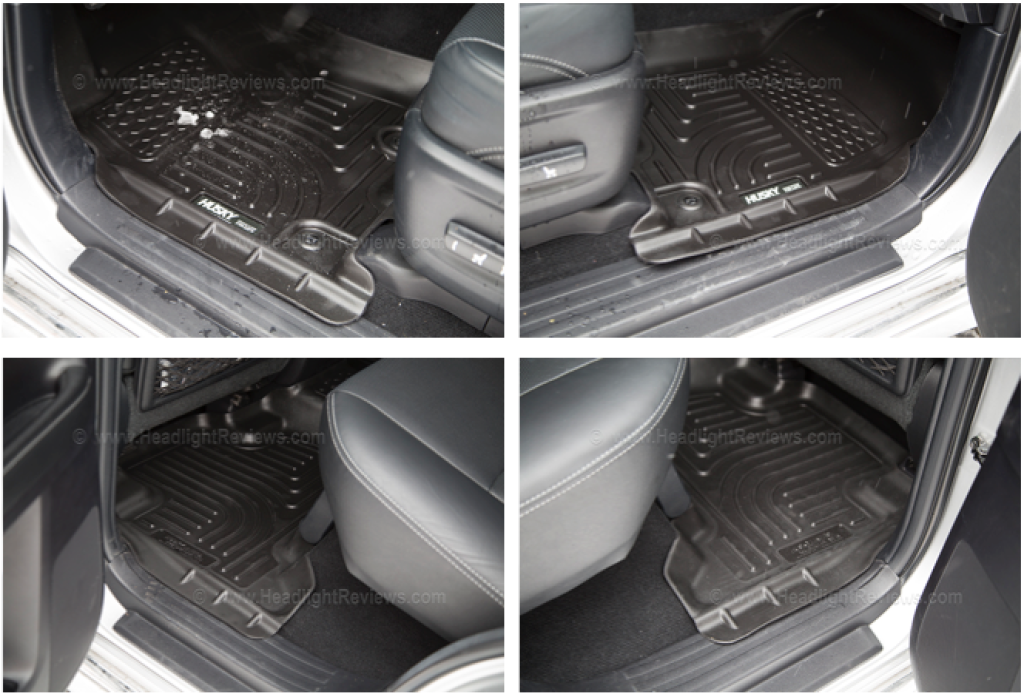 Summary:
The winner, in our eyes, was the WeatherTech Digital Fit. We needed a floor mat that would protect the carpet of our car while maintaining a professional look when I needed it to. The WeatherTech mats have a more polished look to them, while the Husky mats have a more industrial look. Â Both mats feel like they are constructed of quality materials, and would last as long as you needed them to.
One clear bonus of the Husky mats is their lifetime warranty. Â They guarantee against any defect for as long as you own the mats.
Our recommendation?  If you are looking for something durable that will last you years to come, go with the Husky WeatherBeater floor mats.  If, however, you're looking for something that will protect the carpet in your vehicle without compromising a professional look, we recommend the WeatherTech Digital Fit floor mats.
Enjoy! Â And let us know what you think about whatever set of mats you get.