This article reviews the best LED headlight bulbs for night driving.
The night is the most challenging and dangerous time to drive. Investing in aftermarket headlights can drastically improve your safety, but only if they do what the manufacturer says they can!
I've tested hundreds of aftermarket headlights over the years and frequently commute at night myself. So, trust me when I say I know what to look for in a headlight bulb for night driving.
In my testing, the Firehawk LEDs came out on top as the best headlight bulbs for night driving.
Keep reading to find out more about the Firehawk LEDs and my top choices for night driving.
IMPORTANT! – Make sure you have the correct bulb sizing and fitment so you don't waste your money, use this handy tool to double check.
Firehawk LED Headlight Bulbs
OVERALL BEST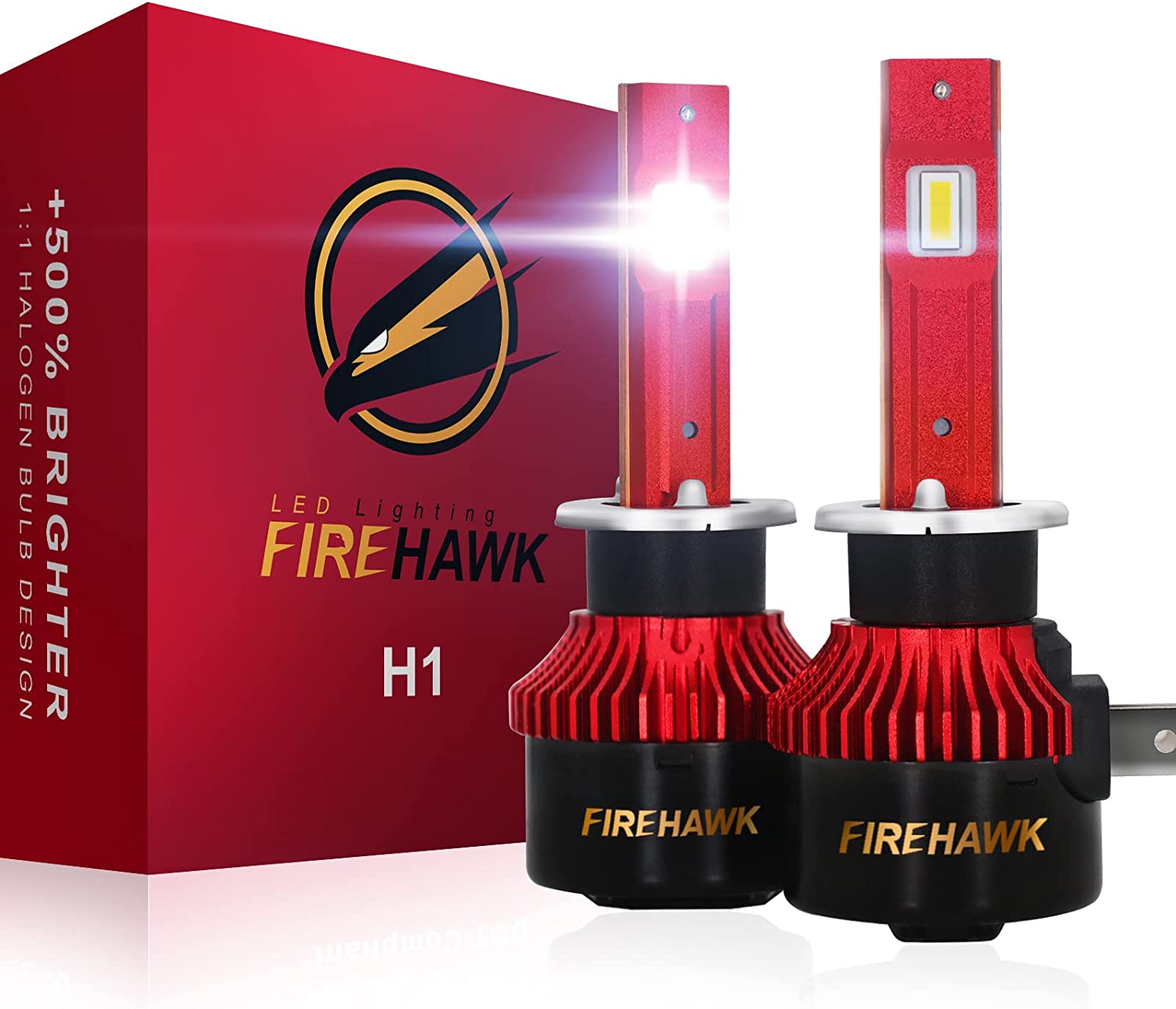 Brightness
I set up a lux test for these bulbs at a distance of 20 feet. Initially, Firehawk produced 1,341 lux, which dipped to 1,123 lux after 25 minutes. That means it retained 90% of its average light output over a typical commute time. It's also between 450 and 700 more lux than standard halogens.
The only side effect of the high lux reading is a more pronounced weak spot in the bottom center. It has a lower cutoff which is good for avoiding blinding oncoming traffic at night.
The reflector light produces nearly 2,300 lux at 20 feet. It also drops off by about 10% after 25 minutes. That makes it roughly 1,000 lux stronger than halogen reflectors.
Overall, the beam is super focussed and roughly 500% brighter than halogens. There were brighter and weaker areas, but not to the point that it bothered me.
The Firehawk also has an adjustable collar, so you can customize the beam direction.
Kelvin Colour
One of these bulbs' key attractions is its snowy white 6,000K color temperature. Two things make this ideal for nighttime driving. First, pure white is the best color to highlight obstacles or signs in crisp detail. Secondly, it takes longer to tire out or hurt your eyes than blue light
Heatings and Power
In hands-on testing, these bulbs actually only pulled 29 watts instead of 31 watts. So, they are pretty efficient.
After 25 minutes, it reached a max temperature of 143°F. This is a little bit high, but to be expected of such a powerful bulb. The manufacturer also says it's safe to use between -45°F to 150°F.
The bulb does feature a 12,000 RPM silent turbofan. It also consists of 2mm thickened red copper and 40 pcs aviation aluminum heat sinks. This combo provides greater heat conduction and dissipation. This is a pretty advanced cooling system, despite the bulb's more compact body.
The build quality is clear. It feels solid, and the body is finished in a cool looking anodized red.
Compatibility and Installation
It was designed with a 1:1 fit with halogen sockets for plug-and-play installation. It's an all-in-one unit, so you won't have to worry about any extra parts. You don't have to worry about polarity or any modifications.
It's also CANbus-ready, so it will work with most vehicles out-of-the-box. And I never picked up on any issues due to radio interference.
Build Quality and Durability
It also carries an IP68 rating, so it's completely dust and waterproof. The manufacturer rates its lifespan at 50,000 which is pretty standard for LEDs.
The Firehawk seems to share its design and components with the Hikari HyperStar. However, it produces over 100 lux more.
Summing it up
For those into it, the Firehawks also come with premium packaging and a support manual. While they are slightly pricey, they are still cheaper than most premium options.
We recommend the Firehawk for high-performance LEDs at a reasonable price. The pure white color profile and low drop-off make it great for longer night drives.
Pros
12,000 RPM silent turbofan provides significant cooling without unwanted noise
Rated at 31 W but only uses 29 W in testing, making it very power efficient
1:1 design with OEM halogens for easy and quick plug-and-play installation
6,000K pure white color temperature highlights objects in crisp detail at night
Pure white color temperature doesn't tire out your eyes on long night drives
A lifespan of 50,000 hours means the Firehawk lasts up to 100x longer than halogens
Built-in anti-radio interference keeps flickering at bay
IP68 rating means it's fully dust and waterproof for off-road use
Comes with a 2-year warranty, so you can buy it with peace of mind
Internal driver and CANbus-ready means it's compatible with most vehicles out-of-the-box
Adjustable collar allows you to personalize beam pattern
2mm thick red copper body and 40 pcs heat sink effectively dissipates high temperatures
Cons
Pure white beam may wash out colors
Comes in at a higher price point
---
NOVSIGHT LED Headlight Bulbs
BEST BUDGET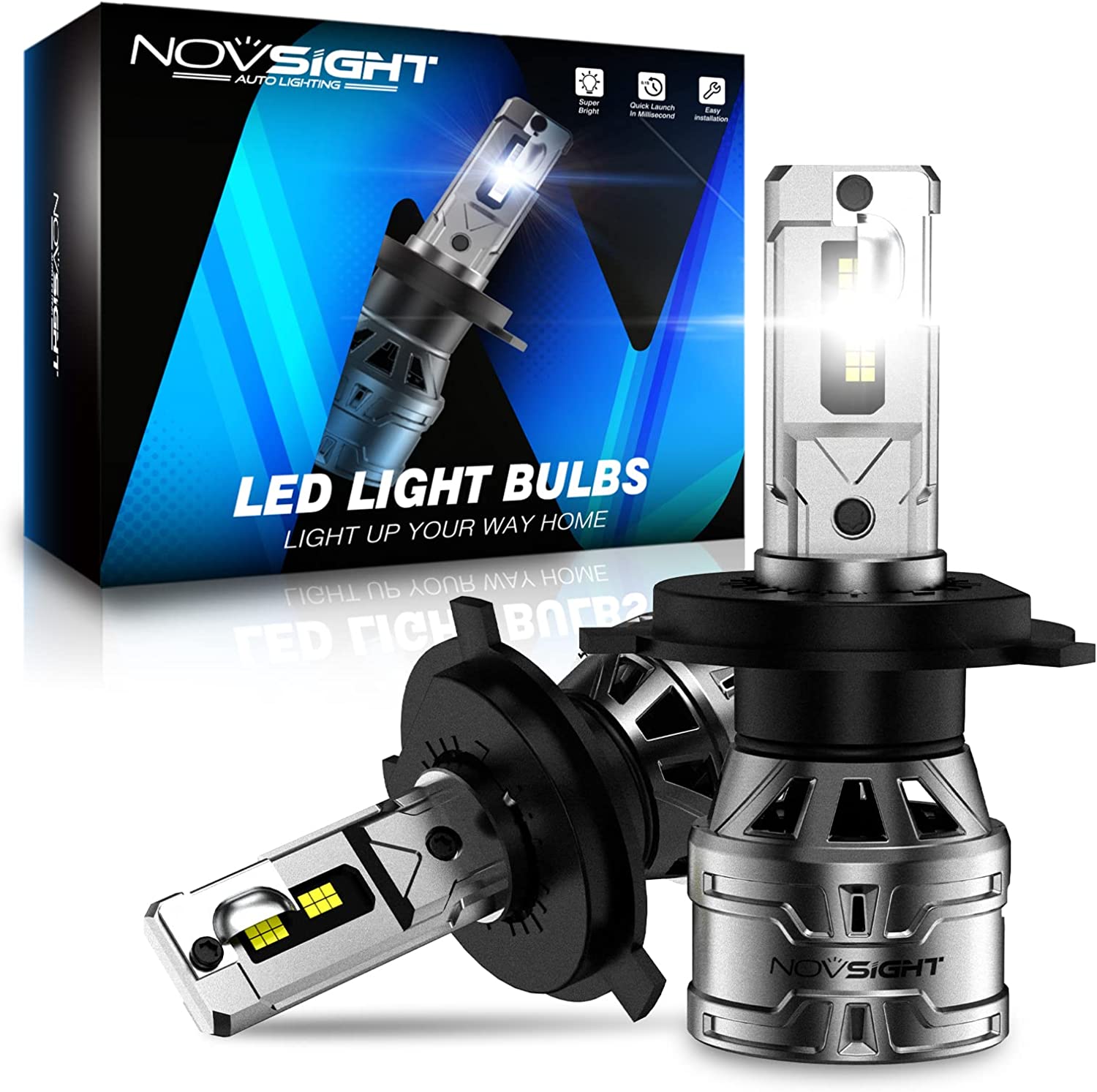 You might notice that these NOVSIGHTs pack less punch than the Firehawks, clocking in at 13,000 lumens. But hey, that's still about quadruple the brightness of your average halogens. And trust me, night driving was a breeze with these bulbs.
This does mean that the NOVSIGHTs registered a lower lux reading, around 943. But, it only dipped by a mere 5% over a 25-minute period, thanks to its cooler running temperature. On reflectors, it scored 1,298 lux and saw a slight dip of about 6%.
Unlike the Firehawks, these bulbs have a bluer color temperature of 6,500 kelvins. I noticed that the bluish hue did keep me more alert when I was driving late and was a tad tired. But, a word of caution: it may strain your eyes a bit sooner than 6,000K bulbs.
Much like the Firehawk, the NOVSIGHT sports a super-focused beam pattern. This is a critical feature for lighting up the road ahead without blinding oncoming traffic. I didn't notice any glaring, which was a plus for the consistency of the beam pattern.
While it outperformed the halogens in terms of distance, the NOVSIGHT fell slightly short of the Firehawk. On the flip side, it offered a wider angle of view. This means you'll have a better line of sight for oncoming vehicles or obstacles on the roadside.
The beam was incredibly consistent, with no discernable dark spots or glaring highlights.
The specific model I tested is compatible with H4/9003/HB2 sockets. I found the installation to be quite straightforward, and I was done in about 5 minutes. But be warned, the external cable will require a bit of extra fiddling.
It also comes with additional fittings for a plug-and-play installation for a variety of vehicles. The manufacturer's website features a handy filter tool to help you find the right fit for your ride.
The compact body of the bulb is a real plus, fitting easily into smaller housings.
One downside is that it lacks an integrated CANbus driver. For certain vehicles, you may need to install a decoder to prevent flickering or other potential issues.
For heat management, it's equipped with a 12,000 RPM fan, and a red copper and 6063 aluminum body for efficient heat conduction and dissipation.
Although it doesn't feature a heatsink like the Firehawk, I didn't find this to be a major issue, mainly because it doesn't require as much cooling.
One of the best parts about buying the NOVSIGHT LEDs is the peace of mind that comes with the 1-year manufacturer's warranty. Though, chances are, you won't need it. The NOVSIGHTs are rated for an impressive 100,000-hour lifespan.
Thanks in part to its IP68 rating, these bulbs held up really well in heavy storms, showing no signs of water damage or electrical issues.
While significantly less powerful than the Firehawk, the NOVSIGHT still draws about 30W of power. While it's a good match for its 13,000 lumens, it could stand to be a bit more efficient.
The real deal-maker with the NOVSIGHT is its affordability. It costs less than half the price of the Firehawk and less than a third of the Alla Lighting bulbs. That means you're getting the best bang for your buck in terms of lumens-per-dollar.
So, if you're budget-conscious and can do with a little less brightness, the NOVSIGHTs are your go-to. The bluish tone also makes it a prime choice if you often find yourself driving late and tired.
Pros
Plug-and-play installation on compatible vehicles can be done in 5 minutes
6,500K color temperature helps you stay alert while driving at night
13,000 lm is 400% as brighter than halogens and provides excellent nighttime visibility
12,000 RPM fan keeps operating temperatures cool for stable performance
Red copper for fast thermal conduction to control temperatures
6063 Aluminum for quick heat dissipation releases heat build-up
Rated for 100,000 hours of operation by the manufacturer – longer than most premium LEDs
Each bulb runs at a relatively efficient 30W, so it won't use up too much power
1-year manufacturer's warranty covers you in case of malfunctions or defects
One of the most affordable LEDs that offer this level of performance
Cons
Significantly less brightness than either the Firehawk or Alla Lighting
Does have an external cable which makes installation a bit trickier
Doesn't feature a built-in CANbus driver so you might have to install this separately
---
Alla Lighting LED Headlight Bulbs Combo
BEST PREMIUM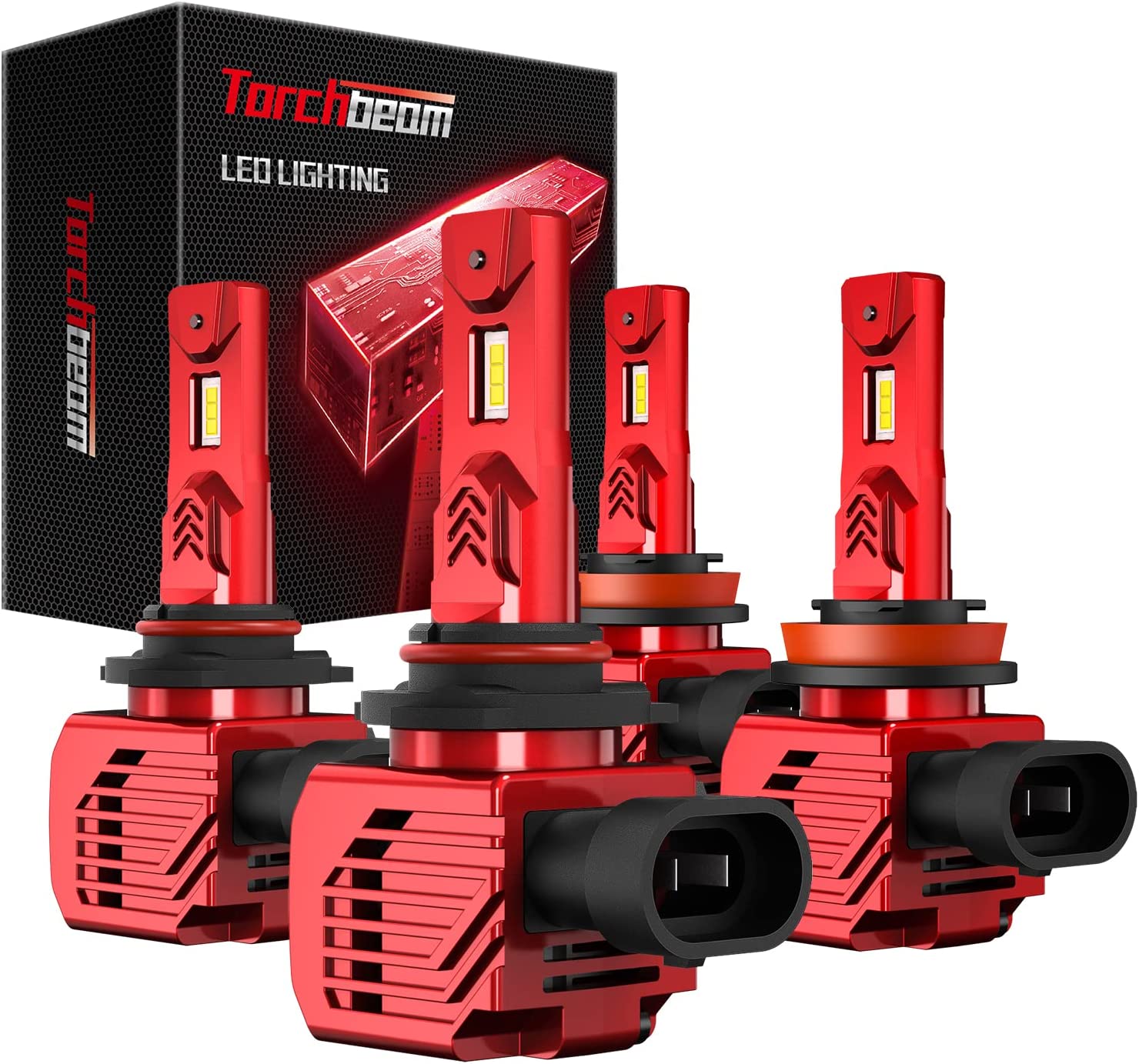 I got my hands on another high-performance bulb from Alla Lighting, boasting a brightness of 20,000 lumens. This baby is five times brighter than your regular halogens and even leaves most LEDs eating dust at night. High-illumination CREE LED Chips underpin its powerful light, showing minimal signs of aging.
Now, while it matches the Firehawk's luminosity, my lux test revealed a slightly lower score for Alla Lighting. It also saw a steeper drop-off after 25 minutes, about 12%, usually pointing to less efficient cooling.
When it came to color temperature, the Alla Lighting's 6,000K was almost a doppelganger of the Firehawk's. Its pure white light is just what you need to spot obstacles against the night backdrop.
Setting it apart from both the Firehawk and NOVSIGHT, the Alla Lighting bulbs come in packs of four, due to their separate single filament low and high-beam bulbs.
The downside is that with more bulbs, there's a higher chance of one malfunctioning. And it'll take you a tad longer to install four bulbs instead of two. But with a lifespan rating of 30,000 hours, chances are you won't be encountering any issues anytime soon.
The manufacturer backs their product with enough confidence to offer a 1-year warranty.
I have heard some previous buyers grumbling about burnout within a few months to a year. But, most buyers don't seem to share this issue, and my set showed no signs of wear even after a couple of months.
Just a word of caution, these bulbs only have an IP65 rating. They're fully dustproof and resistant to water but will need a little more care.
That being said, I've used them in pretty stormy conditions without encountering any noticeable issues.
When it came to the throw, Alla's bulbs were nothing short of impressive. They churned out the longest beam, giving you ample reaction time when driving at night. But be aware, this might mean blinding oncoming drivers.
Despite having an external cable, these bulbs were a breeze to install. All it took was plugging in and a clockwise turn to lock the bulb in place, followed by connecting the plug-in harness. And with all the connectors being OEM, there's no need for any adaptors or modifications.
I particularly appreciated the compact size of the bulb, making it easy to handle and fit.
These bulbs come with fittings for a wide range of sockets. The manufacturer does warn that some vehicles might need an LED resistor to avoid flickering, but I didn't face this issue with my car.
The bulb design incorporates a 6063 aviation aluminum heat sink, adding to its durability and boosting heat dissipation.
It's also equipped with a built-in fan, although the RPM isn't listed by the manufacturer. It wasn't exactly silent, but once installed with the light cap on, I couldn't hear it at all.
In terms of price, Alla's bulbs do run a bit more expensive than the Firehawk. The luminosity and color temp are similar, but the Firehawk edges ahead with better cooling, longer lifespan, and a higher IP rating, which is why it got my preference.
These days, finding 4-bulb sets is a bit of a challenge. So, if you need a separate high/low beam alternative, Alla Lighting makes an excellent choice.
Pros
Produces 20,000 lumen, which is 5x brighter than halogens, lighting up the night
High-illumination CREE Chips slow down the aging effect of using high-powered bulbs
The 6,000K color profile produces a pure white light ideal for nighttime visibility
6063 aviation-grade aluminum heat sink dissipates heat to improve its lifespan
IP65 rating means it's fully dustproof and rainproof, making it suitable for use in heavy weather
A 30,000 hour lifespan means it will last much longer than stock halogens
Comes with many different fitment options for installation in a wide range of vehicles
Relatively low drop-off makes it suitable for longer commutes
A 1-year manufacturer's warranty covers you in case of defects or issues
Compact and petite design makes it easy to fit into any housing
Cons
The most expensive bulb on this list
Not CANbus-ready, so might need an additional decoder to prevent error codes
---