This is my buying guide on the best LED headlight bulbs for the Toyota Tacoma in 2023. Below is a quick summary of my top recommendations. Scroll further down to read my in depth, hands on reviews, for each headlight brand.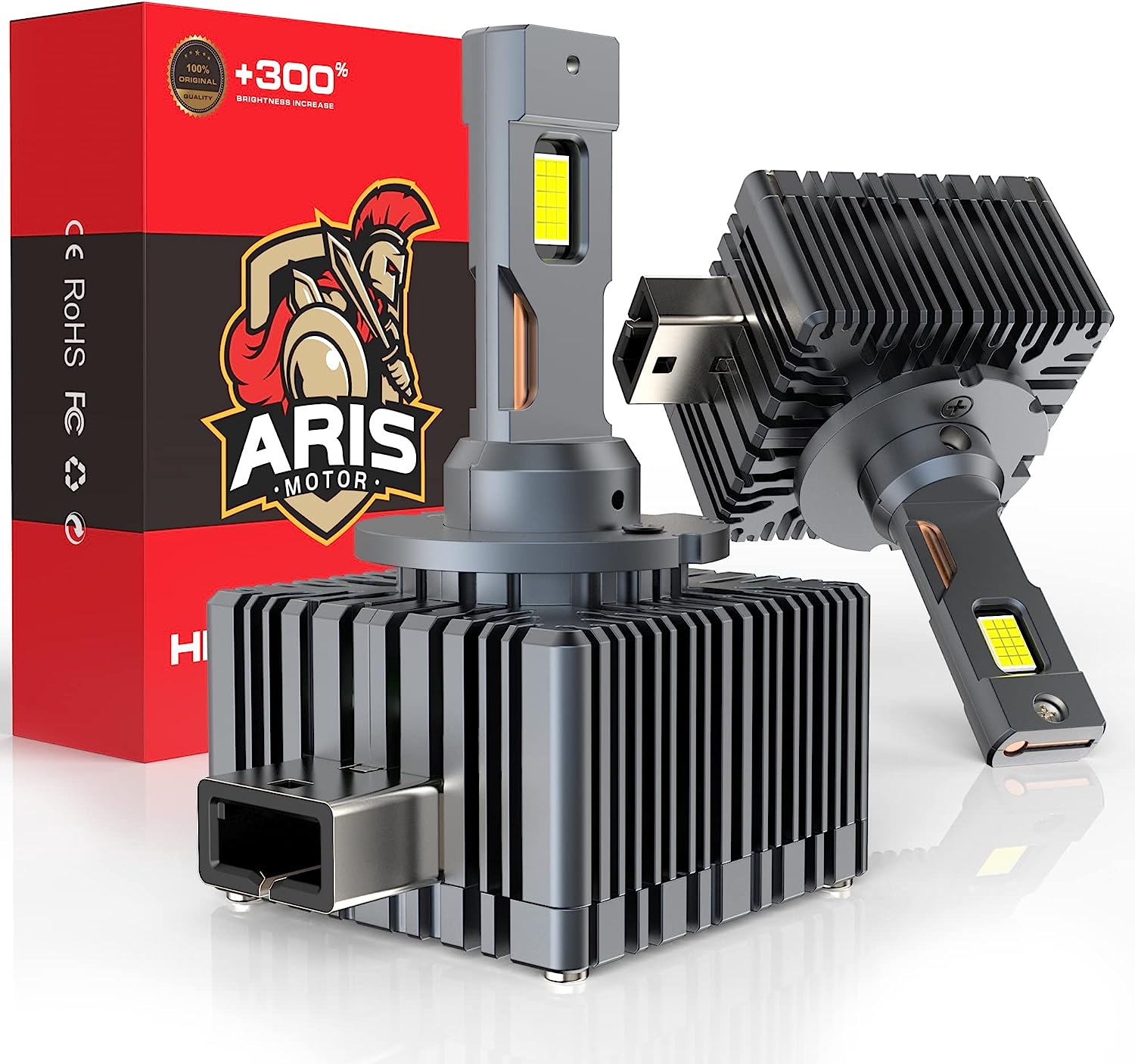 Arismotor LED
Headlight Bulbs
10,000 lumens per bulb
600% improvement over stock halogens
10,000RPM silent cooling fan
Cool after 27 minutes 132°F/109°F
Projector test initial lux 1,602
Reflector test initial lux 2,860
Exceptional heat retention after 27 minutes at 85%
IP68 waterproof rating
External driver connected by braided cord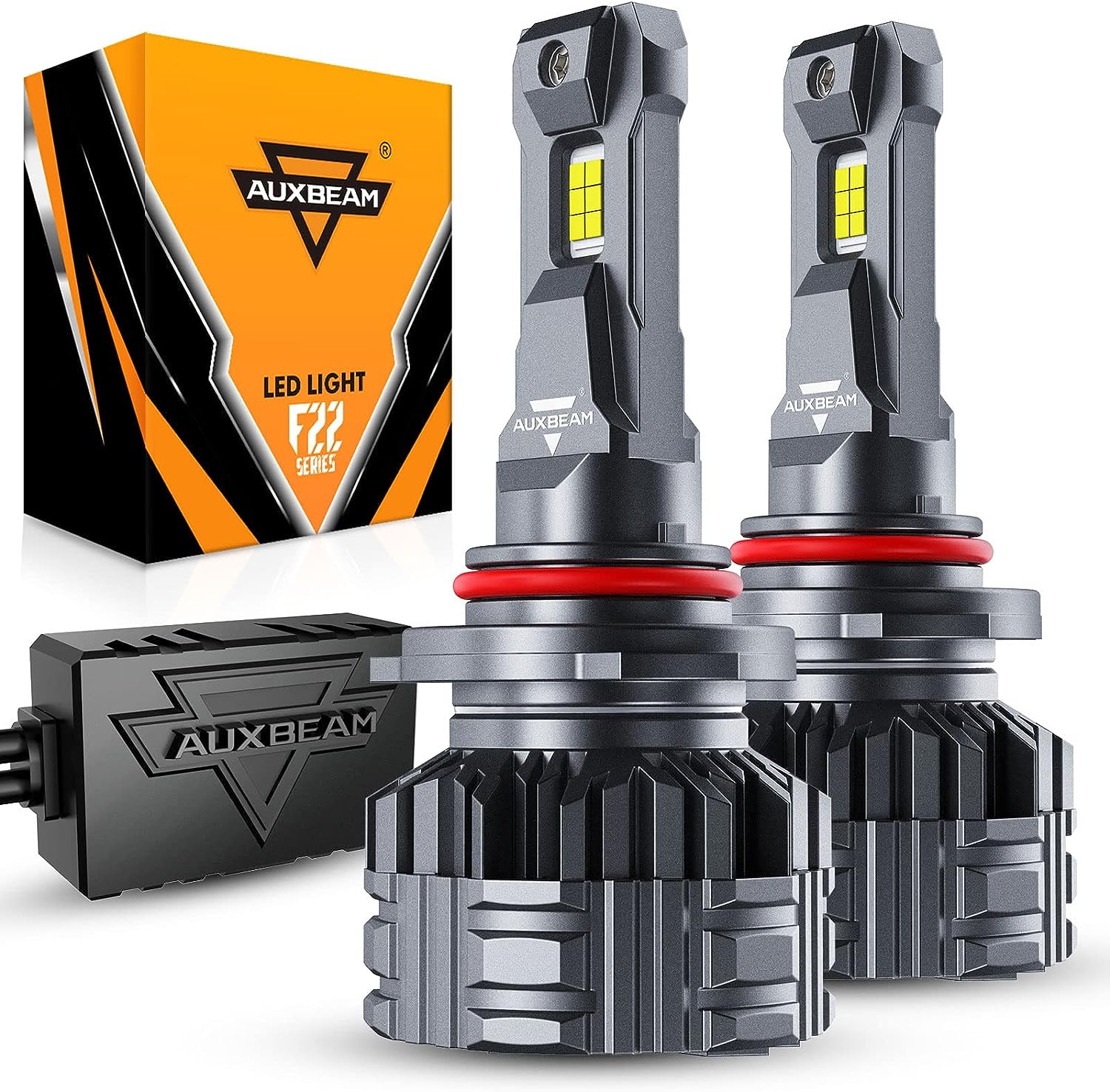 Auxbeam F22 Series LED
Headlight bulbs
12,000 lumens per bulb
300% improvement in night vision
1,200ft downroad illumination
Projector test initial lux 1,742
Reflector test initial lux 4,270
79% heat retention after 27 minutes
IP68 waterproof rating
Guard protected fan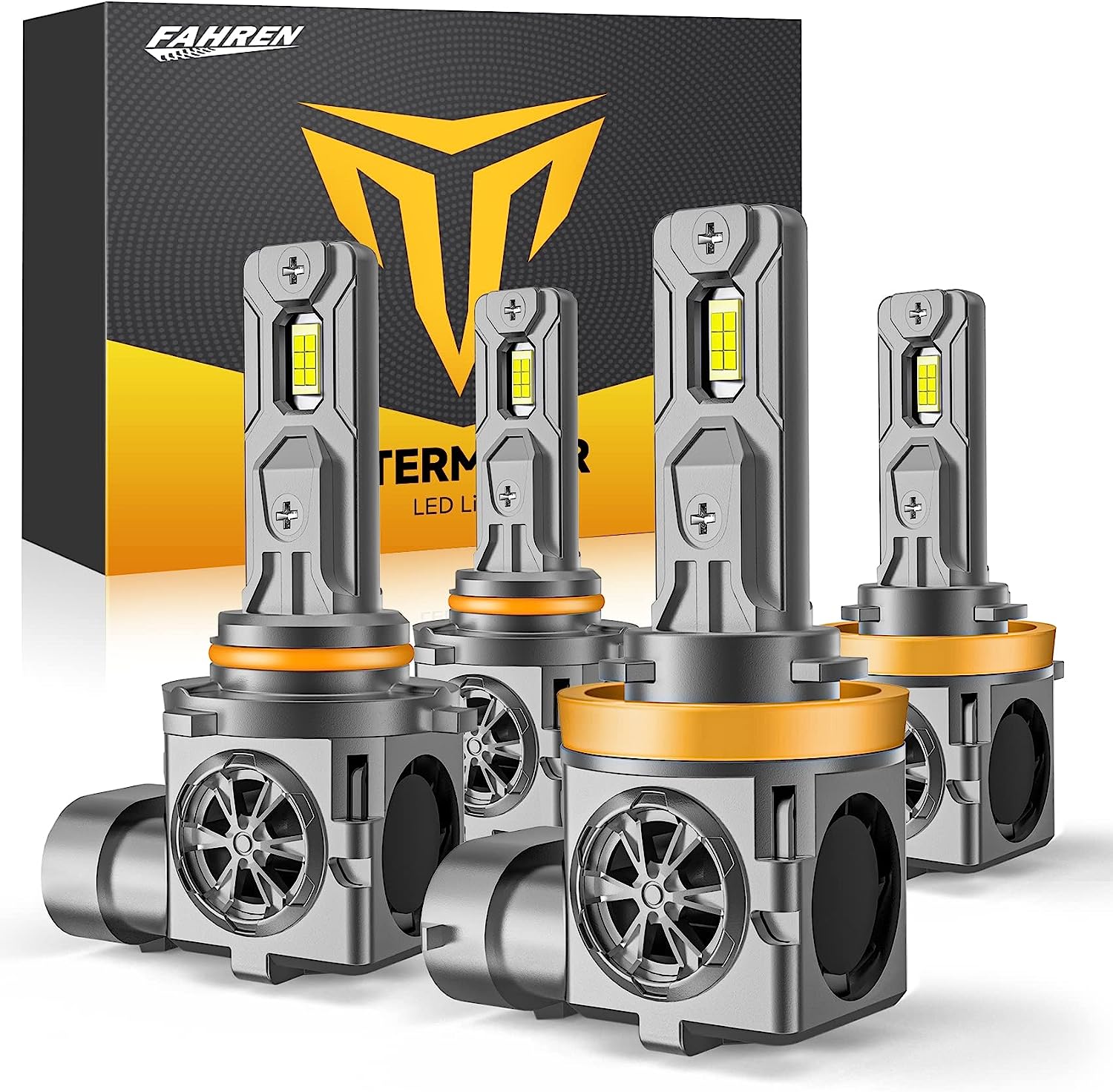 Fahren Termitor LED
Headlight Bulbs
30,000 lumens per bulb (advertised)
800% improvement over stock halogens (advertised)
20,000RPM cooling fan
All-in-one unit
Projector test initial lux 1,640
Reflector test initial lux 2,790
82% heat retention after 27 minutes
IP68 waterproof rating
Sturdy and durable to the touch
---
Unlike earlier models, the 2023 Toyota Tacoma now has LED headlights as standard. The casings have an even more rugged construction so that you can take your truck anywhere.
Replacing stock halogens has become the trend in modern vehicles, and for good reasons. LEDs last longer, are considerably brighter, and have better heat management.
The LEDs still burn out, and that's when you need replacements. With so many on the market, how do you know what to choose?
That's where I come in. I've been testing and using LED headlight bulbs for over 20 years and have seen it all.
For a Toyota Tacoma, I put ten different LED headlight bulbs through testing and narrowed it down to three.
The Auxbeam F22 series was the clear winner due to its exceptional brightness, reliable beam pattern, and excellent price point.
I follow the Auxbeams with a premium and a budget option.
Full disclosure: I don't own a Toyota Tacoma (well, not yet), but my good buddy lent me his so I could test all the bulbs.
Are you ready to discover your next LED replacement bulbs for your Toyota Tacoma? Read on.
Overall Best
The Auxbeam F-22 Series LED headlight bulbs get my vote for the best overall LEDs for a Toyota Tacoma.
They boast some impressive specs similar to the top-tier Auxbeam GX but come at a more affordable price.
Advertised Specifications
The Auxbeam 2023 F-22 LED headlight upgrade enters the ring with an impressive lineup of features that should make any Tacoma driver take notice.
Each bulb is packed with 12 pieces of high-quality Blade X CSP LEDs, which emit a staggering 12,000 lumens. That's 700% more light output and a 300% improvement in night vision compared to standard halogen bulbs.
You also get 1,500ft of enhanced downroad lighting for improved visibility during nighttime drives.
The color temperature of the F-22 bulbs is a cool 6500K, providing a bright, clean white light to cut through the darkness. This color is a significant improvement on factory halogens 3000K amber-yellow.
The benefit of white is that objects in front and to the side of the car are displayed with more clarity and appear earlier than with stock halogens.
Each bulb comes with an adjustable collar that ensures a tight and secure fit in your Tacoma's headlight housing.
When it comes to cooling, the F-22 has it all figured out. It features a 5-layer cooling design that incorporates double liquid-cooling copper tubes, a pure red copper baseboard, a full aviation aluminum body, 36 pieces of dendritic heat sinks, and a 12,000 RPM fan.
This comprehensive cooling system ensures the LED lights maintain optimal performance without overheating. But does it work effectively? See my test results below.
The F-22 headlight bulbs are 2023 CAN bus ready, which means no more annoying dashboard errors, flickering, or radio interference – common issues with lesser LED headlight upgrades.
The IP68 rating assures you of its resistance to dust and water, making it suitable for taking your Toyota Tacoma out in a variety of weather conditions.
Auxbeam suggests the bulbs will last 55,000 hours, and that's quite a claim. I'm not sure this is the case, and other drivers agree with me. Check out what they have to say further down.
Lastly, the Auxbeam F-22s come with a generous two-year warranty, double the period provided by most standard warranties, offering peace of mind for your investment.
Please note, though, the F-22 headlight bulbs are not recommended for use as daytime running lights due to their high intensity.
Neat Features
The design and build of the Auxbeam F-22 LEDs are solid, making them a serious contender for any headlight upgrade.
I like how the heat sink features plenty of fins for improved heat dissipation.
The fan is well protected with a guard, reducing the chance of accidental damage during installation.
Another neat detail is the small Auxbeam logo on the fan guard, adding a touch of class to the overall design.
What's in the Box?
Unboxing the F-22, I'm immediately taken by the presentation. The gold foil packaging indicates thoughtfulness and effort, something I always appreciate.
Apart from the two LED lights, the package contains a warranty card, a detailed user manual that unfolds to offer extensive information, zip ties, and double-sided tapes for securing the external drivers.
They've also thrown in an Auxbeam sticker for fans of the brand.
Starting with the initial observations, the Auxbeam F-22 LED strikes me as a robust, durable bulb. Its sturdy external driver feels heavy and well-made.
This should hold up fine for anyone taking their Tacoma out in rugged conditions.
Testing on a Toyota Tacoma
Now, let's shift gears to testing.
I test all LED bulbs the same way. I position both a projector and reflector casing 20ft from a lux meter. My goal is to compare the output with those of stock factory halogens.
Projector Test
Once I fit the F-22 into the projector, it clocks in at an intense 1,742 lux, outperforming the halogen's 725 lux by more than double.
After 27 minutes (the average commute time in the US), it holds steady at 79% of its original output, resulting in 1,376 lux.
The beam pattern could use some improvement. The cutoff is clear, but the hotspot is higher than optimal. This suggests that careful aiming is essential for the best results.
Reflector Test
Moving on to the reflector test, the F-22 shines brighter, hitting 4,270 lux, a marked increase over the halogen reflector's 910 lux.
After 27 minutes, it still retains 79% of its light output, clocking in at 3,373 lux.
Impressively, the F-22 outperforms in a reflector setup compared to the projector. The light pattern, compared to halogen, is noticeably improved, with very little blurriness on the top and bottom cutoffs.
Plus, areas that typically start to fade, like the bottom center, are surprisingly well-illuminated.
The F-22 falls slightly short of the published power rating of 55 watts, reaching 41.4 watts per light.
Here's my only concern. After running for 27 minutes, my thermal camera recorded a slightly high 239°F for the main unit. Thankfully the driver recorded a surprisingly cool 128°F.
Out On The Road in the Toyota Tacoma
Upon installing the Auxbeam 2023 F-22 LED headlights in my buddy's Toyota Tacoma, I took to the road and was instantly impressed. The bulbs produced a cool white beam, easily stretching up to the advertised 1,500ft down the road, significantly improving upon the Tacoma's original halogen lights.
I noticed the projector beam provided a clear cut-off line preventing excess glare for oncoming traffic. Once I adjusted the slightly high hot spot, my field of view was comprehensive, improving the vehicle's overall safety.
In reflector mode, the Auxbeam F-22 shone even brighter, illuminating broader and darker areas of the road. Off-road, the detailed, precise illumination was particularly effective, effortlessly highlighting the contours of uneven terrain, stray rocks, and tight bends.
All in all, the Auxbeam F-22 LED headlights significantly enhanced my Toyota Tacoma's night-time visibility and driving safety, creating a transformative driving experience.
What Other Drivers Are Saying
Drivers are fans of the Auxbeam F-22 LED headlights, rating them with 4.3/5 stars.
The improved brightness over factory halogens is the stand-out comment. Many drivers, including those with Toyota Tacomas, comment on the ease of installation.
Where Auxbeam may need to improve on these is their running life. It appears they don't last the advertised 55,000 hours.
Final Thoughts
The Auxbeam 2023 F-22 LED headlight upgrade is a serious contender for your Toyota Tacoma if you're looking for a balance of performance, durability, and value. It's particularly suitable if your Tacoma uses a reflector setup.
Despite minor quirks, it's a strong performer, especially considering its affordable price point. With careful installation and alignment, the F-22 can provide a substantial upgrade over stock halogen bulbs.
Pros
12,000 lumens per bulb
300% improvement in night vision
1,200ft downroad illumination
Projector test initial lux 1,742
Reflector test initial lux 4,270
79% heat retention after 27 minutes
IP68 waterproof rating
Guard protected fan
Cons
Main unit gets very hot
May not last the advertised 55,000 hours
---
Best Budget
Arismotor, while a relatively new name in the automotive lighting world, introduces a solid LED headlight option with its inaugural model. For the price, these are an excellent consideration for use with a Toyota Tacoma.
Advertised Specifications
Arismotor takes a strong stance with its entry into the LED headlight market.
The advertised specs impress, starting with a custom-grade automotive TX-4570 LED chip capable of producing 10,000 lumens per bulb. This light output claims to be a substantial 600% brighter than your average halogen bulb.
The light takes form in a focused beam pattern, cutting through the dark with precision.
The bulbs have a color temperature of 6500K, mimicking the color of daylight for improved visibility.
To manage the heat from this light output, Arismotor has equipped the bulbs with a cooling system composed of an entire lamp body made from aviation-grade aluminum and an ultra-low noise turbo fan running at 12,000 RPM.
Arismotor also built an EMC system into these bulbs and shielded the power cable to mitigate the potential for radio interference – a common issue in LED bulbs.
This thoughtful engineering is further demonstrated in the IP68 rating for dust and water resistance, the significant 60-watt power output, and an estimated lifespan of 50,000 hours.
But Arismotor doesn't stop there. It has also incorporated an adjustable collar to ensure compatibility with various headlight housing designs.
All of these offerings come backed with a reassuring two-year warranty, adding to the credibility of these promising specifications.
Neat Features
The headlight design is reassuringly robust, notably with the fan guard at the rear. The adjustable collar secures firmly into place, and the braided cord attached to the external driver exudes an air of durability.
What's in the Box?
First impressions? The packaging is basic but practical, and I'm rather fond of the brand mascot. The box contains a concise two-page manual and the pair of LED headlights.
No unnecessary extras, just what you need. It's a breath of fresh air in an era of excessive add-ons.
Testing on a Toyota Tacoma
Here's how they performed, and I have to say, for the price, I'm impressed!
Projector Test
Once powered on, these bulbs shone brightly in the projector headlight housing. They hit 1,602 lux (877 over the halogen's 725 lux) in the initial test.
After a 27-minute run time, they retained a commendable 85% of that light output at 1,362 lux. That's better heat management than the Auxbeam F-22s and the Fahren 2023 Terminator.
The pattern showed a sharp cutoff, a clear advantage in reducing glare for oncoming drivers.
Reflector Test
In the reflector test, the Arismotor bulbs scored 2,860 lux, an impressive 1,950 lux over halogen. After 27 minutes, they still managed 85% of their initial output, 2,431 lux.
The pattern was overall clean, with some slight blurring in the top and bottom left and in the common weak spot, the lower center.
On the Road with the Toyota Tacoma
I was eager to try these new lights in my buddy's Tacoma. The bulb installation was smooth, but I noticed they fit a bit loosely in the headlight housing. If you experience a similar issue, you may need to consider a different gasket, potentially repurposing the original halogen one.
Driving around in the Tacoma, these bulbs illuminated the road admirably. The color temperature was close to daylight.
The clear cutoff helped improve visibility without blinding other motorists. The minor weakness in the lower center wasn't a significant issue in real-world driving.
Heat Management
Interestingly, while the advertised power was 60 watts, my testing showed an output of only 40 watts. Could this be a misprint in the specs?
After a 27-minute runtime, the heat management was impressive: the main unit heated up to only 132 degrees Fahrenheit while the driver kept cool at 109 degrees. The Arismotor's ability to keep the temperature down while maintaining bright output is praiseworthy.
What Other Drivers Are Saying
The Arismotor LED headlight bulbs are new to the market, but drivers have already begun to rate them at 4.2/5 stars.
Customers appreciated the clear white that the 6,500 kelvins provided.
Some drivers appeared to struggle with the installation, so Arismotor needs to consider this for future models.
Final Thoughts
Despite Arismotor being a relatively unknown player in the LED headlight arena, it's made an impressive start. The LED headlights perform exceptionally well in projector and reflector housings, maintain a cool temperature, and manage high light output.
If you have a Toyota Tacoma and require a high-output light with efficient heat management, these Arismotor LED headlights could be a compelling choice. The fit issue might be something to consider, but overall, these bulbs deliver more than expected.
Pros
10,000 lumens per bulb
600% improvement over stock halogens
10,000RPM silent cooling fan
Cool after 27 minutes 132°F/109°F
Projector test initial lux 1,602
Reflector test initial lux 2,860
Exceptional heat retention after 27 minutes at 85%
IP68 waterproof rating
External driver connected by braided cord
Cons
Installation could be made simpler
---
Premium Choice
The Fahren Termitor 2022 LED headlight bulbs were one of my favorites last year. I was excited to test the 2023 model. Despite some initial concerns after testing, I was intrigued by the possibilities it could offer for the Toyota Tacoma.
Advertised Specifications
Fahren likes to boast impressive figures, yet they don't always match up.
The advertised specifications of the Fahren Termitor 2023 indicate that it's an impressive piece of equipment.
While the exact chip details remain undisclosed, each bulb is equipped with 12 LEDs, promising a dazzling 30,000 lumens of light – a staggering 800% brightness increase over conventional halogens.
The color temperature is a cool 6500K, designed to emulate daylight conditions for safer night-time driving.
In terms of cooling, the bulb features an aviation-grade aluminum body, a thermostatic copper plate, and a whopping 20,000 RPM superpowered cooling fan.
The bulb is designed to be 'CAN bus ready,' meaning that it's supposed to be free from flickering issues or dashboard errors, ensuring smooth operation.
Each bulb utilizes 65 watts of power, indicating strong performance potential.
One notable feature is the IP68 rating, promising a robust level of resistance against water and dust. Take your Toyota Tacoma out in the rain, hail, fog, or snow, and drive confidently.
The estimated lifespan of these bulbs is an extremely high 60,000 hours, yet they only come with a one-year warranty.
These specifications paint a highly promising picture of the Fahren Termitor 2023 on paper.
However, it's essential to scrutinize these figures against real-world performance. My comprehensive tests unearthed some discrepancies, which are highlighted in the following sections.
Neat Features
A step away from the traditional, the Termitor 2023 displays an all-in-one design housing the driver internally, contributing to its diminutive size – even smaller than the 2023 Fahren Krieges.
A solid metal body with twin concealed cooling tubes and stylish ventilation features give it a sturdy, durable feel and a unique aesthetic touch.
What's in the Box?
Unboxing reveals a pair of anti-static gloves and a sleek black mystery bag from Fahren, which, upon opening, holds the light bulb itself and a set of basic instructions.
The plug-and-play nature of this bulb means you should easily swap it with your existing bulb, enhancing the simplicity of the user experience.
Though it lacks an adjustable collar, the overall build quality is impressive.
Testing on a Toyota Tacoma
My issue with Fahren is that it commonly exaggerates the performance of its products, and this rings very true with the 2023 Termitor LEDs
Projector Test
Despite some initial doubts, the Fahren Termitor 2023 showed a decent start in the projector test. The unit generated an output of 1,640 Lux, which was 915 above the 725 Lux measurement of a standard halogen bulb.
However, this was still 27% lower than the previous version of the Termitor. This discrepancy was quite surprising given that the 2023 model's published lumen specifications are nearly three times that of its predecessor.
After a typical 27-minute commute, the bulb maintained a respectable 82% of its initial light output, translating to 1,345 Lux, or 620 above halogen.
Examining the beam pattern revealed a clean cutoff and a hot spot conveniently close to it. Nevertheless, there was a notably large familiar weak spot in the light distribution.
Based on the Toyota Tacoma's headlight design and the position of your driver seat, it's essential to take this potential blind spot into account to ensure safe driving.
Reflector Test
Moving onto the reflector test, the Termitor 2023 started with 2,790 Lux or 1,880 Lux over halogen. However, it was still 46% dimmer than its predecessor, a difference that was again unexpected in light of the higher published numbers for the 2023 model.
After 27 minutes of runtime, it continued to keep 82% of its initial output, dwindling to 2,288 Lux or 1,378 Lux over halogen.
The reflector light pattern, while okay, did show some concerns. The cutoff weakened on the left and right sides, adding to the issues I observed in the projector test. This could potentially affect visibility during nighttime driving, so it's an aspect to consider when installing this bulb in your Tacoma.
Heat Management
As mentioned, there is a published rating of 65 watts per light. However, I only observed 27.6 watts in my tests, so that's 37.4 watts less than published, and that difference is actually greater than the observed wattage number itself.
As for heat, the Termitor 2023 demonstrated slightly above-average heat production after 27 minutes of runtime. The thermal camera recorded a peak of 245 degrees Fahrenheit, a result expected for an all-in-one design as the internal driver contributes to the overall unit's heat.
Despite this higher-than-average temperature, the unit handled the heat adequately without any significant adverse effects on performance.
On the Road With the Toyota Tacoma
As I navigated the night in my buddy's Toyota Tacoma fitted with the Fahren Termitor 2023, the immediate impressions were a blend of satisfaction and caution.
The enhanced light output, significantly brighter than a standard halogen bulb, was immediately noticeable, illuminating the road ahead due to the cool white light.
The clean cutoff and defined hotspot close to it effectively highlighted potential obstacles. However, the large common weak spot detected during testing did translate into a noticeable gap in visibility on the road.
Similarly, the dimmer left and right sides of the reflector's light output, as seen in the testing phase, slightly impacted peripheral visibility. Even so, the bulb managed to maintain most of its brightness during a typical 27-minute commute, ensuring consistent visibility.
Despite these minor concerns, the driving experience was largely improved, with a noticeable increase in visibility and clarity.
What Other Drivers Are Saying
Fahren Termitor 2023 customers rate these LED headlight bulbs overall at 4.3/5.
Most drivers were blown away by how easy they were to install and appeared happy with the longevity of the bulbs.
Drivers agree with me that Fahren's marketing is exaggerated, and the bulbs don't perform as brightly as advertised.
Final Thoughts
Even though it didn't match its predecessor's output, it wasn't an entirely underwhelming light. If your Toyota Tacoma model's headlight housing has space constraints, or you're not keen on modifying dust caps, this bulb could potentially serve you well.
However, it's essential to consider the more prominent common weak spot and the slightly dimmer sides based on my Tacoma testing. Despite a few concerns, with honest self-assessment and a focus on safety, the Fahren Termitor 2023 could still be a beneficial addition to your vehicle.
Pros
30,000 lumens per bulb (advertised)
800% improvement over stock halogens (advertised)
20,000RPM cooling fan
All-in-one unit
Projector test initial lux 1,640
Reflector test initial lux 2,790
82% heat retention after 27 minutes
IP68 waterproof rating
Sturdy and durable to the touch
Cons
Unit gets very hot
Don't live up to the advertised specs
---