This is my buying guide on the best LED headlight bulbs for the GMC Sierra in 2023. Below is a quick summary of my top recommendations. Scroll further down to read our in depth, hands on reviews, for each headlight brand.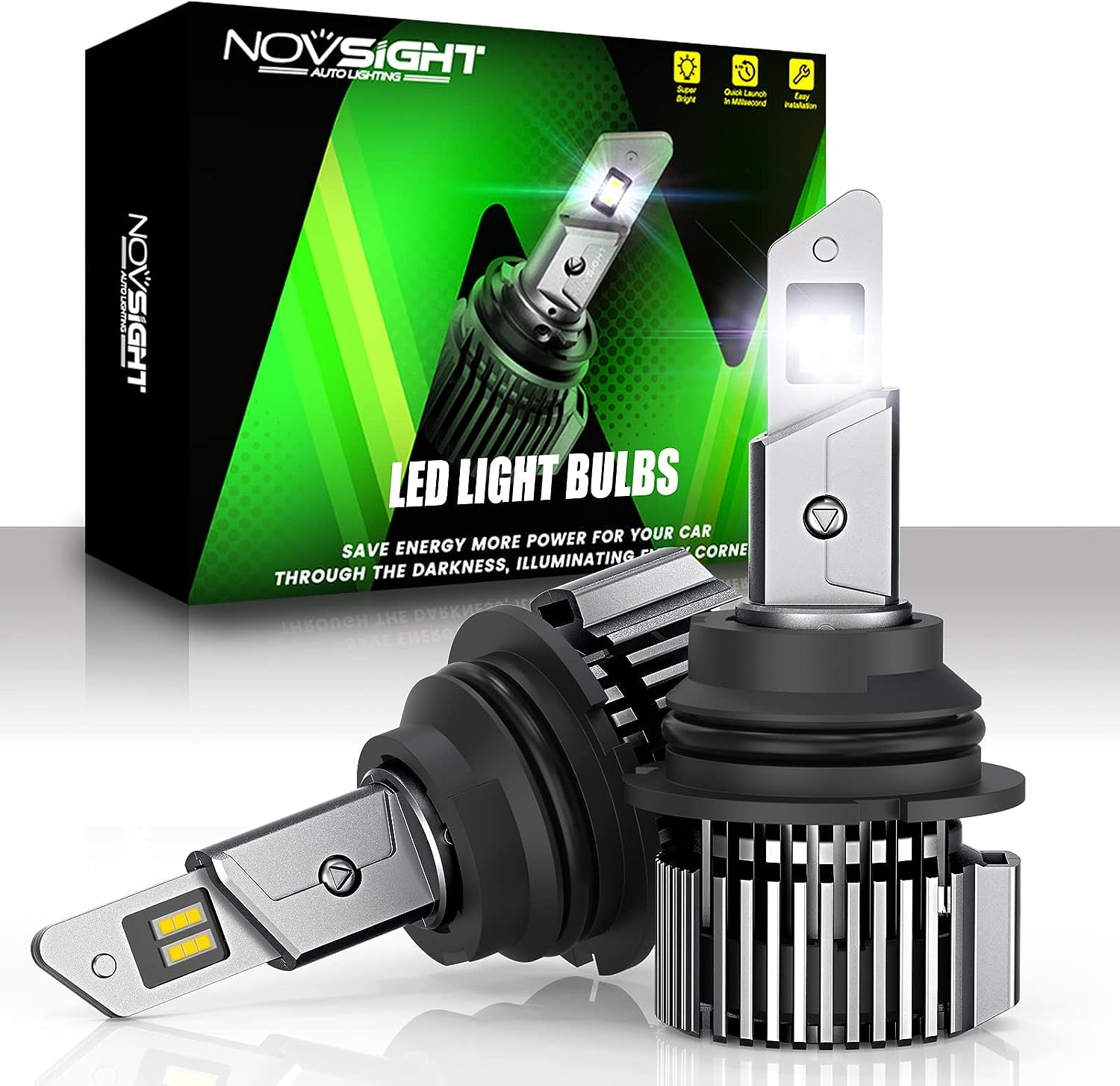 Novsight N52 Green LED Headlight Bulbs
10,000 lumens per bulb
600% brighter than halogens
50 watts of power each
77% heat retention after 27 minutes
Projector initial lux rating of 1,836
Reflector initial lux rating of 3,620
IP68 rating
100,000 hours longevity (advertised)
External driver shaped like a car
Sturdy and robust units
2-year warranty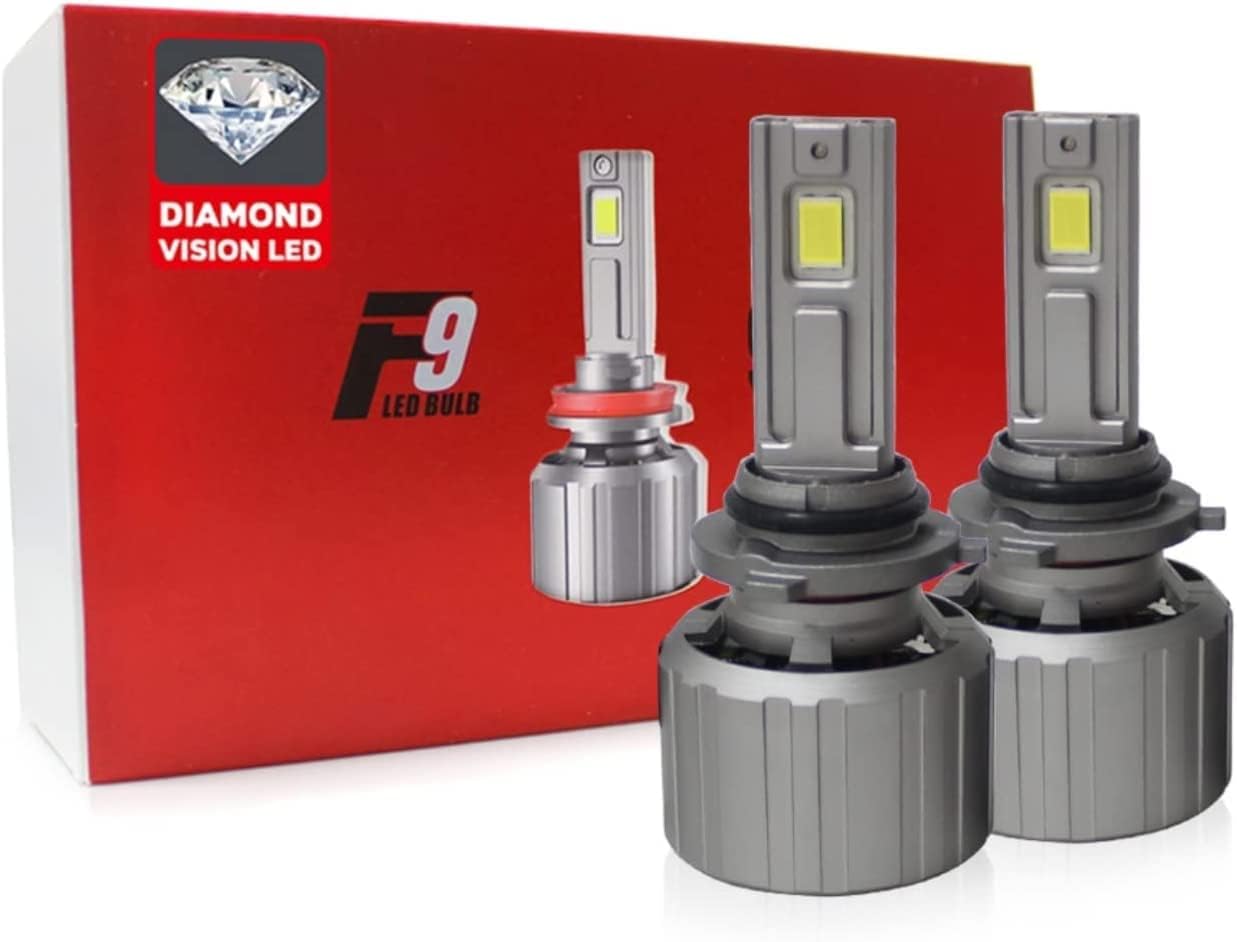 Diamond Vision F9 LED Headlight Bulbs
19,000 lumens per bulb
90 watts of power each
6,500K pure white
77% heat retention after 27 minutes
Highest ever projector initial lux rating of 2,730
Highest ever reflector initial lux rating of 5,560
IP68 rating
Premium satin coating
Sturdy and robust units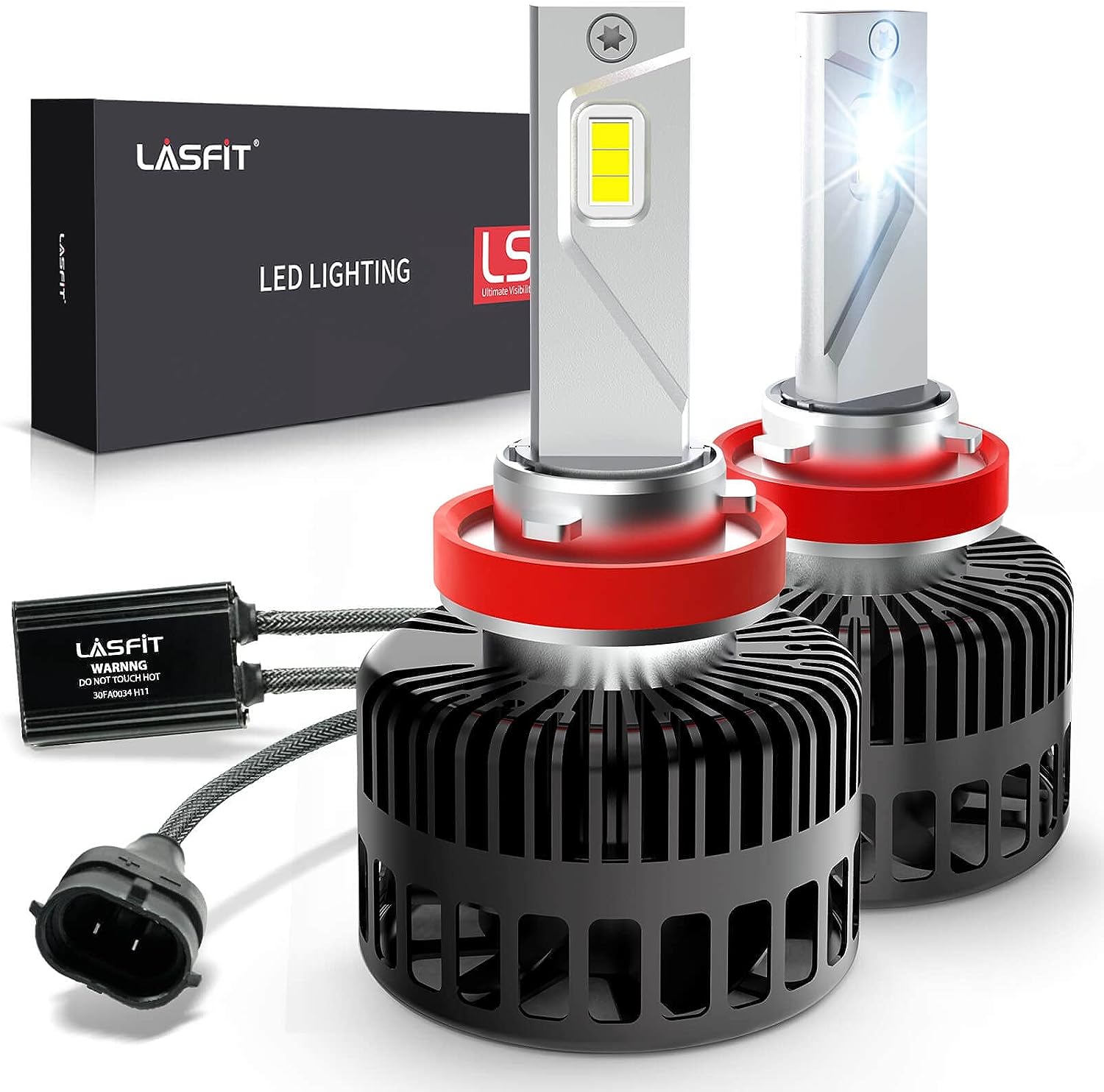 Lasfit LS Plus LED Headlight
Bulbs
4,500 lumens per bulb
6,000k color temperature
Braided cables connecting the external driver
Huge heat fan
Best every heat retention after 27 minutes of 93%
Projector initial lux rating of 1,816
Reflector initial lux rating of 3,710
IP68 rating
360° adjustable beam
45W power each
---
The refreshed 2023 GMC Sierra has some exciting changes to its headlights. The traditional vertically stacked three-light cluster is being upgraded to four. The blocky signature look of former models will adopt a more organic style, and LEDs will now be standard.
So what LED lights will you need when the factory-installed ones burn out?
That's why you're here, right? I've been testing automobile lights for over a decade, and I'm constantly on top of the latest and greatest.
I borrowed my buddy's GMC Sierra, put 12 different bulbs through their paces, and narrowed it down to the top 3.
The Diamond Vision F9 LED headlight bulbs are the clear winner; they're the brightest I've ever tested. I'll follow those with a close contender for best and a budget option.
Overall Best
The brightest LED headlights I've tested to date are the Diamond Vision F9s. Take a look at my results below; they'll blow you away as much as they did me.
Advertised Specifications
When I first got hold of these bulbs, I was blown away by their specs.
Armed with a state-of-the-art double-wide Cree G-XP V6 LED chip, each bulb claimed to crank out an impressive 19,000 lumens.
The sleek 1.5mm thin body design caught my eye, and GMC Sierra owners will appreciate the fine-tuned beam pattern that it'll provide.
The color temperature is a cool 6500K pure white. I'm going to love how clear the obstacles in front of the vehicle are when I take the GMC Sierra offroad.
They're no slouch in the power department, pulling a hefty 90 watts each.
They're built from sturdy 6063 aviation aluminum and use an ultra-low noise dual-ball 12,000 RPM turbo fan to keep things cool. I'm dubious about this claim, though, based on how much power they draw, but what did my test results reveal? Find out below.
But these bulbs aren't just about raw power.
The IP68 rating spoke to their sturdiness, assuring me of their resistance to dust and water — a feature I value for those rough off-road Sierra adventures.
I also liked the practicality of the adjustable collar and the external driver, which is ideal for a smooth installation process.
Diamond Vision claims a life expectancy of 30,000 hours. That's a lot of nighttime drives in a Sierra.
The cherry on top? All these specs come with a two-year warranty.
Neat Features
These lights caught my eye right from the get-go. The packaging is simple, neat and exudes a no-nonsense vibe. The satin coating on the lights gives them a premium feel, and they appear quite sturdy.
The driver, while compact, has a reassuring weight to it, enhancing the overall feel of the product.
What's in the Box?
In the box, I found a straightforward manual and the lights themselves. There are no unnecessary frills or additional pieces to clutter the installation process.
It's just a simple plug-and-play affair – you remove your factory bulbs and install these.
Testing on a GMC Sierra
So, I set out to test these Diamond Vision F9 LEDs on my buddy's GMC Sierra. What did I find? Well, let me walk you through.
As a quick refresher, I test all my LED bulbs the same. I place an LED meter 20ft from a projector and a reflector housing and put a bulb in each. I'm comparing them to stock factory halogens.
Projector Test
In my projector test, the Diamond Vision F9 performed admirably, recording a staggering 2,730 lux. That's a remarkable 2,005 lux over the halogen baseline measurement of 725 lux.
After about the average American commute time — 27 minutes, it retained an impressive 77% of that light output, still clocking in at a whopping 2,102 Lux. This is slightly lower than the average but still exceptionally bright for a projector light.
For such a bright light, the cutoff is clean, and the hot spot is close to that cutoff, which is surprising. The common weak spot seems about average for a super bright light like this.
Reflector Test
Now, the reflector test was where the F9 LED truly shone. It recorded an impressive 5,560 lux, dwarfing the halogen baseline of 910 lux by a massive 4,650 lux.
After 27 minutes, it still retained 77% of that light output, hitting a solid 4,281 Lux.
As for the beam pattern, while it had a spot of slight unevenness in the lower left, the overall light pattern was nearly perfect, with no real scattering.
Heat Management
In examining heat management, the F9 LEDs showcased their resilience, even when powering a vehicle as hefty as the GMC Sierra.
Though these bulbs are advertised to generate an impressive 90 watts each, I observed only 79.2 watts.
As I expected, after 27 minutes, the main unit registered a heat output of 228°F, and the external driver hit 142°F, which is high. But they're still considerably cooler than the soaring temperatures of standard halogen bulbs.
On the Road with the GMC Sierra
Hitting the open road with the Diamond Vision F9 LEDs in my buddy's GMC Sierra was a revelation. The transformation in my night driving experience was nothing short of astronomical.
Every little detail of my surroundings was sharply brought to life, with the beams lighting up everything from roadside signs to potential hazards, painting them in crisp clarity against the night.
The intensity of the light output was awe-inspiring. The focused beam pattern that the F9s cast ahead was a godsend on the poorly lit country roads that I took the Sierra on.
The importance of knowing what lies ahead cannot be understated on these winding paths, and the F9s delivered brilliantly.
These powerful LEDs cut through the darkness, shedding light deep into the distance while simultaneously casting a wide net over the immediate periphery. My view of the path ahead and the roadside was bathed in bright light, ensuring nothing could escape my notice.
Thanks to the clean cut-off, the F9s managed to keep glare to oncoming traffic at a minimum.
This is assuming, of course, that the bulbs are accurately aligned, a necessity when dealing with such high-powered LEDs in a Sierra — a small caveat to an otherwise significant upgrade to my nighttime driving experience.
What Other Drivers Are Saying
GMC Sierra drivers are enormous fans of the Diamond Vision LEDs, with 82% rating them at five stars.
Everybody agrees with me that these are the whitest and brightest lights they've ever seen and are super-easy to install.
The best part, so far, nobody has mentioned anything negative about this product.
Final Thoughts
In conclusion, the Diamond Vision F9 LEDs are some of the most powerful LED headlights I've tested to date. Their high light output and quality, coupled with a fair price and solid two-year warranty, make them a compelling upgrade for your GMC Sierra.
However, they run hotter than most LEDs, so take into consideration your GMC Sierra's light housing compatibility before making the switch. If you're after the brightest and the baddest, the F9 might be what you're looking for.
Pros
19,000 lumens per bulb
90 watts of power each
6,500K pure white
77% heat retention after 27 minutes
Highest ever projector initial lux rating of 2,730
Highest ever reflector initial lux rating of 5,560
IP68 rating
Premium satin coating
Sturdy and robust units
Cons
Can get a little hotter than other models
Lights must be aimed correctly to avoid dazzling oncoming drivers
---
Best Budget
The Novsight N52 LED headlight bulbs, also known as the Novsight Green, are very well-priced. I was keen to see how these headlights would perform in a GMC Sierra. Check out the results below.
Advertised Specifications
My journey with the Novsight N52 LED headlight bulbs began by perusing its published specifications.
Under the hood of each bulb lies a CSP chip that produces 10,000 lumens, a figure that stands 600% brighter than your regular halogen bulbs. Knowing the Sierra's might, I was thrilled to match it with lighting power that would cut through the darkest nights like a knife through butter.
The N52 promises a perfect beam pattern with a cool Kelvin color temperature of 6500k. In my mind's eye, I could already visualize how this crisp, white light would change the night-time driving game in the GMC Sierra, transforming every late-night run into a day-like cruise.
Each bulb draws a solid 50 watts, balancing this power with an advanced heat management system that marries aerospace-grade material construction with an AI temperature control system. Plus, a 12000 RPM turbo fan ensures the bulb stays cool while performing its luminary magic.
The N52 LED bulb is also rated IP68, signifying its resilience to the elements. This was a key feature for me, as the Sierra tends to throw up dust and water on our regular off-road trips.
Equipped with intelligent IC driver tech, the Novsight N52 is Can BUS ready and error-free, a feature that promises no annoying dashboard notifications popping up on the Sierra.
All of this, including a comforting 2-year warranty, only heightened my anticipation of the forthcoming tests and road adventures with the Novsight N52 and my buddy's GMC Sierra.
Neat Features
I absolutely love this! The N52s have an external driver shaped rather endearingly like a small car.
I appreciated additional attention to detail, such as the Novsight logo added to the base and the side of the bulb.
It's this kind of intelligent marketing that Novsight is well known for.
What's in the Box?
In the box, I discovered not just the lights themselves but also a few additional surprises — a thank you card, some zip ties for attaching the external drivers, and a nano traceless magic sticker for secure attachment.
There was even a cool-looking keychain and a basic instruction manual, which was largely unnecessary given that these bulbs are plug-and-play.
My hands-on experience with the Novsight N52 began with examining the bulb.
Its unique angled design across the top was intriguing, and I wondered if it would play a part in the light output or cooling.
The quality of the materials and the finish gave me the sense that this was a well-made product.
Testing on a GMC Sierra
The Novsight N52 specs are promising, but did they deliver on performance? Let's see.
Projector Test
When I slotted the Novsight N52 into the projector setup, the results were striking. With a staggering 1,836 lux output, the bulbs outshone the regular halogens by an impressive 1,111 lux.
After about 27 minutes, the bulbs maintained a sturdy 77% of their initial brightness, a commendable performance given their high initial output. This translated to 1,413 lux, a clear 688 lux brighter than the halogens.
Observing the projector light pattern compared to the halogens was enlightening. While the beam was somewhat narrower, the cut-off line was remarkably straight, and the hot spot was positioned appropriately.
Reflector Test
Moving on to the reflector setup, the Novsight N52 continued to impress. These bulbs pumped out a whopping 3,620 lux, a significant 2,710 lux brighter than the standard halogens.
After the 27-minute mark, the output dipped to 77% of the initial brightness, mirroring the performance observed in the projector test. However, with such a bright initial output, even at 77%, the bulbs managed a luminous 2,786 lux, a full 1,875 lux brighter than the halogens.
Evaluating the reflector light pattern revealed a slightly wavy top cut-off compared to the halogens and some light scattering at the bottom. It felt like the bulbs struggled to channel their high output, underscoring the need for careful alignment.
Heat Management
As for the heat management, the N52 pulled slightly less wattage than advertised — 41.4 watts, to be precise, which was 8.6 less than the stated 50 watts.
After 27 minutes of runtime, the bulb's temperature climbed to 237°F, while the driver maintained a cooler 152°F.
On the Road with the GMC Sierra
Equipping the Sierra with the Novsight N52 and hitting the open road, the practical advantages were immediately apparent.
The beams pierced through the night with ease, transforming the road into a stage well-lit for the Sierra's performance. The powerful 360° beam pattern and substantial 1,500ft distance brought everything into crisp focus.
As I navigated the darkly-lit streets, the beam patterns I had earlier observed in the tests made themselves evident. Despite some scattered light, the road signs were visible, and I could see that all obstacles ahead were clearly illuminated.
The Novsight N52 didn't just light up the road; they lit up my drive in the Sierra, making my journey a delightful experience.
What Other Drivers Are Saying
GMC Sierra drivers rate the Novsight N52 LED headlight bulbs at 4.5/5.
The simple installation and the long download brightness are the top comments from customers.
They perform well but appear to burn out well before the marketed longevity claim of 100,000 hours.
Final Thoughts
The Novsight N52 offers quite a bit for its modest price tag of under fifty dollars a pair. It's bright, well-constructed, and reasonably efficient in terms of heat management.
While I wish the beam pattern were a bit broader and more controlled, it's no deal-breaker. Just be sure to aim them carefully to get the most out of these bulbs with your specific headlight housing. It's definitely a worthwhile investment for your GMC Sierra.
Pros
10,000 lumens per bulb
600% brighter than halogens
50 watts of power each
77% heat retention after 27 minutes
Projector initial lux rating of 1,836
Reflector initial lux rating of 3,620
IP68 rating
100,000 hours longevity (advertised)
External driver shaped like a car
Sturdy and robust units
2-year warranty
Cons
Beam pattern is a little scattered
May not last the advertised hours
---
Runner-up for Best
The Lasfit LS Plus LED headlight bulbs caught my eye, especially with their similar shape to the halogen bulb that comes stock with the GMC Sierra. But how do they perform? Very impressively, take a look.
Advertised Specifications
One thing I respect about Lasfit is that it doesn't exaggerate its specs. What's advertised is what I got.
Unlike some out-of-this-world claims, Lasfit says each bulb emits 4,500 lumens. That's 600% brighter than your average halogens. I was immediately excited at the prospect of substantially increasing visibility for those late-night rides.
The promise of a 360° adjustable pattern, projecting up to a distance of 1,500ft, added to my anticipation.
The listed color temperature was 6000K — a crisp, pure white that I knew would transform the night into day when behind the wheel of the Sierra.
Coupled with the IP68 rating, these bulbs were designed to handle all the dust and water the Sierra would undoubtedly kick up during our off-road escapades. I was impressed; this level of weather resistance promised a robust, reliable performance under any conditions.
I checked the power draw, and the specs listed 45 watts each. This was a refreshingly realistic number compared to the sometimes-inflated claims you see on the market.
One of the unique features that set the Lasfit LS Plus apart was its heat management system. The specs revealed that it had a dual 0.8mm copper substrate combined with a single 2.0mm copper pipe.
This configuration promised 2 to 3 times faster thermal efficiency. The 40mm dual ball design cooling fan and 42mm heat dissipation system suggested this unit would stay cool and keep its light output high, no matter how long my journeys might be.
In addition, these bulbs came with an external driver and an adjustable collar, a handy feature for fine-tuning beam alignment.
As for longevity, the advertised lifespan was an impressive 50,000 hours, and if they manage the heat as well as I expect them to, they might actually last that long.
To cap it off, the two-year warranty and 45-day money-back guarantee offered me the peace of mind that I was making a secure investment.
Neat Features
Upon first inspection, the Lasfit LS Plus goes for a standard design — nothing groundbreaking but reliable. The stiff, braided cables and ultra-compact driver were nice touches.
But the real standout feature was the hefty heat sink and fan at the back. Quite literally, some serious junk in the trunk!
What's in the Box?
Opening up the box, I was immediately impressed with the attention to detail in its design. Inside, I found a bunch of cool stickers, the lights themselves, and a wrench for adjusting the collar. It's clear that Lasfit put thought into this package.
Testing on a GMC Sierra
Moving on to the hands-on testing with my buddy's GMC Sierra, it's worth noting the Lasfit LS Plus's substantial heatsink and fan. It's a sizable unit, so if your Sierra's headlights have dust caps, you'll want to ensure these will fit.
Despite their size, the bulbs were a smooth install due to their shape mimicking that of the halogens they replaced.
Projector Test
The Lasfit LS Plus performed admirably in the projector housing of my Sierra, pulling an impressive 1,816 lux — a substantial increase of 1,091 over the halogen baseline.
What truly surprised me was how well these bulbs managed heat. After 27 minutes, they retained a whopping 93% of that light output (13% higher than average), all thanks to the significant fan and heatsink.
The beam pattern was fuller on the ends, albeit slightly narrow in the middle. The cutoff was a bit fuzzy, but not a significant issue.
Reflector Test
When it came to testing in the reflector housing, the LS Plus outshone expectations with 3,710 lux. That's 2,800 more than the halogen's 910 lux.
The light output remained efficient, keeping a remarkable 93% of its brightness over 27 minutes, demonstrating its superior heat management.
However, the bulb seemed to struggle with defining the cutoff, and there was some loss of control below the line.
Heat Management
The real show-stealer when it comes to the Lasfit LS Plus is how it manages heat. After a solid 27 minutes of running time, I took a reading and was surprised to see the main unit's temperature remained remarkably low, clocking in at just 132°F. The driver kept even cooler at a neat 124°F.
Much of this stellar cooling capability can be attributed to the robust fan nestled on the unit's back, which works tirelessly to dissipate the heat. It's worth noting, though, that this little powerhouse doesn't exactly go about its job quietly.
Another feature that genuinely impressed me was the bulbs' ability to maintain consistent wattage. During my test, they pulled a steady 43.1 watts, only a slight dip from the advertised 45 watts.
On the Road with the GMC Sierra
Once I had these babies installed in the Sierra, I was excited to hit the open road and see how they performed in real-world conditions.
As I pulled out of my driveway and onto the main road, the difference was immediate and impressive.
The brightness level was remarkably superior to the halogens I'd replaced, illuminating the road ahead with pure white light. I could clearly make out objects, signs, and the road itself in far more detail and at greater distances.
Despite their intensity, the LS Plus bulbs maintained a clear cut-off line, ensuring I didn't blind oncoming traffic.
In both city driving and on unlit country roads, the Lasfit LS Plus LEDs delivered a substantially better viewing range. The fuller ends of the beam pattern, albeit slightly narrow in the middle, meant a wider field of vision that was especially noticeable when turning corners or navigating winding roads.
One aspect I had initially been concerned about was fan noise. But it wasn't noticeable once I was on the road, with the Sierra's engine humming and the radio playing.
Overall, my on-road experience with the Lasfit LS Plus in the GMC Sierra was highly positive. The increased visibility and consistent performance added an extra layer of safety and confidence to my night-time driving.
What Other Drivers Are Saying
Others love the Lasfit LS Plus LED headlight bulbs as much as I do, with an impressive overall rating of 4.7/5.
The sheer brightness and longevity of the bulbs keep many GMC Sierra drivers happy.
Some customers struggled with reflector housings as I did.
Final Thoughts
The Lasfit LS Plus stands out for its excellent heat management, contributing to long-lasting brightness and promising a low failure rate, something I've come to value for prolonged trips I'd take with a GMC Sierra.
Now, if your Sierra sports a projector housing and isn't fitted with a dust cap, I'd say you've hit the jackpot with this LED upgrade. But do remember to ensure it snugly fits under any dust caps you might have.
Though there were some minor hiccups with its performance in the reflector housings, I've found the Lasfit LS Plus to provide remarkable value.
Its practicality is further boosted considering the fair price point and the realistic specifications it advertises. In my experience, it's an absolute win for my GMC Sierra.
Pros
4,500 lumens per bulb
6,000k color temperature
Braided cables connecting the external driver
Huge heat fan
Best every heat retention after 27 minutes of 93%
Projector initial lux rating of 1,816
Reflector initial lux rating of 3,710
IP68 rating
360° adjustable beam
45W power each
Cons
Installation issues on GMC Sierras with dust caps
---