This is our review of the brightest legal headlight bulbs.
These days, bright headlights are a dime a dozen. But unless you want to drive your way straight to jail, you need to make sure the headlights you buy are also legal!
And topping the list of the brightest legal headlight bulbs is Fahren's LEDs. Besides exceptional light output, they perfectly balance longevity, aesthetics, and build quality.
I've been testing and reviewing headlight bulbs for over a decade. So if you need help choosing the right type of headlight bulbs for your use case, allow us to help.
The laws surrounding headlight brightness vary from one region to another. The headlights I recommend here are DOT and SAE compliant, making them legal in most countries. However, it pays to stay up to date on your local laws to avoid trouble.
Here's our buying guide for the brightest legal headlight bulbs.
IMPORTANT! – Make sure you have the correct bulb sizing and fitment so you don't waste your money, use this handy tool to double check.
---
Fahren LED Headlight Bulbs
OVERALL BEST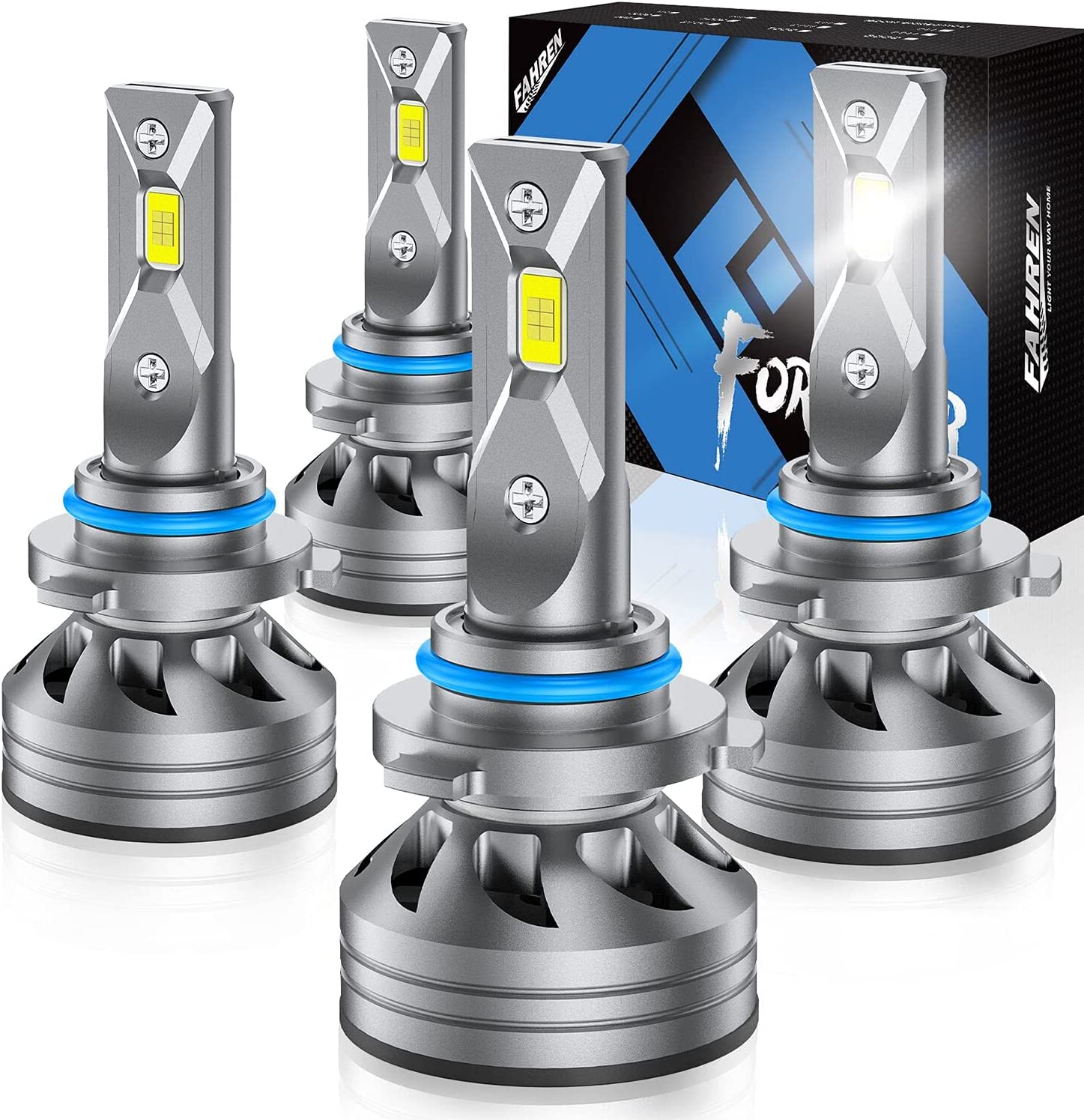 Fahren headlight bulbs take the spotlight when it comes to brightness. They pack a powerful punch with 28,000 lumens, making the tiniest dust particles on the road visible in high definition.
The bulbs' 6500K color profile produces an ultra-pure white light. Not only did I find this light gentle on my eyes, but I also discovered it has practical advantages.
Firstly, its superior reflectivity sets it apart. The way it reflects off surfaces makes obstacles or road signs easier to spot.
In my tests, I was taken aback when the bulb exceeded 1,750 lux. When you compare this to many top-end HIDs that barely cross 1,000, it's a remarkable feat for a bulb that's within legal limits.
The clever beam design extends further down the road and casts a wider light. As a result, your field of view is broader than what ordinary bulbs offer. By identifying obstacles or other objects sooner, you can react quicker.
What if you want to tweak the beam? No problem. The 360° adjustable locker ring allows you to modify the beam angle with certain car models.
The beam's calibration really impressed me. No dark spots, no blurriness – just a clear line of sight that enhances safety and driving comfort.
The masterful engineering behind the Fahren bulbs is what makes them road legal, despite their brilliant brightness.
Fahren bulbs also stand out in terms of durability, outlasting your average headlights. Their construction entirely from aviation-grade aluminum makes them resistant to damage during installation. Additionally, this choice of material aids in efficient heat transfer, enabling the bulbs to run cooler.
A 12,000 RPM cooling fan is built in to maintain optimal operating temperatures. Fahren goes one step further by incorporating a hollow carved heat sink into the design, which, to me, is some of the most impressive cooling technology I've encountered.
Fully IP68 water and dust resistant, these bulbs are ready to face the elements, be it rain, mud, or snow.
The Fahren bulbs are also equipped with intelligent integrated IC drivers. These regulate the bulbs' temperature and performance seamlessly. With CanBUS-ready drivers, they offer 98% vehicle compatibility. During my use, I never came across any bothersome or concerning error codes.
The trade-off for all this advanced technology is a slightly higher wattage of 120 watts. But given the extraordinary light output, this seems reasonable.
Given their high-quality construction, it's not surprising that these bulbs promise a lifespan of over 50,000 hours. Even with heavy use, these bulbs are built to last years.
Installation is a breeze, thanks to a design that mimics standard halogen bulbs. Simply plug and play if your car has a 9005 or 9006 plug.
Most buyers share a positive view of these bulbs. The few complaints seem to stem from buyers purchasing the bulbs for incompatible vehicles. Some weren't happy with the customer service, but in my experience, I had no issues at all.
Pros
28,000 lumens light output
Pure white 6500K color profile
Wider angle of projection
Optimized uniform beam pattern
Adjustable ring to customize beam
Aviation-grade aluminum
12,000 RPM turbo fan
Hollow carved heat sink
IP68 water and dust proof rating
50,000 hour lifespan
Intelligent IC driver
CANBus-ready
Cons
Power consumption is a bit higher than other bulbs
A bit on the costlier side
---
SEALIGHT LED Headlight Bulbs
BEST BUDGET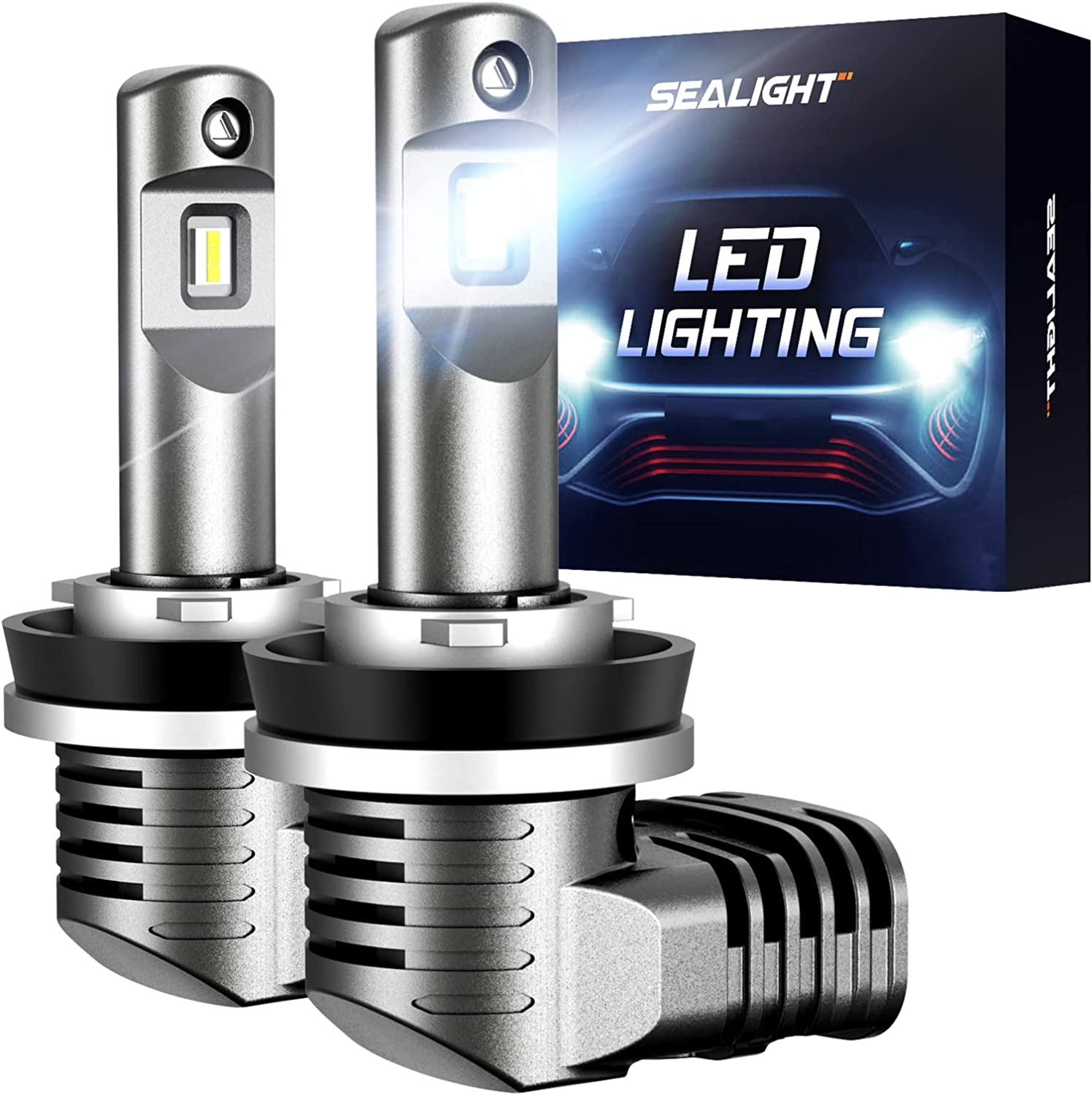 The Sealight CSP LED-chip bulbs are stamped with a 20,000 lumens brightness rating. It may not match the Fahrens, but it easily outshines halogens, HIDs, or low-tier LEDs. They pack a punch in brightness without crossing the legal boundaries.
Their lux reading, around 1,500, is somewhat modest. However, don't forget this puts them in the top 10% of legal LEDs I've personally tested.
Despite casting a wider beam, they throw an impressive length of up to 1,200 feet. This amplifies visibility in all directions, though not quite on par with the Fahrens.
This broader illumination has a twofold advantage. Firstly, it buys you more time to react, as you can spot hazards from a greater distance. Secondly, it elevates safety levels, as it expands your peripheral vision on the road. In a nutshell, it enhances visibility without crossing into illegal brightness.
Just like the Fahrens, these bulbs emit an ultra-pure white light with a 6500K color temperature. To my eyes, the difference between the two was barely noticeable.
Visual clarity? Top-notch. Even on long drives, my eyes didn't feel strained. Potholes, bumps, road signs – every detail stood out more prominently, making interpretation easier from a distance.
The Sealight's beam pattern is fully adjustable, giving you the power to tweak it to your preference. These features all work together to deliver maximum lighting performance, well within legal boundaries.
A built-in 12,000 RPM cooling fan maintains a pleasant temperature within the setup. Even when the high beams are on, you won't be bothered by any overheating issues.
A bonus I truly appreciated was how Sealight made the fans whisper-quiet. Even when I pressed my ear against the headlights, I could barely hear a thing.
The entire bulb is crafted from high-grade aluminum. No need to fret about damaging the bulb during installation or braving rough driving conditions; these bulbs can take it.
With a promised lifespan of 50,000 hours, these LEDs are in the same league as the Fahrens, precisely what I expect from top-tier LEDs. Changing bulbs again anytime soon? You can cross that off your to-do list.
Thanks to the 1:1 fit with the S2 housing, these bulbs boast 99% vehicle compatibility. The installation was a breeze for me, taking less than 5 minutes with zero modifications required.
The best part? The bulbs played nice with my car's onboard systems. No distortion or interference with the stereo, no error codes, no fuss.
What sets it apart from Fahren is its power consumption. Drawing just 50 watts, it's less than half. Yes, you will sacrifice a bit of brightness at the same price point.
Some reviews do gripe about the lower brightness. But to me, it outperformed a large chunk of other LEDs in the market. Plus, a lower brightness means you're less likely to breach legal limits.
Pros
20,000 lumen brightness
Beam stretches further down the road
Pure white 6500K color temperature
More modern look, street look
Better reflectivity highlights objects
Intense beam focus
No dark spots or blurriness
Copper substrate housing
12,000 RPM fan
Aviation-grade aluminum
50,000 hour lifespan
No error codes, flickering, or interference with the stereo/radio
OEM fitment means you can install it within 5 minutes
Cons
Not as bright as the Fahrens – some users complain about overall brightness
---
Torchbeam LED Bulbs
BEST PREMIUM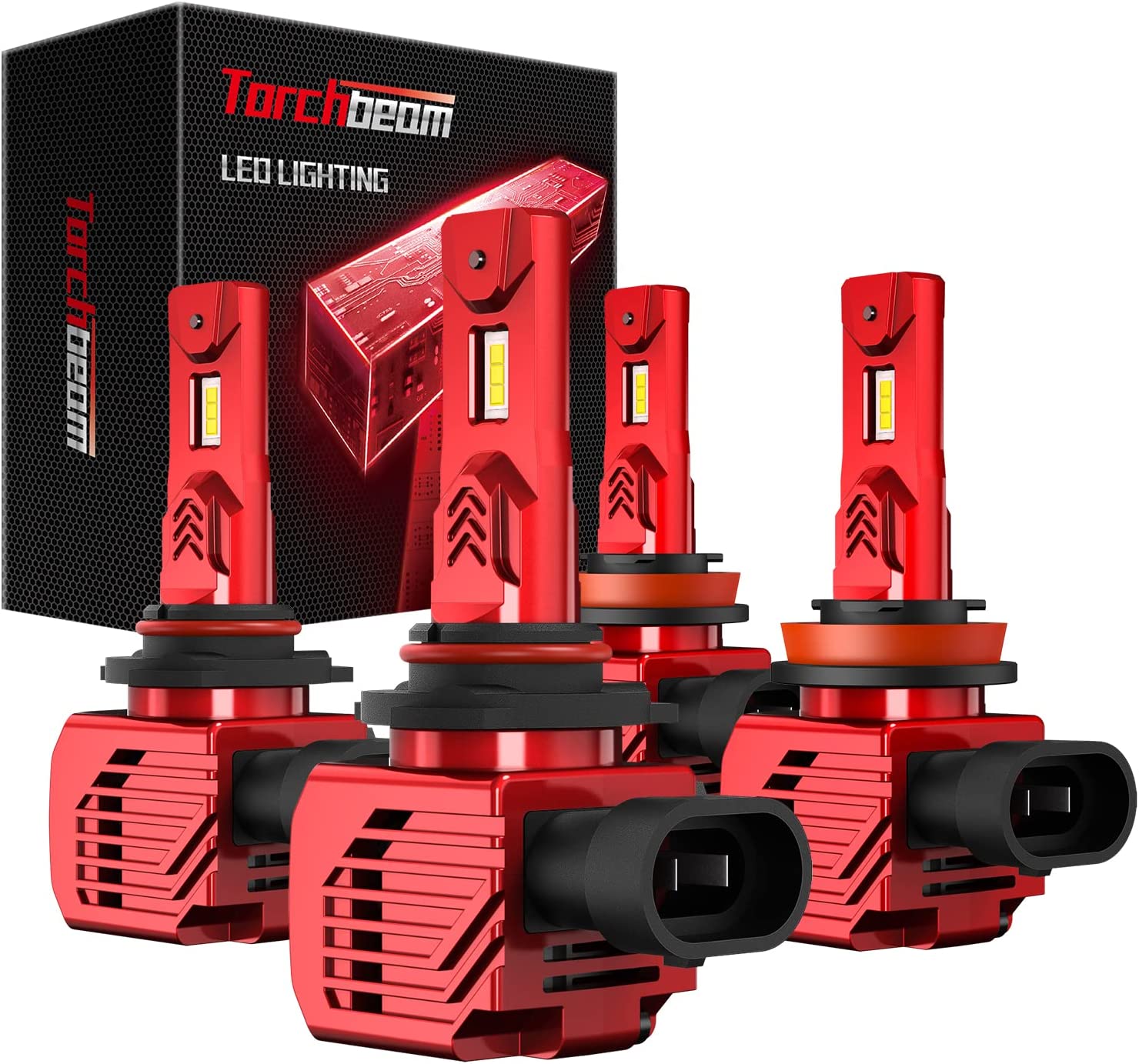 These LEDs from Torch Beam come in as the priciest on my list. However, they also rank as one of the brightest, justifying their cost while still adhering to road legality in most states.
With an eye-watering brightness of 40,000 lumens, they deliver nearly 150% more light than the Fahrens. To put it in perspective, they're over six times brighter than the most powerful stock bulbs out there. This is pushing the envelope of brightness, just shy of being deemed illegal.
I was floored in my tests, with these bulbs churning out over 2,000 lux. Such output is virtually unheard of for street-legal bulbs. Essentially, it means your entire field of view gets the full luminous treatment.
Torch Beam LEDs are designed with a 1:1 halogen light pattern, giving them a broader projection than most LEDs. But that's not all. They also boast a significantly longer throw, buying you more time to react despite sticking within legal brightness parameters.
This feature reveals more of the road, leading to safer, more comfortable nighttime drives. Plus, if you're accustomed to halogens, the beam will feel more familiar. It's also less likely to blind oncoming drivers – a critical factor in maintaining its legal status.
Its 6500K color profile serves up a visually pleasing aesthetic. The beam is pure white, accentuating maximum detail and clarity on the road.
Now, high-powered beams like this usually grapple with heat issues. But not these bulbs, thanks to their efficient heat management system.
A built-in 12,000 RPM cooling fan works harmoniously with the 40,000 lumen bulbs. To ensure things stay cool, a copper tube is added that condenses the water. Both work together splendidly to dissipate heat before it can accumulate.
The entire setup is encased in a robust 6063 aluminum body. No worries about durability issues or burnout with these bulbs.
Despite their formidable power, these bulbs can endure up to 50,000 hours. In all my time using them, I never encountered issues with the bulbs overheating, even after prolonged use.
Unsurprisingly, these bulbs are quite power-hungry, drawing 100 watts. While still less than the Fahrens, it's double what the Sealights consume. But considering the brightness they offer, they're relatively efficient.
These bulbs come with no ballast or hanging parts, and installation was a cinch, thanks to the plug-and-play process that took less than 5 minutes.
However, some buyers grumbled about the lights not fitting their vehicles. This came as a surprise, considering the supplier boasts of 95% compatibility.
Pros
40,000 lumen brightness
Farther reaching throw
Standard 1:1 halogen beam pattern
6500K color temperature
Futuristic-looking blue-white beam
12,000 RPM integrated cooling fan
Copper tube with water condensate system
Premium-grade 6063 aluminum build
Last around 50,000 hours
OEM fit with 9005/HB3 H11/H8/H9 sockets
Easy, plug-and-play installation
Cons
Most expensive bulb on this list
Often sold out due to high demand
Relatively high power consumption
---