This is my buying guide on the best LED headlight bulbs for the Ford 150 in 2023. Below is a quick summary of my top recommendations. Scroll further down to read our in depth, hands on reviews, for each headlight brand.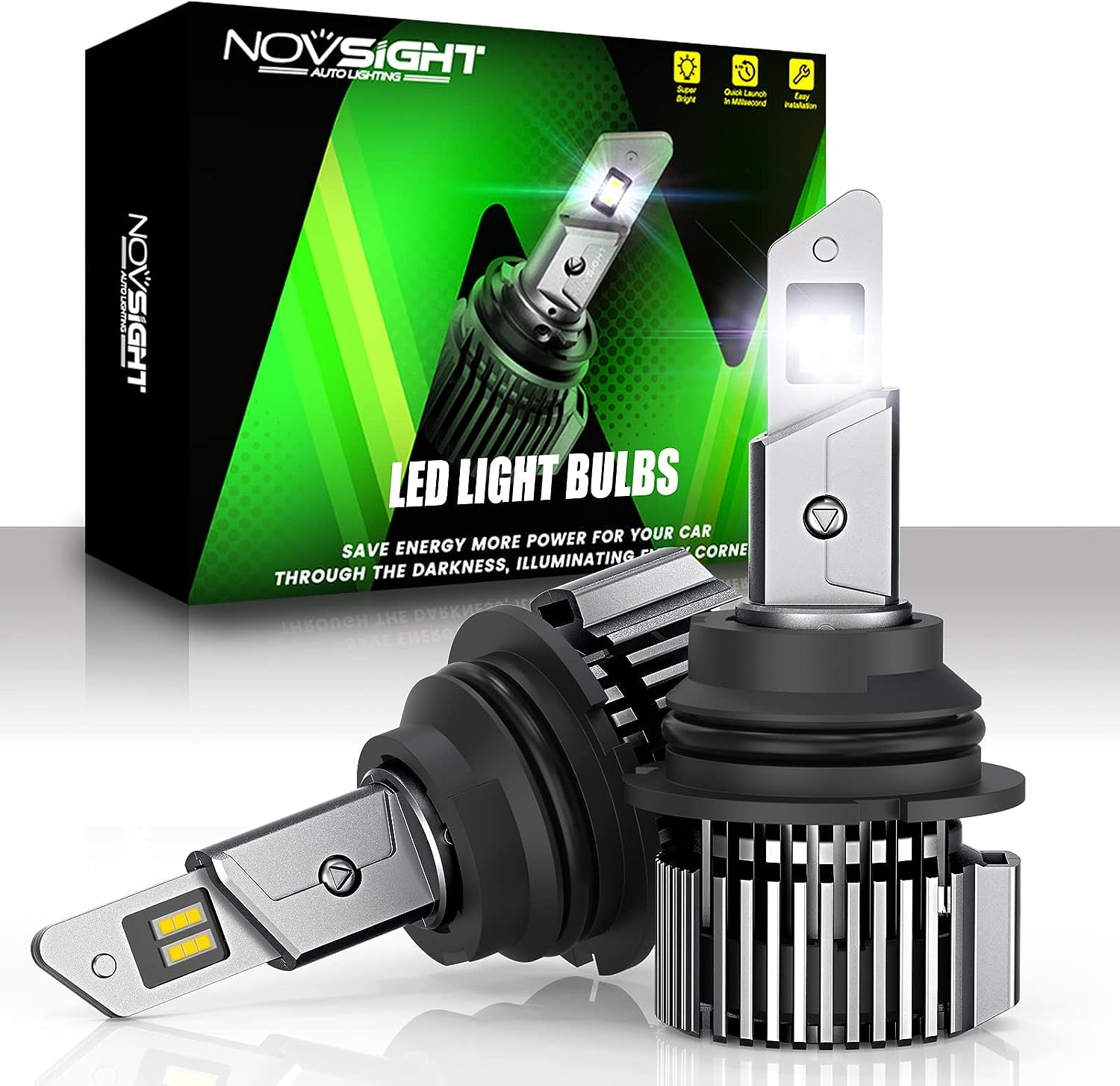 Novsight N52 Green LED Headlight Bulbs
10,000 lumens per bulb
Projector test initial lux 1,836
Reflector test initial lux 3,620
77% heat retention after 27 minutes
IP68 waterproof rating
Free gifts like stickers and keychains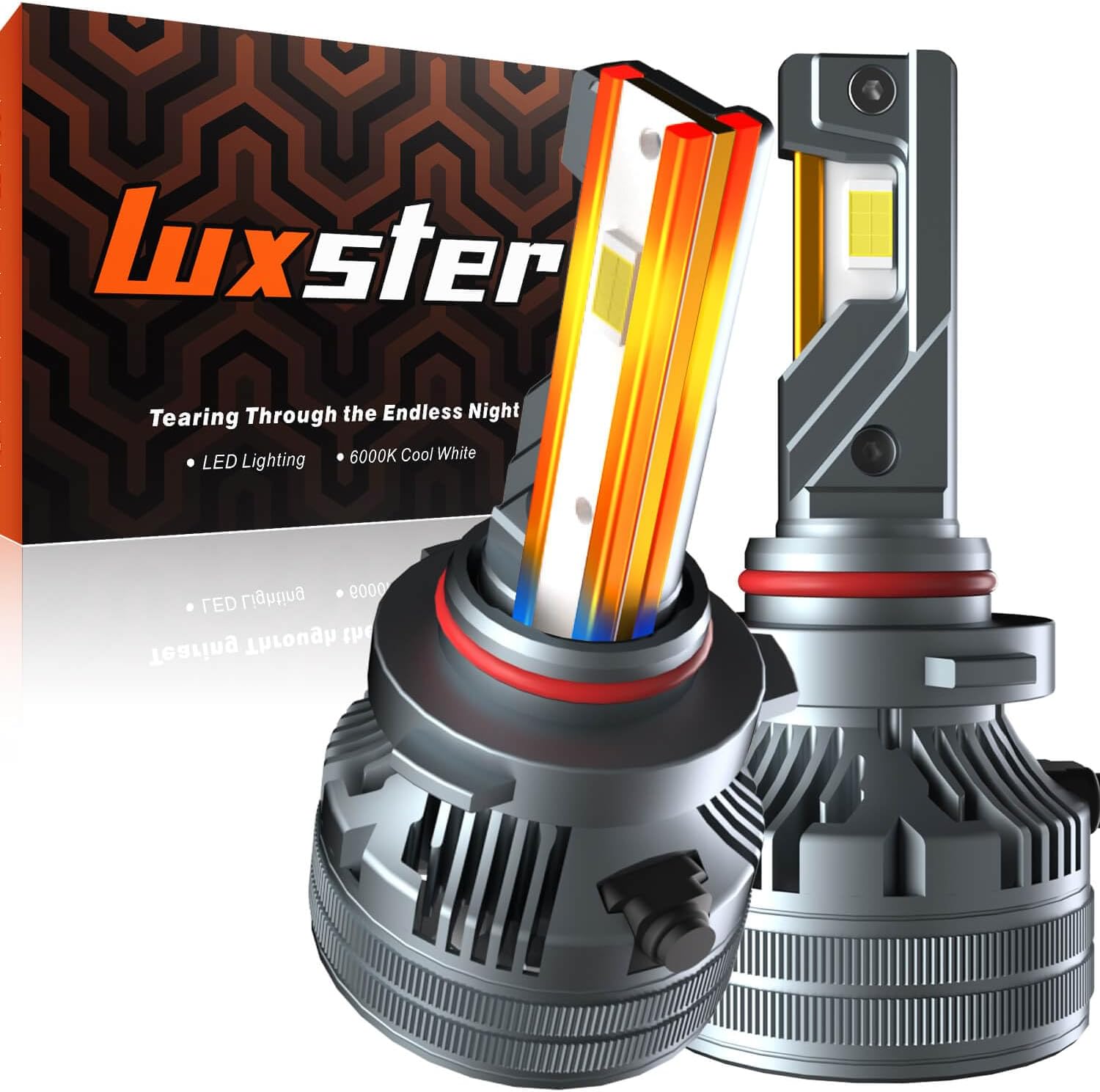 Luxster Punisher LED Headlight Bulbs
20,000 lumens per bulb
46% higher light efficiency
Excellent beam pattern
Projector test initial lux 2,690
Reflector test initial lux 4,960
78% heat retention after 27 minutes
IP68 waterproof rating
Guard protected fan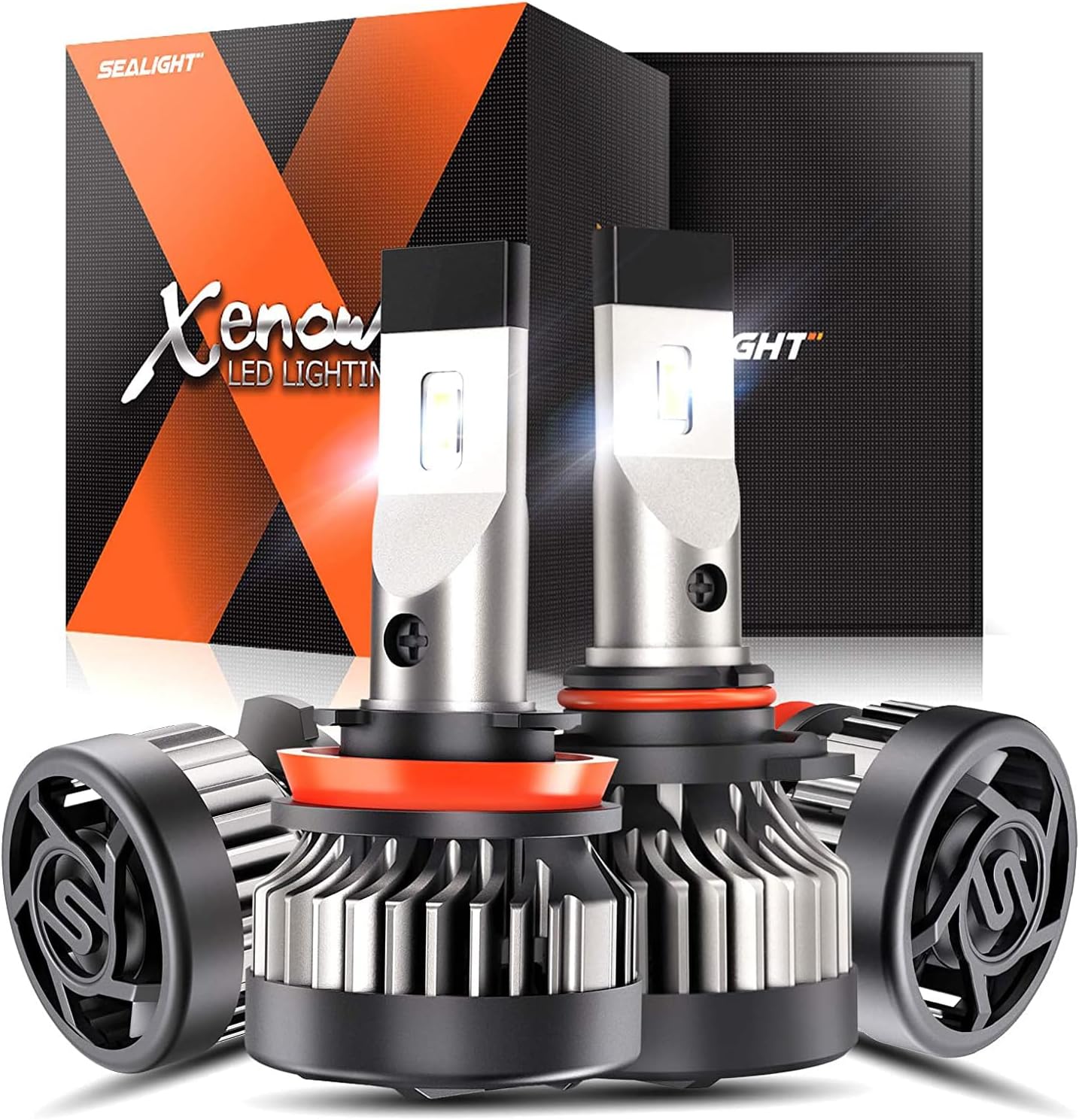 Sealight Xenower X4 LED Headlight Bulbs
24,000 lumens per bulb
600% brighter than factory halogens
1,600ft extended beam
Projector test initial lux 1,303
Reflector test initial lux 3,020
88% heat retention after 27 minutes
IP67 waterproof rating
Braided cables connecting the external driver
---
Since 2021 the Ford F150 pickup ranges have seen some advancements. They've been rated by the Insurance Institute for Highway Safety as the Top Safety Pick, partly due to an upgrade of their headlights.
Previously Ford scored 'poor' in the headlights department due to its use of halogens. Now that it uses LEDs for headlights and fog lights, the ratings are industry standards of 'good' and 'acceptable.'
Ford has also introduced new technology called 'Glare-Free High Beam.' It's an automated system that switches high-beam on or off depending on a range of scenarios.
So what headlight, high beam, and fog light LEDs are best for the Ford F150 pickup?
I've tested fifteen and come up with the best three. The Luxter Punisher is my pick for best overall. It's exceptionally bright, and the beam pattern has little to no issues.
Then I'll follow that with a premium and budget choice. Let's get right to it.
Overall Best
Let me tell you about my experience with the Luxster Punisher LED headlight upgrade, a newcomer to the market, and a real game-changer for your Ford F150.
I installed them in a buddy's Ford F150, and boy, was I impressed. Let's get into why.
Advertised Specifications
Luxster boasts that these lights shine with an intense 20,000 lumens each – so bright you could probably spot them from space!
In a moment, I'll break down just how brightly these lights performed during my test drive in the F150.
Most LEDs promise a 25% high light efficiency, but the Punishers blow that out of the water, reaching up to 46%.
Unlike the typical blue tinge of many LED lights, the Punisher offers a pure white light at 6000K, dramatically enhancing visibility on the F150's path.
They're sporting a Talon LED chip, I haven't come across that one before, so I suspect it might be proprietary.
Furthermore, they utilize a 5th generation CAN bus system design, making them not just a perfect fit for the F150 but compatible with over 100 other vehicles as well – European models in particular. Dashboard errors and flickering? A thing of the past.
These lights also hold an IP68 rating, meaning they're built to withstand even the harshest weather conditions. Just what your rugged Ford F150 needs.
Luxster talks up the cooling system. The Punisher bulbs are the first on the market to use triple copper tube heat dissipation combined with a double-layered copper plate. The high-speed dual ball bearings supposedly achieve superior cooling and quieter operation.
These claims weren't quite in line with my findings. But more on this later.
Another factor to consider: these bulbs draw power at 70 watts each. That's a pretty hefty draw, resulting in some significant heat. Based on my tests, Luxster's claim of 197.6°F after 30 minutes might be a bit understated.
For reference, a halogen goes well over 750°F, so compared to those, it's not that hot, but still something to keep in mind.
Luxster states these have a 100,000-hour lifespan, and I'm skeptical about that. With my heat concerns, I'd be surprised.
Unlike many of its competitors that only offer a generic one-year warranty, Luxster provides two years.
Neat Features
Something new I like is the anti-magnetic wire harness for robust electromagnetic interference protection. This means no more radio interference – a common issue with many LED lights.
What's Inside the Box?
Unboxing the Luxster Punisher, you get a set of two bulbs and an easy-to-follow manual with full-color pictures. I doubt you'll need that, though; these are true plug-and-play.
First impressions of the unit?
The sleek design resembles the Hikari Titanova, which I've reviewed before.
Upon first glance, the sleek design and attention to detail – from the fine knurling to the compact form – immediately stood out.
One noteworthy feature is the guard-protected fan – a much-needed design choice, especially if you have large hands like me and worry about damaging the fan during installation.
This fan is compact and shallow, a perfect fit for the Ford F150's factory headlights with their not-so-deep dust caps.
The exposed copper cooling tube is another feature that caught my eye; I'm starting to see this feature a lot more often these days.
Installation is a breeze, making it an actual plug-and-play LED headlight upgrade for your Ford F150. Out goes your old factory bulb; in goes the Punisher. Simple.
Remember, though, the plug is polar sensitive, so it does need to be installed correctly.
Testing the Luxster Punisher in a Ford F150
Here's how I test all my LED bulbs. First, I installed them in both a projector and reflector housing and positioned them 20 feet from a lux meter. This allows me to compare them to standard halogens in terms of brightness and beam pattern.
Stock halogens generally have a lux rating of 725 for the projector and 920 for the reflector.
Then I'll put them into a vehicle (in this case, my buddy's F150) and take it out on the road to see how they really fare.
Projector Test
For the projector test, the Punisher demonstrated its worthiness for the Ford F150, boasting an impressive 2,690 initial lux – that's a whopping 1,965 more than your average halogen. Even after a typical 27-minute American commute, it managed to sustain 78% of its initial light output.
What caught my attention was the speed at which the Punisher achieved a steady output, leveling off in just four minutes. This could mean a safer, brighter ride from the get-go in your F150.
The beam pattern mirrored that of halogens closely, providing comprehensive light coverage. However, the slightly higher cutoff than the hot spot was a minor concern.
Reflector Test
When tested in the reflector housing, the Punisher proved to be an excellent match for the F150, achieving an initial output of 4,960 lux, an astonishing 4,050 lux above the standard halogen output. This isn't just an improvement; it's a game-changer.
Mirroring the projector test results, it managed to maintain 78% of the light output after 27 minutes. Although the top edge of the beam pattern was slightly fuzzy, the fuller light on the right side more than compensated for it. This suggests a better-illuminated journey for your F150.
On the Road
My final test was taking the F150 out on the road with the Punishers in place to see how they perform in a real-world situation.
The Punisher showed a formidable performance during both the projector and reflector tests, demonstrating impressive brightness and a clear beam pattern.
Power Consumption and Heat
Now, the power consumption. 70 watts per unit is, in my opinion, way too high. My tests came in slightly lower than what Luxster claims, at 66.2 watts.
They still get too hot, with the main unit reaching 241°F and the driver a worrying 184°F. So, be careful where you mount it in your F150; you don't want to go and melt any plastic.
Other Observations
Another concern is that the fan is a bit noisier than average, and I suspect the dual ball bearings may be to blame. That's no issue for some people, but it annoyed me after a while.
I got stuck in some torrential rain; no problem for the F150, nor the LEDs. They lived up to the
IP68 rating.
What Other Drivers Are Saying
Drivers absolutely love the Luxstar Punisher, with 94% of reviews at 5 stars.
The positives are that they're super bright, easy to install, and that the 6,000 Kelvin color illuminates street signs exceptionally well.
Some customers agree with me that they're a bit noisy and are concerned about the high heat.
Final Thoughts
Despite some reservations about the high driver temperature, there's no denying that the Luxster Punisher LED headlight bulbs are a great fit for the Ford F150.
Their remarkable brightness, reliability, and superior light output make them a powerful upgrade for any Ford F150 driver.
Expect to pay around $70 a pair.
The Luxster Punishers could be even closer to perfection if they ran cooler and had a more precise cutoff. But even as is, they stand out as a leading option for enhancing your Ford F150's nighttime visibility.
Pros
20,000 lumens per bulb
46% higher light efficiency
Excellent beam pattern
Projector test initial lux 2,690
Reflector test initial lux 4,960
78% heat retention after 27 minutes
IP68 waterproof rating
Guard protected fan
Cons
Unit and driver get very hot
The fan makes some noise
---
Budget Choice
The Novsight N52, also known as the Novsight Green, is an excellent budget option for your Ford F150.
Advertised Specifications
The Novsight N52 comes with some interesting specs: each bulb's CSP chips deliver 10,000 lumens, yet a promise of 600% brighter than stock halogens.
The color temperature is a crisp 6500K, and I did appreciate the clarity they provided on the road.
Each bulb uses an AI temperature control system and has an internal fan, but I suspect there might be a misprint in the specs, as 120,000 RPM seems exceptionally high. It's more likely 12,000.
Unlike the Punishers and X4s, the Novsight N52 bulbs only draw 50 watts, so I expected the temperature to be lower. I was wrong — see my test results below.
They sport an IP68 rating, suggesting these bulbs can handle rough weather conditions, which is just perfect for taking your F150 off-road.
The bulb life is rated at 100,000 hours, and it comes with a warranty of two years. That's quite a claim, but it could be possible these days.
What's Inside the Box?
Upon opening the box, I'm greeted with a thank you card and some zip ties for the external drivers. They're a much-needed accessory and make installation on the F150 effortless.
There are also some unexpected extras: a "nano traceless magic sticker" which can be used for sticking things together, though I'm yet to find a real purpose for it.
Additionally, they've included a decent Novsight branded keychain, and you can never have too many of those, right?
The box also contains a basic instruction manual, but with these being plug-and-play, you likely won't need it when installing on your F150.
Neat Features
Novsight's attention to detail is evident in the little design touches like the logo placements and the fun design of the driver — it's shaped like a car.
First Impressions
Straight out of the box, the Novsight N52 has a unique design with a noticeable angle across the top. While I'm unsure if it serves any real purpose, perhaps aiding in cooling, I'm curious to see how this translates to performance.
It has a durable copper core running through it, likely to assist with heat management.
Interestingly, the N52 doesn't appear to have an adjustable collar.
In terms of build, it feels solid, made from quality materials with a professional finish.
Considering the price point, I'm rather impressed.
Testing the Novsight N52 on a Ford F150
Let's delve into the performance test results for the Novsight N52 on my F150.
Projector Test
After installing the N52 in the projector casing of my F150, it hit an impressive 1,836 lux, marking a significant improvement over the stock halogens. Even after 27 minutes, the bulb retained 77% of its initial brightness, offering 1,413 lux.
The beam pattern is somewhat narrower than other bulbs I've tested. A weaker area I noticed might affect its performance in specific scenarios, but it delivered a clear and straight cut-off.
My gut feeling is that these would make better fog light replacements than headlights.
Reflector Test
Switching to the reflector, the initial brightness measured a substantial 3,620 lux. After 27 minutes, it maintained the same 77% output, resulting in 2,786 lux.
When comparing the light pattern to a halogen bulb, the top cut-off was noticeably wavy, with some scattering below. This might indicate some difficulty in harnessing that bright light output in a reflector setup. I was keen to get these out on the road and see what happens.
In terms of power, the published rating is 50 watts per light, but on my bench, it was slightly less at 41.4 watts.
As for heat management, after 27 minutes, my thermal camera recorded 237°F for the main unit and 152°F for the driver. Like the Punishers, they're pretty hot.
On The Road
Once again, I had zero issues plugging this into my buddy's Ford F150; they popped right in.
Out on the road, I can tell why they're a budget option. The beam pattern is a bit wavy and doesn't have the extended distance the Xenowers did.
However, the 6,500 Kelvins made a difference to the road in front, and the signs were much more apparent.
What Other Drivers Are Saying
76% of customers rate the Novsight N52s at 5/5 stars.
Drivers love how easy they are to install in the Ford F150 and the lack of CAN bus issues, which are common in many LED bulbs.
It appears that after time they tend to dim and don't maintain the initial brightness from when they're first installed.
Final Thoughts
The Novsight N52 holds a lot of promise with its quality materials and unique design. Considering its bright output, it regulates temperature quite well. The price point is also very reasonable, coming in at under $50 a pair.
However, I did wish the light pattern was broader for the projector and more controlled for the reflector. That said, this is by no means a bad light. Aim them carefully on your F150 and ensure they mesh well with your headlight housing.
With proper alignment, the Novsight N52 could be a valuable addition to your Ford F150's lighting system.
Pros
10,000 lumens per bulb
Projector test initial lux 1,836
Reflector test initial lux 3,620
77% heat retention after 27 minutes
IP68 waterproof rating
Free gifts like stickers and keychains
Cons
May not maintain the brightness after the initial installation
---
Premium Choice
The Sealight Xenower X4 LED headlight bulbs are a fantastic choice if you're considering upgrading the lighting on your Ford F150 and have a little extra budget to play with. But do they really shine as brightly as promised? Let's find out.
Advertised Specifications
The Xenower X4s come with impressive advertised specifications, promising each bulb will deliver 24,000 lumens, which is higher than the Punishers. But you'll see in my test results they're nowhere near as bright.
Sealight suggests the 7035 LED chips are 600% brighter than the stock halogens that come with earlier model F150s and that the bulbs can extend 1,600ft down the road.
The Kelvin color of the Xenower X4s is 6,500 pure white, and while it's only 500 cooler than the Punishers, I did notice a distinct difference in the clarity of objects.
The aviation-grade alloy shell is designed to dissipate 200% faster than other bulbs. The internal turbofan spins at 20,000 RPM to keep them cool.
Interestingly, they draw 75 watts of power, which is slightly higher than the Punishers, so I had grave concerns about the heat. Thankfully, they were resolved in the test; check that out below.
The IP rating is 67, not the highest, but still decent enough to take your Ford F150 out in all kinds of weather.
Sealight likes to quote long bulb life figures, and the X4s are promoted to last 60,000 hours. However, the warranty offered is only one year. Drivers did have a lot to say about that; see that selection below.
Neat Feature
Each bulb has an adjustable collar and an external driver connected by braided cables, which is something I'd expect from a premium model.
What's Inside the Box?
Unboxing the Xenower X4, I found everything you'd need for an easy installation process – a manual, zip ties, and double-sided tape.
At first glance, the design is impressive.
There's an exposed area at the top of the orientation — a unique design feature whose benefit I'm yet to decipher.
The compact fan area and metallic feel give it a robust and quality finish.
The unit, overall, exudes premium quality and seems worth the price.
But how did it go in my testing?
Testing the Xenower X4 on a Ford F150
When it came down to testing these bulbs for use on the Ford F150, here's how they performed:
Projector Test
I installed the Sealight Xenower X4 LED in my projector casing, 20 feet from my lux meter, and it registered 1,303 lux. This result is around half of the Punishers but still 578 over the halogen's 725 lux — a promising start.
After 27 minutes, it managed to retain an impressive 88% of its initial light output, leading to 1,147 lux. Now this result is 10% better than the Punishers, and I'm putting this down to the lower wattage.
The beam pattern was full, although I had to aim a bit high to get the hot spot on the lux meter — something to keep in mind when installing these on your F150.
Reflector Test
Switching over to the reflector, the initial rating shot up to 3,020 lux, which is a massive leap over the halogen's 910 Lux. The light output over time remained consistent, maintaining that 88% output after 27 minutes.
It seemed to perform better in the reflector, and the light was fuller vertically — perhaps due to that exposed rib area.
In terms of power, the light's published rating is 55 watts, but on my bench, I observed it to be slightly lower at 49.3 Watts.
As for heat management, after 27 minutes, the main unit recorded 187°F, and the driver was at a cooler 117°F. These readings are well below those of the Punishers and unconcerning.
On The Road
Installing these into my buddy's F150 was a breeze, not even 5 minutes per bulb.
When driving with these bulbs, I immediately noticed the difference to the halogens. For starters, I was impressed with how much clearer street signs were.
I deliberately took the F150 down a street with loads of potholes and could see them much further in advance than previously.
What Other Drivers Are Saying
On average, around 4,000 drivers rated the Sealight Xenower X4 LEDs with an impressive 4.5/5 stars.
F150 users loved the improved clarity they offered on the road, particularly in adverse weather conditions.
However, a common concern among users was the bulb's longevity, which was less than the advertised 60,000 hours, with one year being the general consensus.
Final Thoughts
To sum up, if you're considering upgrading the headlights on your Ford F150, the Sealight Xenower X4 LEDs are an excellent premium option.
They offer enhanced brightness and clarity on the road, improving your driving experience and safety. However, ensure you're precise with the installation to get the best performance.
Though they're unlikely to last more than a year, they provide significant improvements during their lifespan.
They're pricier at around $110 a set.
Pros
24,000 lumens per bulb
600% brighter than factory halogens
1,600ft extended beam
Projector test initial lux 1,303
Reflector test initial lux 3,020
88% heat retention after 27 minutes
IP67 waterproof rating
Braided cables connecting the external driver
Cons
May not last the advertised 60,000 hours
---