This is our buying guide on the best LED Headlight Bulbs. Below is a quick summary of our top recommendations. Scroll further down to read our in depth hands on reviews, for each headlight bulb.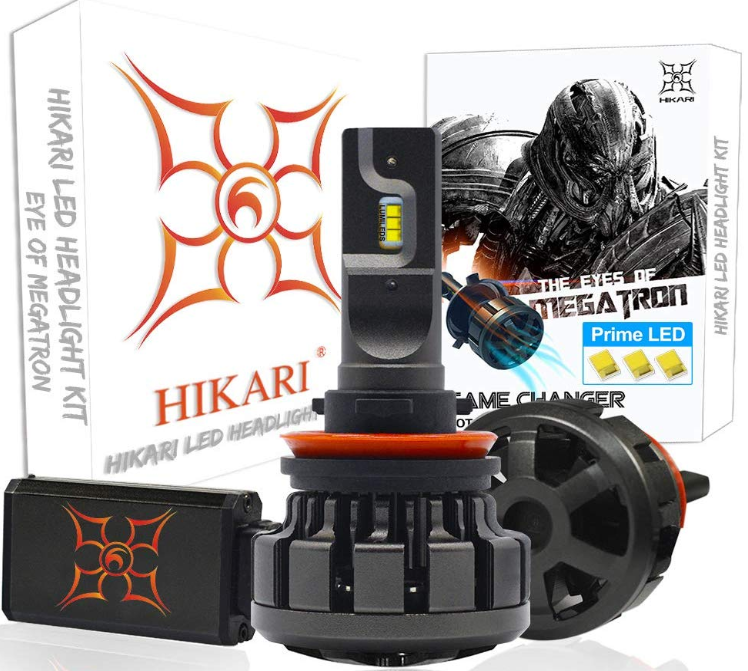 Hikari
Premium bulb
Most expensive
Super strong beam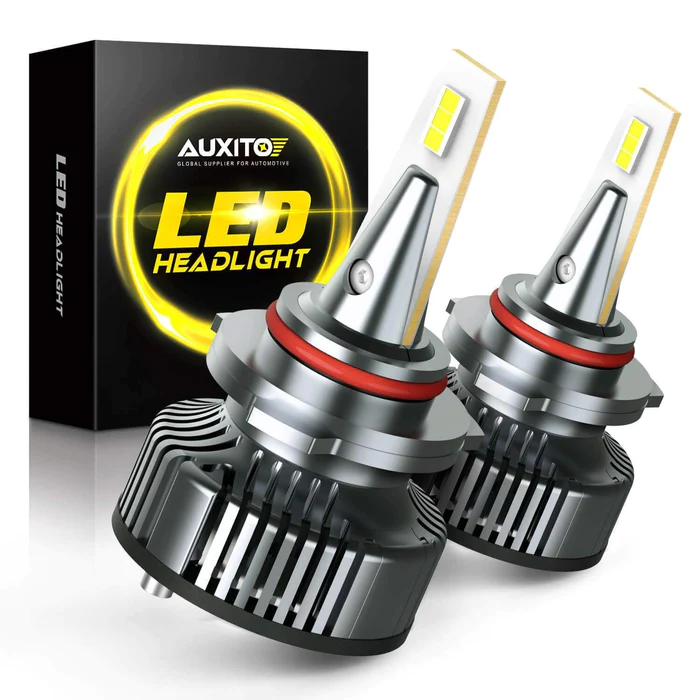 Auxito
Best all rounder
Still affordable
Awesome brightness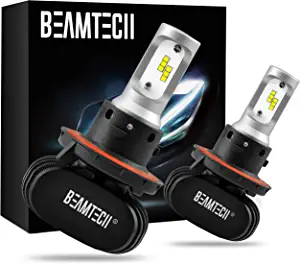 Beamtech
Super affordable
Excellent longevity
Easy install
This is a buying guide for the best LED headlight bulbs.
Switching to LED headlights from halogen lights is an upgrade that you would want to consider. LED Headlights offer better performance and a far longer lifespan.
Although buying the best LED headlights seems more expensive in the beginning, they offer a higher value for money in the long run, which makes it worthwhile.

For the past six months I've been testing various LED headlight bulbs to find out which is the best, after testing dozens of bulbs I've whittled the contenders down to what I believe to be the six best contenders.
IMPORTANT! – Make sure you have the correct bulb sizing and fitment so you don't waste your money, use this handy tool to double check.
Auxito often heads our lists of best headlight bulbs and the trend continues. Their LED headlights and bulbs feature bright and powerful lighting, a cool color profile, and best-in-its-class power management.
Packaging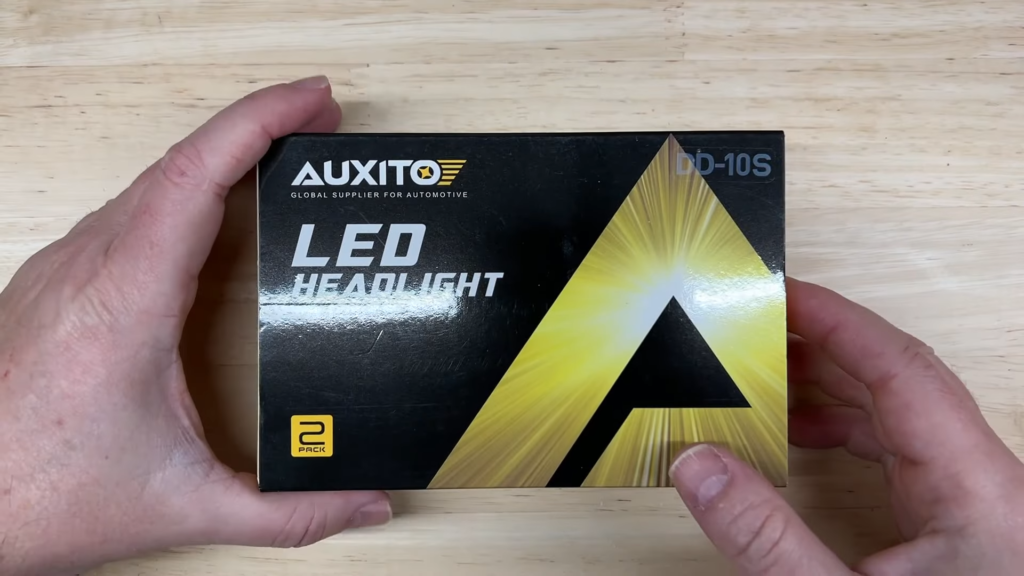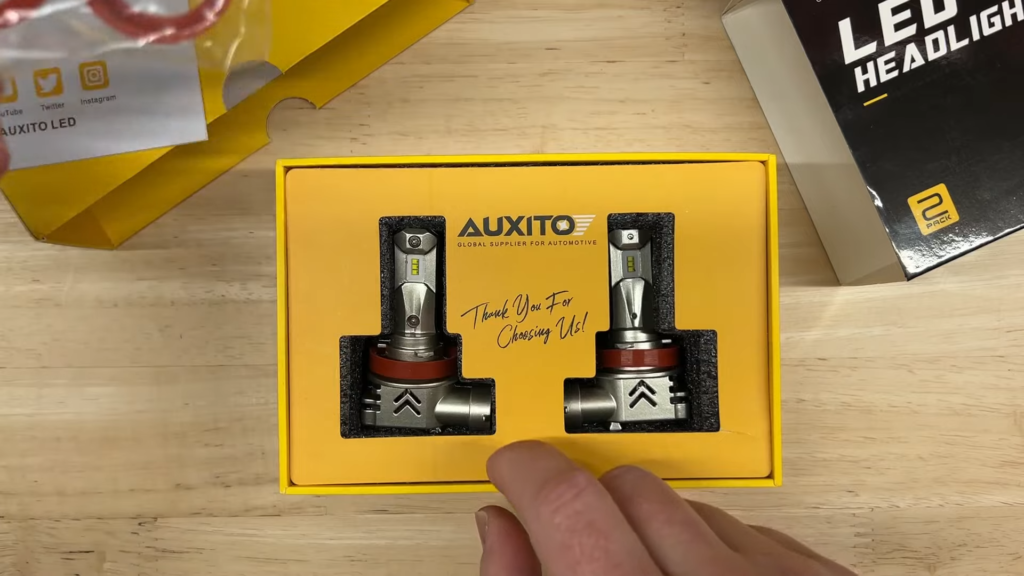 First things first, let's talk about the brightness. Auxito claims over 12,000 lumens of brightness, but the intense beam looks even brighter in person! It really lights up your path and makes the whole foreground much more clear.
The power efficient ZES chips offer over 300% brighter light when compared to stock bulbs. The result is enhanced visibility for night time driving. Similarly, the 6500K color profile is designed to help the driver pick out obstacles, hurdles and bumps in the road more easily.
Brightness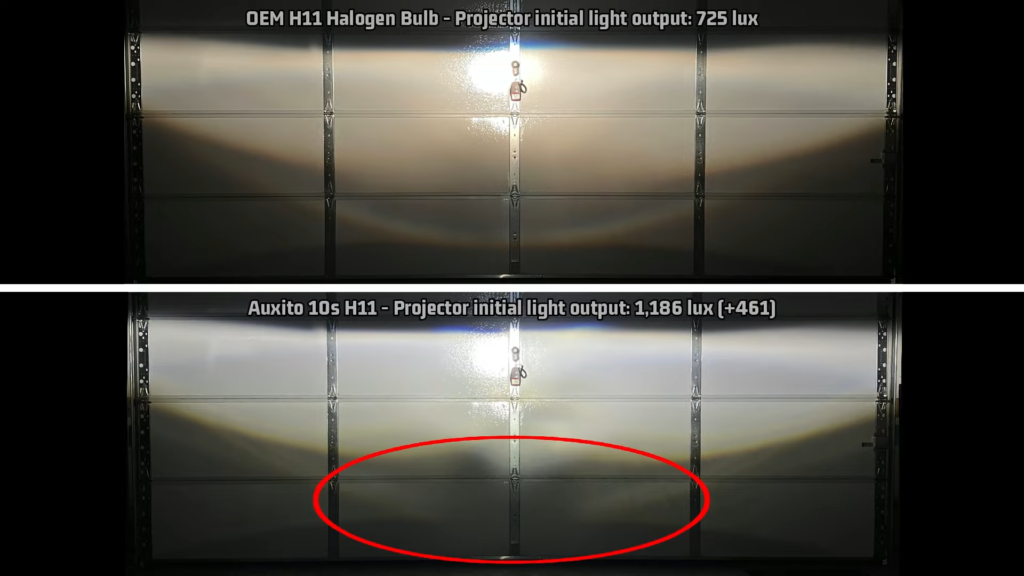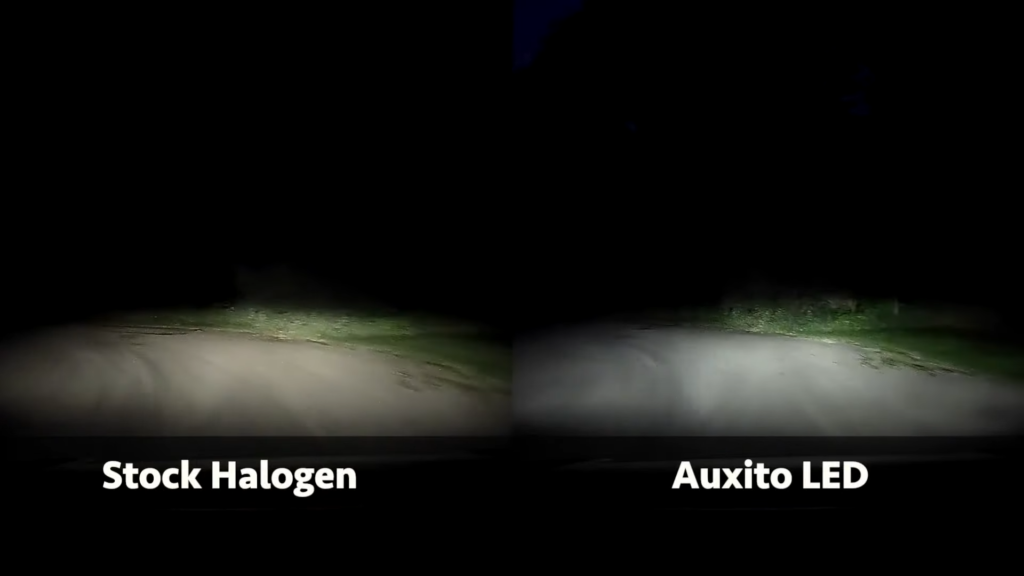 In keeping with the theme of high visibility, these LED bulbs sport a wider angle of projection. Comparing these bulbs and stock halogens side-by-side, we noticed that the Auxito offering brought more of the roadside into view.
One huge benefit of the higher power rating of these bulbs is the farther throw. We can attest to better illumination, further down the road. This proved particularly useful while driving in the countryside, where we were able to spot wild animals in our path from further away.
As we mentioned, the ZES chips used here make this one of the most power-efficient bulbs on this list. In fact, Auxito boasts over 30,000 hours of continuous heavy usage. This astounding figure is made more believable when you consider that these bulbs are outfitted with a cooling fan capable of around 12,000 RPM.
However, in testing, we didn't have to put up with any fan noise, and the LEDs never got too hot, so it must be working!
Speaking of, we did not notice any issues with the vehicle's on-board computers. This Auxito bulb is fully CANbus ready and does not cause any errors or warning lights in the car. The intelligent IC driver is a nice touch and really helps keep the headlights running without a hitch.
The Bulbs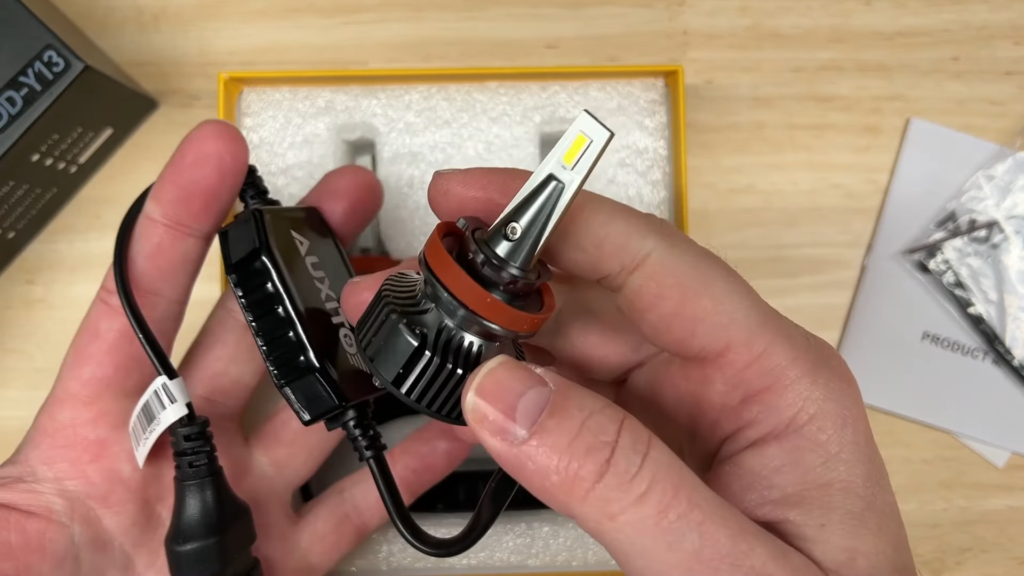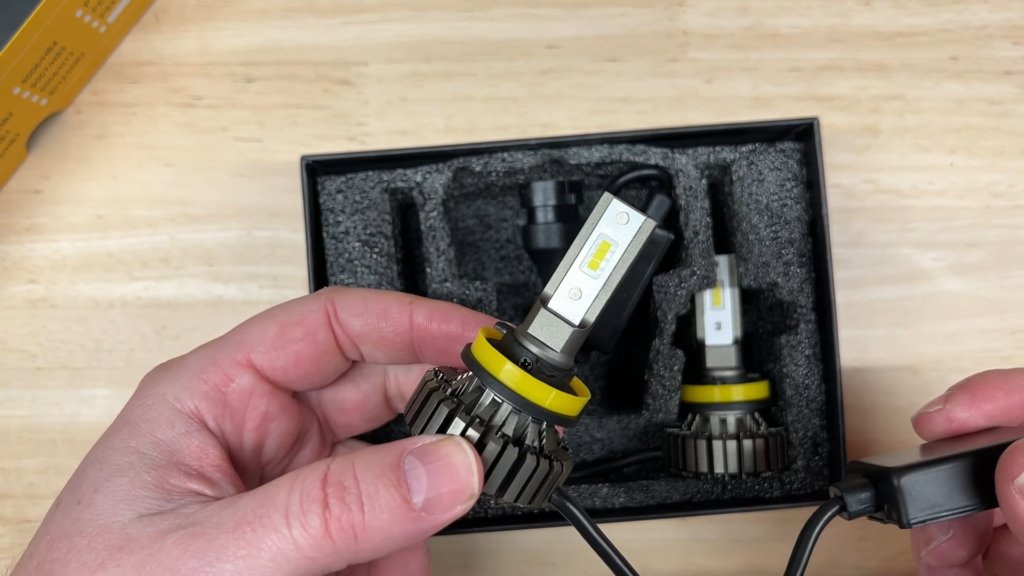 Finally, we appreciate the flicker-free operation of these LEDs. The beam pattern does not exhibit any dark spots or blurriness. In fact, these are some of the most well-calibrated LED bulbs on the market. Some drivers reported slight flickering on older model cars, but nothing an additional decoder won't fix.
Oh, and if you're as fed up with the long and tedious installation processes of most LEDs, Auxito's wireless plug and play installation is sure to please.
---
Auxbeam H11 LED Headlight F-16 Series is my ultimate favorite single-beam headlights.The biggest reason why I love this automotive LED headlight is that it produces a bright enough light beam that allows you to clearly see the road and road signs even on dimly lit and foggy days.
Packaging
Even if you are not using the Auxbeam F-16 Series as headlights, I highly recommend it like fog lights. The bright 6000K provides adequate light without stunning the passing drivers.
Brightness
Auxbeam H11 LED bulbs are IP68 waterproof and dustproof, and it is equipped with a built-in turbo fan, so it is an excellent option for harsh outdoor environments. Although Auxbeam H11 LED Headlight F-16 Series is a pricy option; however, it comes with a fantastic 2-year warranty, so you can trust the product and justify the price.
The Bulbs
---
HIKARI claims that this LED headlight is the best led headlight bulbs on the market! Do I agree? Yes, for sure! I have never had any complaints with HIKARI Ultra LED Headlight.
Packaging
I have been testing these LED headlights for several months now, and I must admit that I'm thoroughly impressed by its outstanding performance. The uniform beam pattern and the bright 12000lm light output allows you to clearly see the road and road signs without blinding the opposite traffic.
HIKARI Ultra LED Headlight uses impressively less power (only 23 watts each LED headlight) for the massive 12000 lumens light output that it produces. So, you can enjoy this super bright LED headlight without worrying about its power consumption.
Brightness
You have to make sure one thing (to avoid the mistake that I made) carefully check the headlight size before you purchase HIKARI Ultra LED Headlight because it comes in several different sizes.
The Bulbs
---
BEAMTECH H13 is the best LED headlight if you are on a budget, but you want an option that produces high light output. BEAMTECH H13 LED Headlight CSP LED chips (Double-sided) produce 8000 lumens light output per set that allows you to have a clear vision even on the foggiest and dark lighting conditions.
What I love about these best LED headlights is their passive cooling feature that ensures efficient cooling with no sound and no compromise on light output performance.
---
There are times when you are on a strict budget that doesn't allow you to splurge on car accessories. If you are in such a situation, then you should go for SEALIGHT S1 LED Headlight.
I have tried and tested the SEALIGHT's LED Headlight bulbs for months, and it has never failed me! It is easy to install, offers excellent color temperature, the lifespan is decent, it has an ideal beam density, it includes a reliable cooling system, and most importantly it comes with a small price tag.
If you are looking for the LED headlights, the SEALIGHT S1 LED Headlight offers superior performance than most of my pricey LED headlight kits.
---
It wouldn't be incorrect to claim that Cougar Motor LED Headlight is hands down the most popular LED headlights kit. Cougar Motor LED Headlight was also amongst the only headlight kits that first gave halogen light kits a fierce competition.
For its superior and reliable performance, I have used Cougar Motor LED Headlight for years! And whenever someone asks me to recommend them the best LED headlight, Cougar Motor LED Headlight is always my top pick.
However, with years, I believe that technology has evolved and now you can find similar features for a lesser price. The biggest con for me is the 20-minute lengthy installation procedure that feels a hassle; especially, when you have several options on the market that you can install in half the time as the Cougar Motor LED Headlight.
---
BEAMTECH H13 is the best LED headlight if you are on a budget producing various LED headlight bulbs, but you want an option that produces high light output. BEAMTECH H13 LED Headlight CSP LED chips (Double-sided) produce 8000 lumens light output per set that allows you to have a clear vision even on the foggiest and dark lighting conditions.
What I love about these best LED headlights is their passive cooling feature that ensures efficient cooling with no sound and no compromise on light output performance.
---
Verdict
These are the five best on the market that I highly recommend all of my friends. Make sure that you remember one thing; all of these LED headlights for a car are cool white, so know your driving conditions before you make a selection. I hope that my selection helps you find the best LED headlights for your vehicles.
Frequently Asked Questions (FAQ)
1. Do LED headlights come in different color temperatures?
Yes! Usually, LED headlights are available in 4 colors. LED light bulb color temperatures are measured on the Kelvin scale. Following are the four-color temperatures with their Kelvin scale ratings:
Warm White – WW  2700-3200 Kelvin

Natural White – NW 4000-4500 Kelvin

Day White – NW 5000-5500 Kelvin

Cool White – NW 6500-7500 Kelvin
(Warmer LED lights have yellow tones; whereas, cooler LED lights have blue tones)
2. Do LED Headlights consume a lot of power?
Low power consumption is one of the most significant advantages of LED car highlights. As compared to halogen bulbs, LED headlights to consume much less power. When buying LED headlights, you should always look for options that offer higher lumens for less wattage.
3. Are car LED headlights legal to use?
Before any kind of car modification, you have to consider whether or not it is legal because you wouldn't want to get into unnecessary trouble. Most people assume that LED headlights are not legal to use. However, LED headlights are legal if the projected light beam illuminates the road between 50 and 100 meters. To be on the safe side, you should check your local area laws before investing in LED headlights.
4. Are LED headlights ideal for extreme weather conditions?
Yes! As compared to halogen bulbs, LED headlights are a more suitable option for extreme weather conditions. No matter if you drive in very cold, very hot, rainy, foggy or even dimly lit areas, LED headlights are excellent for you.
5. What factor causes LED headlights to fail?
Heat is one of the main factors that cause most LED headlight kits to fail. If you want yours to last long, then you should invest in a bulb or fixture with an external driver rather than an integrated one, especially if your car is exposed to very hot temperatures.
6. What component of the LED headlight kit typically fails first?
LED headlight kit's driver is typically the first component that fails. An efficient LED headlight system should last you 50,000 hours or more. I always try to purchase LED kits that come with reliable a driver from a reputable brand, including Philips and Meanwell. Also, look for LED headlight kits with at least or two years warranty.
Beam Pattern, Scattering And Light Focus
If you are new to purchasing Led headlights that one of the most significant factors is the pattern of the beam, its scattering and focus. Flowing are the various beam patterns available:
Spot beam – as the name suggests, a spot beam pattern is mostly about precision and focused with the beam emitted at a 10-degree angle. The narrow-angle allows the light to illuminate the furthest without being too broad. This pattern is best suited for straight country roads and slow-moving trails. The focused pattern misses obstacles on the sides.

Flood beam – The flood beam pattern is designed to flood the road with light thanks to its wide 60-degree angle. The width of the beam illuminates the sides of the trail, which makes it easier to see obstacles on the sides of the road. The flood beam pattern is best for curvy and fast-moving roads.

Combination beam – As you can guess by the name of this beam pattern that it is the combination of both spot and flood beam. It is incredibly versatile and a popular choice among buyers.

Driving beam – The driving beam has a distinct diamond-shaped pattern and a 60-degree wide beam, which is great for larger vehicles.

Fog beam – Fog lights are used in combination with the headlights, which are mounted below the headlights. Fog lights have a diffusion beam pattern that illuminates the road with a soft light, which surrounds the obstacle by light.
Price
A brief search will reveal that there are hundreds of LED headlights available at different price points. The Low-priced variants usually have a lower lumen output, have a lower lifespan and a smaller warranty period. However, you can find a bright light that may be sufficient for your needs. In contrast, the more expensive models provide more bang for your buck. Higher priced LED headlights have a higher lumen number, which offers more intensity of light, a longer lifespan, with a better warranty. However, it is needless to say that you must do your research before you make the final decision because higher-prices don't always mean better performance or quality.
I remember getting my first car as a teenager and replacing its headlights when they gave up eventually still gives me a sense of pride.
I also got a great feeling of satisfaction when I finally switched my headlight to LED headlights, especially after experiencing the benefits firsthand. Since the time I bought the first halogen headlights for my car.
I have owned many vehicles and changed or upgraded many a headlight. Over the years, I have witnessed how technological advancements have improved headlights available to us today.
Now I have decided to use my extensive experience to bring you an informative LED headlight bulbs and my ultimate buying guide for choosing the best for your needs, which is designed to help you for many years to come.
Below is my LED headlight buyers guide is an essential read if you wish to make an informed buying decision.
LED Headlight Buyer's Guide and What Factors To Consider
Headlights are an integral part of road safety because they help you see in low or poor light conditions and help others see you on the road. Whether you are replacing old headlights or upgrading your vehicle's headlights, you must figure out which one will be best for you.
Following are the most critical factors you should consider before choosing one:
Top Things to Consider When Buying LED Headlights:
Color
Experts advise buying LED headlights that have a temperature of 5,000 Kelvin or above because they are considered the safest headlight due to their bright illumination of the road. Such headlights have the Daylight White color, which can allow you the widest and furthest light.
Avoid LED headlight colors that are yellowish warm, because they aren't the brightest.
Lumens Or Light Output
The intensity or output of the light is measured in lumens. The lumen of 6,000 is typically the lowest output you can get for headlights available. The super-bright variants can light a straight line of over 500m adequately.
LED headlights with an output of 8000 lumens are powerful and illuminate within a 700m straight line.
LED headlights with 10000-lumen output provide daytime like illumination that can make nighttime drives much more comfortable and safer.
Life Expectancy
When compared to most LED headlights available in the market that have a life expectancy of 6,000 hours (halogen lights) and 30,000, LED headlights to have the longest life expectancy of over 50,000 hours thanks to the use of both cooling fans and cooling chip.
Warranty
The warranty period differs from one manufacturer to another. You may find manufacturers often provide warranties of either 2 or 3 years. Warranties are important because they protect your purchase and show the confidence a brand has in its products.
It would be best if you purchase LED headlights with three years warranty since they provide greater peace of mind. Often brands offer free technical support as a part of their aftersales services, which can be extremely helpful if you have any questions regarding the product and its use.
Cooling Methods
Like most lights, LED headlights also produce heat which needs to be mitigated because it shortens the lifespan of the headlights. Built-in cooling systems ensure that the headlights don't get too hot. Therefore, you must choose LED headlights with an efficient cooling system.
There are mainly two kinds of cooling technology for LED lights:
Heat Sink – Headlights with heatsink cooling technology, which are also known as Fanless LEDs, have a passive cooling mechanism that dissipates the heat without the need for an external cooling system. They instead rely on natural elements such as the wind to cool down the headlights. LEDs with heat sink have a longer lifespan, produce minimal noise and more energy-efficient and cost-effective. All these benefits translate into superior lighting performance.

Fan LED headlights with a built-in fan cooling mechanism to use a fan as an active cooling mechanism. The fan is the external cooling source, and a slim fan is installed within the headlights assembly, in which the heat is eliminated quickly. Since most of such kinds of LEDs come with a compact fan.

The biggest drawback of this cooling method is that the fan consumes additional power and creates noise. It also requires more maintenance than heat sink LED headlights.
More guides on the best LED headlight bulbs
More LED Headlights and Bulb Reviews