This article recommends the best HID headlight bulbs.
With so many HID bulbs to choose from, it can be daunting to research every bulb, so I did the heavy lifting for you.
I've been testing and reviewing headlight bulbs for over a decade. So, if you need help choosing the right Hid bulb keep reading.
My top recommendation is Mega Racer's HID headlight bulbs. They offer noticeably brighter light output, a cool white color profile, and a sturdy design less prone to damage.
Keep reading to learn about our picks for the top HID headlight bulbs.
IMPORTANT! – Make sure you have the correct bulb sizing and fitment so you don't waste your money, use this handy tool to double check.
---
Mega Racer HID Headlight Bulbs
OVERALL BEST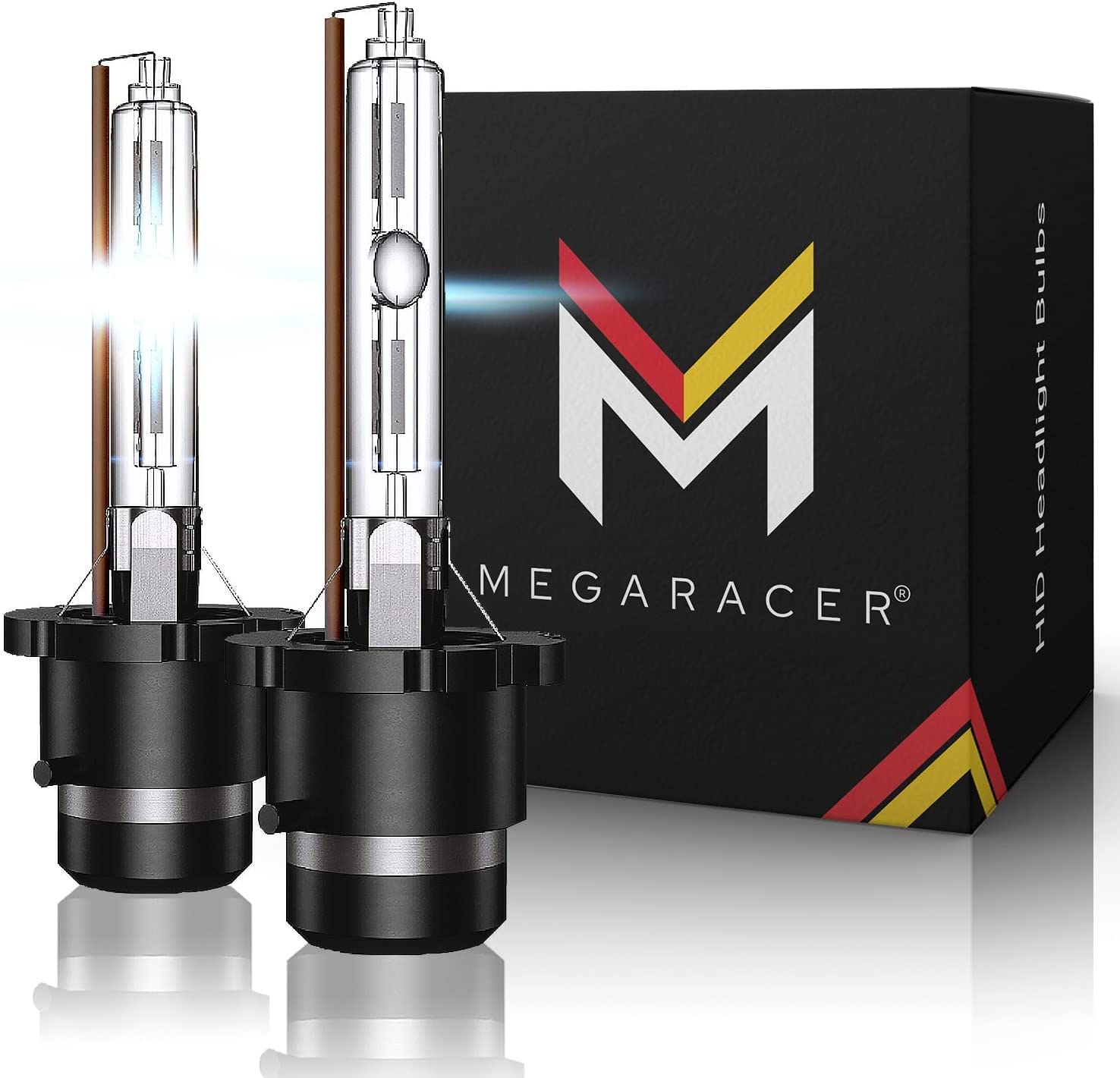 Excellent lighting, affordable pricing, and a long lifespan. Make Mega Racer's HID bulbs hands down the best choice.
An 8000-lumen output results in 300% more brightness than stock halogens. Plus, it gave my car extra style points with a cooler, more modern look.
These bulbs are bright, with a long throw and wide-angle projection. Utilizing a high-resistance Anti-UV quartz glass which creates more pressure inside the lamp. Generating a far more powerful and focused beam.
This produced excellent night time visibility by illuminating more of the road ahead. The focused beam also prevents blinding oncoming traffic despite its brightness and power.
For Kelvin color. A 6000K light temperature provided pure white bream. Which highlighted objects in my field of view with far more detail and clarity.
While the 6000K is my personal favorite. This bulb also offers a kelvin color of 4300K, which is warmer and has a more yellow temperature. Giving it a more natural light that performs better in fog or mist.
But you can also go higher to 8000K or 10000K for bluer light with even better low-light performance.
Mega Racer uses High-quality anti-UV quartz glass which is more resistant to physical damage and sun exposure. These bulbs are more durable compared to other alternatives.
Xenon gas delays the process of air oxidizing the tungsten, prolonging the life of the HID bulb. Normally This would create vacuums in the lamp envelopes degrading them more quickly.
A full metal stent base further protects the bulbs where they come in contact with the car. And Finally, the bulbs are dust and waterproof thanks to their IP68 Rating.
At 35W, the bulbs are also energy efficient, which further improves lifespan. Lasting 5,000 hours or more – much longer than stock bulbs at around 2,000 hours.
Mega Racer's HID bulbs are easy to install. The plug-and-play design doesn't need any extra modifications. Compatible with most D2S sockets (D2R and D2C are also available).
I also tested the maximum lux to find out the bulbs true brightness. While these lux readings aren't perfect, they're a good indicator of the bulb's performance. On low beam, Mega Racer came in at 800 maximum lux. And the high beam was a maximum of 1320 lux.
So overall, Mega Racer's strength aligns with what's stated on Amazon. Not the strongest on the market, but still far better than average.
The only downside is that these bulbs are on the pricier end of the spectrum. But, the price is well-justified thanks to its superior performance and build quality. Which balances comfort, safety, and performance.
Some Customer reviews reported Mega Racer bulbs dimmed after 12 months and 24 months of use. On the same token, many reviews praise these bulbs' brightness and their intense beam. My kit never dimmed overtime, but worth noting nonetheless.
See below my comparison of Mega Racer VS stock halogen bulbs.
Pros
8000 lumens of brightness per pair provide high-performance brightness
Farther reaching throw and wider projection illuminates more of the road
Improved safety for nighttime driving thanks to focused beam pattern
6000K color profile offers crisp visuals and good eye comfort
Pure white light gives a more stylish headlight appearance
A focused beam with pure white light highlights details like road signs or animals
Xenon gas slows down the oxidation of the tungsten filament for improved longevity
Shielded against physical damage by high-quality quartz glass
UV-treated glass resists getting damaged due to prolonged sunlight exposure
Rated IP68 water and dust resistant so that it can perform under any conditions
A lifespan of around 5000 hours – more than double that of halogen bulbs
---
DMEX HID Headlight Bulbs
PREMIUM CHOICE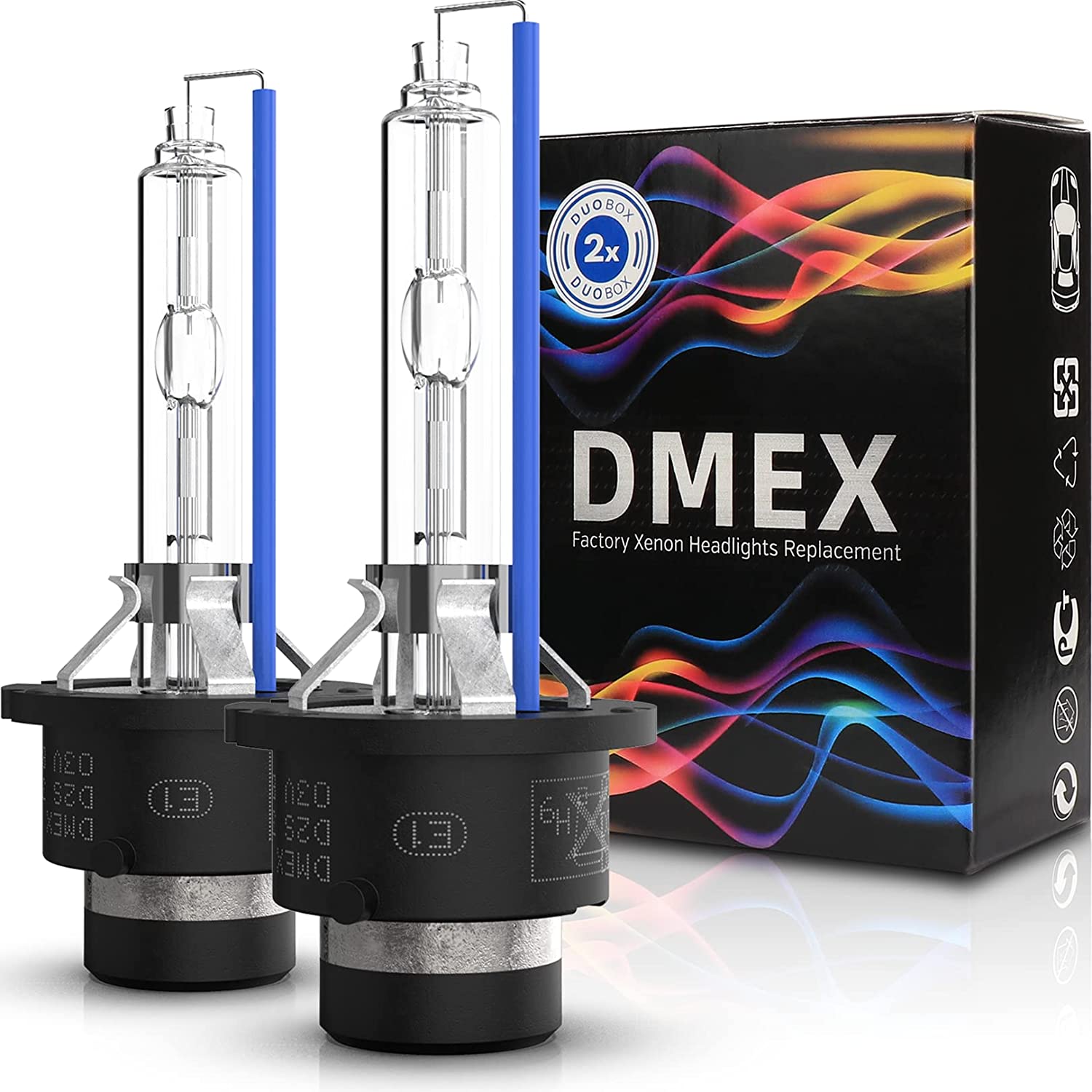 The DMEX HID bulb is less powerful than my top pick, at 3,800 lm per bulb. But, with a total of 7,600 lumens, it's still 170% stronger than typical halogen bulbs. And Increased irradiation distance of 50 meters. Improved my break time by 4.5 seconds.
With the same color temperature of 6,000K, there's a snowy white beam that's excellent for night time driving. Highlighting details against the backdrop and Combined with a longer throw. Meant I had ample reaction time.
It was also softer on my eyes than bulbs with a more blue kelvin color. So, I drove for longer without tiring.
That being said, there's an 8000K variation for this bulb if you prefer a bluer light. Or, you can go in the opposite direction with a kelvin colour of 4300K. Which is a warmer more yellow tone.
I tested the 6000K pure white version. It looked phenomenal.
Another similarity to Mega Racer's bulbs is that the DMEX uses 100% Quartz Anti-UV Glass. The difference in strength and focus of the beam is obvious when compared to stock halogens.
Dmex's beam pattern doesn't have a single dark spot. And optimal calibration means the beam is free of blurriness.
I easily spotted obstacles, like jaywalking pedestrians, road signs, or potholes.
The quartz glass felt sturdier during installation than typical glass. It's less prone to cracking or shattering, which is common when installing new bulbs.
The UV treatment will also prevent discoloration and filament decay long term. So, you won't lose that crisp white look anytime soon.
Like the Mega Racer, I have no complaints when it comes to power consumption and heat management. At 35 watts, these bulbs are power-efficient. The Tungsten body also transfers heat away from sensitive parts.
Unfortunately, this isn't enough to improve the lifespan beyond 3,000 hours. Without an IP6 rating, I also can't recommend the DMEX for poor weather conditions. Yet, I haven't had any issues with rain or dust.
Installation was a breeze because these bulbs serve as an OEM replacement. Take out your old bulbs, plug these in, and fire them up without any modification or extra steps.
I also tested the lux of DMEX to compare it with Mega Racer. As expected, they scored lower on average, with 1180 lux on the high beam and around 730 lux on the low beam. Still more than double the brightness of stock bulbs.
A small percentage of buyers report receiving their bulbs in a defective state. Or, they began malfunctioning within a month of use.
But, the vast majority of buyers rate these bulbs very highly. I personally didn't experience issues with dimming or flickering.
Pros
Anti-UV glass is less sensitive to sun exposure to preserve clarity and color
UV treated, so you don't get any discoloration or UV damage
3800 lumens per bulb for 170% more brightness than halogen bulbs
100% Quartz glass produces a uniform and focused beam
Easier to spot other vehicles, pedestrians, or wild animals
Stable and flicker-free beam makes it comfortable to drive at night
Xenon gas reduces filament decay and increases lifespan
4300K, 6000K, and 8000K color temperatures available
Efficient power consumption and heat management at 35W
Designed with an OEM replacement fit for plug-and-play installation
Quick start-up with no delay when flashing the high beams
A 2-year manufacturer warranty covers defects for peace of mind
---
DMEX HID Headlight Bulbs
PREMIUM CHOICE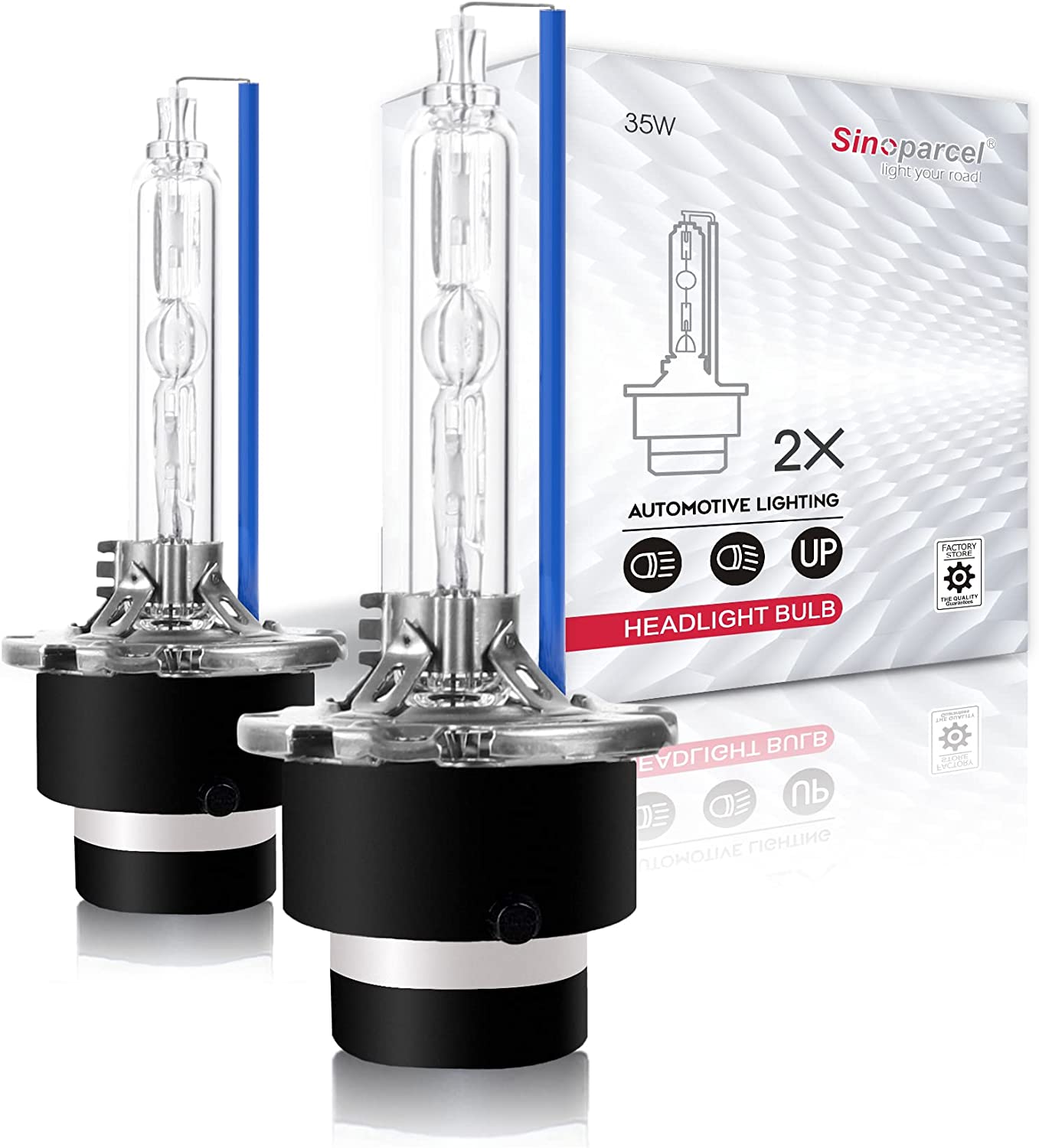 Sinoparcel HIDs are a budget-friendly choice to improve your car's style while upgrading your lighting system.
At 3,200 lumens per bulb (6,400 total for the pair), these are the least powerful on my list of best HID headlight bulbs. Still, Sinoparcel is far superior to halogen bulbs, with a visibility range of 500 feet.
A great option for low-light or nighttime driving. But keep in mind there is a tangible drop in brightness compared with the Mega Racer and DMEX.
Blue lights often don't perform as well in mist or fog compared to warmer colors. So I would reconsider these bulbs if you live in a high mist or foggy area.
With a color temperature of 8000K, these bulbs make up for it with their unique look and color profile. The beam is a distinct blue. Giving your car that sleek, street-racer look.
Blue light can be a bit harsher on the eyes over long distances. But it didn't affect me even on longer trips.
The blue beam does an excellent job of highlighting details. This means you don't have to strain as hard to see potential hazards.
Sinoparcel's bulbs are designed with a wider projection angle to illuminate a larger area. So, you'll spot merging vehicles, cross traffic, or pedestrians coming from the sides.
The one downside of a wider angle and lower brightness is a drop in intensity. We tested these bulbs, and they barely registered over 1,000 lux on high beams. On low beam, they registered around 600 lux.
This is lower for HIDs, but still high compared to halogens or stock bulbs. A lower intensity was the most common complaint from other buyers.
Kicking off build quality. We've got a metal base and quartz glass tube that protects the filament and ensures optimal light transmission.
The all-steel alloy bracket seat means the bulb is housed firmly on the Tungsten base. This will reduce shaking and improve the bulb's lifespan.
The Sinoparcel has an IP67 rating. This means it's dust resistant and can survive submerged underwater for 30 minutes.
With an operating life of 3,000 hours, Sinoparcel is on par with DMEX's bulbs.
The bulbs come with a 2-year warranty that covers any manufacturing defects. But, we didn't find any reasons to be concerned about this product's durability.
You don't need to worry about a startup delay when flashing high beams like with some lower-quality bulbs.
Thanks to the OEM bracket, the installation was quick and easy. Sinoparcel's bulbs were a snug fit.
One upside is that Sinoparcel's bulbs are slightly more affordable than the other two bulbs on this list. I'd recommend it to those on a tight budget who aren't looking to max out their headlights' brightness.
Instead, it's a solid choice if you like the cool blue aesthetic. And as a bonus, it's still much brighter than stock HIDs.
Pros
3200 lumens per bulb is significantly more powerful than stock bulbs
Wider angle of projection to illuminate more of the road, roadside, and cross-traffic
8000K blue color profile results in crisp visuals and brings out details
Blue color temperature gives your car a unique, street racer appeal
Quick startup so that there is no delay when flashing high beams
OEM installation results in a quick and easy installation with no modification
A 3,000 hours lifespan which is a significantly better lifespan than stock bulbs
Rated for IP67, which means it is fully dustproof and can survive water submersion
100% Quartz tube is sturdier than typical glass tubing
Anti-UV treatment prevents discoloration of the light due to sun exposure
Robust body thanks to tungsten stent base and all steel alloy bracket seat