This is my buying guide on the brightest H1 LED headlight bulbs in 2023. Below is a quick summary of my top recommendations. Scroll further down to read my in depth, hands on reviews, for each H1 headlight bulb.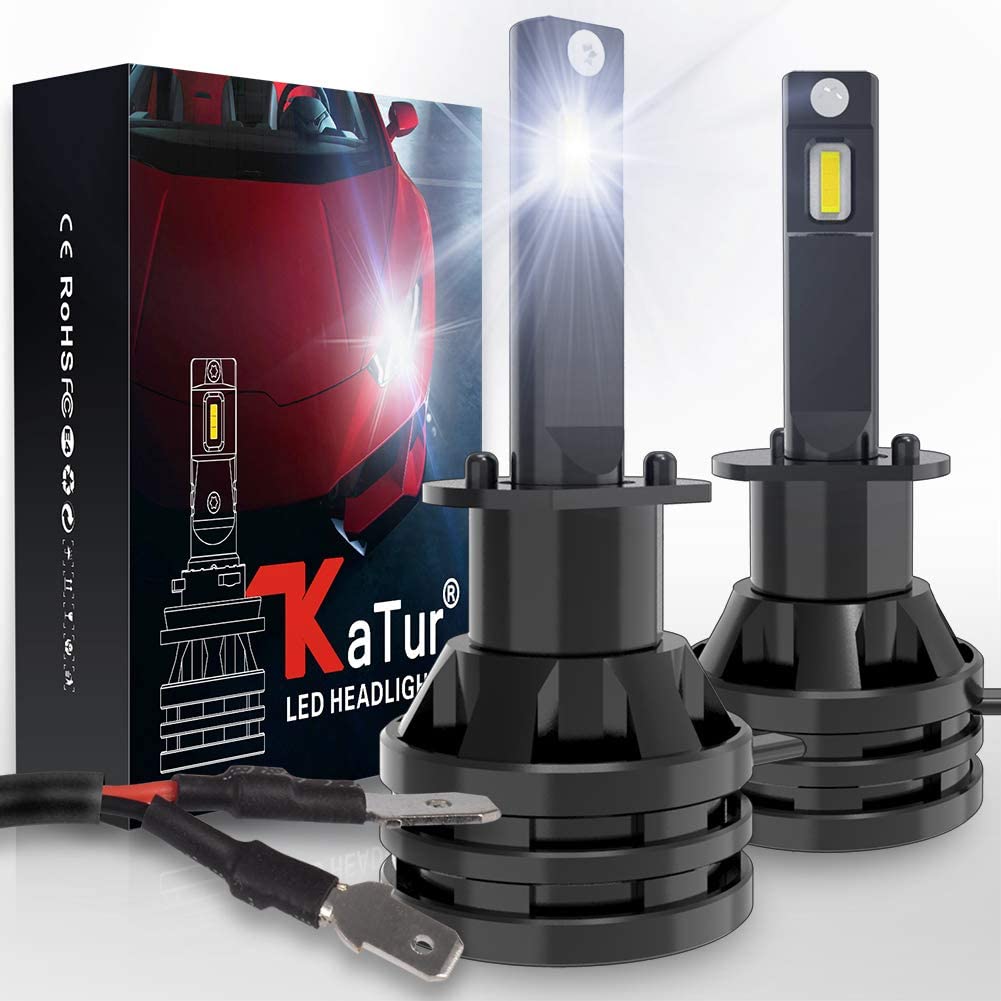 Fahren Forscher H1 LED
Headlight Bulb
Plug and play
12,000 lumens/set
6,000K Cool White
+200% brighter than halogens
Brightest budget H1 LEDs
50,000-hour lifespan
60W per set
External CAN bus driver
IP68 Waterproof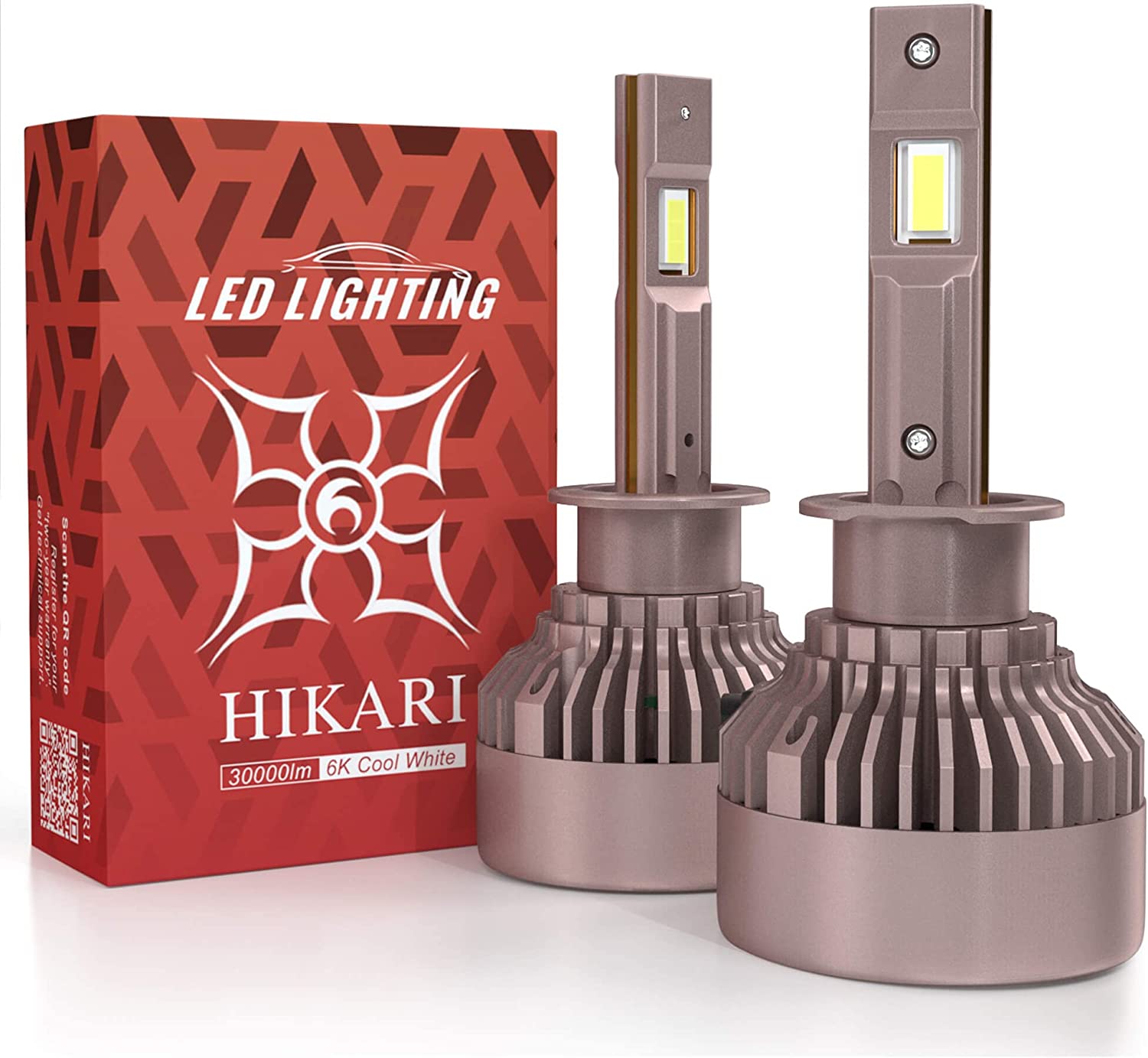 Hikari Titanova H1 LED Headlight Bulbs
Plug and play
30,000 lumens/set
6,000K Cool White
+300% brighter than halogens
Brightest overall H1 LEDs
100,000-hour lifespan
130W per set
External CAN bus driver
IP68 Waterproof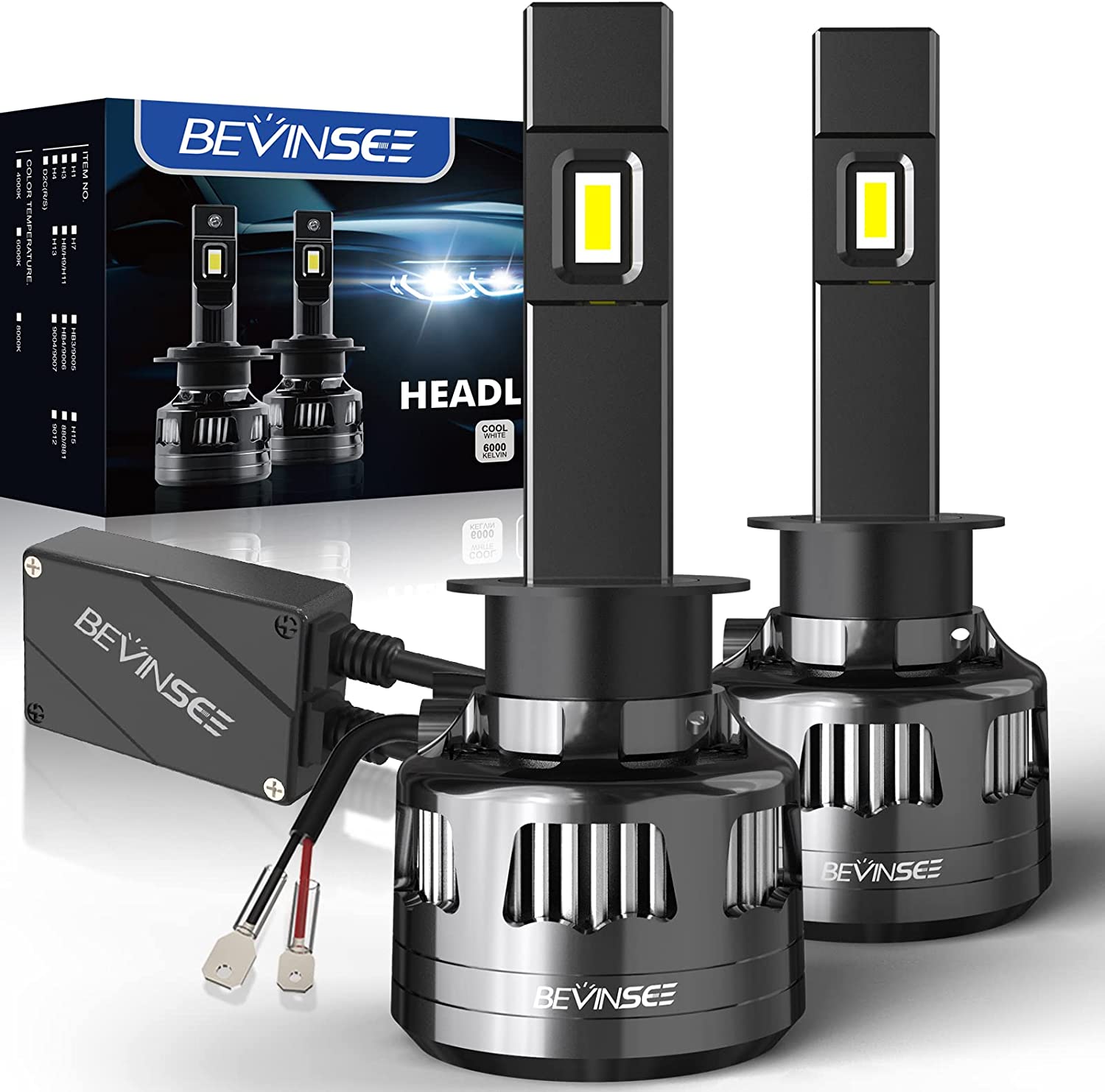 Bevinsee V45 H1 LED
Headlight Bulbs
Plug and play
22,000 lumens/set
6,000K Cool White
+250% brighter than halogens
Runner-up for brightest H1 LEDs
100,000-hour lifespan
120W per set
External CAN bus driver
IP68 Waterproof
---
For vehicles with single bulb filaments for high and low beams, the H1 bulb is the one you need.
After a while, the factory-installed halogens will burn out and need to be replaced. My tip is to upgrade to LEDs; they're so much brighter and last longer.
So how do you know which brand to buy? I'm here to help. For over a decade, I've used and tested thousands of bulbs for all areas of the vehicle.
With H1s, I tested ten of them and narrowed it down to three. The Hikari Titanovas are my pick for overall brightest.
I've also included a runner-up for brightest and a budget option.
Get ready to learn all about H1 LED headlight bulbs.
IMPORTANT! – Make sure you have the correct bulb sizing and fitment so you don't waste your money, use this handy tool to double check.
---
Top Pick
I've put a bunch of H1 LED headlight bulbs through their paces, and the standout for me is the Hikari Titanova. With a whopping 15,000 lumens, it's one of the brightest I've come across.
What the Company Says
Hikari positions its Titanova as a high-end LED upgrade, and the specifications certainly catch the eye.
Yes, you read that right. Each bulb is touted to give off 15,000 lumens. That's a mind-boggling 30,000 lumens for the pair. My experiments back up their brightness claim, but whether they hit the 15,000 mark is another story.
I'm a fan of the 6,000 Kelvin cool white color, a major reason why I lean toward LEDs over halogens. The clarity you get from white light far outshines the 3,000 Kelvin range of stock halogens.
They're said to operate at 65 watts and have a lifespan of an astounding 100,000 hours. That figure seems somewhat inflated, I've yet to encounter any headlight bulbs lasting quite that long. However, Hikari does offer a generous 2-year warranty, longer than many competitors. I'd wager they'll last at least that long.
Being IP68 rated, the highest possible waterproof rating, you won't have to think twice about tackling rain, sand, fog, or snow.
Hikari calls its chip the 'Titanova'. Quite the fancy name, but it lives up to it. Interestingly, I found that the Acuma bulbs are identical to the Titanova, only under a different brand. Even more intriguing, the Acuma is less expensive despite being the same bulb.
There is a bit of a fabrication on Hikari's part. They claim their bulb is DOT approved. However, no LED bulbs in the US carry DOT approval, and are technically illegal for on-road driving. 
What I Noticed
Upon inspection, the units seemed robust. They feature a distinct design with bare copper tubes on the bulb and a rib that appears to aid light control.
The external driver is connected with sturdy braided cables. The driver itself is slim, sporting a unique disconnect. This means, in case of warranty claims, you can replace either the main driver or the headlight bulb.
The accompanying user manual is quite detailed, providing installation instructions and how to position them for the optimal beam.
The heat sink and fan are compact, making them a good fit for most car headlight housings. I faced no issues installing these. For me, it was a simple plug-and-play affair, although some drivers reported problems.
Putting Them to the Test
Earlier Hikari bulbs didn't quite wow me. They were decent, but didn't live up to the buzz. The Titanova, though, is a different story.
I set up my projector test with a lux meter stationed 20 feet away. Average halogens clock in at a lux rating of 725. The Titanova started at a whopping 2,220 lux, making them more than three times brighter than stock halogens. They are indeed super bright.
27 minutes in (the average commute time in the US), they were still going strong at 1,887 lux, around 85% of their initial output. This is the brightest I've recorded after 27 minutes, with the average being about 80%.
The reflector test was just as remarkable. From 910 lux for the halogens, the Titanova started at 3,590 and dipped to 3,052 after 27 minutes.
Do they actually hit the 15,000 lumens per bulb mark? They might be in the ballpark, but not quite there.
While the company states 65 watts per bulb, I recorded 56.9, which is quite impressive, though not as high as advertised.
What particularly reassures me is how cool these bulbs run, despite their brightness. In fact, they're cooler than many I've tested. And a cooler bulb translates to better reliability and longevity.
As for the beam pattern, it's largely strong and well-focused, although there is a little fuzziness around the edges and a weak spot on the lower left side.
What the Drivers Say
On Amazon, the Hikari Titanova H1 LEDs boast a solid 4.5/5 star rating. The recurring theme among drivers is their brightness. Here are two comments that stood out:
"My car has never looked sharper. The lights are excellent, and I love how my car looks with these brilliant white lights."
"These 2023 'Future' bulbs slice through darkness and offer MUCH better visibility further down the road than any headlights I've encountered."
A few drivers did struggle with installation, but I wonder if they referred to the included manual.
In Summary
The Hikari Titanova H1 LED bulbs are the brightest premium lights I've had the pleasure of testing.
Hikari could certainly be more transparent with their specifications. I'm skeptical about their 100,000-hour lifespan claim, and falsely stating DOT approval isn't on.
If the Hikari Titanova is too rich for your taste, consider the Acuma—it's essentially the same product, but easier on the pocket.
Pros
Plug and play
30,000 lumens/set
6,000K Cool White
+300% brighter than halogens
Brightest overall H1 LEDs
100,000-hour lifespan
130W per set
External CAN bus driver
IP68 Waterproof
---
Personal Second Best
If you're looking for a more budget-friendly option without compromising too much on the brightness, let me introduce you to the Bevinsee V45 H1 LED bulbs. They're my second-best pick for the brightest H1 LEDs, delivering exceptional brightness at less than half the price of the Hikari Titanovas.
Manufacturer's Claims
Bevinsee promotes a dazzling brightness of 22,000 lumens for a pair of their bulbs. From my experience, the Bevinsee bulbs are indeed bright, but do they individually reach the 11,000 lumens they claim? I have my doubts.
Matching the Hikari, the Bevinsee bulbs also emit a cool white 6,000K color. I just can't get over how much clearer everything appears with this light color, compared to the yellowish halogens.
Each bulb allegedly draws 60 watts and has a touted lifespan of a whopping 100,000 hours. I remain skeptical; I've yet to see a bulb live that long. But here's where Bevinsee shines over Hikari: it backs up its bulbs with a 3-year warranty, which is above the industry's 1-year average.
Like the Hikari bulbs, these are IP68-rated, which I find to be the ideal rating. It assures me that driving through rain, sand, fog, or snow won't cause any issues for these bulbs.
Based on these specs, these bulbs should be incredibly bright. But are they as radiant as they're made out to be? Let's delve into my personal testing results.
First Impressions
The appearance of these bulbs won me over instantly. They flaunt an attractive black chrome finish, giving them a sleek look. The bulb feels heavier than most I've come across, but it seems to indicate a robust build.
The external driver is sturdy and notably compact, which, I reckon, would ease the installation issues some drivers reported with the Hikari.
Their user manual, though, feels a bit basic; as if it's added just to check off a requirement.
Boasting 72 fins, the heat sink promises efficient cooling. But does it deliver? Let's find out.
My Experiments
Sticking to my standard routine, I set up my projector test with a lux meter placed 20 feet away. As usual, my halogens clocked a lux rating of 725. The Bevinsee bulbs started off impressively with a rating of 1,771. While these bulbs are indeed bright and about two and a half times brighter than the halogens, they couldn't quite match the Hikaris. But considering their price, that's pretty good.
Even after running for 27 minutes, they maintained 84% of their brightness, hitting 1,485 lux. That surpasses the industry standard of 80%.
The reflector test offered results similar to the projector test. The Bevinsee bulbs started at 3,260 lux and dipped to 2,734 after 27 minutes.
The bulbs' advertised wattage is 60 per bulb. I recorded 56.6 watts, quite close to the Hikaris, even though the Hikaris claim a higher wattage.
However, I did encounter an issue with the heating. The driver got alarmingly hot, reaching up to 172°F. That's pretty intense. I wish the cord between the driver and the bulb was longer. If I could have placed the driver further away, it would have had more exposure to cooler air. Thankfully, the main unit only hit 138°F.
Another point to consider is that these bulbs need to be positioned accurately. If not aimed right, they can easily blind oncoming traffic.
As for the light pattern, it had a lower hot spot compared to standard bulbs. I had to refocus this hot spot onto my lux sensor. This reinforced the importance of aiming these bulbs correctly.
Feedback from Other Users
Matching the Hikari, Amazon customers have rated the Bevinsee V45 H1 LED bulbs at 4.5/5 stars. They say things like:
"Bevinsee has the best LED lamps with the highest brightness for the price (if not the best overall)."
"The Bevinsee V45s are 55 watts each, and they really light up the road. No need to look for other bulbs."
However, some users with older (pre-2000) vehicles encountered difficulties with fitting these bulbs.
The Bottom Line
For a price that's less than half of the Hikari Titanovas, the Bevinsee V45 LED headlight bulb is a commendable contender in the race for the brightest H1 LED. It may not outshine the Hikari, but it's definitely a luminary in its own right.
Pros
Plug and play
22,000 lumens/set
6,000K Cool White
+250% brighter than halogens
Runner-up for brightest H1 LEDs
100,000-hour lifespan
120W per set
External CAN bus driver
IP68 Waterproof
---
Lighting on a Budget
If you're penny-pinching like me but still want an upgrade from your dim halogens, the Fahren Forscher H1 LED Headlight bulb is worth considering. For just one third the price of the Hikari Titanovas, it's a worthy trade-off.
Promised Features
The Fahren Forschers aren't quite as luminous as the others I've tested here, claiming to produce 6,000 lumens each. Although this may seem less impressive on paper, I was pleasantly surprised when I tested them. More on that soon.
Like the others, the Fahren bulbs also offer a 6,000K cool white light, which I find perfect for illuminating the road ahead with crystal clarity.
The bulbs claim to draw 30 watts each, which is half what the other bulbs claim. However, in my tests, their actual draw was even less. They come with a 1-year warranty and are supposed to last 50,000 hours, but that's about it in terms of added features.
They've got an IP68 waterproof rating as well, so you can confidently venture out in any weather condition.
First Impressions
At first glance, the Fahren Forscher H11 LED headlight bulbs seemed rather plain to me. They lack the bells and whistles of pricier bulbs, but at less than $40, I found them to be quite reliable and robust.
Although I couldn't find specific details about the chip used in the bulb, Fahren promises it's top-of-the-line. Considering their performance and positive reviews, I'm inclined to believe them.
One aspect of the bulb I appreciated was the tidy heatsink design. Though this isn't something you'd see once the bulb is installed, it's a nice touch.
The bulb's external driver is compact and solid, and the unit also has a built-in fan. However, there's a slight issue with this fan. I'll get to that later.
They also include a comprehensive, fold-out user manual filled with helpful images, which makes the installation process pretty straightforward.
Test Results
As a quick recap, I conduct my tests using a lux meter set 20 feet away, taking readings initially and after 27 minutes. This is also when I measure the temperature.
In my projector test, the Fahren bulbs surprised me by hitting 1417 lux, nearly double what my halogens deliver, despite claiming only 6,000 lumens. The reflector test showed an impressive 2,390 lux.
Here's where the Fahrens really shine: After running for 27 minutes, they retained an astonishing 89% of their brightness, providing 1313 lux in the projector and 2137 lux in the reflector. This is the highest retention I've recorded for H1 LEDs.
The unit's temperature topped at 185°F, and the driver only reached 120°F. Given these temperatures, I wouldn't be surprised if they actually last as long as they claim. While Fahren states the bulbs draw 30 watts each, I measured only 20.9 watts, which could explain their exceptional heat retention.
The light emitted was well-controlled, with only minor patchiness at the typical weak spots at the top and bottom center.
One downside, however, is that the fan is quite loud, which could be bothersome if you're sensitive to noise.
Other Users' Opinions
The Fahren Forscher H1 LED headlight bulbs are extremely well-liked among Amazon users. Out of almost 60,000 ratings, they hold a strong 4.5/5 stars, with 76% of users giving them a perfect score. Users comment:
"Just 10 minutes to install, and the lights are super bright."
"These bulbs are bright and were easy for me to install. Love that they're easily adjustable."
As expected, some of the more critical reviews pointed out the noise from the fan.
Conclusion
I was genuinely surprised by the performance of the Fahren Forschers, especially given their price. They ranked as the 4th brightest H1 LEDs I've tested and are #1 in heat retention, maintaining 89% of their brightness. If you're looking for the best bang for your buck, these might just be it.
Pros
Plug and play
12,000 lumens/set
6,000K Cool White
+200% brighter than halogens
Brightest budget H1 LEDs
50,000-hour lifespan
60W per set
External CAN bus driver
IP68 Waterproof
Cons
The fan can be very noisy
---
H1 LED Headlight Bulbs FAQ
Are H1 LED Headlight bulbs bright?
Absolutely they are. If you consider that the average lumens of a factory-installed halogen bulb is only 1407 lumens, and the products listed here were 6,000–15,000 lumens. My tests revealed brightness levels up to 300% more than halogens.
What cars use H1 Headlight Bulbs?
H1 headlight bulbs can be used in a variety of makes and models. You're best to confirm with the manufacturer that your vehicle complies. Amazon has a button at the top of every product page called Amazon Confirmed Fit, where users can enter their vehicle details.
Interestingly, emergency vehicles like Ambulances are often fitted with H1s for their required brightness — needed for warning other vehicles of their presence.
What can H1 headlight bulbs be used for?
H1 headlight bulbs are predominantly used as single-filament high-beam lights as they're significantly brighter than other lamps. They're primarily used for driving in wet or foggy conditions where visibility is at its lowest.
Are H1 bulbs interchangeable with other bulb types?
H1 bulbs are part of what's known as Group 1 lights, and they all begin with H or HB. They have the same classification and are categorized together, but they're not interchangeable due to the different ridges in the various headlight socket systems.
If you like this guide. Check out our article on the best H1 LED Headlight Bulbs.