This is our review of the brightest halogen headlight bulbs.
While LED and HID bulbs will provide stronger brightness, halogens still have a lot to offer. But with so many options to choose from, it can be hard to pick the right one.
That's why I put the brightest halogens bulbs on the market head-to-head.
For the money, Philips CrystalVision Ultras offers an excellent balance of overall brightness, color profile, and other features that makes it my #1 choice.
I've been testing and reviewing headlight bulbs for over a decade. So if you need help choosing the best halogen, stick around!
Keep reading for more on the brightest halogen headlight bulbs.
---
Philips CrystalVision Ultra Halogen Bulbs
OVERALL BEST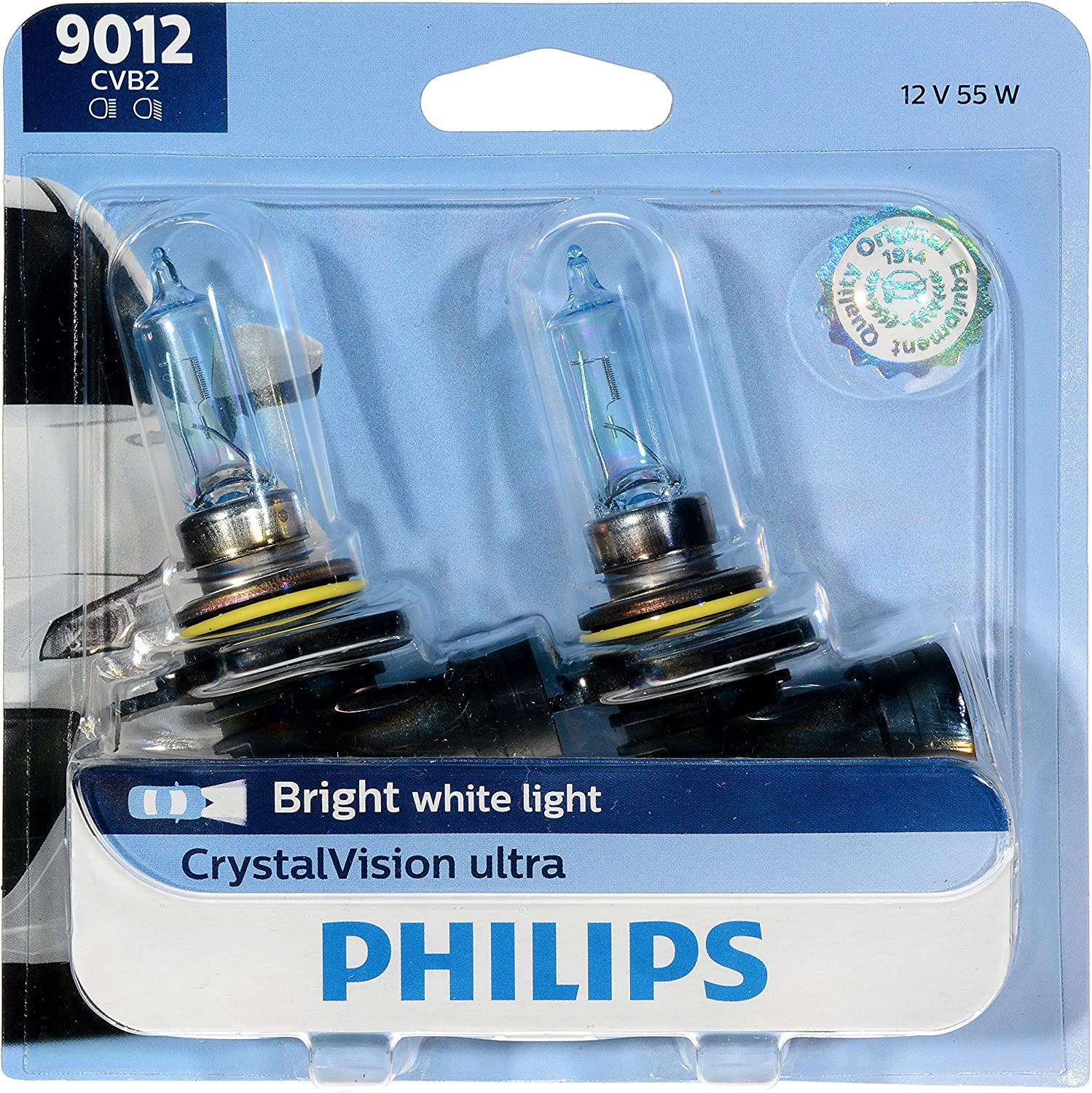 When the time came to level up my ride's style, Philips CrystalVision Ultra quickly became my go-to choice. With a Kelvin color sitting at an impressive 6,000K, it boasted a much cooler color profile than the standard halogens, which tend to hover around 2-3,000K. That's the kind of numbers I'd usually expect from LEDs or HIDs!
These bulbs caught my attention with their unique blue cap, lending the light an icy, eye-catching tinge. It transformed my car instantly, lending it a sleek, futuristic street vibe.
Even when the bulbs weren't lit, the captivating cobalt blue tinge in my headlight reflectors was striking. The effect was most pronounced at night, but still managed to hold its own during the day, providing a round-the-clock style upgrade.
This wasn't merely an aesthetic marvel – it came with practical benefits too. The whiter light was excellent at highlighting objects in the dark, and the blue undertone helped reduce glare, making night driving considerably safer.
Although the CrystalVision Ultra didn't outshine standard halogens, emitting roughly 1,000 lumens, it didn't fall behind either. Thanks to its optimized beam pattern and color profile, it maintained visibility comparable to a brighter bulb. This was the handiwork of some smart engineering, which allowed the CrystalVision Ultra to deliver superior lighting performance without flouting legal limits. Not only was it DOT and SAE-compliant, but it was also roadworthy in most jurisdictions.
In effect, all these features combined to produce up to 100% more light on the road than traditional headlights. In my tests, I recorded about 600 lux at 20 feet, which was not too shabby. It meant minimal light falloff or scattering.
I was genuinely taken aback by how much it enhanced my nighttime visibility, producing up to 30% higher brightness compared to stock bulbs. A remarkable throw augmented the high perceived brightness level, extending the beam further down the road, making it easier to spot distant obstacles.
The wider projection also helped, offering a more comprehensive view of the roadside.
What surprised me most was the CrystalVision Ultra's highly efficient heat transfer, which kept operating temperatures at bay. Despite the bulbs' power, there was no risk of sensitive internal components burning out, promising better longevity than stock bulbs and fewer bulb replacements.
This was all possible due to its relatively efficient wattage of 55 Watts.
The Ultra boasts a rated lifespan of between 150 to 450 hours, depending on the version you choose. Some other aftermarket bulbs are rated for over 600 hours, but this wasn't a dealbreaker for me.
A point worth noting is the variety of sizes and configurations these bulbs come in. Regardless of the type of bulb your vehicle needs, you'll likely find a fitting CrystalVision Ultra.
Installation was a breeze, thanks to the OEM-style connectors. I merely unplugged the old halogens and plugged in the CrystalVision Ultras, without needing any additional drivers or modifications.
To top it all off, a 1-year manufacturer's warranty ensured my peace of mind.
Pros
Up to 100% more light on the road thanks to the focused beam pattern and higher brightness
The beam illuminates more of the road with a wider viewing angle and longer throw
6000K cool white color profile clearly highlights objects in the dark.
Blue light caps results in a more aesthetically pleasing and eye-catching look that's visible 24/7
The bluish tone to the color profile boosts alertness at night
The unique color profile makes it much easier to make out details like street names or road signs
Best-in-class heat management provides better consistency and longevity
Last significantly longer than stock bulbs, making replacements less frequent
Offered in a wide variety of sizes, including all the most popular ones like H11 and H7
Offers OEM-style fitment for easy installation and true plug-and-play functionality
Cons
Often sold out due to high demand
Slightly on the pricier side
---
SYLVANIA XtraVision Halogen Bulbs
BEST BUDGET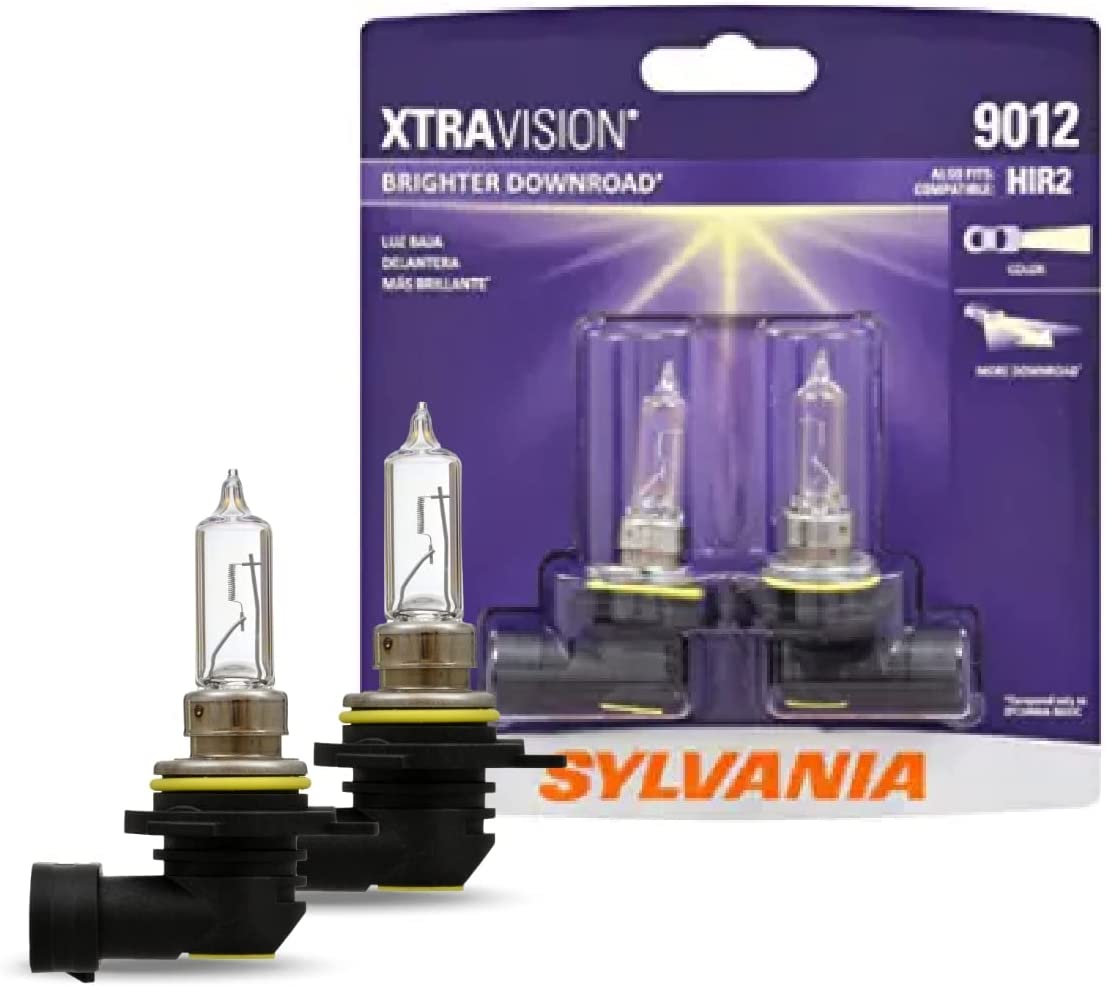 Just like the Philips CrystalVision, the Sylvania XtraVision caught my eye. With improved brightness, minus the CrystalVision's characteristic blues, this was a budget bulb that offered comparable performance and extended lifespan.
Given Sylvania's reputation in the industry, I was expecting quite a bit from their halogen bulbs. And I wasn't disappointed. The bulbs delivered a powerful beam of light that clocked in at a staggering 1700 lumens.
That was a step up from the Philips, and a monumental improvement over standard halogens. The brighter beam noticeably improved visibility, instilling a newfound confidence during nighttime drives.
These factors combined gave the XtraVision a slightly superior lux reading of 800 at 20 feet.
In terms of throw, these bulbs held their own against my top pick. The higher wattage resulted in a stronger beam, extending its reach further down the road and giving me similar reaction time as I had with the CrystalVision Ultra.
The wider projection was a definite advantage, especially when driving on expansive roads and highways.
The XtraVision's 6000K color temperature impressed me. The cooler color profile gave even my older car a modern makeover.
But it wasn't just about looks. The enhanced clarity made it much easier to distinguish obstacles in my path. Plus, the cooler beam reflecting off the road surface improved visibility, significantly enhancing my depth perception.
This was a testament to Sylvania's proprietary gas mixture, known for delivering superior performance.
What I did miss, however, was the blue tint unique to Philips. The XtraVision's pure white beam offered great clarity, but the lack of color could sometimes lead to color washout and increased glare. It also didn't quite have the same wakefulness effect.
Still, there was no doubt that it was a significant improvement over stock halogens. The robust filament design did help keep the glare in check.
In spite of the higher output, these bulbs maintained an efficient 65-watt power consumption. I didn't encounter any distortion or interference with my car's stereo/radio systems, and no error codes popped up during testing.
In terms of sizes, these bulbs come in just about every possible configuration. You should be able to find a size that fits your vehicle without much hassle.
However, some reviews suggested that these bulbs aren't universally compatible, so I'd recommend doing some research to ensure they work with your car.
If I were to nitpick, I'd say these bulbs lacked the style and comfort of my top pick. But that's expected considering they're almost half the price. Despite lacking the luxury feel, they were leagues ahead of stock halogens.
Their exceptional brightness was undoubtedly their standout feature. Almost twice as powerful as stock bulbs, they still stayed within legal limits.
Pros
Bright and powerful 1700 lumen beam is almost twice as strong as stock halogens
Clearer sightlines and improved visibility thanks to the optimally engineered beam pattern
More powerful throw lets you see further for improved reaction times
Wider projection brings more of the roadside into view so you can spot cross traffic
6000K color profile helps you see more clearly at night
The snowy white color temperature offers a more modern aesthetic
Clearly highlights details, making it easier to differentiate between obstacles
Beam reflects off of surfaces more readily, improving readability of road signs
Proprietary gas mixture and robust filament delivers superior performance with greater efficiency
At 65W power consumption, it's efficient for its level of light output
Didn't encounter any issues with interference/distortion and no error codes
One of the most budget-friendly high-performance aftermarket halogen bulbs
Offered in just a variety of sizes to fit different vehicle models and connectors
Cons
Doesn't offer any blue tones like our top pick
No manufacturer's warranty
---
SYLVANIA SilverStar zXe Halogen Bulbs
WORTHY CONSIDERATION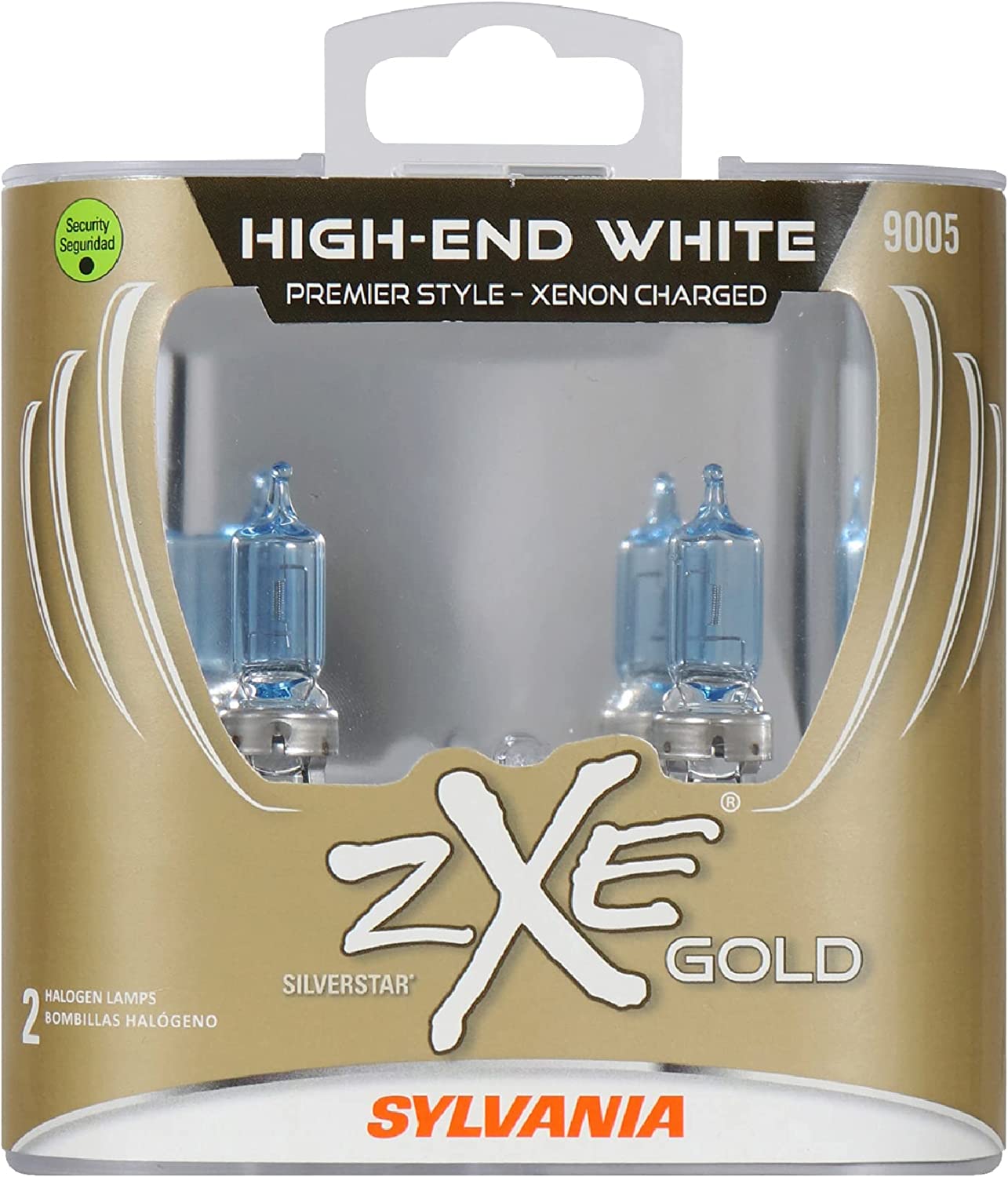 The Sylvania SilverStar zXe, one of the brightest halogen offerings out there, carries durability that matches its powerful performance. Despite its merits, a few drawbacks did push it to the bottom of my list.
Let's dive into the strengths first. With a luminous output of 1700 lumens per pair, the SilverStar zXe outshone any stock halogens I've used. The lux readings during my tests were impressive – the bulbs delivered a solid 854 lux at 20 feet, with the beam holding its consistency well over distance.
What stood out was the enhanced visibility and comfort these bulbs provided for nighttime driving. Of all the halogen bulbs I've tested, these made me feel the most secure when driving after dark.
The bulb lens was engineered to magnify the beam, offering broader coverage on the road. This feature allowed me more time to identify and react to potential hazards. The expanded field of view also gave me an earlier warning of potential dangers lurking at the roadside.
But of course, there were drawbacks. While these bulbs were competitively bright, their color temperature was on the warmer side. Registering 4200 Kelvins, they leaned closer to the color range of stock halogens, typically around 2-3,000K. Now, don't get me wrong – it still gave off a pleasing white beam, noticeably cooler than stock bulbs, but it wasn't the purest white.
A 4200K color temperature did reveal a lot of detail on the road, easing the strain on my eyes. Compared to stock bulbs, it was significantly easier for me to spot road imperfections like bumps and potholes. Some drivers might even prefer this neutral white shade for its natural appearance.
In terms of style, the SilverStars borrowed the blue tint on the bulb glass from the CrystalVision. This cobalt blue coating, applied using a laser-ablative technique, enhanced light transmission and color. Even in daylight, with the bulbs off, it was quite visible. The addition of a gold mirror top alloy coating gave it a crisp, HID-like look. Employing Silverstar's proprietary Xenon halogen gas technology, these bulbs managed to deliver superior efficiency and performance.
The resultant beam outperformed expectations, all the while being 100% street-legal.
I subjected these bright halogens to rigorous testing. Even after extended periods of use, the bulbs remained relatively cool and kept up the consistent lighting, with minimal dropoff over time. That's great news for those with longer commutes who need the bulbs to run for extended periods.
Due to their efficient power usage and heat management, these bulbs boast a lifespan significantly longer than stock bulbs – expect about twice the longevity from these SilverStars.
Just like with the other Sylvania bulb I tested, these too come in a wide variety of sizes.
There are a few buyers who feel the brightness doesn't justify the price. However, remember that if you opt for a much brighter bulb, it might not be legally roadworthy.
Pros
1700 lumens makes it one of the most powerful halogen bulbs on the market
Clearer sightlines in all directions with a wild viewing angle and long throw
4200K color profile is whiter than stock halogens with better nighttime clarity
Superb at highlighting objects against the backdrop, making it easier to pick out details
Comes with Cobalt bulb coating for aesthetically stylish bluish tones
Bluer color profile helps maintain wakefulness if driving late at night
Blue coating makes lights visible at all times, even during the day or when not running
Efficient heat management and power consumption for halogens improves lifespan
Rated to last 2x as long as stock bulbs, so they won't fail on you unexpectedly any time soon
Offered in a variety of sizes for different vehicle models and halogen bulb sockets
Cons
Color profile is not as cool as on other bulbs
One of the most expensive aftermarket halogen bulbs
---