Today, we'll be looking at the main differences between 1157 and 2057 tail light bulbs.
Of the thousands of bulbs we've compared, these two are perhaps the most similar to each other. Both 1157 and 2057 bulbs are entirely interchangeable and only have a few subtle differences to set them apart.
1157 bulbs are a lumen or two brighter than 2057 bulbs. 2057 bulbs also have three wires instead of two, and their wattage is one watt shy of 1157 bulbs.
If you are confused about which bulb to choose for your car, trailer, or SUV. Allow us to use our experience working with 14 years working with automobiles to help you make the best choice.
Keep reading for more info on the differences between 1157 and 2057 bulbs.
| | |
| --- | --- |
| 1157 | 2057 |
| Slightly brighter than 2057 bulbs | Slightly dimmer than 1157 bulbs |
| Draws a bit more current | Draws 30% less current when using the running lights |
| This bulb has two wires | This bulb has 3 wires |
| Not ideal for interior lighting | Works well in interior applications |
| More power efficient than 2057 bulbs | Draws only nominally more power than 1157 bulbs |
| High filament wattage is around 8 watts | High filament wattage is around 7 watts |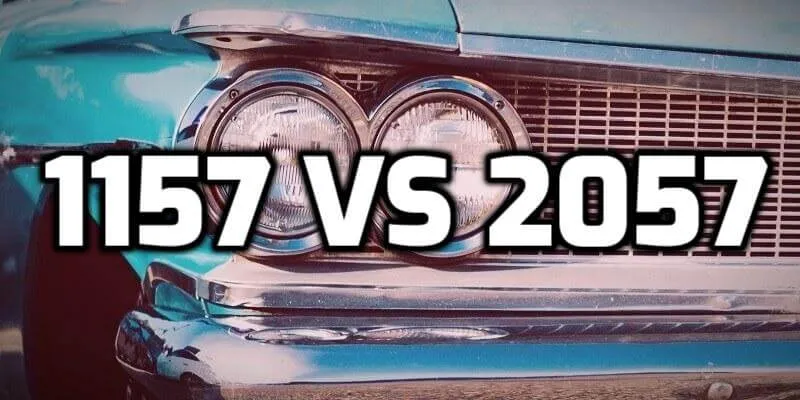 1157 And 2057 Compared
Wattage
Starting off with the wattage of these bulbs, we have 1157 bulbs drawing around eight watts of power compared to 7 watts for 2057 bulbs. Minor differences such as this are a theme with these bulbs.
Wiring
One noticeable physical difference between 1157 and 2057 bulbs is the wiring. Specifically, 1157 bulbs use two wires instead of the three seen on 2057 bulbs. However, they are still completely interchangeable and can be used in each other's sockets.
Current
2057 bulbs draw about 30% less current compared to 1157 bulbs. While that's not the biggest difference, it can cause malfunctioning in certain cars, which is why we always urge readers to use the manufacturer-recommended bulbs.
Efficiency
1157 bulbs draw less power than their 2057 counterparts. However, here again, the difference is not that noticeable and doesn't really have the biggest impact on usability.
Brightness
By virtue of drawing slightly more power, 1157 bulbs produce a few more lumens than 2057 bulbs. Again, the difference is not noticeable in day-to-day driving and our testing did not find it to be particularly advantageous.
Use cases
When it comes to use in interior applications, 2057 bulbs perform better than 1157 bulbs, as they draw less current and the output is less harsh. So if you are replacing a dome light, map light, or other similar interior lights, and you need one of these two bulbs, 2057 is the better choice.
Are 2057 and 1057 bulbs interchangeable?
The 2057 and 1157 bulb models are in fact interchangeable, the primary difference lies in their brightness levels. The 1157 model is marginally brighter than the 2057. If you're looking to replace a 1157 bulb, the 2057 serves as an excellent choice. It is not only effective but is also likely the optimal solution for your requirements.
Conclusion
Notably, the cost of these two bulbs is also pretty much the same. As such, it is even harder to choose one or the other.
Based on our testing, we can report that there isn't much of a noticeable difference between these two bulbs as far as brightness and visibility are concerned. That said, 1157 bulbs have the advantage on paper thanks to the higher power rating and efficiency.
Despite that, 2057 bulbs are better for interior applications.
These bulbs are completely interchangeable and we did not face any issues installing one in the other's socket.
Really though, the differences are so minor that you are better off just going with the bulb that your particular car's manufacturer recommends using.