In this article, we'll be taking a look at the major differences between 2825 and 194 bulbs.
We will tell you that these two bulbs are interchangeable and can be used in each other's sockets. However, there are a number of differences in terms of performance and use case.
2825 bulbs draw more current and are brighter than 194 bulbs. 194 bulbs are significantly longer lasting but can only be used for interior applications, unlike 2825 bulbs that have exterior applications.
While they are quite similar, it is important to know the differences between these balls so that you can make a better choice.
Keep reading for more information about 2825 and 194 bulbs.
| | |
| --- | --- |
| 2825 | 194 |
| Bright enough to be used for license plate lights | Not bright enough to use as license plate lights |
| Only has a lifespan of around 300 hours | Has a lifespan of around 2500 hours |
| Generates about 50 lumens of brightness | Generates about 25 lumens of brightness |
| Rated for .41 A | Rated for .27 A |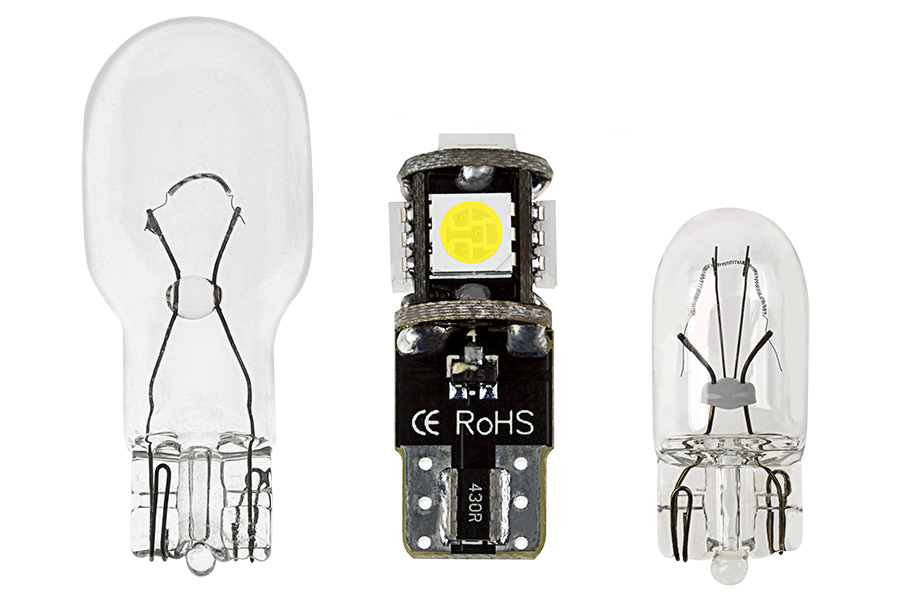 2825 and 194 Bulbs Compared
Lifespan
One of the biggest differences between 2825 and 194 bulbs is lifespan. Specifically, 2825 bulbs have a lifespan of around 300 hours. While that is pretty good for interior light, the 194 bulbs are even better. They deliver about 2500 hours of usage, putting 2825 bulbs to shame.
Use cases
If you're looking to upgrade the interior lights in your car, both of these work quite well. However, 2825 bulbs, the brighter bulb, can also be used in exterior applications.
The most common exterior application for 2825 bulbs is as license plate lights, although the shorter lifespan is worth considering.
Current
When it comes to the current drawn by these bulbs, 194 bulbs draw around .27 A.41 A on 2825 bulbs. While that difference does not seem too drastic, it makes a noticeable difference in terms of visibility, power, and efficacy for interior light use.
Brightness
You need only look at these bulbs side-by-side to see how different they are. 194 bulbs generate around 25 lumens for good interior lighting. 2825 bulbs boost that up to about 50 lumens, twice as much as their 194 counterparts.
Effectiveness
Having tested a number of different options for both bulbs, we noticed that 2825 bulbs produce not only more light, but the throw is wider and covers more of your interior in light. 194 bulbs are still decently bright but don't even compare to 2825 bulbs.
What is a 2825 bulb and what is it used for?
The 2825 bulb is a type of automotive light bulb. It is commonly used in vehicles for a range of purposes including, but not limited to, license plate lights, side marker lights, interior dome lights, and map lights.
The 2825 bulb is similar in design to the T10 bulb and generally has a wedge base for easy installation. It is a low wattage bulb, typically around 5 watts, which means it uses less energy and generates less heat than higher wattage bulbs.

What is a 194 bulb and what is it used for?
The 194 bulb is an automotive light bulb that's used in various applications within a vehicle. Also known as a T10 bulb, it has a small form factor with a wedge base that makes it easy to install in various locations.
The bulb typically operates at a low wattage (around 3.9 watts), so it's energy-efficient and doesn't generate a lot of heat. As for its light output, it provides around 2 candlepower, which offers a dimmer, softer light compared to some other types of bulbs.
194 bulbs are quite versatile and are used in numerous areas in a vehicle. They are commonly found in instrument panels and dashboards, where they illuminate gauges, knobs, and switches. In addition, they're often used in the vehicle's interior for dome lights, map lights, and glove compartment lights. On the exterior, these bulbs can be used for side marker lights, license plate lights, and parking lights. They are also frequently used as backup lights and turn signal lights.
Conclusion
Keeping all of these differences in mind, it is easy to see why many people opt for 194 bulbs.
194 bulbs are designed to last longer, while still producing a reasonable amount of light for your interior.
However, if you need something brighter and can be used for exterior applications such as license plate lights, marker lights, etc, 2825 bulbs offer a great alternative.
For our money, though, 194 bulbs are the better deal, even if they are only half as bright as 2825 bulbs.