In the following article, we'll be taking a closer look at the differences between 912 and 921 bulbs.
Both the 912 and 921 bulbs are completely interchangeable and offer similar features. However, some key differences make them unique.
Specifically, 921 bulbs are more powerful, with brighter light output and a newer, more durable build. 912s are more energy efficient and can be found at a lower price.
We tested various options for both bulbs and can help you make the best choice.
Keep reading for more information regarding the differences between 912 and 921 bulbs.
| | |
| --- | --- |
| 912 | 921 |
| Rated for about 12 watts of power | Rated for around 17 watts of power |
| Not as bright as 921 | Generates brighter light |
| Around 1300 lumens of brightness | Generate around 1600 lumens of brightness |
| Cost less than 921 bulbs | A bit more expensive than 912 bulbs |
| Not as long lasting as 921 bulbs | Longer lifespan than 912 bulbs |
| More energy efficient than 921 bulbs | Still efficient but not as much as 912 bulbs |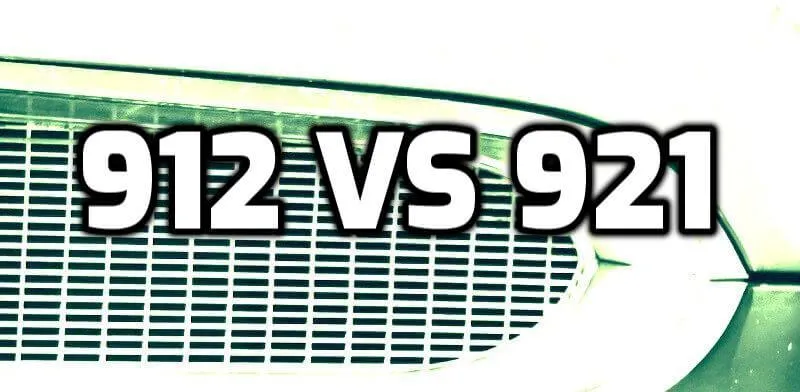 Are 912 and 921 bulbs interchangeable?

Indeed, the bulb model 921 is interchangeable with the 912 bulb. Both 912 and 921 bulbs are compatible due to their shared T-5 wedge base. The model 921 offers a power output of 16.8 watts and a current draw of 1.4 amps, while the 912 model has a 12 watt output with a 1 amp draw. Therefore, the 921 model should provide a significantly brighter light compared to the standard 912 bulb.
912 bulbs and 921 bulbs compared
Wattage
We have the wattage starting with the most significant difference between these two bulbs. 912 bulbs are designed to run at around 12 watts of power. 921 bulbs take that up considerably to around 17 watts of power.
That means you get better visibility, more powerful lighting, and it also makes it easier for other drivers to notice your car on the road.
Brightness
Probably the most noticeable difference between 921 and 912 bulbs is their brightness. 921 bulbs generate a more appealing 1600 lumens of brightness thanks to their higher power rating.
912 bulbs also hold their own with a respectable 1300 lumens of brightness. However, when it comes to these lights, we have to go with the ones that pack the most punch when it comes to these lights.
Lifespan
Unfortunately for the 912s, lifespan is another point where 921 bulbs win. Our testing showed that 912 bulbs, while long lasting, cannot match the lifespan of 921 bulbs. If you are looking for the bulb you'll have to replace less often, 921 is the go-to.
That's not to say that 912 bulbs will just give out after a few weeks. On the contrary, both of these bulbs held up quite well to our demanding tests. The 921s just performed that much better than the 912s.
Efficiency
Finally, a chance for the 912s to redeem themselves. When it comes to being energy efficient, the 912s are a small Bluetooth speaker to the 921's IMAX surround sound system.
That is to say, the 912s use less power and still deliver comparable light output to the 921s.
Cost
Another point in favor of the 912 bulbs, which might be the deciding factor for many people, is the price tag.
921 bulbs, with their higher power rating, newer design, and brighter light output cost more than the older 912s and their dimmer light and shorter lifespan. However, the difference is not so major that you should write the 921s off entirely.
In fact, we would suggest that only the most budget conscious readers opt for the 912s and their inferior performance.
Conclusion
If you manage to get to this point, our comparison results will undoubtedly be evident to you.
To sum up, the 912 bulbs are older, less bright, and don't last as long as 921s. 921s are more powerful and durable, offering better durability and performance. However, the 912s do manage to eke out some points for being the more affordable option that consumes less power.
Both of these bulbs are interchangeable and you won't have any compatibility issues. Which one you choose depends entirely on your particular needs and preferences.
We would recommend the 921 bulbs for most drivers, owing to the bulb's better performance and longevity.