In this review, we'll be taking a look at Beamtech's LED headlights.
Beamtech makes a variety of headlight kits. Their LED bulbs are some of the best on the market and have a lot of useful features that improve the driving experience.
After having worked in the auto industry for almost a decade, we have plenty of knowledge and experience that helps us gauge whether a headlight is actually worth buying.
We tested Beamtech LEDs in a number of settings and scenarios to better gauge their performance and efficacy. Overall, we were impressed by the high brightness output and cooler white color profile of these bulbs.
Keep reading for an in-depth look into the Beamtech LEDs.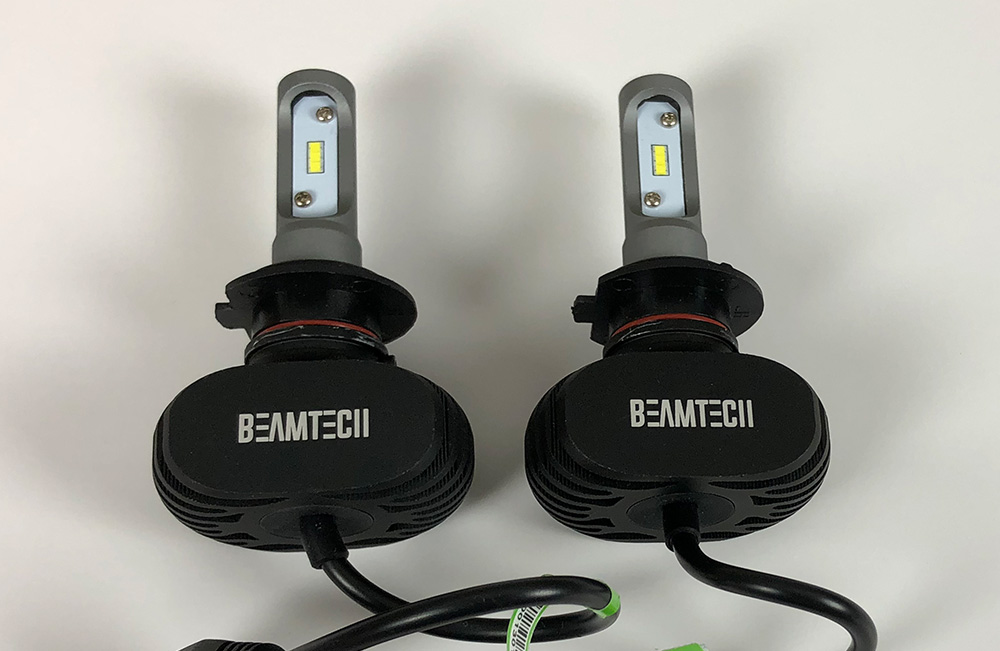 Our verdict
When it comes to Beamtech's LED offering, you get a bright and powerful headlight bulb that improves visibility and gives you a safer, more comfortable driving experience.
We found these bulbs to be really effective and useful for day to day driving, and recommend them for anyone looking to upgrade their stock headlight setup to a kit that looks and performs better.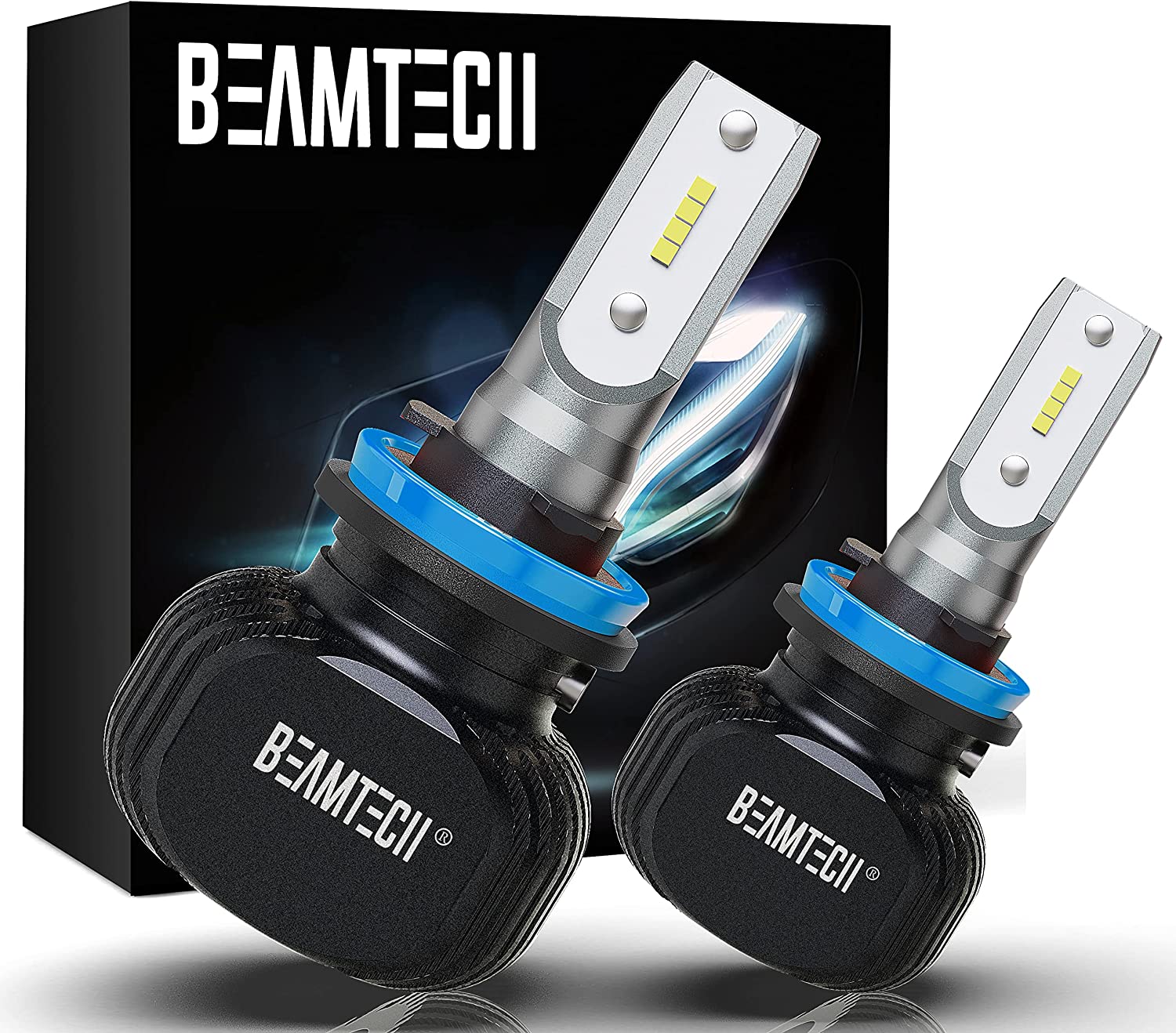 Pros
12,000 lumens
6500k
50,000 hour lifespan
3x brighter than stock
Pure white color
Uniform beam pattern
Eliminates dark spots
Longer throw
Flicker free
---
Packaging & Build Quality
The Beamtech bulbs come in similar packaging as other headlights…a small box with a padded insert to protect the bulbs from damage while in transit. The bulbs themselves are made of metal (I presume aluminum) and are small enough to fit in tight spaces, which many vehicles have, especially considering the car battery placement in some cars these days.
This particular kit doesn't require a ballast, so you don't have to worry about mounting it anywhere under the hood, which is super convenient. There is also no fan behind the bulb, as some LED kits have, which is one of the reasons it fits in such tight spaces.
When it comes to lifespan, Beamtech impressed us with their efficient performance and design. Even under heavier load, the bulbs did not exhibit any drops in performance, keeping the road well illuminated in all cases.
As for the build of these LEDs, it utilizes high quality materials like aluminium which means you get top notch construction, which gives the bulbs an extended lifespan of well over 50,000 hours.
Where some LEDs start fading or losing power after a couple thousand hours of use, the Beamtechs stay bright and vibrant. Drivers who have had the kit installed on their cars for months or years report being highly satisfied with the long term performance.
Power consumption is also optimized for heavy usage, without drawing excessive power from your cars battery. Paired with the efficient cooling, the lower power draw safeguards the headlights and improves longevity.
Colour And Brightness
Probably our favorite feature of the Beamtech bulbs is their stunning brightness. At 12,000 lumens, these bulbs generate an intensely powerful beam of light that illuminates the road effortlessly.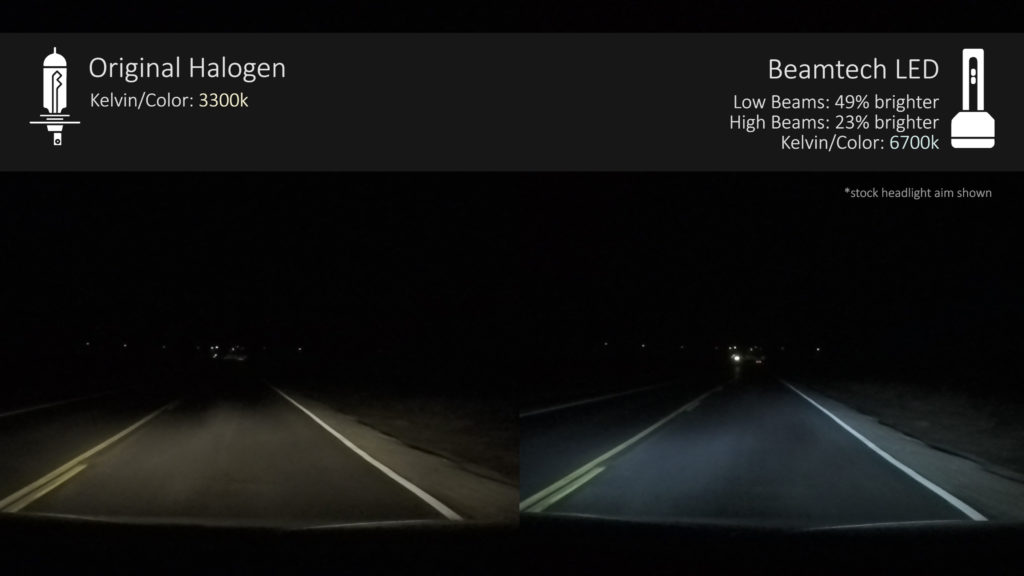 A more powerful throw means you get enhanced downroad visibility. Another useful feature is the wider angle of projection that allows for more expansive road coverage. While testing the bulbs, we were treated to better illumination of our path and more of the roadside came into view, improving peripheral visibility.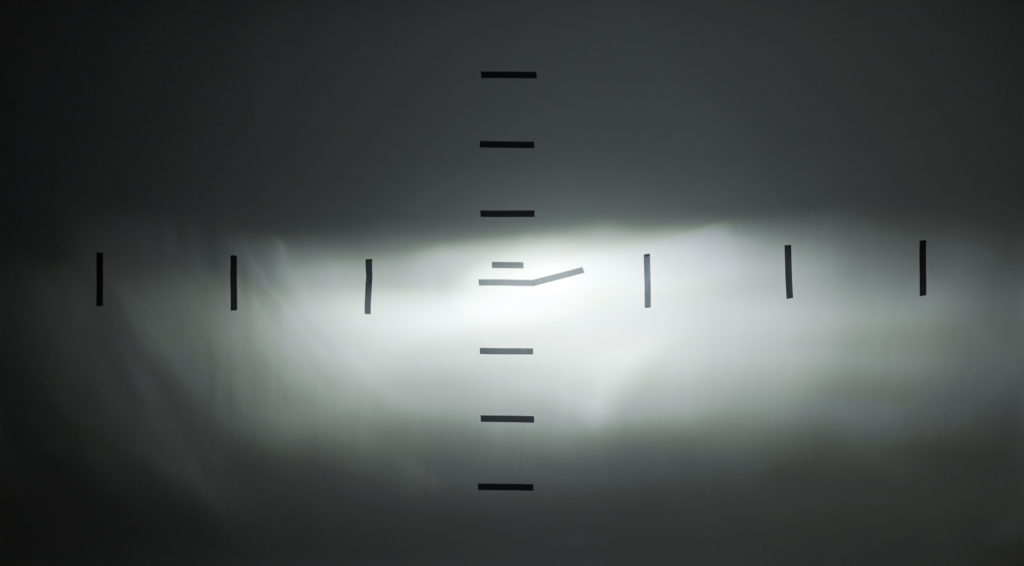 Color temperature is another important factor in headlights, and these LEDs definitely deliver. A 6500k color temperature makes for a pure, ultra white beam that reflects more easily. Everything from potholes and bumps in the road, to pedestrians and other vehicles was more easily noticeable and avoidable thanks to this kit.
Perks And Features
Beamtech implements some really high tech features in their LED bulbs, but unlike some gimmicky bulbs, these features actually improve the experience.
Here, we see a unique, proprietary cooling solution that does not require a fan to keep temperatures down. Fewer moving parts mean this kit is less prone to technical issues.
We can also report that the exclusion of a fan does not result in decreased performance. In fact, when paired with the aviation grade aluminium chassis of this bulb, the fanless design keeps everything running smoothly.
The devil is in the details and we appreciate the fact that this kit starts up instantaneously everytime. It does not flicker or flash, as some LEDs are prone to doing.
Finally, the Beamtech LEDs do not interfere with your stereo or radio systems and we did not need to install any additional decoders, if that is a concern.
Installation
The bulb installs in a matter of minutes. While you can, there's not really a need to disconnect the battery prior to installing, as you're not really doing anything invasive. If it makes you feel more comfortable, feel free to disconnect. The bulbs install just like any other headlight bulb, with the exception being that you'll have a little more wire to deal with once installed. The trickiest part was getting the headlight bulb to fit inside the headlight housing.
The 4Runner called for H11 bulbs, which have three little knobs on them to help guide the bulb back into the back of the headlight housing, after which you turn to lock it into place. Two of the knobs are identical, while the third has a slightly different shape. I didn't pay attention to the way the old bulb had been installed, so it took me a minute to figure out exactly how to align the new bulb in the housing. Once you figure that out it's a breeze.
These bulbs are bright. We shined them up against our fence to check the light output and the beam cutoff from the projector housing. Our favorite part about these lights was the beam color.
Most aftermarket kits have a solid color to them, and a lot of them tend to have a blue tint. This kit, however, has a pure white light (slightly blue), but when you approach the vehicle at an angle the light has a purple hue to it, very similar to a nice Mercedes headlight. For that reason, this was the kit we ultimately kept in our vehicle, and still use today.
Conclusion
In summation, the Beamtech LED headlights are a bright and powerful set of bulbs that provide enhanced nighttime visibility, a visually pleasing look, more efficient power consumption, and high tech cooling solution that you won't find anywhere else.
It is an effective and useful kit that we highly recommend for drivers in need of an LED bulb that doesn't sacrifice any features, while still being priced competitively.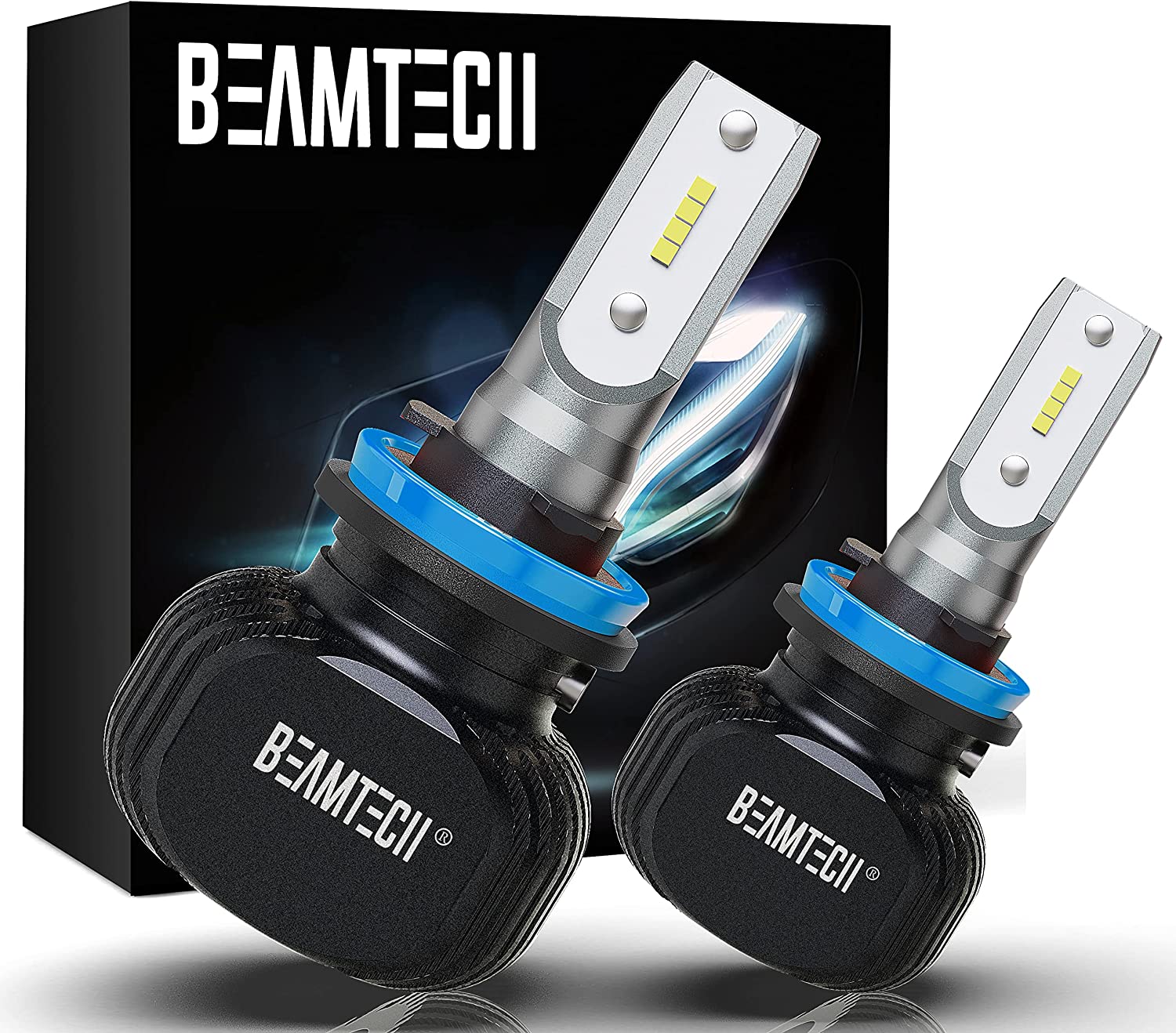 ---