This is my buying guide on the best 9005 LED headlight bulbs in 2023. Below is a quick summary of my top recommendations. Scroll further down to read my in depth, hands on reviews, for each headlight 9005 bulb. I've also included photos and test results below.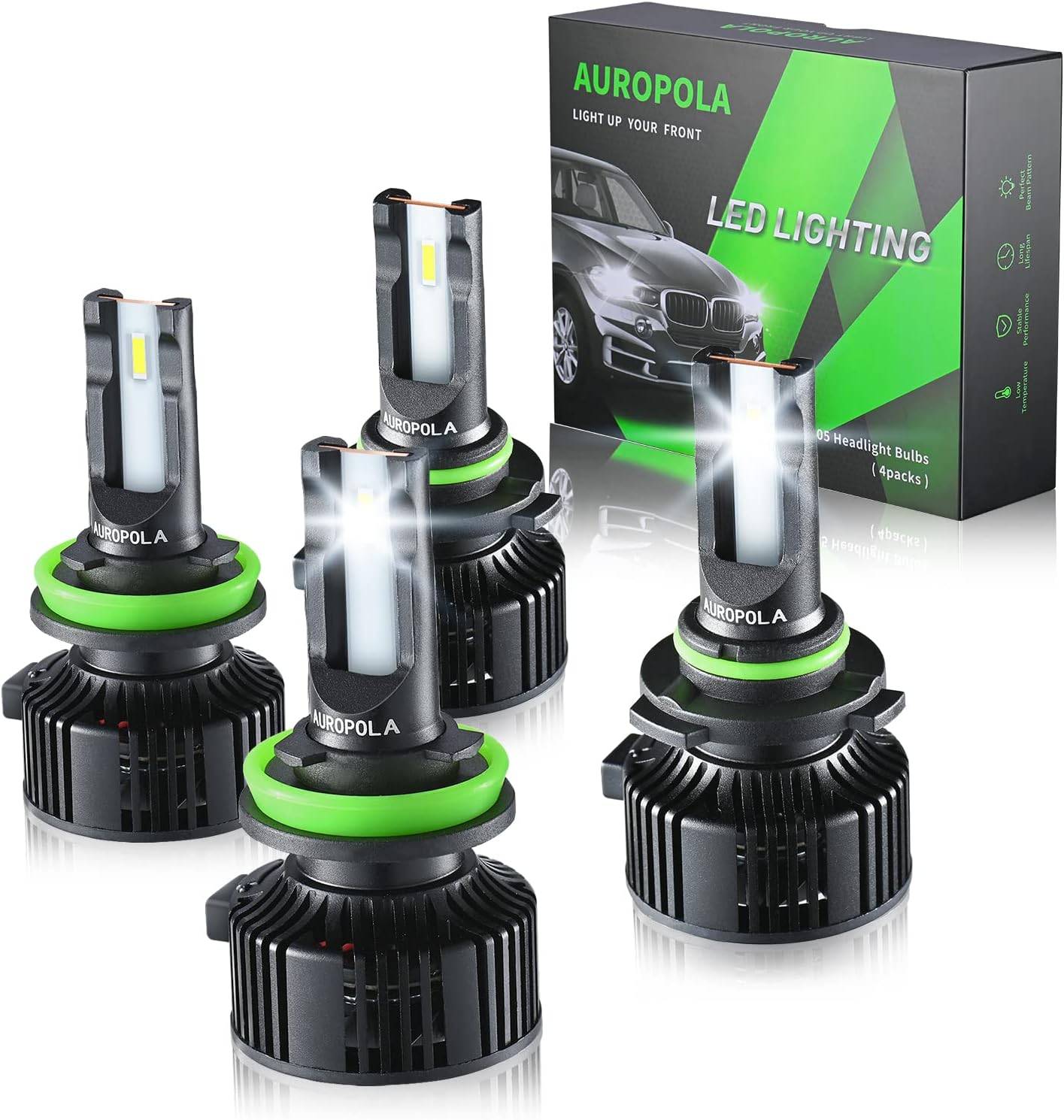 Auropola 9005 LED Headlight Bulbs (Pack of 4)
Plug and play
14,000 lumens/set
6,000K Cool White
+300% brighter than halogens (advertised)
Best budget 9005 LEDs
50,000-hour lifespan
40W per set
Built-in 12,000 RPM turbo cooling fan
2-year warranty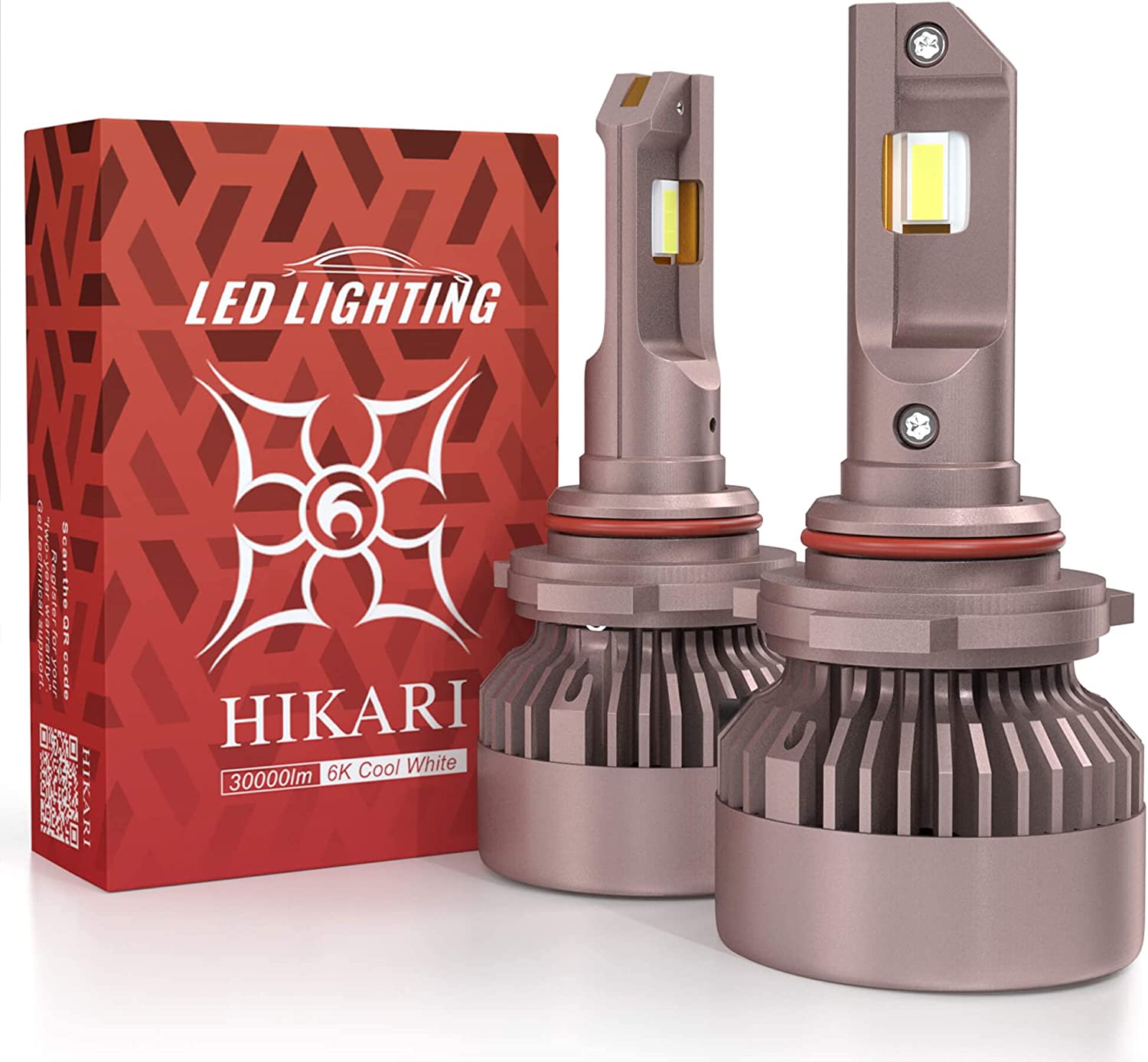 Hikari Titanova 9005 LED Headlight Bulbs
Plug and play
30,000 lumens/set
6,000K Cool White
+100% brighter than halogens (advertised)
Best premium 9005 LEDs
100,000-hour lifespan
130W per set
External driver
2-year warranty
IP68 Water resistant
---
High beam bulbs nearly always burn out the quickest, most commonly stock 9005 bulbs.
Your factory-installed halogens may already need to be replaced.
I recommend you upgrade from halogen to LED. You'll get a brighter, whiter light that stays cooler and lasts a lot longer.
For more than a decade, I've been testing headlight bulbs, and I'm a champion of LEDs.
I tested more than fifteen 9005 headlight bulbs and narrowed them down to the top three.
The Sealight Laxmas L2 9005 LED headlight bulbs get my pick for best 9005 overall.
I'll follow that with a budget and a premium option.
It's time to discover your next 9005 LED headlight bulb.
IMPORTANT! – Make sure you have the correct bulb sizing and fitment so you don't waste your money, use this handy tool to double check.
---
Sealight Laxmas L2 9005 LED Headlight bulbs
OVERALL BEST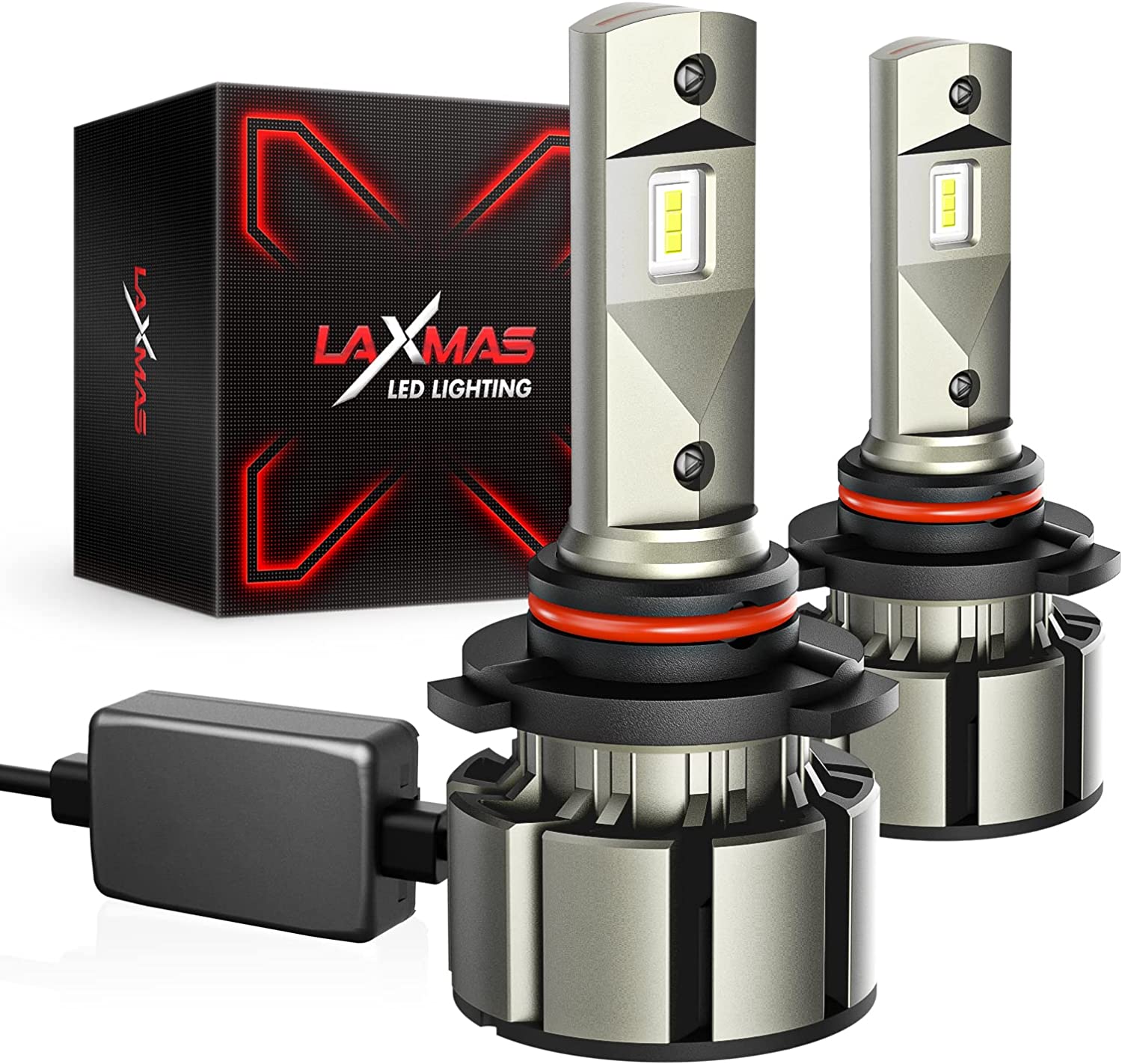 My Top Choice
The crown for the best overall undoubtedly goes to Sealight Laxmas L2 9005 LED headlights. Not only do they light up the road like a champ, but they also have impeccable heat management.
Dissecting the Specs
Sealight boasts that these bulbs blaze with 18,000 lumens per set, supposedly 600% brighter than halogens. Though my tests didn't hit that high mark, I must admit, these bulbs are dazzlingly bright.
Their Kelvin color stands at a cool white 6,500K, a substantial step up from the amber/yellow hue of 3,000K halogens. This white light brilliantly illuminates objects in the distance.
The 9005 bulbs from Sealight come with a 360° adjustable lock ring. This feature guarantees a perfect beam pattern, which is absolutely essential when it comes to high beams.
Sealight uses an aviation aluminum body coupled with a carved copper heat sink. Add a built-in 12,000 RPM turbo cooling fan to the mix, and you get an outstanding heat dissipation system that keeps the bulbs cool.
The wattage per set, as advertised, stands at 70W. This figure is somewhat high for bulbs like these, leaving me slightly concerned about heat retention and longevity.
Sealight claims the 9005 L2 bulbs will last over 50,000 hours. I have yet to see any headlight bulb achieve this feat. They come with a standard 1-year warranty, suggesting some level of longevity.
These bulbs boast an IP68 waterproof rating — the highest attainable — meaning you can confidently use them in rain, snow, fog, or even sandy conditions.
My Impressions
Sealight holds the top spot on Amazon for car headlights in North America, and rightfully so. In terms of quality, dependability, and value for money, it's tough to beat them.
Upon unboxing, I found some zip ties and double-sided tape to attach the external driver.
You'll also find a pretty comprehensive manual. However, in this plug-and-play era, you're unlikely to need it.
The look and feel of these 9005 bulbs impressed me. Both the main unit and driver are compact, making installation a breeze in various smaller fittings.
Overall, the Sealight Laxmas L2 9005 LED bulb is a fine pair of bulbs. They sport a neat design, look good, and come with an affordable price tag.
Testing Phase
I conducted all my headlight tests in the same way, placing my LED meter 20 feet away from the bulb. The Sealight's 9005 headlight bulbs were up against standard factory halogens.
In the projector test, I recorded an initial lux rating of 963, a cool 247 lux higher than halogens at 725. That's around 130% brighter.
What made the Sealight Laxmas L2 9005 LEDs my top choice was their excellent heat retention. After 27 minutes (approximating the average US commute), they dimmed to only 835 lux, a mere 13% drop. The average usually hovers around 77%; these were way ahead of the pack.
In the reflector test, halogens scored 910 lux, while the initial rating for the Sealights stood at a whopping 1,985 lux. That's more than double the brightness. Sure, it's nowhere near the advertised 600% brightness, but it's still pretty impressive. Once again, after 27 minutes, there was only a drop of 13%, to 1,721 lux.
The beam pattern outclassed the halogens with a clear cutoff line. They were somewhat weak in the center bottom, a common trait among headlights, but remarkably even on both sides.
Even though advertised at 35 watts per bulb, I measured just 29.9W. So, there's a slight power drop-off.
The bulbs maintained their brightness because, after 27 minutes, the main unit remained remarkably cool at 117°F, and the driver just a bit higher at 119°F. These temperatures are a testament to the effectiveness of the cooling technology.
Considering these low temperatures, I'd anticipate excellent longevity.
The Word on the Street
The Sealight Laxmas L2 9005 LEDs boast an impressive 4.6/5 star rating.
Drivers have fallen for Sealight, raving about how they outperform halogens, are a breeze to install, and incredibly durable.
Some drivers reported CAN bus errors, which can be rectified by installing a decoder.
The Final Word
When it comes to the best 9005 LED headlight bulb, Sealight Laxmas L2 takes the trophy. They're incredibly bright, manage heat superbly, and promise a long lifespan.
Pros
Plug and play
18,000 lumens/set
6,500K Cool White
+600% brighter than halogens (advertised)
Best overall 9005 LEDs
50,000-hour lifespan
70W per set
External driver
Built-in 12,000 RPM turbo cooling fan
IP68 Water resistant
1-year warranty
---
Auropola 9005 LED Headlight Bulbs (Pack of 4)
BEST PREMIUM CHOICE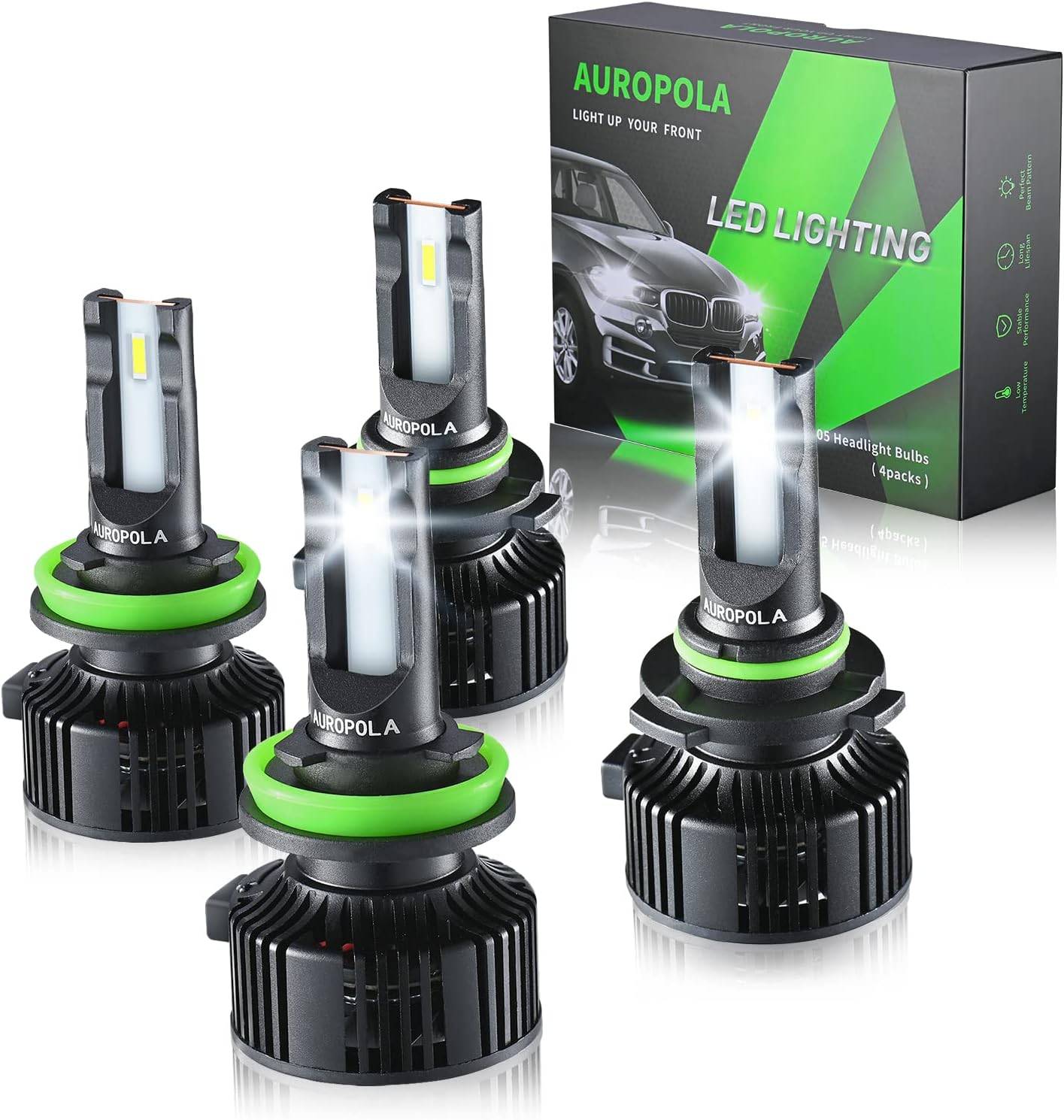 Budget-Friendly Option
Who said you need to spend a fortune to score exceptional headlight bulbs? For the price of a pair of Sealights, you can grab a pack of four Auropola 9005 LED headlight bulbs.
Digging into the Specs
Auropola's marketing claims are a bit more grounded. Their 9005 LED headlight bulbs boast 14,000 lumens, claiming to be 300% brighter than halogens.
Much like the Sealights, they radiate a cool white of 6,000K, perfect for distinguishing distant objects, and they claim a visibility range of up to 650 ft.
These bulbs are an all-in-one design with an integrated CAN bus driver and a quiet 12,000 RPM micro-fan. Installation was a breeze, and the bulbs remained cool throughout.
The 9005 bulbs are rated at 40 watts per set, implying each bulb draws just 20 watts. This low power draw leads me to expect decent heat management, but do my tests back this up? Stay tuned to find out.
The advertised lifespan is an optimistic 50,000 hours. I'm skeptical, but the 2-year warranty, twice the industry norm, lends some credence to their claim.
Though I couldn't find any IP rating in the specs, I'd anticipate it to be around IP67 or IP68, in line with most other brands.
First Impressions
Upon unboxing, the first item to greet me is a pair of anti-static gloves. I appreciate that Auropola cares enough to include this little extra safety feature.
The instruction manual is a poster-style leaflet, which seems a bit overkill for a plug-and-play device.
Also included is a strip of double-sided tape. But there's no external driver to attach, rendering the tape unnecessary. Still, you never know when it might come in handy in your workshop, right?
Onto the bulbs themselves. I'm a tech geek at heart, so new tech gets my pulse racing!
Auropola uses a standard all-in-one design for their 9005 bulbs. But what piques my interest are the openings on the sides of the bulbs and an open top, which is rather unusual. Most 9005 bulbs come with a cap-style design at the top. I'm eager to see how this fresh design impacts performance and heat dissipation.
These 9005 bulbs are a novel, patented design featuring a single-piece unit from the top of the bulb down to the fan. This is a first for me; usually, headlight bulbs comprise multiple components. Theoretically, this should minimize heat build-up between the LEDs and the fan.
Testing, Testing
I was thrilled to put these to the test, intrigued by the unique single-piece design.
From the projector test, the initial rating came in at 1023 lux, making it around 150% brighter than halogens. After 27 minutes, it fell to 862 lux, or 84%. Impressive light retention, I must say.
The reflector test gave an initial lux rating of 1740 lux, a tad lower than the Sealight 9005 bulbs. With a 16% drop to 1466 lux after 27 minutes, they were about twice as bright as halogens. The claim is 300%, but my tests showed closer to 200%.
One noticeable trait was the higher-than-average cutoff. This means you'll need to aim these bulbs with precision. Given their height, these bulb's beams won't cover as much distance as the Sealight.
What did impress me was the robust brightness at the usually weak center bottom area. This is a major step up from halogens. I suspect this might be due to the open-top design. There was some dimness on the left but significantly brighter on the right.
These are probably the most power-accurate bulbs I've ever tested. Advertised at 20 watts, and my measurements showed 20.1 watts.
After 27 minutes, the temperature was a mere 110°F. This ranks it amongst the coolest and best-performing bulbs in terms of heat dissipation. The all-in-one design probably deserves the credit for this.
What's the Verdict on the Street?
The Auropola 9005 LED bulbs are relatively new to the market, so there aren't many Amazon reviews yet. But, the current rating stands at a promising 4.3/5 stars. I predict this will rise.
Reviewers commend these high-quality 9005 headlight bulbs for their brightness and remarkably quiet fan.
However, it seems they may not be compatible with all vehicle models, so do ensure your vehicle is a match before purchasing.
In Conclusion
With four bulbs at the price of two compared to my top-rated competitors, you'll get double the mileage from these bulbs. They may not be the brightest on the market, but they significantly outshine halogens. These bulbs offer exceptional value for money!
Pros
Plug and play
14,000 lumens/set
6,000K Cool White
+300% brighter than halogens (advertised)
Best budget 9005 LEDs
50,000-hour lifespan
40W per set
Built-in 12,000 RPM turbo cooling fan
2-year warranty
---
Hikari Titanova 9005 LED Headlight Bulbs
BEST PREMIUM CHOICE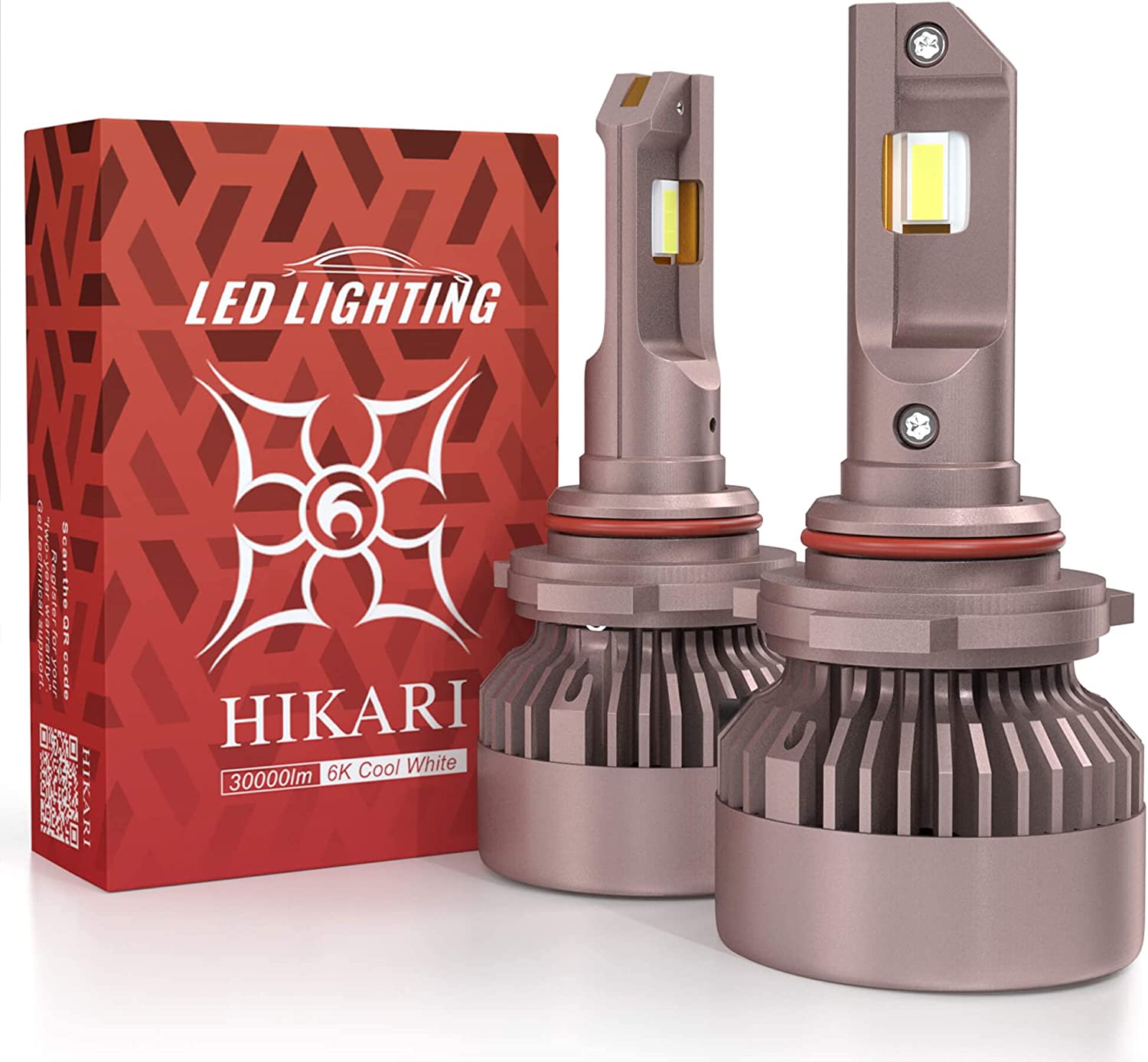 High-End Choice
If you've got a few extra bucks to spare and you're hunting for super bright 9005 high beams, you might want to consider leveling up to the Hikari Titanova 9005 LED headlight bulbs.
The Nitty-Gritty
Hikari advertises their Titanova 9005 LEDs at a staggering 30,000 lumens per set, touting them as 1000% brighter than your typical halogens. Now, that's quite a lofty claim. Is it legit? Hang in there, my test results are coming right up.
The bulbs cast a 6000K cool white beam, optimizing your visibility of objects on the road.
They also boast a wider beam pattern compared to most halogens, enhancing your safety by enabling you to detect peripheral hazards sooner.
These 9005 bulbs are equipped with 6 Titanova LED chips and a 6A overload capacity, a feature designed to ward off burnout. Rated at 130 watts per pair, their power output is fairly typical for 9005 bulbs.
You'll find an external driver and an internal fan incorporated into these bulbs, facilitating easy installation and excellent cooling.
Hikari asserts that their 9005 Titanova bulbs have an impressive lifespan of 100,000 hours. I have my doubts, but their 2-year warranty does offer peace of mind.
Also, the bulbs have an IP68 waterproof rating, ensuring they can withstand exposure to fog, snow, sand, or heavy rain without damage.
My Take
The bulbs come snugly packed in a foam box.
The included user manual goes into meticulous detail, even providing a handy guide on how to position the 9005 bulbs for the perfect beam.
The bulbs themselves have a robust feel and a unique design that caught my eye, notably the exposed copper tubes. There's a peculiar-looking rib that I suspect might assist with light control.
The external driver is linked via braided cables, which feel robust and of high quality. The slim driver comes with a disconnect, allowing for the separate replacement of the main driver or the headlight bulb. That's a convenient feature in case either the headlight or the driver gives out.
Given their shallow heatsink and fan, these bulbs should fit the headlight housings of most cars. However, it's best to double-check compatibility just to be sure.
The Proof is in the Testing
This is where Hikari steals the spotlight from Auropola and Sealight's 9005 bulbs. The initial lux rating from the projector test came in at a striking 2,220, about 300% brighter than halogens. These bulbs really pack a punch! Even after 27 minutes, they maintained 85% of their light at 887 lux.
The reflector test yielded an initial lux rating of a whopping 3,590 lux, four times brighter than halogens. That's not quite the 1000% as advertised, but it's still pretty darn good. The bulbs retained 84% of their initial light, clocking in at 3,052 lux after 27 minutes.
As for the ideal beam pattern? On the whole, it's quite strong and controlled. There's a bit of fuzziness around the edges and a slight weakness on the lower left side.
Hikari rates the bulbs at 65 watts each, but my measurements read 56.9 watts, showing a considerable discrepancy.
These bulbs run hotter than my other two recommendations. After 27 minutes, the main unit reached 195°F and the driver hit 115°F. It's hot, but not alarmingly so.
Feedback from Fellow Drivers
77% of Amazon reviewers have given the Hikari Titanova 9005 LEDs a glowing 5-star rating.
Users are raving about the fantastic brightness and color upgrade, many confirming that they're worth the additional cost.
A few drivers reported experiencing CAN bus flickering, which isn't unexpected with bulbs this bright. However, this issue can be easily remedied with a decoder.
Wrapping Up
If you're in the market for ultra-bright lights with an enhanced beam pattern and a bit more power, the Hikari Titanova 9005 LEDs are certainly worth the extra bucks.
Pros
Plug and play
30,000 lumens/set
6,000K Cool White
+100% brighter than halogens (advertised)
Best premium 9005 LEDs
100,000-hour lifespan
130W per set
External driver
2-year warranty
IP68 Water resistant
---
9005 Frequently Asked Questions
Here are three of the most commonly asked questions I get about 9005 headlight bulbs.
What are 9005 headlight bulbs used for?
The 9005 headlight bulbs are used to light up a large area with high-intensity light. So for a vehicle, they're mostly suited as single high-beam replacements. They're also widely used as daytime running lights (DLR) and for fog lights in areas where it's particularly thick.
Using these as single low beams is not advisable, as the brightness and heat may cause issues for the fittings.
Is the 9005 headlight bulb interchangeable with other types?
Absolutely it is. The 9005 headlight bulb is often used in place of an HB3 (high-beam 3), and some drivers are now using 9011 and 9005 in place of each other as high-beam replacements.
The 9005 can also be used to replace an H11 bulb and is favored as it tends to last longer.
Why should I upgrade my 9005 halogen bulbs to LEDs?
There's a simple answer to that, brightness.
You want your high beams to be as powerful as possible. Standard halogen 9005s have lumens of around 430–1000. 9005 LEDs generally start at 5,000 lumens, so you could get upwards of 500% brightness.
LEDs tend to keep cooler temperatures than halogens, so they last longer. As the 9005s need replacing often, choosing ones that don't burn out so quickly is better.