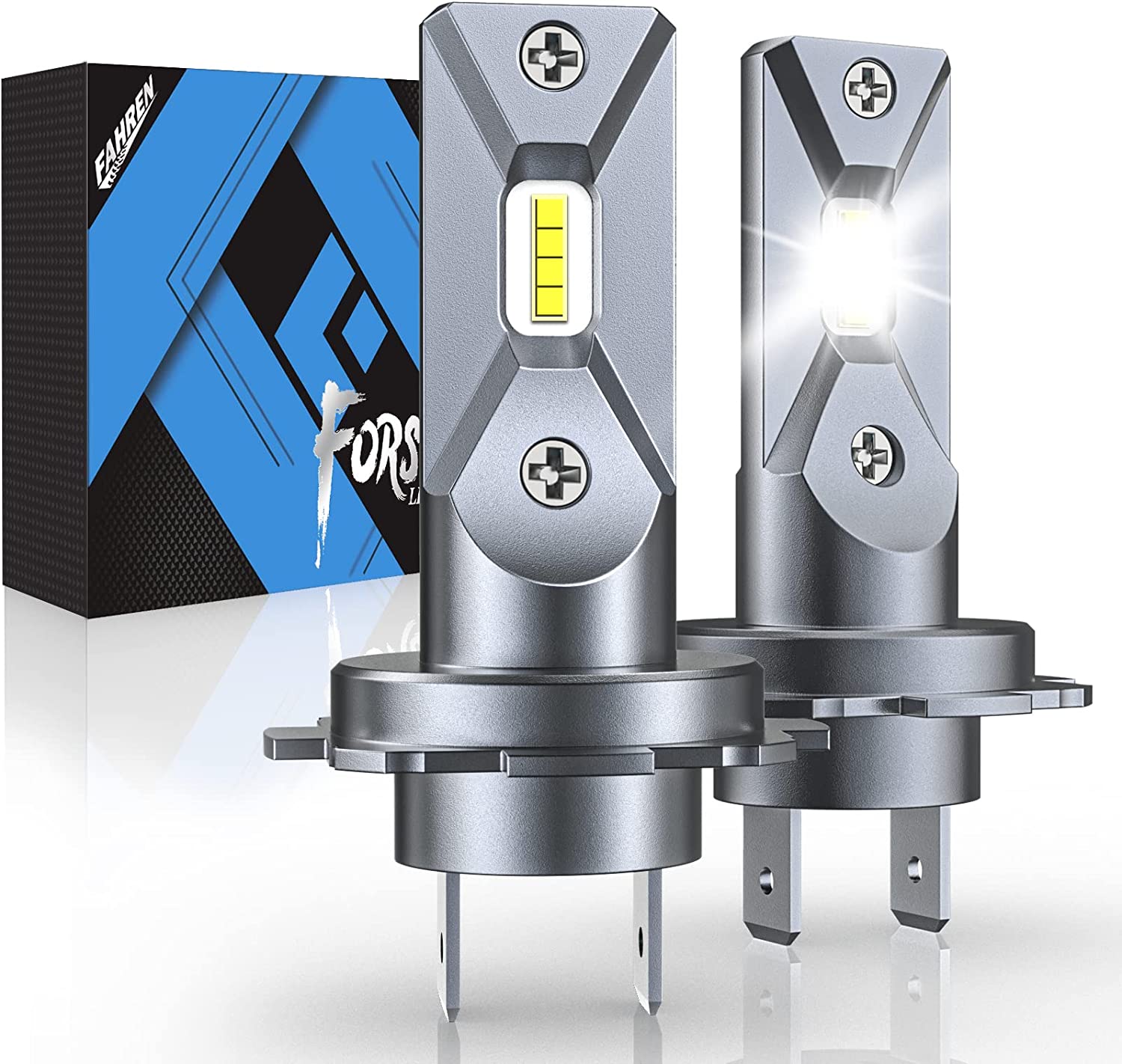 Fahren Forscher H7 LED
Headlight Bulbs
Plug and play
12,000 lumens/set
6,000K Cool White
+300% brighter than halogens (advertised)
Best runner-up for H7 LEDs
50,000-hour lifespan
60W per set
External CAN bus driver
IP68 Waterproof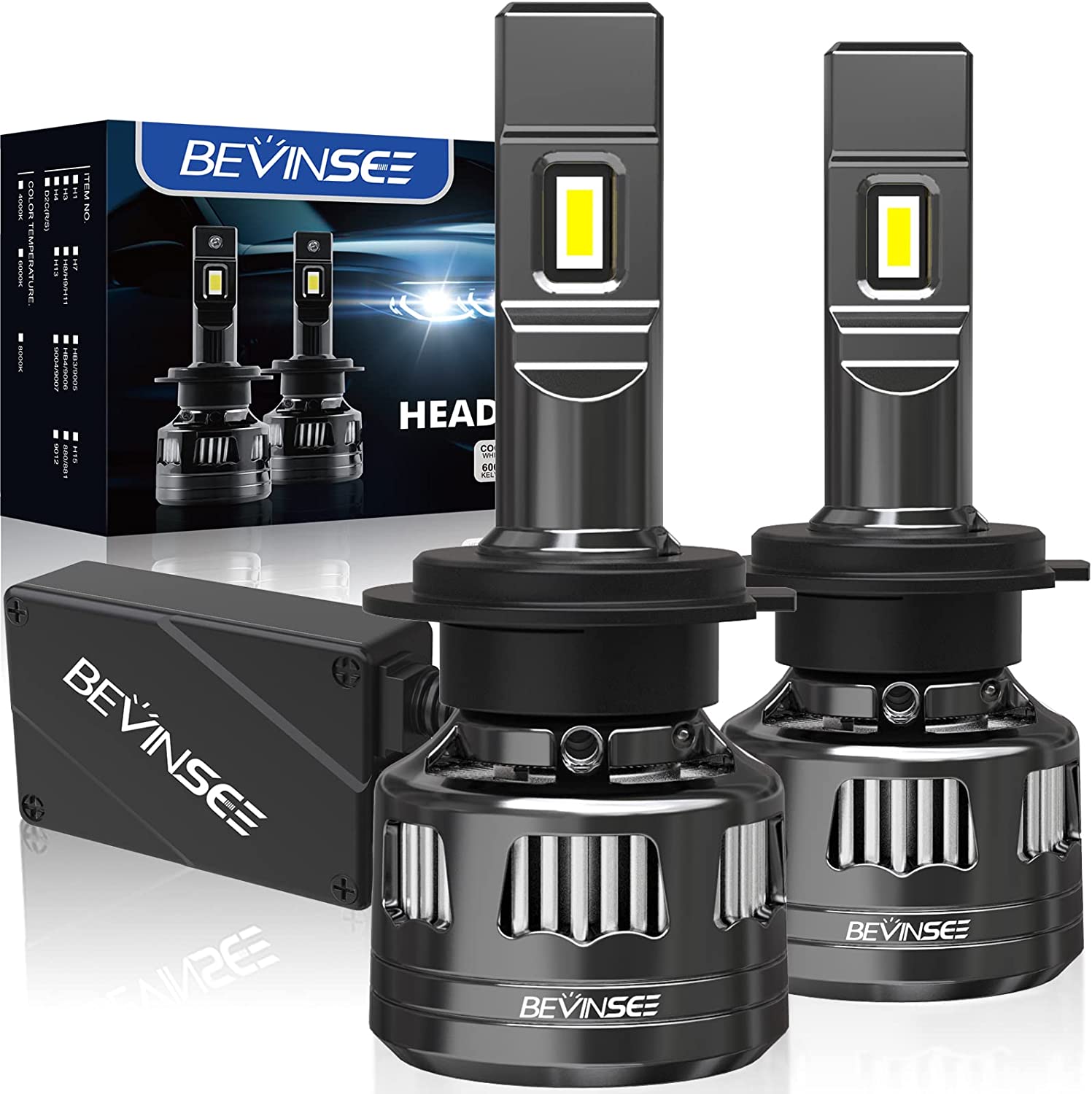 Bevinsee V45 H7 LED
Headlight Bulbs
Plug and play
22,000 lumens/set
6,000K Cool White
+600% brighter than halogens (advertised)
Best overall H7 LEDs
100,000-hour lifespan
120W per set
External CAN bus driver
IP68 Waterproof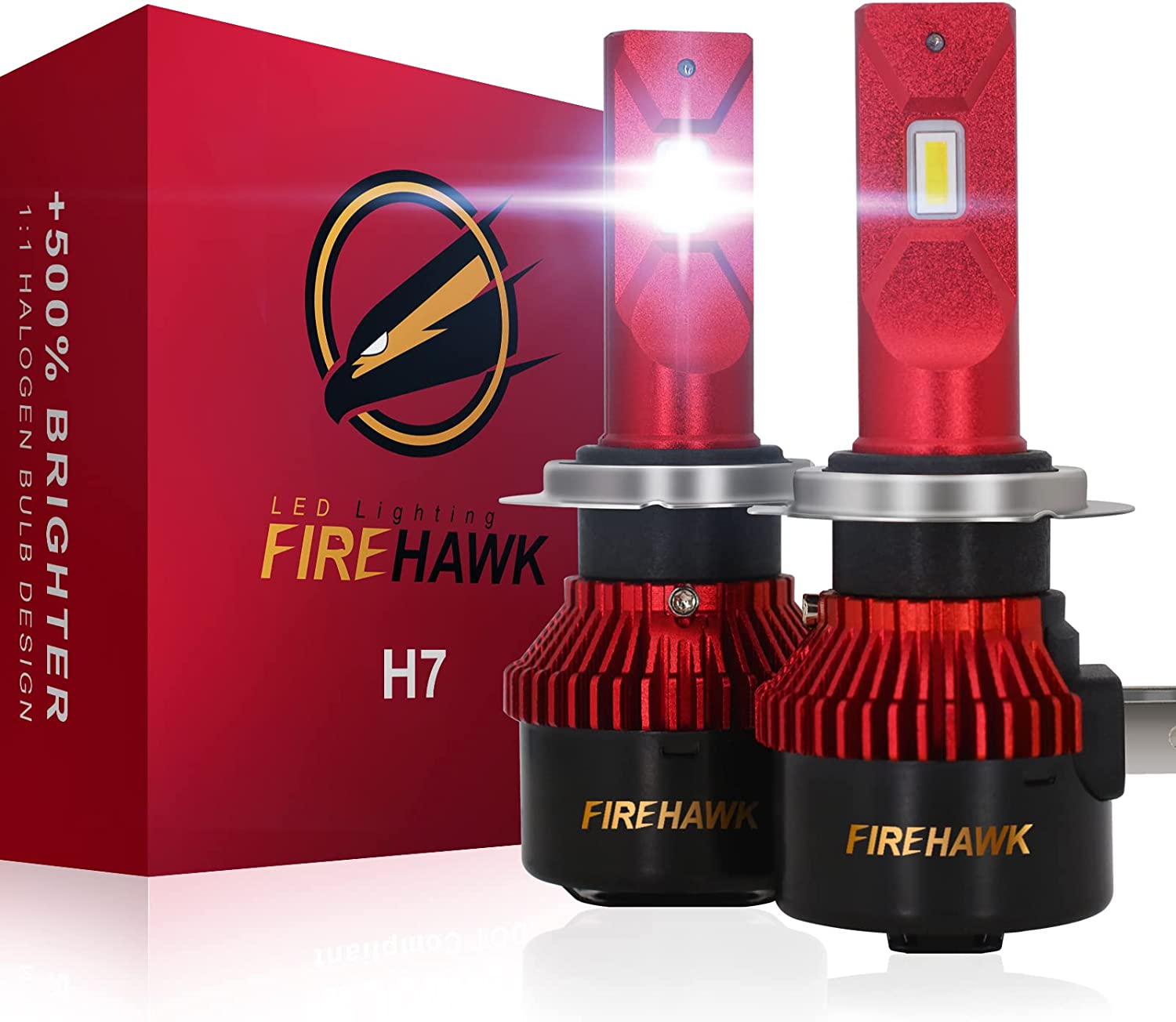 Firehawk New H7 LED
Headlight Bulbs
Plug and play
6,000 lumens/set
6,500K Cool White
+350% brighter than halogens (advertised)
Brightest overall 9145 LEDs
50,000-hour lifespan
80W per set
All-in-one unit
IP68 Waterproof
1-year warranty
---
The H7 low beam headlight is the one that gets the most use and therefore needs to be replaced more often.
Factory-installed halogen bulbs do the trick, but there is a better option.
I've been using and testing all manner of headlight bulbs for over a decade and can tell you that H7 LEDs are a superior choice over halogens.
You can get my full explanation in the FAQs below.
I tested twelve different H7 bulbs, halogens, and LEDs and have come up with the three best. The Bevinsee V45 gets my pick for best overall.
I'll follow that with a close runner-up and a premium option for those who like the finer things.
If it's time to replace your H7 headlight bulbs, keep reading.
---
Top of the Line
The offerings from Bevinsee just keep impressing me. I've got to say, the V45 H7 LED Headlight bulbs stand out as my top pick for best overall, and you'll soon find out why when we dive into the tests.
Advertised Specifcations
H7 LED bulbs are most commonly used for low beams. But Bevinsee boldly promotes its H7s as capable for both high and low beams, and with 22,000 lumens per set, they're certainly not kidding. Their claim of being 600% brighter than halogens felt a bit over the top, and sure enough, my tests backed this up.
For H7s, clarity of vision is key. Halogens at around 3000 Kelvins don't really cut it for me. But the 6,000K cool white of the Bevinsee V45s – now they're a different story, offering far superior visibility.
Bevinsee quotes a wattage of 60 watts per bulb – that's pretty steep for H7s. I was initially worried about heat retention, but my tests quickly put those fears to rest.
The touted 100,000-hour lifespan seems like a bit of a stretch. I've yet to encounter any headlight bulbs that last even half that long. That said, Bevinsee backs their bulbs with a 3-year warranty, which is thrice as long as most other H7 bulbs, suggesting these bulbs will indeed last quite a while.
The IP68 waterproof rating is another win. It's the highest rating possible, meaning that whether it's snow, rain, sand, or fog, your drive won't be affected.
At first glance, these seem like an exceptional set of H7 bulbs. Let's see how they fared in my tests.
First Impressions
I must say, these bulbs are a sight to behold. I absolutely adore the contemporary black chrome finish. The unit does feel a bit weightier than others, but it's well-built.
Don't be misled by the photos. The Bevinsee V45 H7 headlight bulbs indeed have an external driver, and it's compact and robust.
The user manual seemed pretty standard. I wonder if they even need to include these anymore, given how easy the bulbs are to install.
The heat sink left me impressed. It comes with 72 fins – a feature that should definitely help in keeping the bulbs cooler and extending their lifespan.
Overall, they strike me as sturdy, reliable, well-crafted headlight bulbs. I was thrilled to put them to the test.
My Tests
I maintain consistency in all my tests. I place my lux meter 20 feet away from the bulbs and compare the brightness produced against factory halogens, which register a lux rating of 725 for the projector test and 910 for the reflector test.
The Bevinsee V45s recorded an initial lux rating of 1,771. That's over 1,000 lux brighter than halogens, and 250% brighter – quite a leap from the 600% claim. These bulbs are undoubtedly bright, perhaps a tad too much for low beams, but perfect for high beams.
After a 27-minute burn (the average commute time in the US), they maintained a 1,485 lux rating, which is 84%. The industry standard is 80%, so this shows superior heat retention.
The reflector test kicked off with an initial lux rating of 3,260, dropping to 2,734 after 27 minutes, maintaining an 84% heat retention.
The advertised watts are 60 per bulb. My readings came in at 56.6, which is pretty close for such bright lights.
I was initially concerned about overheating. But after 27 minutes, the driver registered 172°F – hot, but not excessively so. The central unit only hit 138°F, so there's no cause for concern there.
One thing I did notice with the beam pattern is that it has a relatively low hot spot compared to stock bulbs. It's crucial to aim these bulbs correctly. If not, you run the risk of blinding oncoming drivers.
Voices from the Road
Amazon drivers rate the Bevinsee V45 H1 LED bulbs at a solid 4.5/5 stars.
Drivers rave about their exceptional brightness and the ease of installation. The clarity provided by the 6000 Kelvins is also a huge hit.
One common criticism is that they don't last the advertised 100,000 hours, which honestly, I didn't expect either.
The Bottom Line
The Bevinsee V45 H7 LED Headlight bulbs clinch the spot for my top pick overall. They're sturdy, reliable, incredibly bright, and versatile enough for both high and low beams. And let's not forget – they come with a generous three-year warranty.
Pros
Plug and play
22,000 lumens/set
6,000K Cool White
+600% brighter than halogens (advertised)
Best overall H7 LEDs
100,000-hour lifespan
120W per set
External CAN bus driver
IP68 Waterproof
---
Almost My Top Pick
The Fahren Forscher H7 LED Headlight bulbs came pretty close to being my favorite pick for best overall, but a tiny hiccup kept them from claiming that title. You'll find out more about that in my test review below.
Advertised Specifications
The Fahren Forscher H7 LEDs put out 6,000 lumens each, which is about all you need for your low-beam headlights. They're marketed as being 300% brighter than halogens. My test results on this claim are detailed below.
With a Kelvin color rating of 6,000 cool white, these bulbs deliver roughly double the illumination of factory halogens that tend to give off more of a yellowish light. For clearer visibility, this cool white light is a major step up.
Fahren quotes 30 watts per bulb, pretty standard for H7s. However, my tests showed the actual wattage to be somewhat lower.
These are fairly standard lights; they come with a typical 1-year warranty and claim a lifespan of about 50,000 hours.
And of course, with an IP68 waterproof rating, these bulbs are capable of handling all types of weather conditions.
A Closer Look
On the surface, the Fahren Forscher H7 LED headlight bulbs have a very typical design, giving off an impression of being reliable and sturdy.
Fahren doesn't provide detailed specifics on the bulb's chip other than to mention it's a top-notch automotive chip.
The heat sink features a sleek design; a plus if you care about that sort of thing. But once it's installed in your vehicle, it's really out of sight. The compact external driver looks robust.
The unit comes equipped with a fan, which unfortunately, brings up a minor issue, landing this bulb as my second favorite and not the top pick.
The packaging includes a rather comprehensive user manual filled with numerous images. Given how straightforward the installation process is, I'm not sure this is really necessary.
Putting Them to the Test
The projector test revealed an initial lux rating of 1417, nearly twice as bright as halogens. The reflector test kicked off with an impressive 2,390 lux.
This is where the Fahren bulbs almost stole my heart. After a 27-minute burn, the lux readings were 1313 for the projector and 2137 for the reflector. This means they retained a remarkable 89% of their heat – a figure far more impressive than the average 80%. In fact, 89% is the highest I've ever recorded for H7 LEDs.
After 27 minutes, I took a temperature reading. The main unit registered 185°F and the driver a comfortably cool 120°F.
Though Fahren promotes the bulbs at 30 watts each, my readings only showed 20.9 watts. This is significantly lower, but the upside is that it likely contributes to the excellent heat retention. These bulbs might actually last as long as they claim.
The beam pattern is well-controlled with minor patchiness visible in the usual weak spots at the top and bottom center.
However, the flaw that let me down is the fan. It's noisy, distractingly noisy. It's such a letdown for an otherwise top-performing bulb, and it's something I just can't overlook.
Driver Feedback
More than 7,000 Amazon drivers gave the Fahren Forscher H7 LEDs an average rating of 4.6/5, with a commendable 76% awarding them a perfect 5/5.
Drivers rave about the bulbs' brightness, their cool white light, and the bang they get for their buck.
However, the noisy fan seems to be a universal gripe among several drivers.
The Final Word
The Fahren Forscher H7 LEDs are a fantastic option, especially given their exceptional heat retention. If you're not bothered by a noisy fan, they could be an excellent choice for you.
Pros
Plug and play
12,000 lumens/set
6,000K Cool White
+300% brighter than halogens (advertised)
Best runner-up for H7 LEDs
50,000-hour lifespan
60W per set
External CAN bus driver
IP68 Waterproof
---
A High-End Choice
If you've got some extra cash burning a hole in your pocket, consider treating yourself to a luxury pick. The Firehawk New H7 LED bulbs made quite an impression on me, particularly their impressive heat retention.
What the Specs Say
Each bulb boasts a whopping 10,000 lumens, with Firehawk proclaiming they're 500% brighter than your average halogens. My tests didn't quite mirror that figure, but they certainly outshone the competition. Just bear in mind these are low-beams; you don't want to blind oncoming traffic!
Like the rest, these bulbs offer a cool white light with a 6000 Kelvin rating, perfect for low-beam headlights. This superior clarity, particularly at night, can be a real game-changer.
Equipped with the latest Japanese LED chips, these bulbs claim to deliver a super-focused beam pattern with zero dark spots or shadows. My own tests painted a slightly different picture.
Firehawk puts these bulbs at an oddly specific 31 watts each. My tests returned a fairly close result.
The cooling system employs 40 pieces of aviation aluminum heat sink and a silent 12,000RPM turbofan. Like most in the market, they're expected to last up to 50,000 hours. They also offer a 2-year warranty (a year more than most), so I'd wager they'll last at least that long.
My First Impressions
The Firehawk bulbs caught my eye right away with their striking red finish. It's not a color you typically see in the market, which helps them stand out from the crowd.
The materials look standard, nothing that screams 'upgraded' or 'advanced'.
It's a neat all-in-one package with an adjustable collar, and a surprisingly small area designated for the fan, which initially raised my eyebrows. That was until I saw the test results.
Firehawk includes an extensively illustrated manual, which honestly seems like overkill given how plug-and-play these bulbs are.
Overall, it's a compact unit that should fit into most car headlights without much hassle.
My Personal Test Results
The projector test kicked off with an initial output of 1332 lux, a significant 607 lux brighter than the halogens, roughly doubling their brightness. But what really set the Firehawks apart was their impressive heat retention.
After a 27-minute run, they only dipped to 1172 lux, retaining a solid 88% of their heat. That's just 1% behind the Bevinsees.
The initial output from the reflector test was 2280 lux, a massive 1370 lux brighter than halogens. That's about 250% brighter, not quite the 500% Firehawk claims, but still a noticeable leap.
The beam pattern was slightly blurred at the top center, but the hotspot was nice and low, so that's a plus. I did notice some scattering on the bottom left though.
Firehawk's claim of 31 watts per bulb was surprisingly accurate with my tests showing a close 29 watts, a far smaller discrepancy than I've seen with other bulbs.
My concerns about the small fan were put to rest when the unit's temperature after 27 minutes read a cool 122°F.
Given the exceptional heat retention and cool running temperature, I'd say these bulbs are built to last.
What Other Drivers Are Reporting
On Amazon, the Firehawk bulbs are well-liked with an overall rating of 4.4/5 stars.
Drivers have praised the sleek look of the unit and the significant improvement in brightness and whiteness, leading to clearer vision.
While some drivers have found installation a bit tricky on older models, I had no issues on my end.
Wrapping it Up
Taking into account their superior heat retention and the potential for a longer lifespan, it might be worth splashing a bit extra on the Firehawk 2023 H7 LED bulbs. The savings on fewer replacements could well make up for the higher initial cost.
Pros
Plug and play
All-in-one unit
20,000 lumens/set
6,500K Cool White
+500% brighter than halogens (advertised)
Best premium H7 LEDs
50,000-hour lifespan
62W per set
IP68 Waterproof
---
Frequently Asked Questions
What can H7 headlight bulbs be used for?
H7 headlight bulbs are predominantly designed as low beam replacements due to their lesser brightness than some other bulbs. However, companies like Bevinsee, above, release its product stating it works for either.
Is the H7 interchangeable with other types?
Many people think that if a bulb has an H followed by a number, they're interchangeable, but this isn't the case, as the sockets and filaments are all different.
For example, the H7 only has one filament, which is why some manufacturers sell it for low and high beams. In contrast, the H4 has two filaments (one for each). The other difference is that the H7 has a twin-pod setup, and the H4 has only a single one.
Why is an H7 LED better than a halogen?
There are three excellent reasons to upgrade to H7 LEDs — brightness, whiteness, and longevity.
As you've seen from my tests above, LEDs are at least twice, if not three times brighter than halogens. This makes seeing further down the road a lot easier.
Standard halogens have a Kelvin color of around 3,000, which is pale yellow. LED H7s are roughly double that at 6,000, which puts them in the white spectrum. The beauty of this is that objects around the vehicle are seen more clearly, adding to the safety aspect of the drive.
Halogen lights have a faster burn-out rate than LEDs and must be replaced more often. As H7s are some of the most commonly replaced bulbs, LEDs are much more cost-effective.