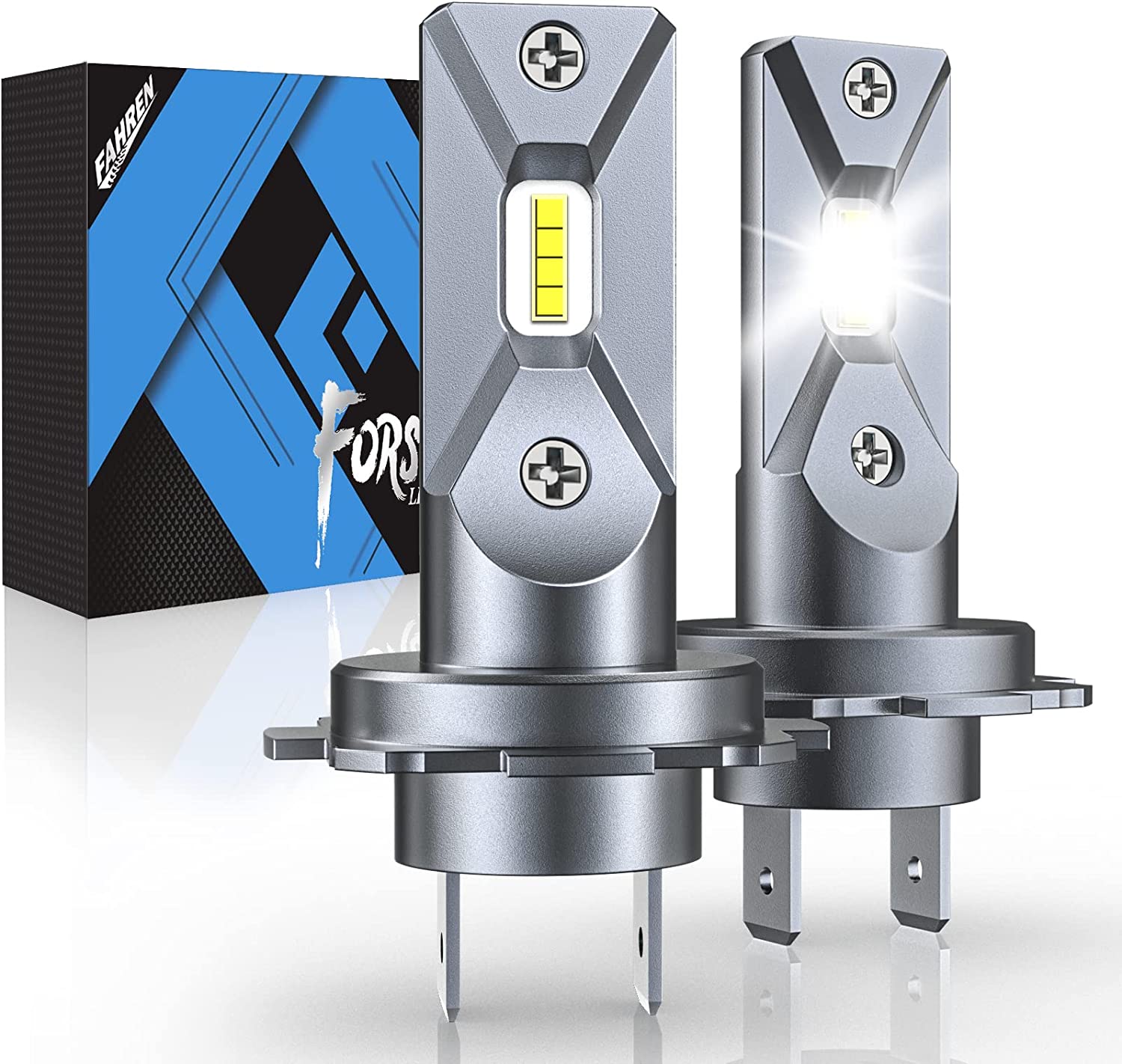 Fahren Forscher H7 LED
Headlight Bulbs
Plug and play
12,000 lumens/set
6,000K Cool White
+300% brighter than halogens (advertised)
Best runner-up for H7 LEDs
50,000-hour lifespan
60W per set
External CAN bus driver
IP68 Waterproof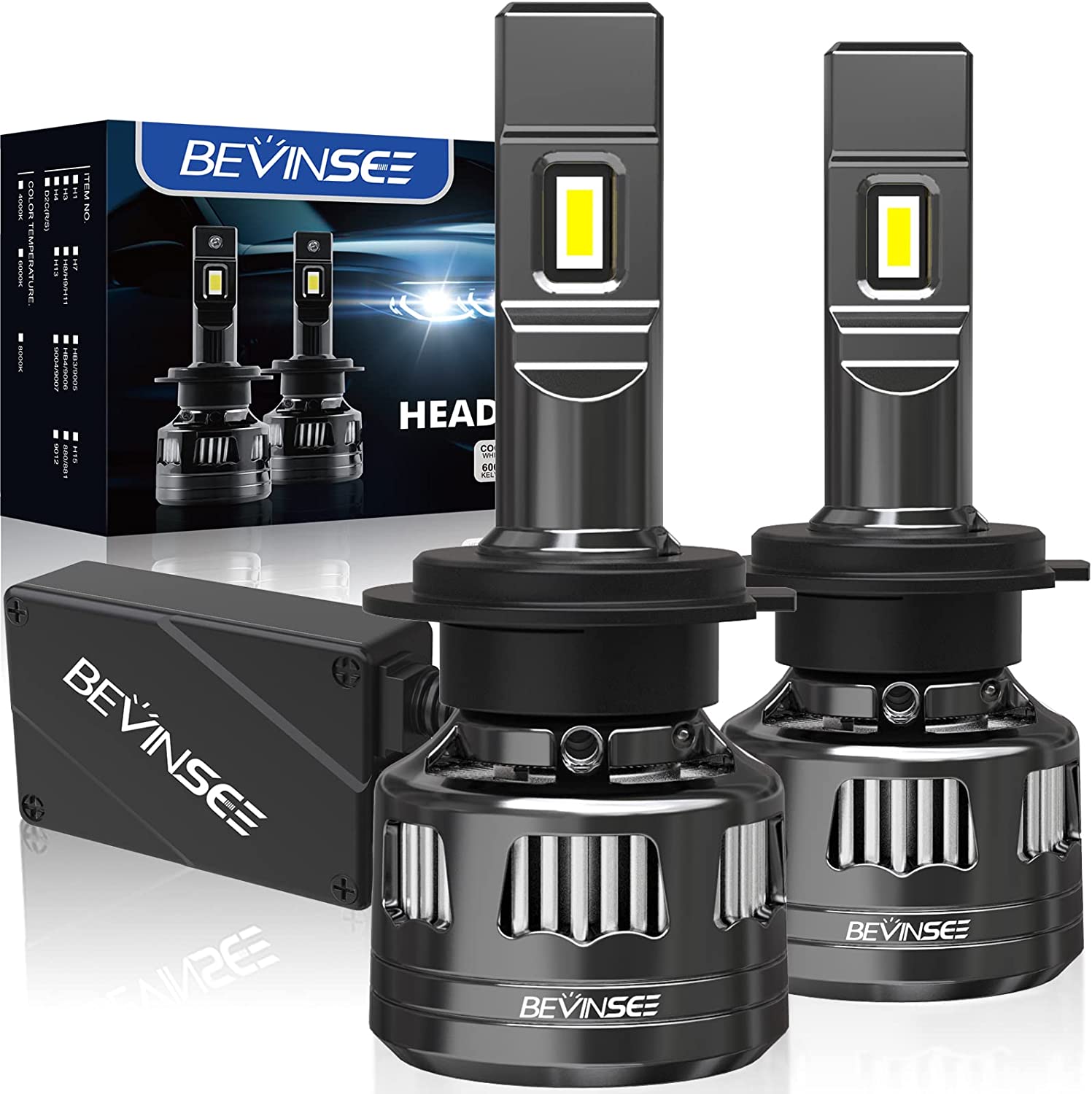 Bevinsee V45 H7 LED
Headlight Bulbs
Plug and play
22,000 lumens/set
6,000K Cool White
+600% brighter than halogens (advertised)
Best overall H7 LEDs
100,000-hour lifespan
120W per set
External CAN bus driver
IP68 Waterproof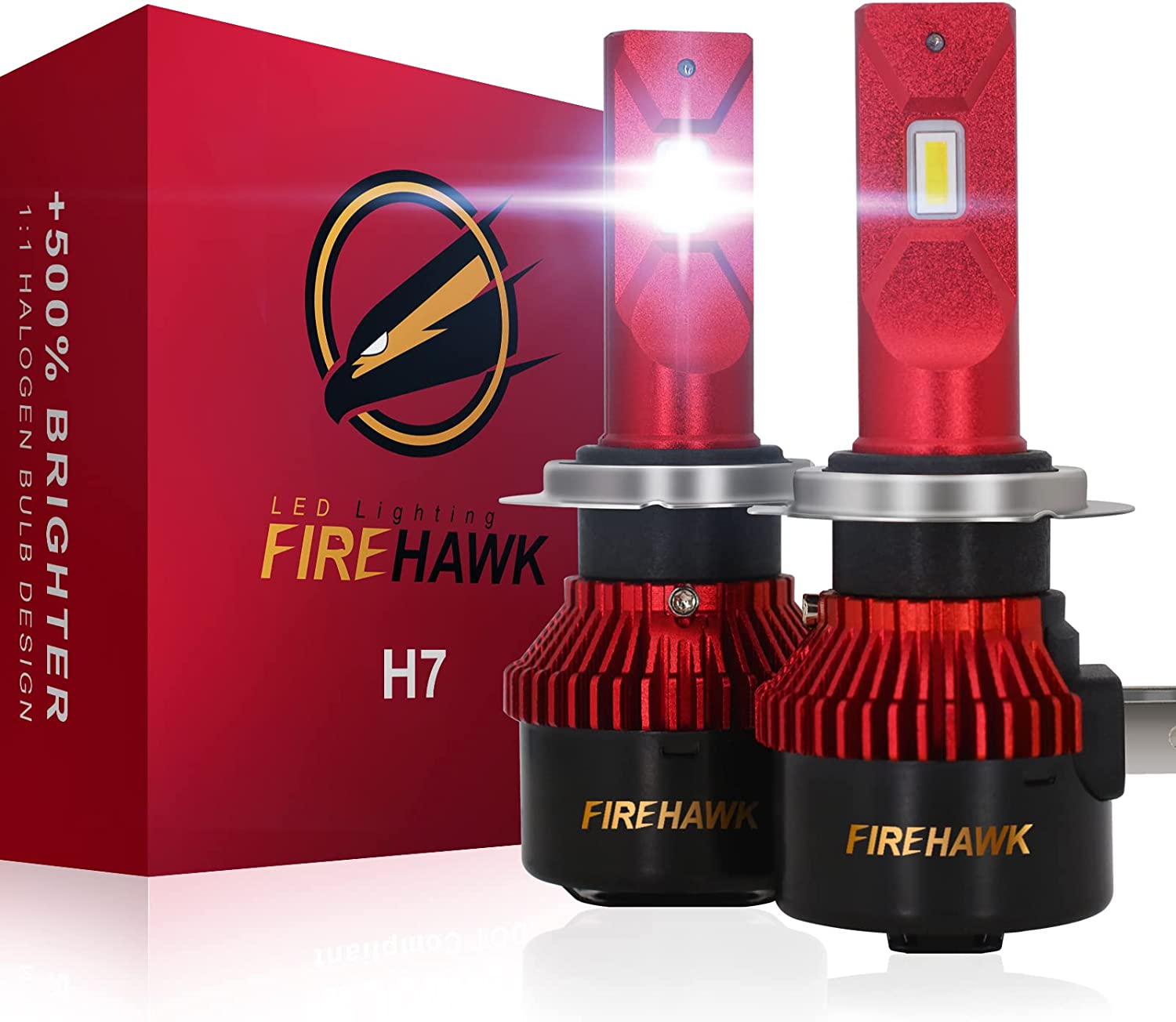 Firehawk New H7 LED
Headlight Bulbs
Plug and play
6,000 lumens/set
6,500K Cool White
+350% brighter than halogens (advertised)
Brightest overall 9145 LEDs
50,000-hour lifespan
80W per set
All-in-one unit
IP68 Waterproof
1-year warranty
---
The H7 low beam headlight is the one that gets the most use and therefore needs to be replaced more often.
Factory-installed halogen bulbs do the trick, but there is a better option.
I've been using and testing all manner of headlight bulbs for over a decade and can tell you that H7 LEDs are a superior choice over halogens.
You can get my full explanation in the FAQs below.
I tested twelve different H7 bulbs, halogens, and LEDs and have come up with the three best. The Bevinsee V45 gets my pick for best overall.
I'll follow that with a close runner-up and a premium option for those who like the finer things.
If it's time to replace your H7 headlight bulbs, keep reading.
IMPORTANT! – Make sure you have the correct bulb sizing and fitment so you don't waste your money, use this handy tool to double check.
---
Best Overall
The Bevinsee range gets better and better, and its V45 H7 LED Headlight bulbs are my pick for best overall, and you'll see why in the tests.
Advertised Specifications
H7 LED bulbs are predominantly used for low beams. However, Bevinsee advertises its H7s as capable for both, and at 22,000 lumens per set, they're not joking. The claim of 600% brighter than halogens does seem exaggerated, and my tests did confirm that.
What's important for H7s is that they need to allow the driver to view objects in front of them clearly. I'm not confident that halogens at around 3000 Kelvins do that. The 6,000K cool white of the Bevinsee V45s do a far better job.
Bevinsee advertises the wattage at 60 watts each, that's quite high for H7s, and I'd be concerned about heat retention, but my tests proved that's not an issue.
100,000 hours is an overstatement of longevity. I'm yet to see any headlight bulbs that last half that long. But, Bevinsee offers a 3-year warranty, three times longer than most other h7 bulbs, so they will last a very long time..
I'm delighted with the IP68 waterproof rating. This is the highest and means driving in the snow, rain, sand, or fog is possible without any concern.
On paper, these are excellent H7 bulbs. Check out my test results next.
My Observations
These are awesome-looking bulbs. I love the modern black chrome finish. While the unit does feel slightly heavier than others, it's well-built.
Don't be fooled by the images. The Bevinsee V45 H7 headlight bulbs do in fact have an external driver, which is very compact and solid.
The user manual is stock-standard. I'm not sure they need to include them these days; the products almost install themselves.
I'm impressed with the look of the heat sink. It has 72 fins, so that should contribute to keeping the bulbs cooler and help with the overall lifespan.
Overall these look like sturdy, reliable, well-manufactured headlight bulbs, and I was excited to test them.
My Tests
I run all my tests the same way. I position my lux meter 20 feet away from the bulbs. I compare the brightness produced against factory halogens which have a lux rating of 725 for the projector test and 910 for the reflector test.
The Bevinsee V45s had an initial lux rating of 1,771. That's more than 1,000 lux higher than halogens, and 250% brighter, but a far cry from the 600% claim. These bulbs are bright, maybe a little too much for low beams, but ideal for high beams.
After 27 minutes, which is the average commute time in the US, they delivered a 1,485 lux rating, so 84%. The industry standard is 80%, so this proves better heat retention than most.
The reflector test's initial lux rating was 3,260, and after 27 minutes, it was 2,734, maintaining 84% heat retention.
The published watts is 60 per bulb, and I observed 56.6, so that's reasonably close for lights this bright.
Where I was concerned was with the heating. After 27 minutes, the driver got up to 172°F, which is hot but not unreasonably so. The central unit only reached 138°F, so there's really no concern there.
I did observe with the beam pattern that it has a very low hot spot compared to stock bulbs. These bulbs really need to be aimed correctly. You run the risk of blinding oncoming drivers really easily if that's not done right.
What Other Drivers Say
Amazon drivers rate the Bevinsee V45 H1 LED bulbs at 4.5/5 stars, a very respectable rating.
Drivers absolutely love how bright they are and how easy they are to install. The clarity of the 6000 Kelvins is also highly regarded.
The overall negative is that they don't last the advertised 100,000 hours, and I didn't expect them to.
Summing It Up
The Bevisan V45 H7 LED Headlight bulbs are my pick for best overall. Sturdy, reliable, bright, and can be used for high and low beams. Plus they come with a three year warranty.
Pros
Plug and play
22,000 lumens/set
6,000K Cool White
+600% brighter than halogens (advertised)
Best overall H7 LEDs
100,000-hour lifespan
120W per set
External CAN bus driver
IP68 Waterproof
---
Worthy Contender
The Fahren Forscher H7 LED Headlight bulbs almost got my vote for best overall, but they come with a slight problem. You can read about that in my test below.
Advertised Specifications
The Fahren Forscher H7 LEDs are 6,000 lumens each. That's about all you really need for low-beam headlights. The advertised claim is that they're 300% brighter than halogens. Check out what my tests confirmed below.
The Kelvin color of 6,000 cool white is around double what you get from factory halogens which lean more towards yellow than a white. To clearly see objects in front of you, white is a vast improvement.
The advertised watts are 30 each, which is standard for H7s. However, my tests showed they weren't that high.
These are stock-standard lights; the bulbs have an average 1-year warranty and an advertised 50,000-hour lifespan.
They're IP68 waterproof, so again, they'll remain consistent in all types of weather conditions.
My Observations
At first glance, the Fahren Forsher H7 LED headlight bulbs have a very standard design. They do look like reliable, sturdy headlight bulbs.
Fahren doesn't provide any specifications on the bulb's chip except to say they're a top-of-the-line automotive chip.
The heatsink has a neat design; if that's important to you, you'll be pleased. However, once it's installed in your vehicle, nobody can see it anyway. The compact external driver looks solid.
The unit itself has a fan, which has a minor issue, and why this is my runner-up and not best overall.
There's quite a comprehensive user manual with a lot of images. As the installation is straightforward, once again, I'm not sure this is necessary.
My Tests
The projector test showed an initial rating of 1417 lux, almost double the halogens. The reflector delivered an initial 2,390 lux.
Now here is where the Fahrens almost got my vote. After 27 minutes, at 1313 lux in the projector and 2137 in the reflector, they retained 89% of their heat. That's very impressive. 80% is average, and 89% is the highest I've ever tested for H7 LEDs.
Also, after 27 minutes, I measured the temperature. The main unit's was 185°F, and the driver's a nice cool 120°F.
Fahren advertises the bulbs at 30 watts each; however, I observed only 20.9, which is quite a bit lower. The upside is that it's likely contributing to the excellent heat retention. In the end, these could last the advertised hours.
The beam pattern is well-controlled. As you'd expect, there's some minor patchiness in the usual weak spots at the top and bottom center.
And here's the only flaw. The fan is noisy, really noisy. It's so disappointing as this is a well-performing bulb, but I can't get past this.
What Other Drivers Say
Over 7,000 Amazon drivers rank the Fahren Forsher H7 LEDs at 4.6/5, with 76% rating them 5/5.
Drivers love the brightness and whiteness, and the value for money is apparent.
The noisy fan is a common complaint from a number of drivers.
Summing it Up
The Fahren Forscher H7 LEDs are an excellent choice, especially for heat retention, if the noisy fan doesn't bother you.
Pros
Plug and play
12,000 lumens/set
6,000K Cool White
+300% brighter than halogens (advertised)
Best runner-up for H7 LEDs
50,000-hour lifespan
60W per set
External CAN bus driver
IP68 Waterproof
---
Premium Option
With a few extra dollars to spare, consider a premium option. The Firehawk New H7 LED bulbs are very impressive, especially their heat retention.
Published Specifications
Each bulb has 10,000 lumens, and Firehawk claims it's 500% brighter than halogens. My tests didn't get quite that high a difference, but definitely brighter. Remember, these are low beams, so you don't want them excessively bright.
Like the others, the 6000 Kelvin cool white is ideal for low-beam lights. That extra clarity of objects, especially at night, makes all the difference.
They're designed with the newest Japanese LED chips and have a super-focused beam pattern, supposedly with no dark spots or shadows. My tests came up a little differently.
Firehawk states these are 31 watts each, that's oddly specific, but my tests came close.
The cooling system has 40 pieces of aviation aluminum heat sink and a 12,000RPM silent turbofan. Like most on the market, they're advertised to last 50,000 hours. With a 2-year warranty (1 higher than most), I'd think they'll last at least that long.
My Observations
I like the look of these bulbs. They have a nice red finish, which is not a color other companies use, so they stand out.
The materials appear standard; nothing looks overly advanced or upgraded.
It's an all-in-one item, has an adjustable collar, and a relatively small area for the fan, which had me concerned, until the test results.
Firehawk provides quite a detailed manual with many images, but it's unnecessary as they're plug-and-play.
Overall it's a pretty compact item and should fit most car headlights without too much problem.
My Tests
The projector test's initial output was 1332 lux, so that's 607 more than the halogens offering around double the brightness. Where the Firehawks are impressive is with the heat retention.
After 27 minutes, they dropped to 1172, which is 88%, only 1% behind the Bevinsees.
The reflector test's initial output was 2280 lux, that's 1370 higher than halogens, so in total around 250% brighter, not 500% as claimed, but a considerable improvement.
The beam pattern was a little fuzzy at the top center, but the hot spot was low, so that's a bonus. There was also a bit of scattering on the bottom left.
The published watts are a very specific 31, and I observed 29, which is surprisingly close compared to others that can be almost 10 watts less.
My concerns about the compact fan were removed when the unit's temperature after 27 minutes was only 122°F.
Based on the heat retention and the very cool unit, I'd expect these bulbs to last a long time.
What Other Drivers Are Saying
Amazon drivers favor Firehawks over others, and the overall rating is 4.4/5 stars.
The neat look of the unit and the improved brightness and whiteness allowing for clearer vision is what the drivers love the most.
The installation appears to be a bit fiddly on some older vehicles; I had no problems, though.
Summing Up
Based on their heat retention and projected longer life, it may be worth spending a bit extra on the Firehawk 2023 H7 LED bulbs, as you may not need to replace them as often as others.
Pros
Plug and play
All-in-one unit
20,000 lumens/set
6,500K Cool White
+500% brighter than halogens (advertised)
Best premium H7 LEDs
50,000-hour lifespan
62W per set
IP68 Waterproof
---
Frequently Asked Questions
What can H7 headlight bulbs be used for?
H7 headlight bulbs are predominantly designed as low beam replacements due to their lesser brightness than some other bulbs. However, companies like Bevinsee, above, release its product stating it works for either.
Is the H7 interchangeable with other types?
Many people think that if a bulb has an H followed by a number, they're interchangeable, but this isn't the case, as the sockets and filaments are all different.
For example, the H7 only has one filament, which is why some manufacturers sell it for low and high beams. In contrast, the H4 has two filaments (one for each). The other difference is that the H7 has a twin-pod setup, and the H4 has only a single one.
Why is an H7 LED better than a halogen?
There are three excellent reasons to upgrade to H7 LEDs — brightness, whiteness, and longevity.
As you've seen from my tests above, LEDs are at least twice, if not three times brighter than halogens. This makes seeing further down the road a lot easier.
Standard halogens have a Kelvin color of around 3,000, which is pale yellow. LED H7s are roughly double that at 6,000, which puts them in the white spectrum. The beauty of this is that objects around the vehicle are seen more clearly, adding to the safety aspect of the drive.
Halogen lights have a faster burn-out rate than LEDs and must be replaced more often. As H7s are some of the most commonly replaced bulbs, LEDs are much more cost-effective.