Here, we'll be taking a look at some of the brightest 1157 LED tail light bulbs and what makes them worth your money.
Our rankings take into account the bulb's performance, efficacy, and value for money. This means not only are these best and brightest bulbs.
We are confident that the years of experience we've amassed working with cars and aftermarket parts allows us to make an appropriate recommendation, no matter the application.
iBrightstar's tail light bulbs are our pick for the brightest 1157 bulbs that offer long lifespan and great value, making for a better package overall.
Keep reading to find out more about this and other options for brightest 1157 LED bulbs.
iBrightstar 1157 Tail Light Led Bulbs
Overall Best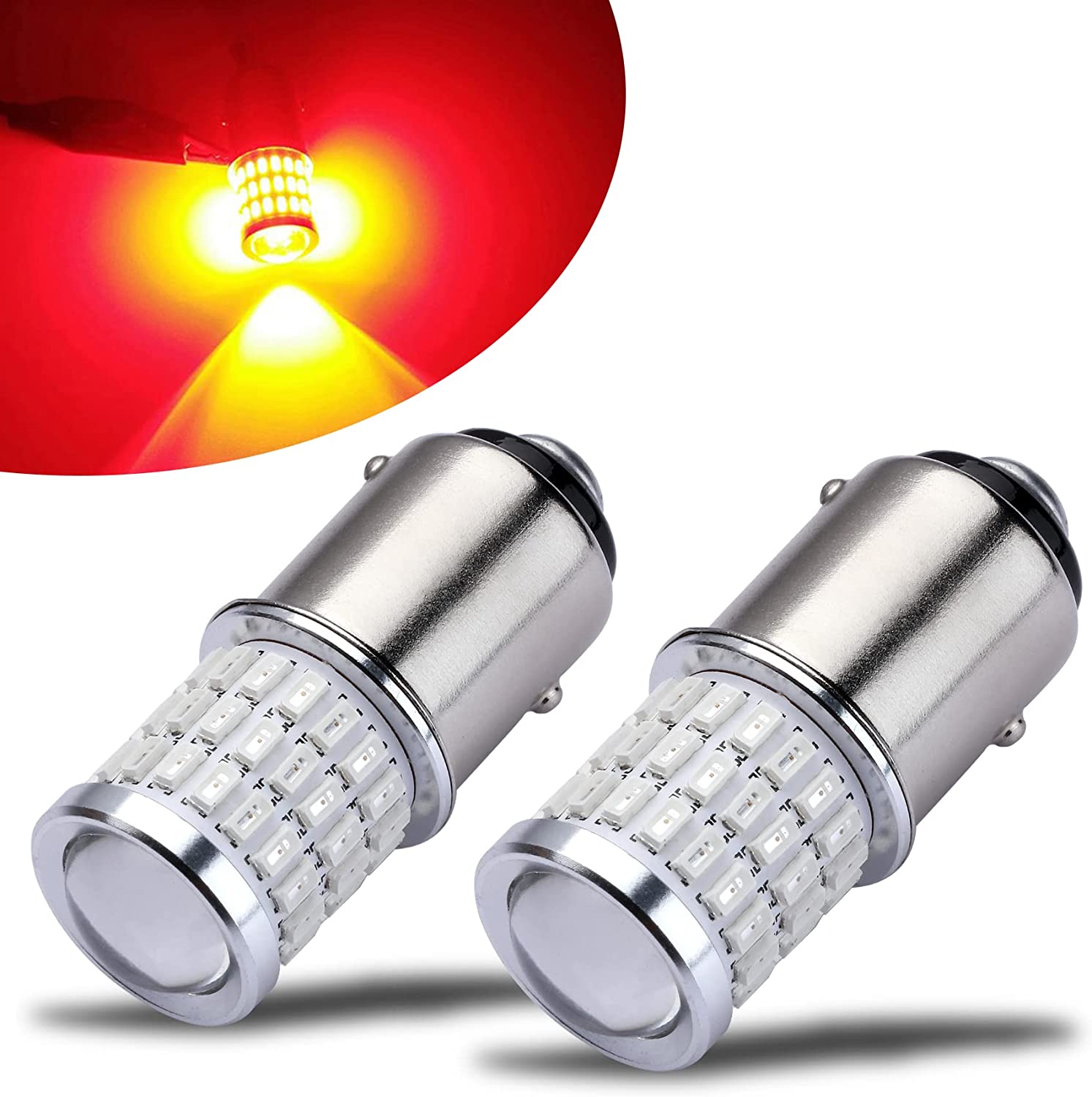 iBrightstar's 1157 compatible tail lights use powerful LED chips that offer greater brightness, better visibility in rain and snow, and a substantially longer lifespan than traditional halogen bulbs.
To speak of brightness, these bulbs generate an intense beam of light that works very well for tail lights. Having installed them on our own test vehicle, we can attest to better visibility of tail lights with these bulbs.
Especially impressive was their performance in simulated rain and snowy conditions. Even through the visual obstruction, we were able to see the lights clearly and distinctly. In fact, compared to incandescent bulbs, we were able to make out these LEDs from quite a bit further away, improving safety while driving.
Another plus point with the iBrightstars was their ease of installation. It was quick and simple to install them, taking no more than 20 minutes in total. Instructions included in the package were clear and easy to follow.
We did not need to install any additional load resistors on our car, but the manufacturer recommends doing so if you encounter repeated flashing or flickering.
Being LEDs, these bulbs are more efficient and long lasting than traditional halogen bulbs. They consume less power and feature a unique design to facilitate heat dissipation, allowing them to run better for longer.
The manufacturer claims a lifespan of 30,000 hours, enough for the average driver's period of car ownership.
Pros
Brighter than stock halogens
More visible in rain or snow
Better visibility even from farther away
Instructions are easy to follow
Quick and easy install
Less power is consumed
Long lasting; 30,000 hours
Brilliant Red color
Aluminum housing
Quick install
Power efficient
---
CATO-WDJ 1157 Led Bulb Brake lights
Best Budget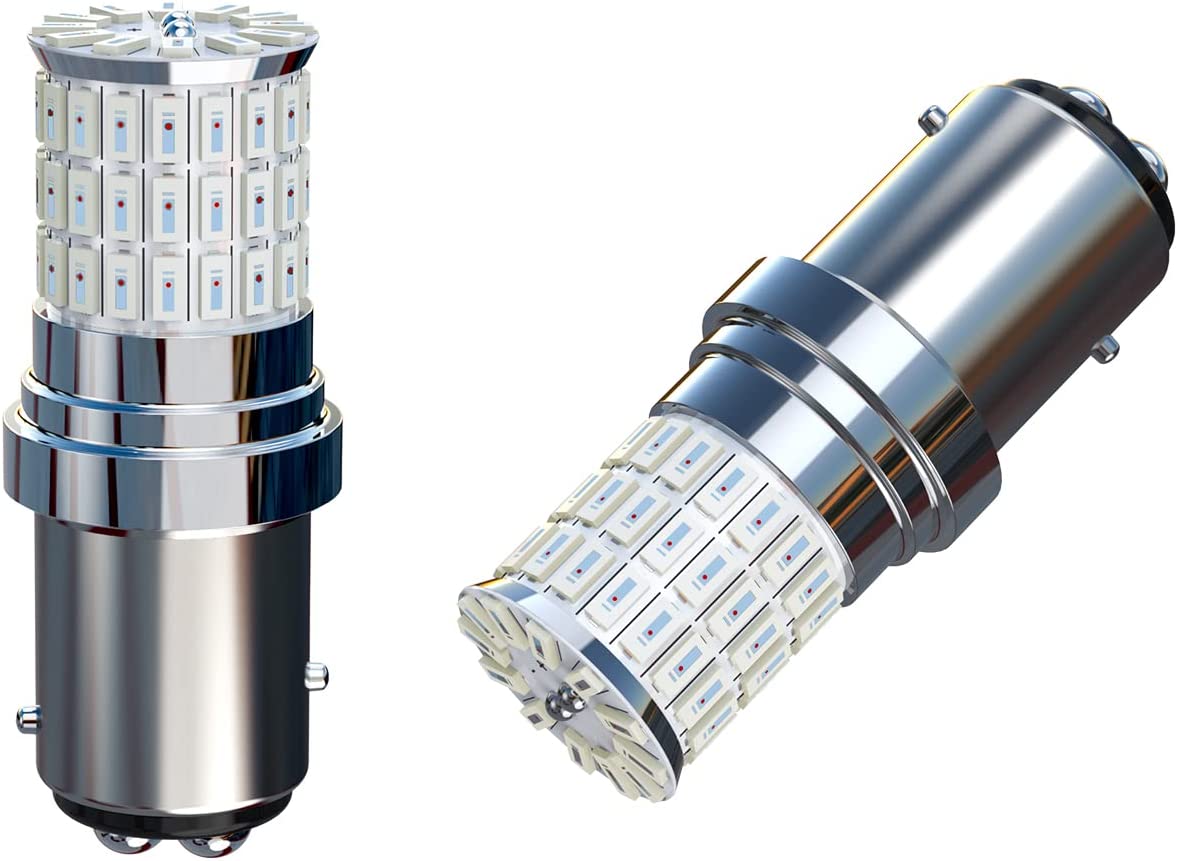 CATO-WDJ's 1157 LED bulbs deliver an intense beam of light, great build quality, and long lifespan, while costing considerably less than the competition.
While this bulb's price is cheap, the build quality is anything but. The whole body is made of high quality aluminum, with a PC flexible circuit board and heat diffusion focused design that aids performance and longevity. The construction features chips circling the body and on top for better coverage and more uniform lighting.
And these LEDs are bright too. They made our car's tail lights noticeably more visible than the stock setup. Moreover, they offer a bright red color with two modes: dim and bright for use as tail lights and brake lights, respectively, so you can outfit your car with a more uniform light combination.
Similar to other top picks for 1157 bulbs, these LEDs were easy to install with extensive video and text instructions available online.
We did not require any special tools or expertise to fit these to our car and are confident that the average consumer can do it themselves without spending extra money on professional installation.
Another important detail that often gets overlooked is customer support. When we received a bulb that had sustained damage during shipping, we contacted the manufacturer, who were more than happy to send us a replacement without any extra charge.
Furthermore, they provide a 1 year warranty on this kit, so you can be sure that it is a high performing set of bulbs.
Finally, the lifespan of these LEDs far surpasses traditional halogen bulbs, and folks who have been using them for years have nothing but good things to say about long term reliability.
Pros
More intense brightness
More easily visible
Uniform lighting pattern
1 year manufacturer warranty is provided
Great customer support
Returns/replacements are quick and easy
Instructional videos are available online
Dim and bright modes for different uses
Cheaper than similarly performing options
Long lasting
Intense brightness
High quality aluminum build
66 chips covering the LED
Best in class heat management
---
Alopee super bright 1157 led tail light bulbs
Premium Choice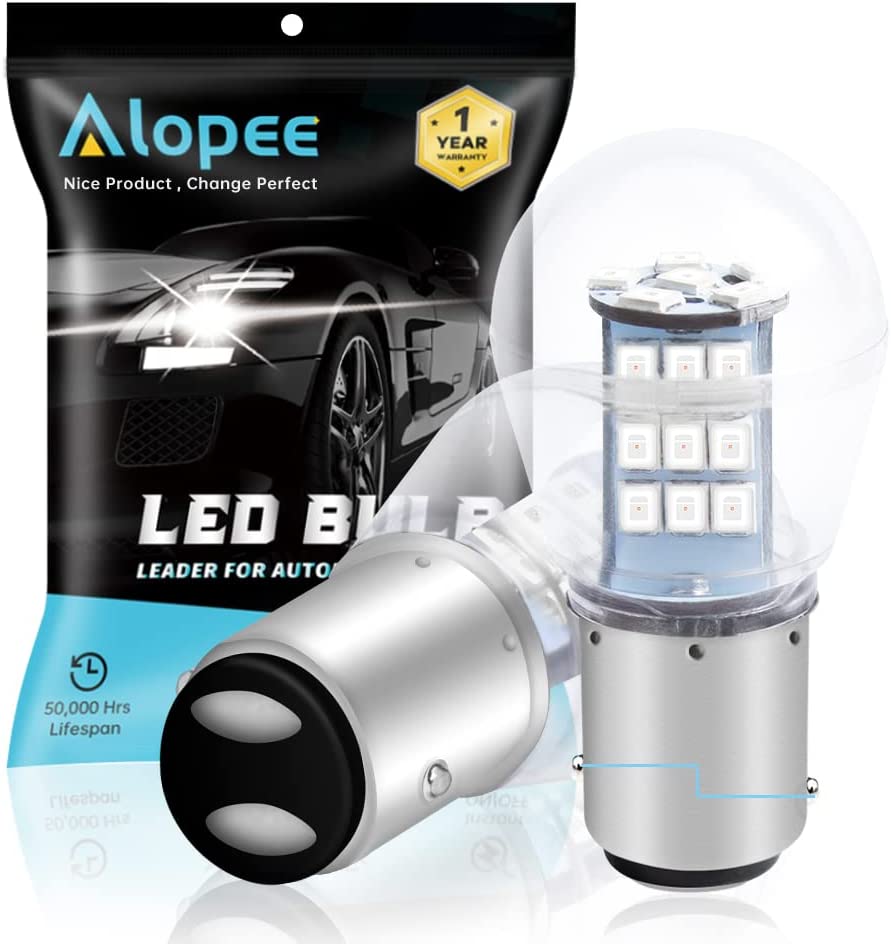 Another great 1157 bulb is the Alopee LED tail light bulb, a brighter and more visible option than stock with an extended lifespan and eliminates polarity.
At a maximum brightness of around 600 lumens, these LED bulbs are one of the brightest on the market. We noticed a night and day difference in visibility with these installed in our car's taillights.
The tail lights were easier to make out, and we could still see them even when we moved significantly farther away. Stock bulbs simply could not keep up with these LEDs.
Installation was a tad trickier than with other bulbs, though nothing too complicated, as we had to install an additional load resistor to mitigate flashing. Overall, it was easy and only took about 20 minutes to do.
One thing we made a note of was the outstanding lifespan of these bulbs. While our test results are only representative of short term usage, other users have reviewed these LEDs well, saying they lasted significantly longer than stock bulbs and even some LED kits. With such wide acclaim, we're sure these will be a durable option for longer term use.
Pros
More visible than stock
Visible from farther away
Long lasting
More noticeable than stock in low visibility conditions
Power consumption is low
Installation was quick
PVC plastic shell is more durable than glass
600 lumen peak brightness
Long lasting
Simple installation
Can be used as tail lights and brake lights
Cons
Required additional load resistor to be installed
---