In this article, we'll be helping you find the brightest 194 led headlight bulbs.
We looked at the available options and compared them to figure out which ones deserve consideration. Factoring in bulb performance, durability, value, and of course, brightness, from there we were able to rank the Top 3.
With almost a decade of experience working in the automotive industry and tonnes of technical know-how of aftermarket bulbs, we are well-equipped to help you make your decision.
Auxito's LEDs are our #1 pick for brightest 194 led bulbs, offering a brighter alternative to stock bulbs, a cooler white color, durable build, and great versatility. These bulbs delivered the best balance of features and value, making them easy to recommend.
Read on to find out why the Auxito's and other brands are our favorite 194 bulbs.
Auxito 194 LED Headlight Bulbs
Overall Best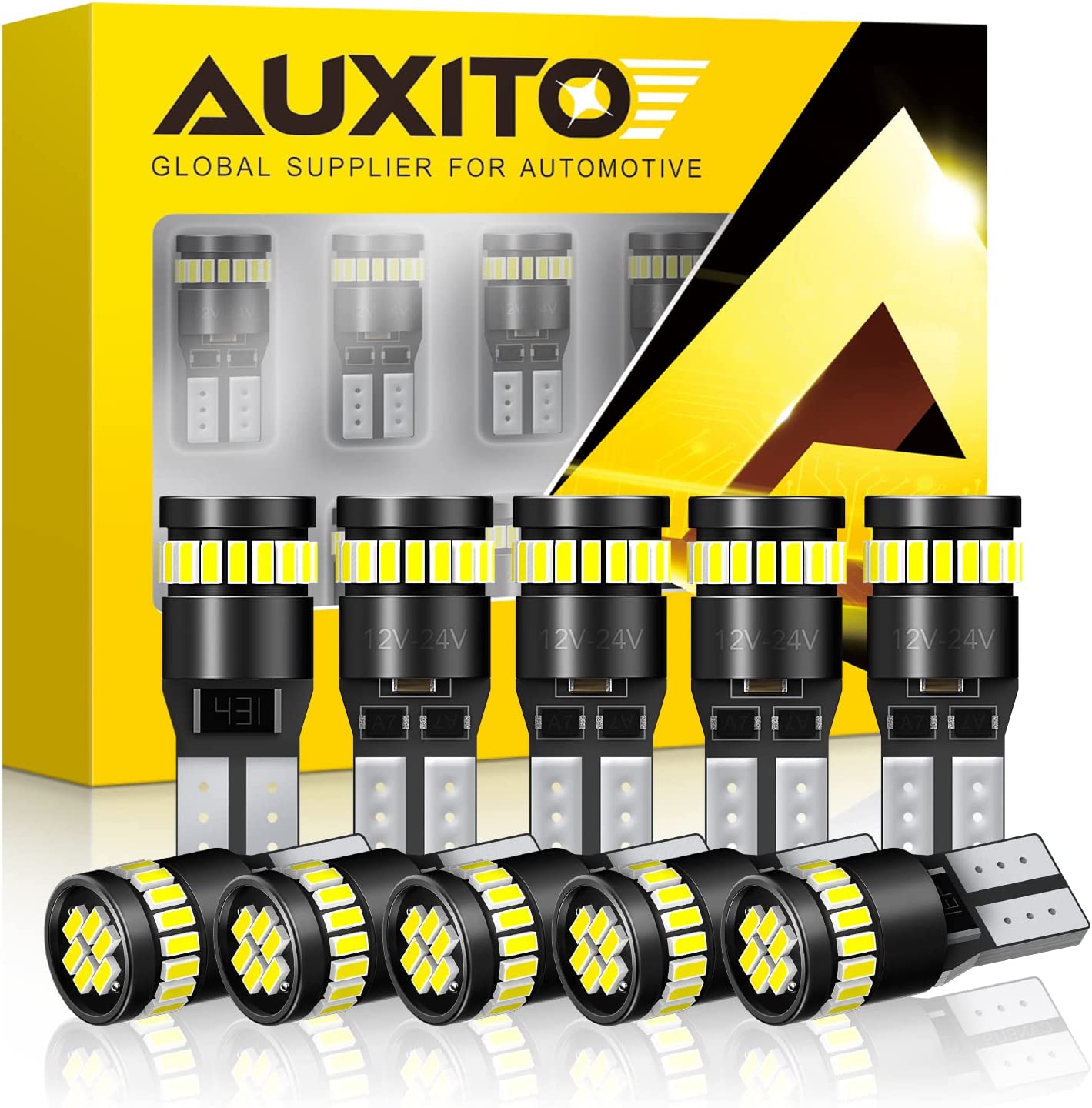 Auxito's 194 offering is brighter than stock, has a cool white color temperature, and is usable for a wide range of applications. Among 194 bulbs, it is one of the brightest performers while also offering great value.
When it comes to 194 bulbs, brightness is essential, especially if you'll be using them for headlight DRLs or other exterior applications.
Auxito's LEDs are rated for 240 lumens per bulb, which is plenty bright enough for side markers, license plate lights, and yes, daytime running lights.
Another advantage these LEDs have over stock bulbs is the cooler white color. At 6000k, the color temperature is a pure white that is more visible to others around you and helps illuminate your car's interior, trunk space, and license plates, while simultaneously looking more aesthetic than stock.
The Auxitos provide wider coverage, with a 360 degree field of view that bathes the surroundings in light. When used in the headlight assembly, they work well to cover a large area, while also producing enough light to be visible in the daytime. We installed them alongside our headlights and were impressed with how noticeable they were even in brighter conditions.
Finally, these bulbs are made to last, using less power than stock bulbs, allowing them to have a longer lifespan. Furthermore, they do not cause any error codes or require any additional decoders to work properly, saving you a lot of hassle.
Pros
Brighter than stock bulbs
Aesthetic cool white color
Wider coverage than stock
Various uses
Great as DRLs
Don't cause errors
No interference with stereo
240 lumens of brightness
6000k cool white color temperature
360 degree coverage
Wide variety of applications
Cons
Some drivers report flickering after a few years
---
Brishine 194 LED Headlight Bulbs
Best Budget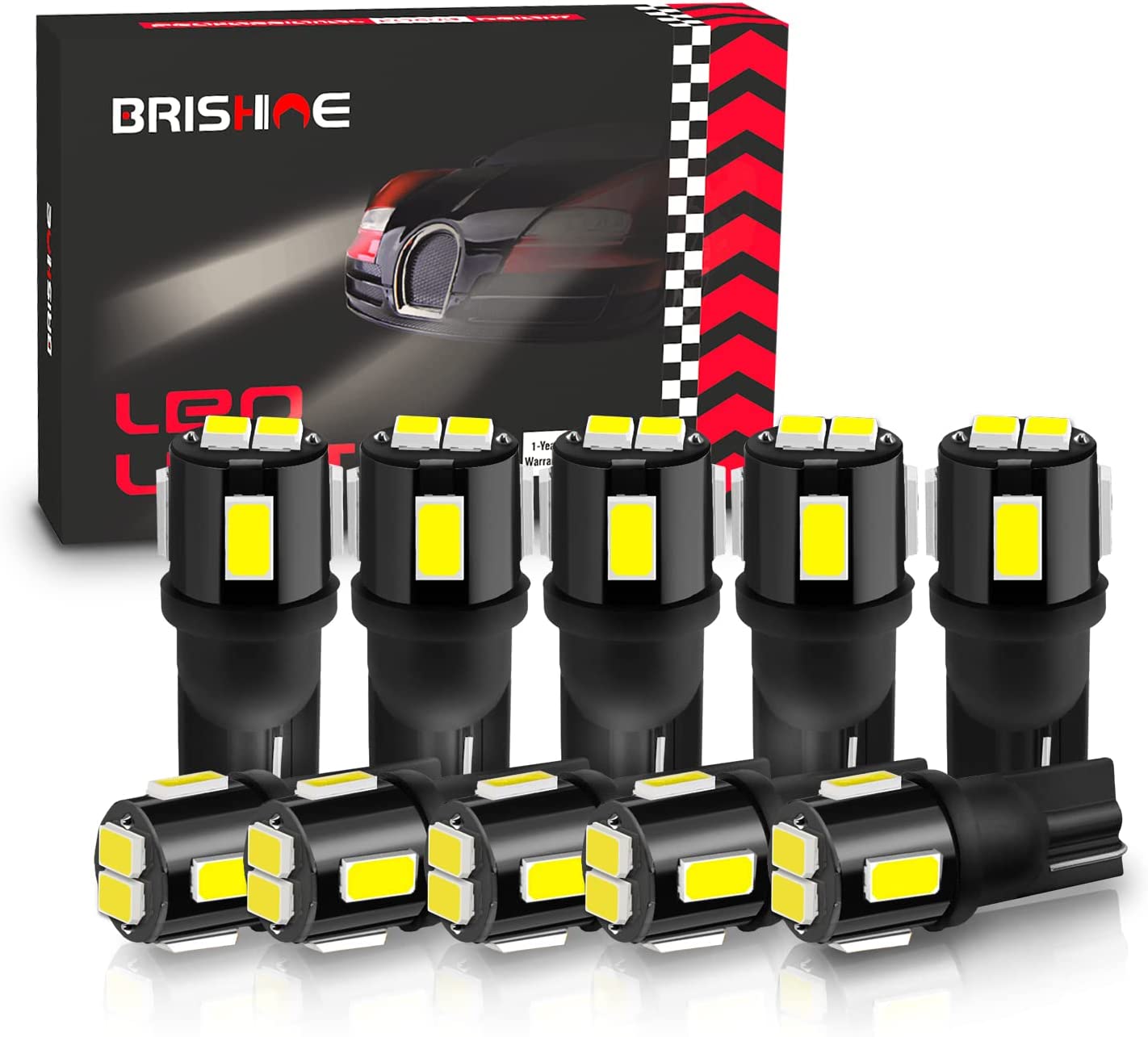 Brishine's 194 LED bulbs are bright, cool, and easy on the wallet, albeit not as long lasting as the Auxitos, owing to the slightly inferior build.
If it weren't for the shorter lifespan of these bulbs, they would have been higher on our list for their brightness and cool white tone. At 300 lumens, they are brighter than the Auxitos and are even more noticeable as daytime running lights or really wherever you install them. They offer a crisp and solid beam free from any dark spots.
The 6000k color is also worth mentioning. It is a lot cooler (in more than one sense of the word) than the stock bulbs. Not only does it provide better visibility for interior use, but it also adds an aesthetically pleasing look to your car's exterior, whether it's DRLs, marker lights, or license plate illumination.
A wide angle of projection makes these LEDs perfect for use in dome lights, glove compartments, and trunk spaces, where they provide better illumination than weak stock bulbs. As DRLs, they deliver an uninterrupted strip of light that is bright and cool.
One area where these budget bulbs underperform is longevity. They are slightly larger than bulbs like the Auxitos and many users complain that they require regular replacement every 8 or 9 months, despite the claimed 30,000 hours of use. However, we don't mind buying new bulbs every now and again at this price point, especially when they are as bright and cool as these.
Pros
Brighter light output
Cool white color
Great for interior use
Bright enough for DRLs
Cheaper than the competition
300 lumens
6000k?
Budget friendly
Crisp and focused light
Cons
Design is not as low profile as others
---
Alla Lighting 194 LED Headlight Bulbs
Premium Choice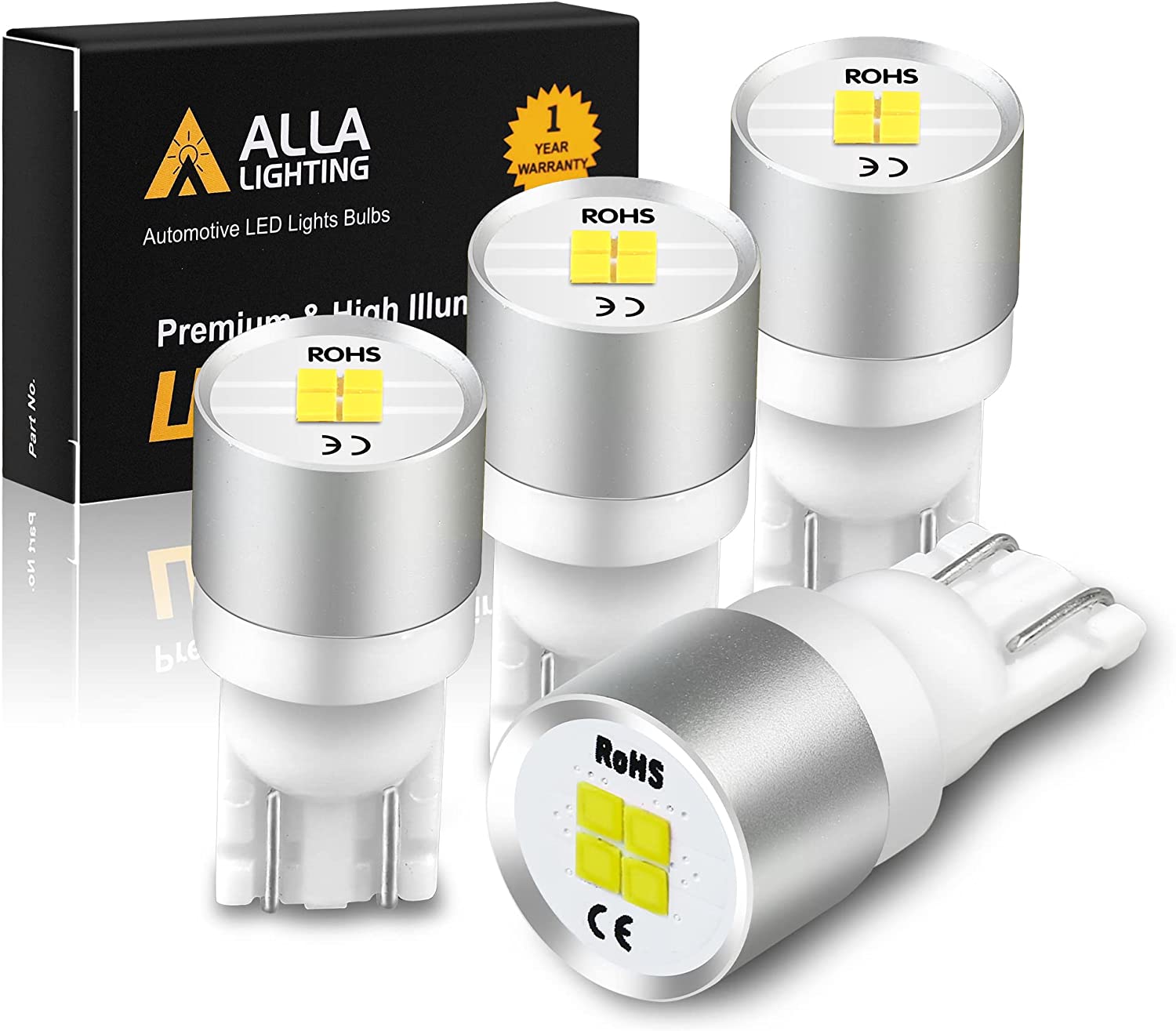 Alla Lighting delivers a bright and cool 194 LED bulb is covered under a 1-year warranty and outperforms its competition in performance and durability.
As far as brightness is concerned, stock bulbs don't even compare to these LEDs. The Allas are one of the most intense on the market at 240 lumens per bulb.
This makes them great for improving interior visibility and allowing them to be visible in daylight if you would like to use them as DRLs in your headlight assembly.
They also feature a cool white profile with a 6000k color temperature, a massive improvement over the yellow incandescent bulbs that come standard on most cars.
It helps to make spaces such as glove boxes, trunks, and car interiors more easily visible. Furthermore, the whiter light is more noticeable for other drivers when used as marker lights on the sides or roof of the car.
Our testing showed that these LEDs are better than traditional incandescent marker lights for safety while driving at night.
Finally, these LEDs consume significantly less power than stock bulbs, allowing them to be longer lasting. A 1-year warranty is also a great addition to the overall package that ensures you have a high quality product that will last.
Pros
Brighter than stock
White color improves visibility
DRLs are solid and flicker free
Improved safety for driving at night
Less power consumption
240 lumens?
6000k color temperature
50,000 hour lifespan
1 year manufacturer warranty
---