In this article, we'll be helping you find the brightest 194 led headlight bulbs.
We looked at the available options and compared them to figure out which ones deserve consideration. Factoring in bulb performance, durability, value, and of course, brightness, from there we were able to rank the Top 3.
With almost a decade of experience working in the automotive industry and tonnes of technical know-how of aftermarket bulbs, we are well-equipped to help you make your decision.
Auxito's LEDs are our #1 pick for brightest 194 led bulbs, offering a brighter alternative to stock bulbs, a cooler white color, durable build, and great versatility. These bulbs delivered the best balance of features and value, making them easy to recommend.
Read on to find out why the Auxito's and other brands are our favorite 194 bulbs.
IMPORTANT! – Make sure you have the correct bulb sizing and fitment so you don't waste your money, use this handy tool to double check.
---
Auxito 194 LED Headlight Bulbs
Overall Best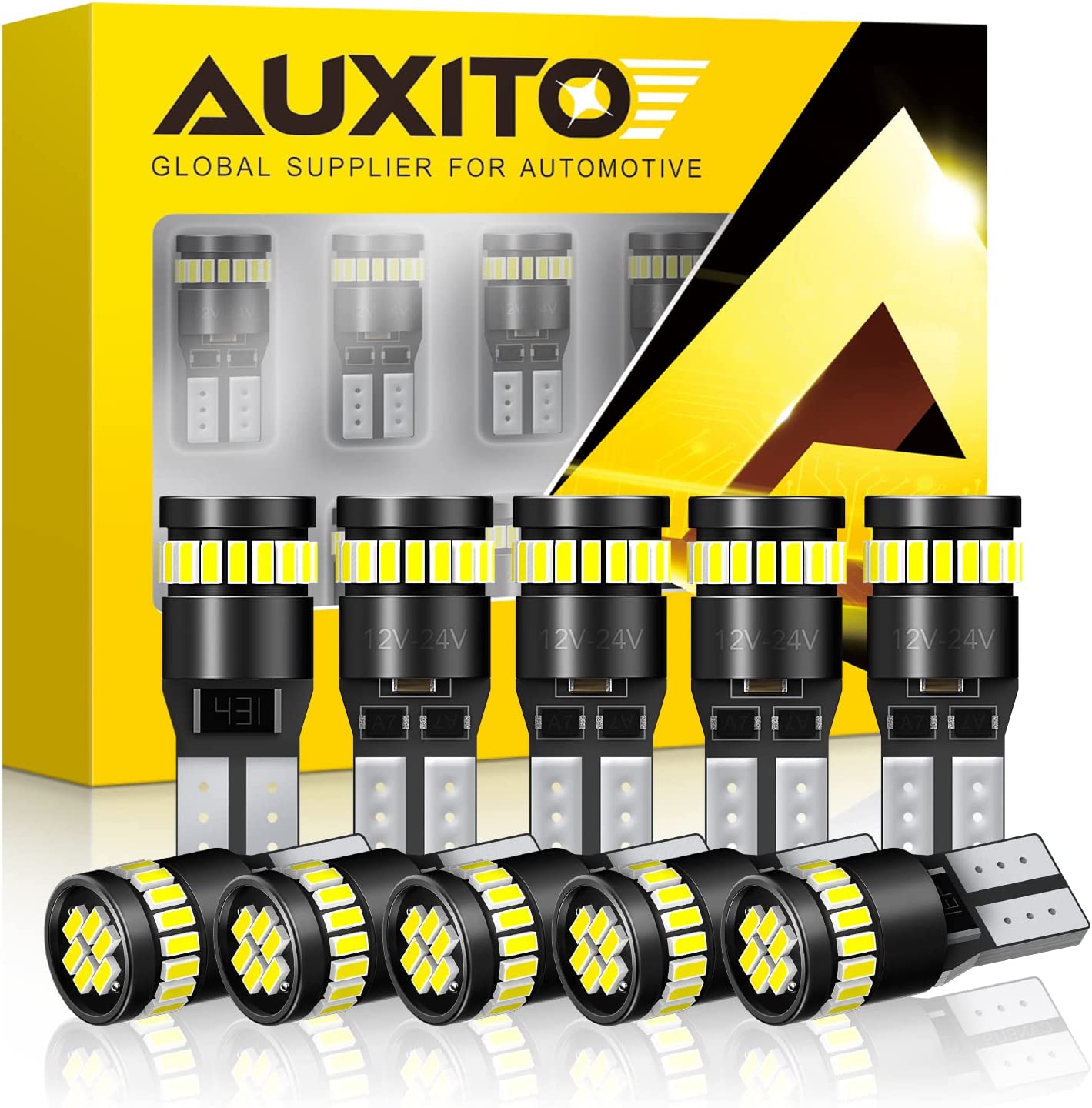 I found Auxito's 194 bulb to be noticeably brighter than stock, radiating a cool white hue, and surprisingly versatile in application. Among the 194 bulbs I've tested, it stands out as one of the brightest performers, not to mention its excellent value.
When we talk about 194 bulbs, brightness is the key, particularly when they're destined for uses like headlight DRLs or other exterior applications.
These Auxito LEDs are valued at 240 lumens per bulb, an intensity that's more than sufficient for roles like side markers, license plate lights, and indeed, daytime running lights.
An additional edge these LEDs have over the stock bulbs is their cooler white shade. Clocking in at 6000k, they emit a pure white light that is more visible to those around you. It not only illuminates your car's interior, trunk space, and license plates but also lends a more aesthetic look than the stock bulbs.
What impressed me about the Auxitos was their comprehensive coverage. They provide a 360-degree field of view that drenches the surroundings in light. When slotted into the headlight assembly, they do a stellar job of lighting up a vast area, producing enough light to be noticeable even in daytime. I mounted them next to my headlights and was amazed at how visible they remained even under brighter conditions.
Last but not least, these bulbs are built for endurance. They use less power than stock bulbs, which in turn bestows upon them a longer lifespan. What's more, they don't trigger any error codes or demand any additional decoders for proper functioning, saving you a great deal of inconvenience.
Pros
Brighter than stock bulbs
Aesthetic cool white color
Wider coverage than stock
Various uses
Great as DRLs
Don't cause errors
No interference with stereo
240 lumens of brightness
6000k cool white color temperature
360 degree coverage
Wide variety of applications
Cons
Some drivers report flickering after a few years
---
Brishine 194 LED Headlight Bulbs
Best Budget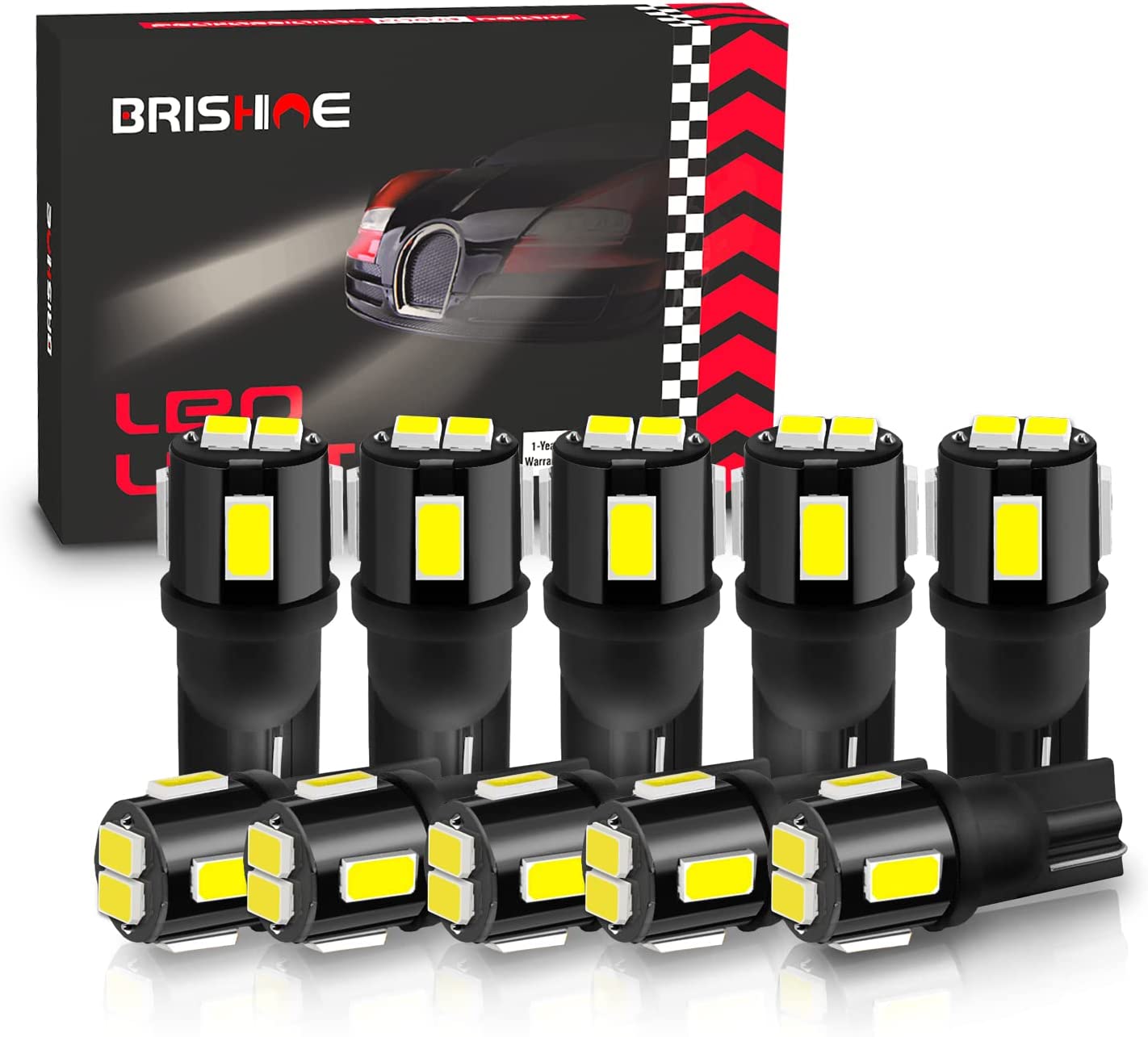 Brishine's 194 LED bulbs made an impression on me with their brightness, cool appearance, and affordability, though they don't last as long as the Auxitos, given their marginally lower-quality build.
If it wasn't for their shorter lifespan, these bulbs would have scored a higher place on my list, given their striking brightness and cool white tone. With an output of 300 lumens, they outshine the Auxitos, becoming all the more noticeable whether you've got them running as daytime lights or installed them elsewhere. They cast a clear, uninterrupted beam, entirely free from dark spots.
Their 6000k color temperature is worth highlighting. It's significantly cooler (in every sense of the word) than the stock bulbs. Not only does it improve visibility for interior usage, but it also imparts a pleasing aesthetic touch to your car's exterior, be it DRLs, marker lights, or license plate lighting.
These LEDs' wide projection angle makes them perfect for use in dome lights, glove compartments, and trunk spaces, where they outperform the feeble illumination of stock bulbs. As DRLs, they deliver a continuous strip of bright and cool light.
Where these budget-friendly bulbs fall short, however, is in their longevity. They are slightly bulkier than bulbs like the Auxitos, and many users have complained about needing to replace them every 8 or 9 months, which doesn't exactly line up with their claimed 30,000 hours of use. Still, I don't mind having to buy new bulbs from time to time at this price point, particularly when they're as bright and cool as these.
Pros
Brighter light output
Cool white color
Great for interior use
Bright enough for DRLs
Cheaper than the competition
300 lumens
6000k?
Budget friendly
Crisp and focused light
Cons
Design is not as low profile as others
---
Alla Lighting 194 LED Headlight Bulbs
Premium Choice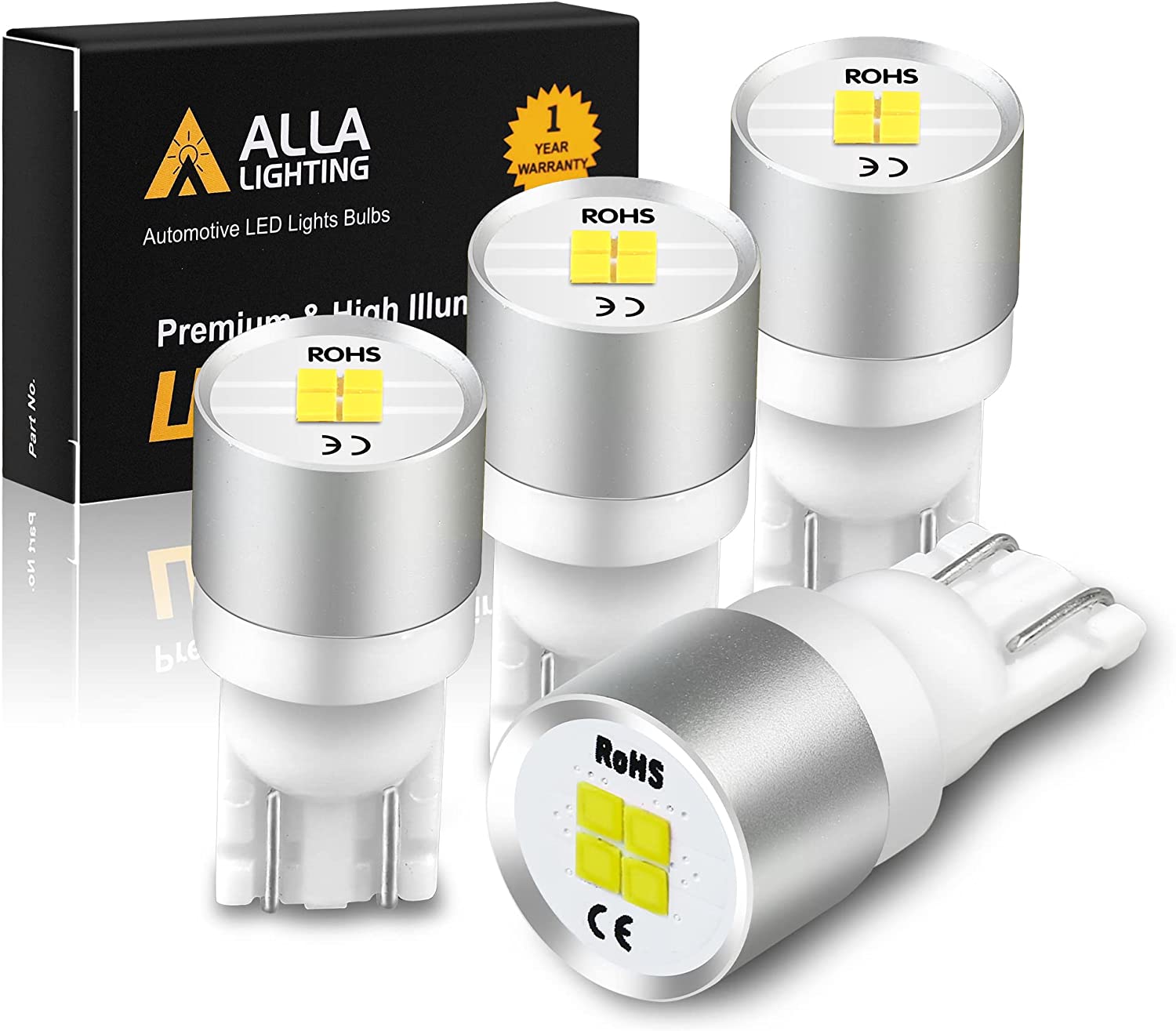 In terms of brightness and durability, Alla Lighting's cool and bright 194 LED bulb outshines the competition, and with a 1-year warranty to boot, I was thoroughly impressed.
When it comes to brightness, these LEDs make stock bulbs seem like they're hardly even there. The Allas sit at the pinnacle of the market with an intense 240 lumens per bulb.
Their brightness significantly enhances interior visibility, and if you fancy using them as DRLs in your headlight assembly, they're visible even in broad daylight.
Also, their cool white hue, with a color temperature of 6000k, is a vast improvement over the standard yellowish incandescent bulbs most cars come with.
This whiter light helps to illuminate spaces such as glove boxes, trunks, and car interiors, making them more visible. Moreover, when used as marker lights on the sides or roof of your car, this whiter light catches the eye of other drivers more effectively.
In our tests, we found these LEDs to surpass traditional incandescent marker lights when it comes to safety during nighttime driving.
Lastly, these LEDs significantly outlive stock bulbs due to their lower power consumption. The inclusion of a 1-year warranty is a welcome addition to this all-around impressive package, reassuring you of a top-quality product that's built to last.
Pros
Brighter than stock
White color improves visibility
DRLs are solid and flicker free
Improved safety for driving at night
Less power consumption
240 lumens?
6000k color temperature
50,000 hour lifespan
1 year manufacturer warranty
---