Adaptable for light type
 360 degree lighting angle
 No blind spot
Reasonable price
Varying brightness levels

Very positive customer reviews

Trusted brand
Plug and play
Quality heat sink
Awesome life span for price, up to 50,000 – 60,000 hours.
1 year warranty
Doesn't use a fan to dissipate heat
Rare complaints that the bulb wouldn't properly fit and require slight modifications
Bulb takes a second or two to reach full brightness when cold
Heatsink isn't necessary for tail or brake lights, because they're used infrequently
No instructions
Xenon white
Will fit any car due to it's small size
 Comes in three colours depending on use
Very affordable 

Compatible for both CK and Standard sockets

Adaptable for any light in car

1 year warranty 

Overwhelmingly positive customer reviews

Great bang for your buck

Reputation for longevity

Response time faster than stock 
Shorter lifespan of 30,000 hours

Lacks a proper heatsink

Not ideal heat dissipation 
Dimmer compared to higher price ranges
For turn signal bulb you will need to install a resistor 
+270% brighter than standard stock bulbs

12000lm Luminous Flux

24-month warranty
Superior heat dissipation
No glare (you won't blind other drivers)
Extremely bright
Adaptable compatibility
4 piece set
Highly trusted brand
At least 50,000 hour lifespan
Compact design for such a powerful bulb
Awesome customer reviews
1200 lumens
10,000RPM turbo fan
High effective heat dissipation
Very defined beam pattern
Easy installation
Quiet fans
More expensive
Can't be installed with broken lock rings
No installation instructions
In this guide I'll give you a rundown of the brightest 3157 bulbs, otherwise known as tail light bulbs. It's especially important that your tail lights are easily visible to vehicles behind you, because of this I've diligently tested and found 3157 bulbs that I believe are by far the best and brightest.
Why trust me?
At headlight reviews, I personally review each set of bulbs before recommending them. I'm both a moto head and a bulb enthusiast, I always choose what I believe is the best option regardless of price. For every recommendation, I'll provide examples of what the headlights looked like when I was using them in my car.
When choosing the brightest 3157 bulbs, brightness was my main criteria but other factors such as price, longevity and brand trust worthiness went into my decision making process. For example if I found an extremely bright 3157 bulb but with a very short life span, I decided I would exclude it from my list because you don't want a bulb breaking on you too quickly.
ROCCS Canbus 3157 extremely bright led bulbs
Reasonable price
Varying brightness levels
Very positive customer reviews
Trusted brand
Plug and play
Quality heat sink
Awesome life span for price, up to 50,000 – 60,000 hours.
1 year warranty
Doesn't use a fan to dissipate heat
Rare complaints that the bulb wouldn't properly fit and require slight modifications
Bulb takes a second or two to reach full brightness when cold
Heatsink isn't necessary for tail or brake lights, because they're used infrequently
No instructions
I chose the ROCCS Canbus as the brightest overall 3157 led bulb, firstly because as you can see below, they're extremely bright for 3157 bulbs. The picture I took doesn't show the extent of how far the light reaches but it goes on for far longer.

The ROCCS canbus shines a bright white colour making it very easy to distinguish objects or animals from afar. It's lighting output is both 2100 lumens and 1000 lumens, which means that you can use the ROCCS 3157 bulbs for back and front headlights. These bulbs do not have a blind spot within them, providing 360 degree lighting. Bulbs that have a dimmer spot in the middle are always frustrating.

These 3157 bulbs are plug and play, other than checking their sizing to be sure they fit in your car, you won't have any problems with the installation and I found they took only a few minutes to install.
Something that causes a lot of headlight bulbs to break down quickly is poor heat dissipation, ROCCS brings with it an aviation aluminium body that makes up about two thirds of the entire piece. This means the bulb should last a long time because of it's excellent system of removing and dissipating excess heat.
An added plus is that these bulbs are waterproof and shockproof, if there's heavy rain and water seeps through the bonnet, the water won't have an affect on the headlights. This pair of ROCCS are also shockproof, in a crash if they aren't smashed you can remove them and continue using them.
For these reasons I found ROCCS Canbus 3157 to be my recommendation for brightest 3157 headlight bulbs, It's not the most expensive option nor is it the cheapest, it's the perfect middle ground for brightest 3157 bulbs.
AUTOGINE 3157 4pcs 1000 Lumen led bulbs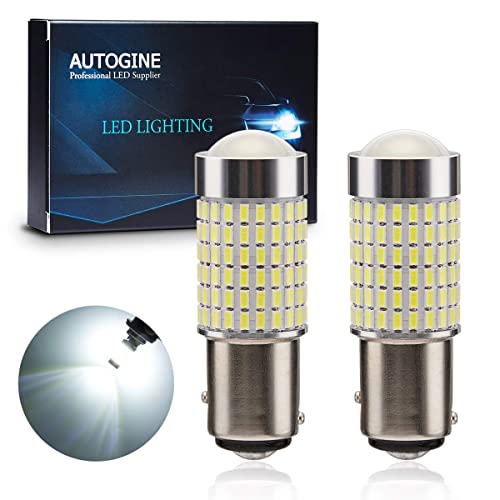 AUTOGINE 3157 1000 Lumen led bulbs
Xenon white
Will fit any car due to small size
Comes in three colours depending on use
Reasonable price

Varying brightness levels

Adaptable for light type in car

360 degree lighting angle

No blind spot

Very positive customer reviews

Trusted brand

Plug and play

Quality heat sink

life span up to 50,000 – 60,000 hours.

1 year warranty
Doesn't use a fan to dissipate heat
Rare complaints that the bulb wouldn't properly fit and require slight modifications
Bulb takes a second or two to reach full brightness when cold
Heatsink isn't necessary for tail or brake lights
No instructions
For a budget choice AUTOGiNE hands down provides the brightest 3157 headlight bulbs. I've taken a photo below of what their shine looks like when installed on my car. They offer a superior xenon bright light relative to their price range.
What surprised me the most was the life span for these budget bulbs, at 30,000 working hours, you are going to get bang for your buck. Like most 3157 bulbs, they're plug and play. This means there are no complicated installations and the only thing to check is that their sizing will fit in your car.
While their heatshield isn't as advanced as the ROCCS, it's still decent. It contains a full aluminum housing and while there is no fan, it will still last a considerable amount of time. For a budget bulb, something that's pretty amazing is that it's almost 300% brighter than it's halogen counterparts. I can't guarantee this claim, as I haven't tested them scientifically, but when shining it from my car they were a lot brighter than any halogen I've used.
AUTOGINE 3157 bulbs are ideal for anyone on a budget, a decent lifespan and great lumination, not to mention you can purchase it in yellow, white and red lumens.
Torch Beam Led 3157 led bulbs
Superior heat dissipation
No glare (you won't blind other drivers)
Extremely bright
Adaptable compatibility
4 piece set
Highly trusted brand
At least 50,000 hour lifespan
Compact design for such a powerful bulb
Awesome customer reviews
1200 lumens
10,000RPM turbo fan
High effective heat dissipation
Very defined beam pattern
Easy installation
Quiet fans
More expensive
Can't be installed with broken lock rings
No installation instructions
I've always found Torch Beam to provide some of the brightest and most durable headlight bulbs on the market, and for their 3157 versions they haven't held back. Out of the 3157 bulbs I tested, Torch Beam was a clear winner. Their bulbs are an icey white that illuminate large areas at an extremely long distance.
In the product description they're 400% stronger than OEM 3157 bulbs, and when installed in my car this was very obvious. They have improved visibility because of the 12,000 lumens installed in their new LED chips.
Something that many of the brightest bulbs on the market lack, is consideration for other drivers, you don't want to be blinding other people at night. Torch Beam has side stepped this problem by configuring their bulbs beam pattern, so there isn't any glare for incoming traffic.
I really enjoyed Torch Beams 3157 bulbs was the convenience they provide in that they are easy to install and require no automotive knowledge. They're adaptable bulbs and can fit in any part of your car, if it's either tail lights, headlights or blinkers.
Lastly Torch Bemas 3157 bulbs have a strong life span, this is because their cooling system is made of high grade parts like aviation aluminium but more important the turbo fan within the heatsink dissipates heat significantly more then bulbs without a fan.
Torch Beam 3157 bulbs possesses a myriad of different heat reduction features, causing it to have a whopping 50,000 hour lifespan at a minimum.
That wraps up the birghtest 3157 bulbs and hopefully what I've written has helped with a better buying decision. Remember that when buying bulbs heat disipating is especially important, something you should be looking out for is the types of heat shield used and if they're any fans included.