Here, we'll be breaking down the highest performing 9004 headlight bulbs with an emphasis on brightness.
Considering the features, performance improvements, and value for money each bulb offers, we used proven testing methods to rank the top 3 brightest 9004 headlight bulbs.
We feel confident in our strategy to find the best 9004 bulbs for your vehicle with a fair bit of technical know-how and years spent wrenching on cars.
Our testing gives weightage to every facet of the bulb so you have a good idea of its performance and of course brightness, before making your purchase decision
We found Car Work's 9004 LEDs had outstanding results, offering a great balance of performance, price, and durability.
Read on to find out more about the brightest 9004 headlight bulbs.
---
Car Works 9004 LED Headlight Bulbs
Overall Best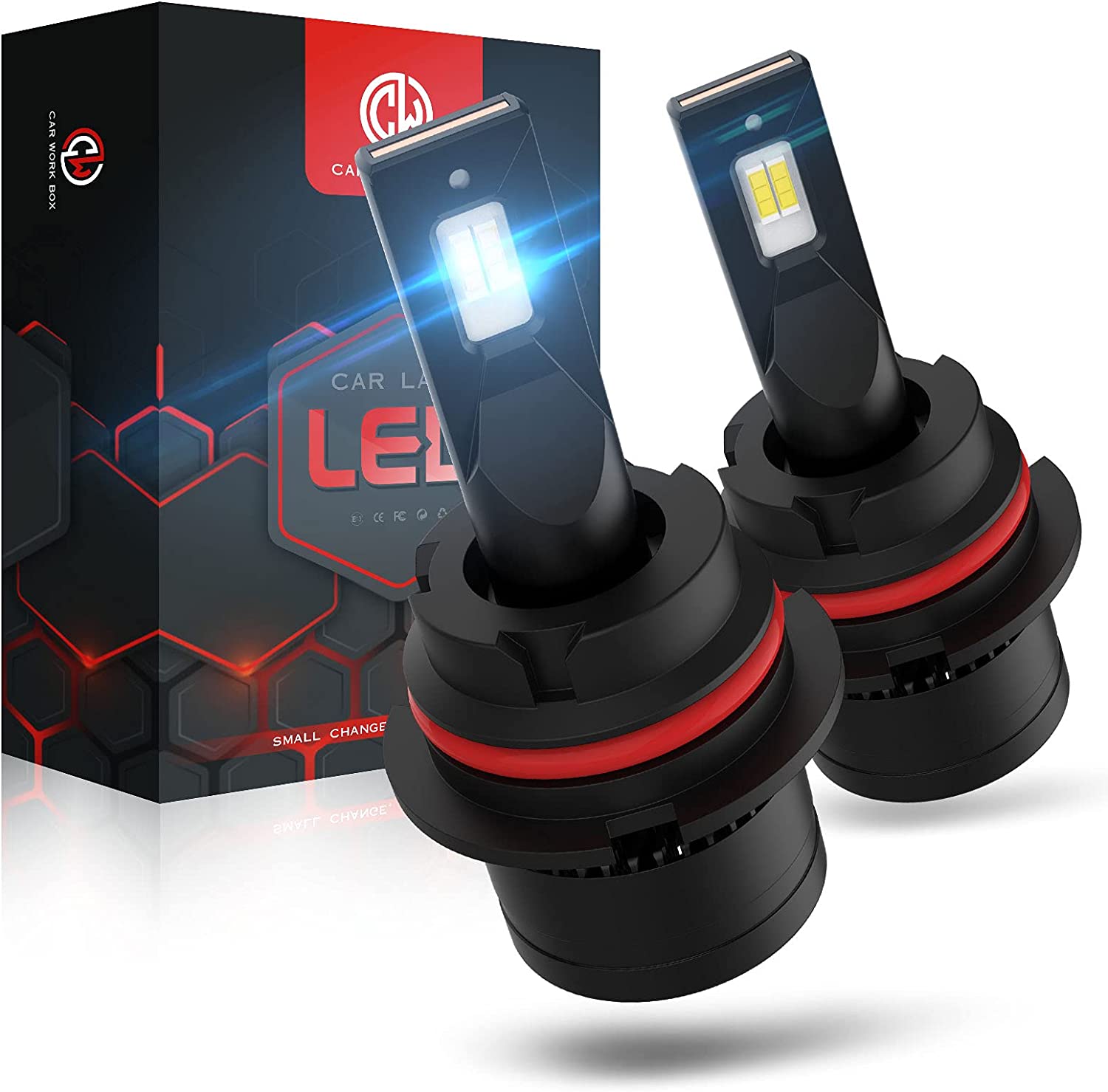 Car Work's epitomize 9004 bulbs, with brilliant brightness, a cool white color, and many valuable features, earning it the top spot on our list.
rightness is the name of the game, and these LEDs came to play. Rated for an eye watering 10,000 lumens per bulb, these CSP chip powered LEDs are some of the brightest we've tested. Furthermore, they pack 120W of power, enough to make them 3x brighter, with significantly longer throw and wider road coverage than benchmark halogen bulbs.
In our experience, visibility benefits greatly with this setup. More road is brought into view, with a crisp beam that provides better focus and uniform illumination to eliminate dark spots.
The 6500k color temperature makes for a cold white beam that delivers better reflectiveness and lots of style. In testing, road signs, pedestrians and wild animals were immediately noticeable and easier to avoid.
Moving on to the build quality, we have a heavy duty aluminum construction and a turbo cooling fan, enabling better heat management. An IP68 rating means the bulbs can hold up to just about anything Mother Nature throws their way.
Combined with the high quality construction, these features safeguard the bulbs from deterioration and give them a 30,000 hour lifespan.
Finally, this setup is one of the easiest and quickest to get up and running. It took us no longer than 20 minutes to install on our test vehicle, and we did not have to deal with any interference with the stereo thanks to integrated EMC chips.
Pros
Significantly brighter than stock
Better nighttime visibility
Aesthetically pleasing pure white color
Long throw
Wide field of view
Easy to install
Dust/water-proof
Efficient cooling
Long lasting
10,000 lumen brightness
6500k color temperature
IP68 weatherproof
30,000 hour lifespan
Cons
Some units come with 9004 moldings reversed
---
HELLA Twin Blister 9004 Performance Headlight Bulbs
Best Budget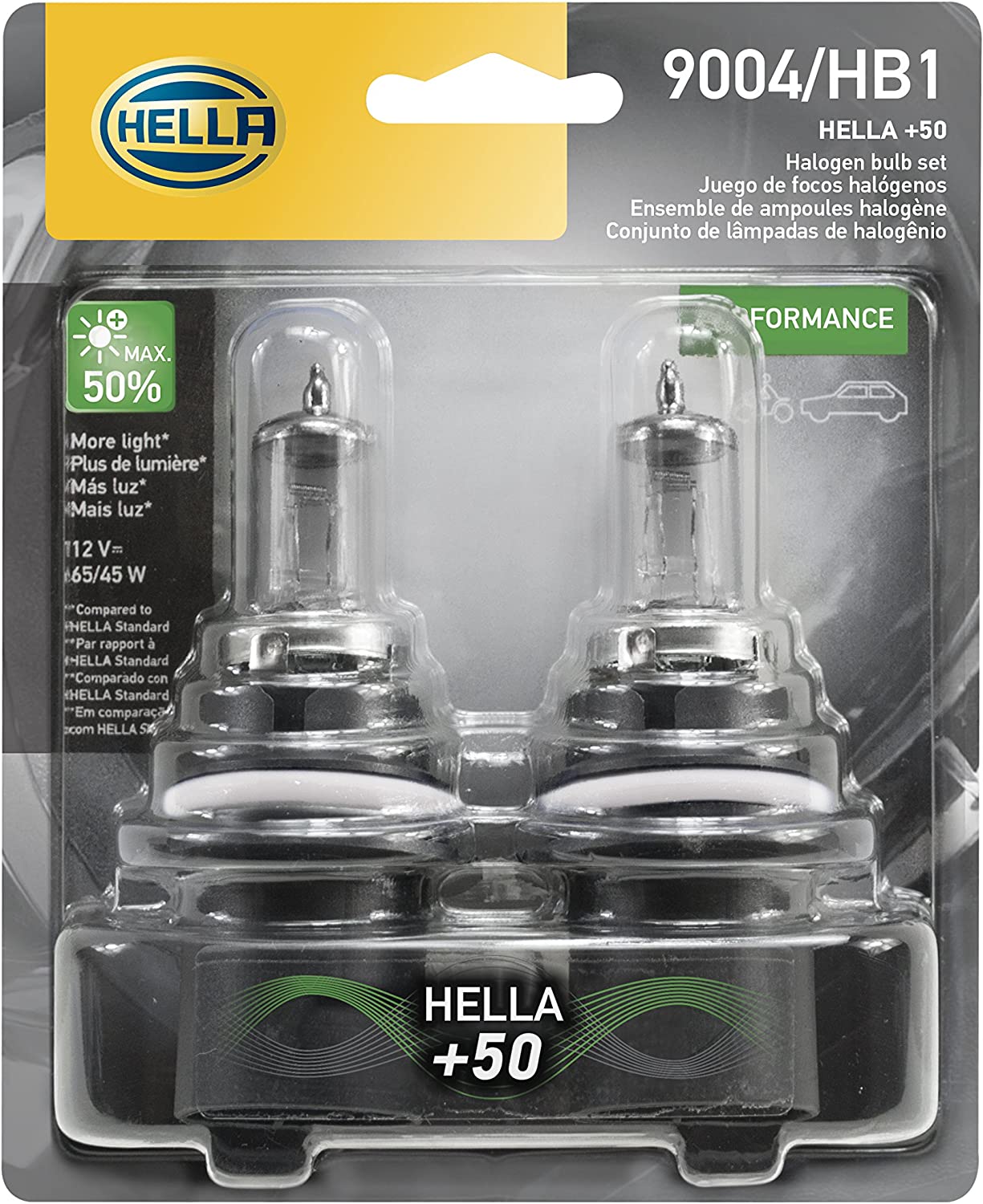 The Twin Blisters from Hella are a great set of bulbs that are brighter than stock, last a long time, preserve the classic amber look, and most importantly, don't cost an arm and a leg.
While not nearly as bright as the Car Work's bulbs, Hellas Twins hold their own with an intense beam of light that put our stock bulbs to shame.
Brighter and more powerful, these bulbs generated a longer throw, improving road visibility and a wider projection angle that brought more of the axes into view. The beam pattern is also more uniform and flicker free, helping the driver stay more aware of their surroundings.
People looking to improve brightness but preserve the amber look of their headlights will appreciate the Twin's 3200k color temperature, resulting in a more yellow-leaning beam of light.
A cooler white would have been better for clarity, but this warmer tone is perfectly adequate for everyday street use. And at this price, we really can't complain.
Installation is quick and easy. We were able to get these fully fitted in under 20 minutes. All instructions are included on the package, and an online video or two should suffice for installation on older or less common vehicles.
Another benefit of this setup is that it maintains the DOT light pattern and thus can be used on the street without any problems. Furthermore, this is a more responsible choice of bulb that does not hinder oncoming drivers by being too harsh or unnecessarily bright.
Pros
Brighter light than stock
Improved visibility
More road coverage
Preserves amber look
Silver coating on bulb conceals it inside headlight
Easy to install
Cheapest option
Powerful throw
Wide field of view
3200k color temperature
Maintains DOT approved light pattern
Cons
LED options are brighter (and more expensive)
Warmer color may not appeal to some
---
Firehawk 9004 LED Headlight Bulbs
BEST PREMIUM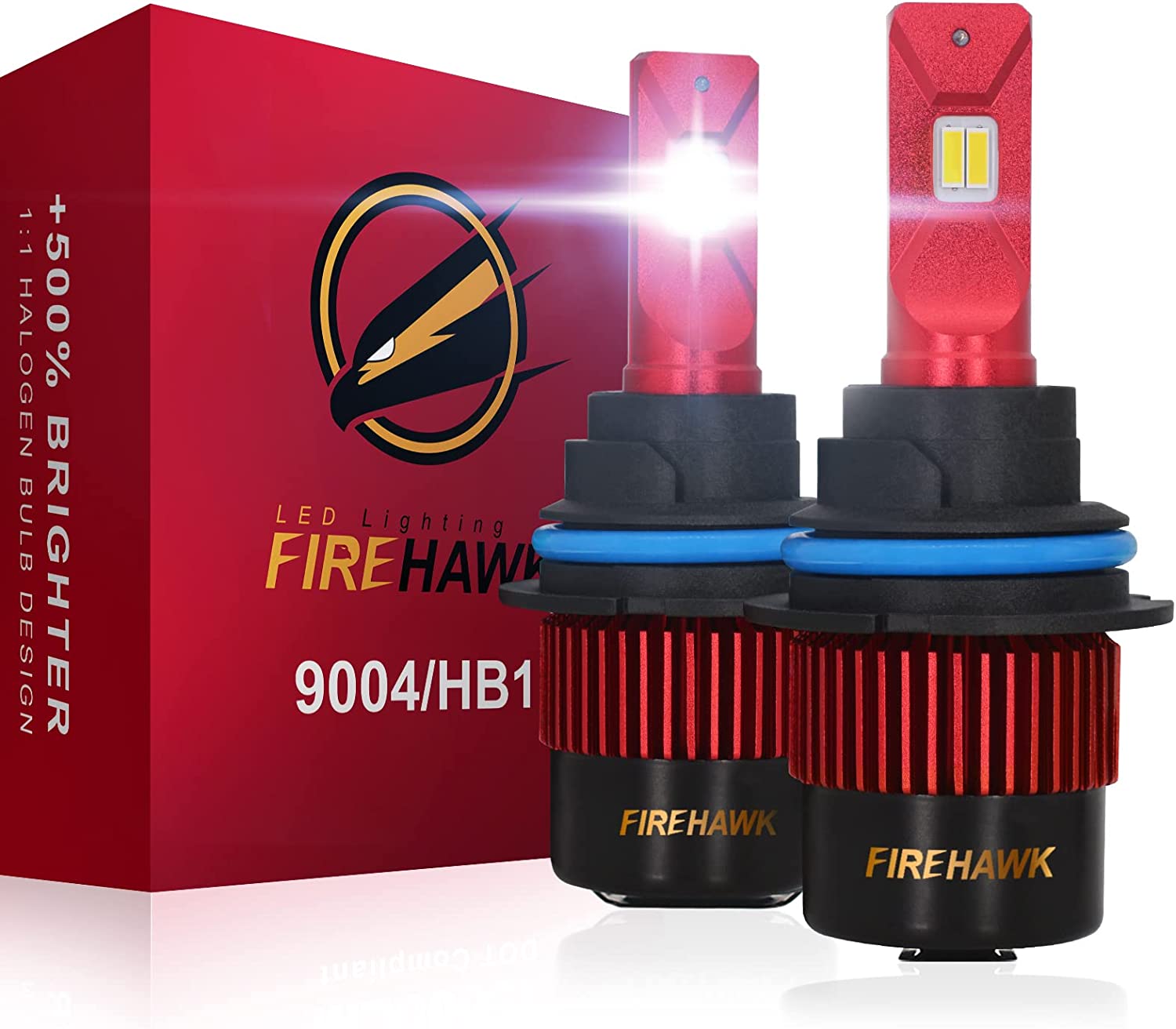 Firehawk's latest 9004 LEDs are another great option that is bright, cool, and built to last. These bulbs feature Japanese design and engineering, making them some of the most high performing and durable 9005 bulbs available.
The Firehawks earn their name with a staggering 15000 lumens of brightness that lightens the road with a wider field of view, more powerful throw, and a uniform beam pattern that eradicates dark spots.
These bulbs passed testing with flying colors, impressing us with improved visibility and solid beam generation.
The color temperature on the Firehawks is a cool 6000k, achieving a pure white look that is great for visibility and differentiating between various obstacles, road signs, pedestrians, and wild animals. Style points are also awarded for the excellent look these bulbss bring to the car.
But any bulb is only as good as its cooling. Firehawk sport a premium copper heat diffusion system alongside the aluminum shell, helping keep temperatures down and performance up.
A high speed fan helps with cooling while being silent and unnoticeable for general use. Such efficient cooling allows these bulbs to have a lifespan of over 50,000 hours, the highest we have seen for a 9004 bulb.
Lastly, these 9004 bulbs have an IP68 rating, fully adjustable mounting to suit your specific vehicle, anti-radio interference chips, and a built-in CANBUS driver. Such a complete feature list makes these the best premium 9004 bulbs.
Pros
One of the brightest options
Uniform beam pattern
Eliminates dark spots
Cool white color
Improved visibility
Fully adjustable
Efficient cooling
Long-lasting; up to 50,000 hours
No interference with stereo
5000 lumens brightness
6000k cool white color
Built-in CANBUS driver
IP68 rating
---