This article recommends the brightest 9007 LED headlight bulbs.
It seems like there's a new 9007 LED offering to choose from every day. And with so much variation, it can be hard to separate the wheat from the chaff.
That's why we tested the majority of available options to try and find the best and brightest…literally.
Topping our list of the brightest 9007 LED headlight bulbs is Auxito's upgraded 20,000LM dual LED bulbs. They offer powerful light output, durability, and the longevity you expect from LEDs.
We've been testing and reviewing headlight bulbs for over a decade. So if you need help choosing the right type of bulbs for your use case, you came to the right place.
Keep reading for more information on the brightest 9007 LED headlight bulbs.
AUXITO 9007 LED Headlight Bulbs
OVERALL BEST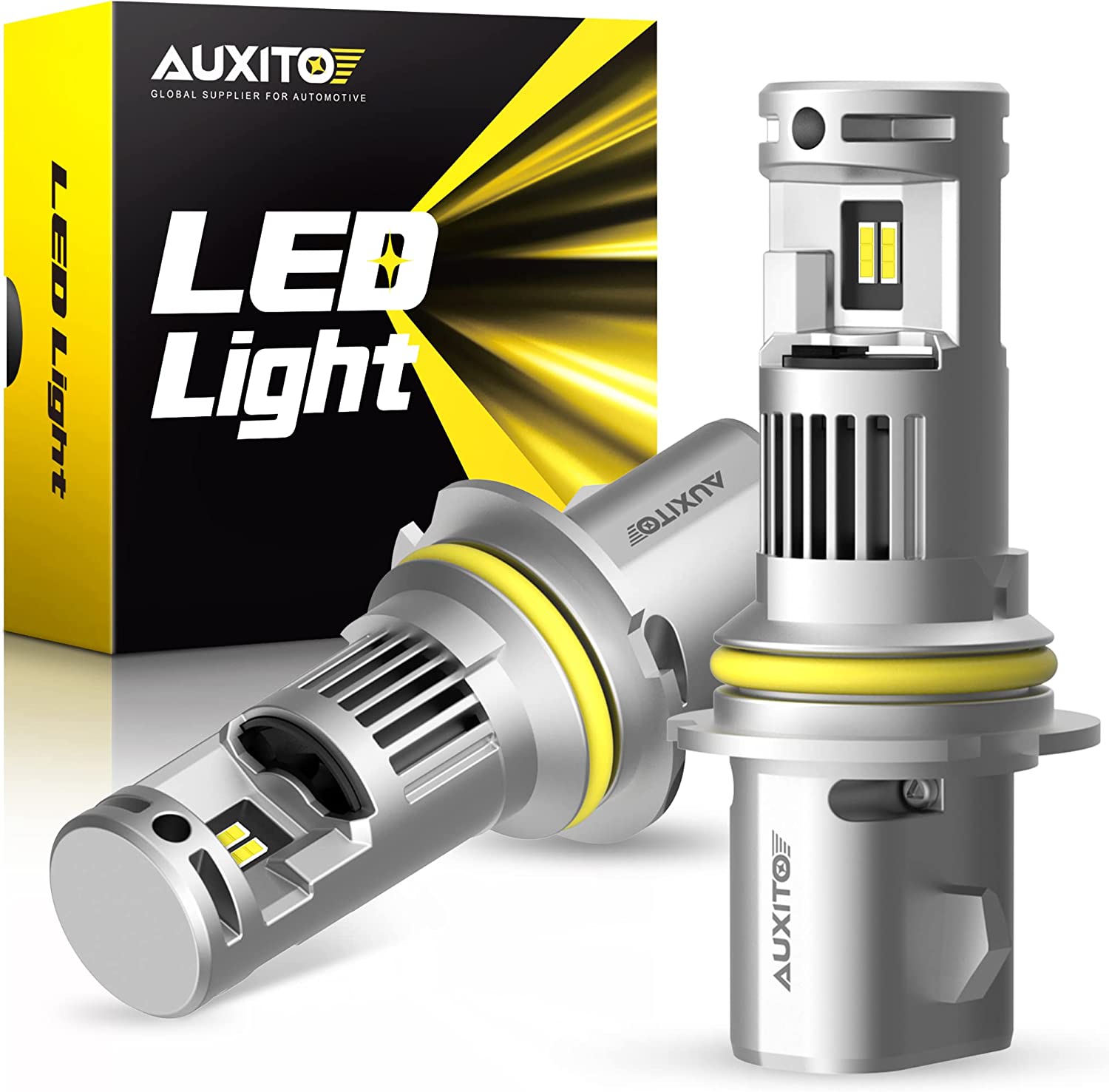 Auxito's 9007 LEDs tick pretty much all the boxes of an ultra-bright LED headlight bulb.
Auxito used its latest 12-piece 7035 LED chipset for this bulb. As such, you get a great balance of performance and efficiency. In fact, the bulbs generate around 20,000 lumens of brightness.
That's nearly 600% more light than stock halogens and double that of most LEDs.
They produce a 1:1 beam pattern with stock halogens for an ultra-focused light. An 0.039-inch ultra-thin base board concentrates light with a clear cutoff so as not blind others.
When you fire them up, it feels like you can see every speck of dust on the road.
Besides being brighter, the beam also reached further down your path, so you can see more of the road. The wider angle of projection brought more of the roadside into view as well.
So, you don't have to worry about any pedestrians or wild animals coming out into your path unexpectedly. This gave me more reaction time in 360°s.
These bulbs have a white color temperature of 6000K. The beam sports a pure white look for max visual clarity and detail. It also doesn't tire out your eyes on longer drives.
However, a pure white beam tends to wash out colors. It didn't have the wakefulness factor of blues for very late-night drives.
Still, some prefer a snowy white beam's clarity. It also has a unique aesthetic, giving your car a more modern and sleek front end.
There are no qualms about its build quality, however. The body consists of high-grade aviation aluminum. This offers extreme heat dissipation and a robust frame.
These bulbs also come with a 12,000 RPM cooling fan. It works well, though it does tend to be a bit noisier than what we're used to with fans in other bulbs.
The copper baseboard helps by letting heat escape away from the LED chips. This triple heat management approach is why the Auxito can last up to 50,000 hours.
It also showed its efficiency in our lux test. Despite a starting lux of 1,600, it had 83% light retention after 27 minutes.
It also carries an IP67 rating. It's fully dustproof and can be submersed for up to 30 minutes.
All this reduces the risk of damage during installation or daily wear and tear. You can expect solid performance, even under demanding use.
At 50 watts per bulb, Auxito is fairly efficient for a high-power LED.
An integrated IC and high wattage make it similar to stock bulbs and compatible with most cars. Installation is plug-and-play, although there is an external plug to connect, too.
These bulbs are also compatible with 99% of vehicles thanks to being CANbus-ready.
These bulbs did cause a bit of distortion with our test vehicle's stereo/radio systems. This was easily fixed by installing an additional decoder. But, most won't face this issue.
Pros
Latest 7035 LED chips
20,000 lumens brightness
Beam stretches further down the road
Wider field of view
6000K color profile
Improved visibility
Noticeably easier to differentiate between obstacles
High quality aviation-grade aluminum body
High speed, 12,000 RPM cooling fan
Triple heat dissipation technology
CANbus-ready
Last around 50,000 hours
Ultra-focused beam with 1:1 halogen pattern
Cons
Fan tends to be a bit louder than others
Interference with stereo and radios on some vehicles
---
FAHREN 9007 LED Headlight Bulbs
BEST BUDGET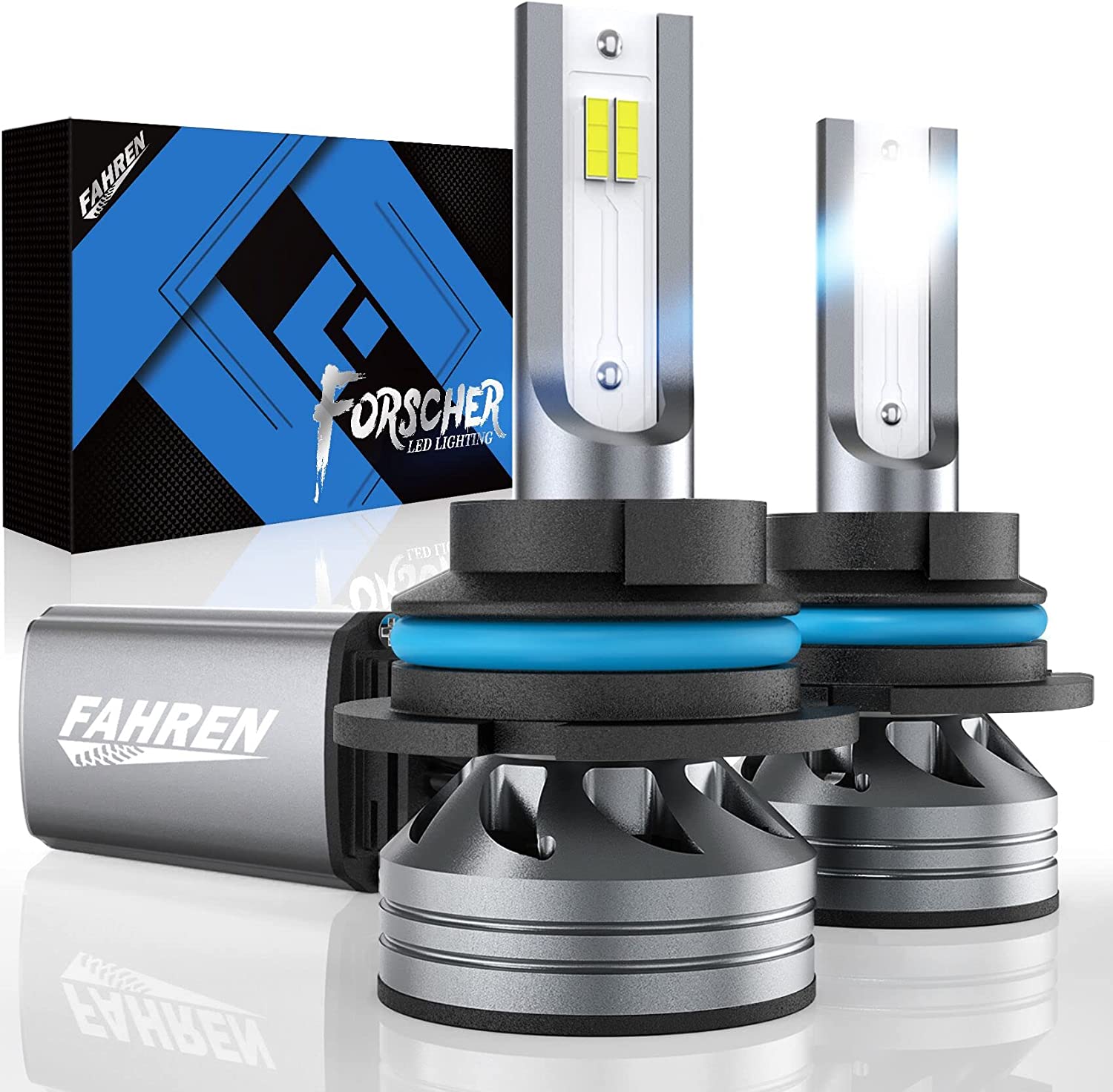 At 14,000 lumens of brightness, Fahren's bulbs are somewhat less powerful than my top pick. Still, you'll feel a strong boost in nighttime comfort and safety compared to stock.
With a 300% increase in power, these bulbs double your viewing distance. It literally felt like I had double the time to react to obstacles on the road.
It punched above its weight with regards to lux, scoring 1,560 lux in our test. But, it stayed for over 27 minutes more than the Auxito. So, over longer drives, their brightness will be similar.
These bulbs have a cooler color profile of 6,500 kelvins. This isn't too noticeable at first but has some long-term benefits. Some blues help with alertness and wakefulness. We also preferred the aesthetics of the bluish tones.
However, it's still close enough to pure white that you don't lose any of the clarity, particularly at night.
This beam makes it a lot easier to spot a wide range of obstacles on the road. Road signs, potholes, or bumps in the road jump out at you.
The wider angle of projection also gives a more expansive view of your path ahead. It was easy to react to merging vehicles, crossing wildlife, and pedestrians.
They may be budget-friendly, but that doesn't mean they are not well-calibrated. The beam is free of dark spots and blurriness, for a relaxed nighttime driving experience.
Fahren also gave durability a lot of consideration when designing these bulbs. It has a high-quality build made of aviation-grade aluminum. It's unlikely you'll damage them during installation, and it helps with heat management.
A 12,000 RPM cooling fan and hollow carved heat sink combo also keep temperatures manageable. So, we never dealt with overheating or reduced performance due to heat-related issues.
The bulbs are also fully IP68-rated. They are as dust and waterproof as can be. I wouldn't hesitate to use them in inclement weather or heavy off-roading.
Like all their products, Fahren provides a very thorough manual. Plus, all the tools you need for installation.
Speaking of, the process was a breeze and took me less than ten minutes. The only tricky part is finding a spot to house the external CANbus driver. But, since the bulb itself was compact (thanks to a 0.6-inch heat sink), it was easy to fit.
An intelligent IC driver is built-in. This prevents distortion and interference with your car's onboard systems.
There are some slight niggles, though. For one, the high-performance design of these bulbs leads to higher power consumption. Some vehicles may also need extra CANbus drivers to avoid flickering or error codes.
Rated to last for over 50,000 hours, you shouldn't have to worry about replacements soon.
All-in-all, the Firehawk is an amazing budget option if you don't need to max out light output.
Pros
14,000 lumens
6500K color profile
Wider angle of projection
Uniform beam pattern
Adjustable ring
Aviation grade aluminum
12,000 RPM turbo fan
Compatc, 0.6-inch Hollow carved heat sink
IP68 water and dust proof rating
50,000 hour lifespan
Intelligent IC driver
Less prone to causing issues with your car's onboard systems
CANbus-driver included
Cons
Power consumption is a bit higher than other bulbs
---
Firehawk 9007 LED Headlight Bulbs
BEST PREMIUM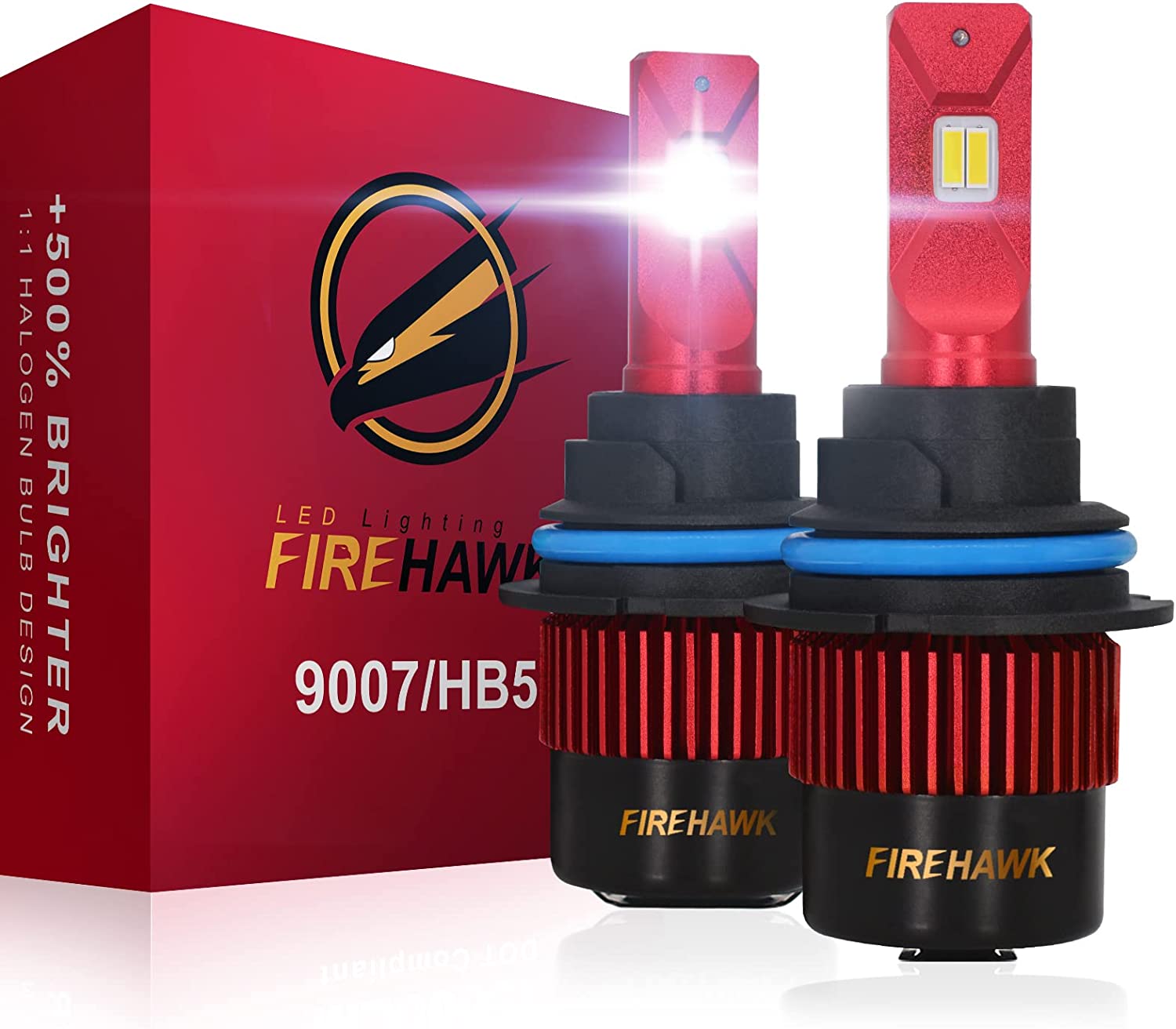 Firehawk's bulbs have always performed well in my tests, and their 9007s are no different.
These 9007 LED headlight bulbs put performance above all else. They generate an eye-watering 20,000 lumens of brightness, rivaling Auxito's performance.
One Firehawk is equal to 100 stock halogens. As a pair, they offer +500% brightness compared to the most powerful halogens.
Plus, it features a 1:1 halogen beam pattern that won't interfere with other drivers. At the same time, the beam stretches further down the road and illuminates more of the roadside.
So, you can react sooner, and spot (and avoid) any hazards that are outside your direct line of sight. With 250% increased nighttime visibility, you'll have 8+ seconds more response time.
With a 360°Adjustable Beam, you can get the best beam pattern for your vehicle. This is handy as different vehicles may affect the beam pattern differently.
Not that the Firehawks need much tinkering. It has a super-focused calibration and has been fitted with anti-glare technology.
During testing, we didn't notice any significant dark spots or blurriness. And you get a crystal clear view of the road ahead when driving.
We did find a slightly lower lux reading than either the Auxito or Fahren. But, it was still high (1,330 lux projector, 2,200 reflectors) with 89% retention after 27 minutes.
Color temperature is only rated at 6000K. So, it brings the same pure white and clarity to your vision for nighttime driving as the others. It has superb reflectivity, making it easier to notice and read signs, especially at night.
The Firehawks have a surprisingly low wattage for a bulb this powerful. At 31 watts per bulb (62 watts total), it's 38% more efficient at the same luminosity. This helps with heat management and the bulb's longevity.
The cooling solution used here leaves little to be desired. It features a 12,000 RPM fan and a thickened copper body that helps dissipate heat quicker.
What is more impressive is the 40-piece aluminum heat sink. It's intricate, but the bulb is still very compact.
That being said, we never found any overheating issues. The bulb's high efficiency and smart technologies seem to have a positive effect. The cooling solution seems to be working well.
Overall, the build quality is awesome, with a silent fan and solid feel.
These bulbs are also rated at IP68, making them totally water and dust proof. I once had to drive after heavy rains and my headlights were submersed at one point. But, these bulbs didn't skip a beat.
So you won't experience any issues if you decide to go off-roading or drive in harsher weather.
There are some complaints about these bulbs breaking down early on. But these are few and far between. The power-efficient design and durable build means most will get over 50,000 hours of usage.
And lastly, these bulbs have a feature that we don't see nearly as often as we'd like in other bulbs: a built-in CANbus driver. This prevents stereo/radio interference and eliminates error codes in the car interior.
Without having to worry about polarity, installation is quick plug-and-play. Just be mindful that there is some external wiring.
Pros
20,000 lumens
6000K color temperature
Reflects off surfaces much more readily
Notice obstacles quicker
Wider angle of projection
Does not exhibit any dark spots or blurriness
High performance cooling solution
12,000 RPM fan
Aviation grade aluminum body
Rated IP68 water and dust resistant
Efficient power consumption
50,000 hour lifespan
Built-in CANbus driver
Distortion or interference with the radio/stereo
Cons
Competing bulbs offer even cooler color profile
---