This article recommends the brightest 9007 LED headlight bulbs.
It seems like there's a new 9007 LED offering to choose from every day. And with so much variation, it can be hard to separate the wheat from the chaff.
That's why we tested the majority of available options to try and find the best and brightest…literally.
Topping our list of the brightest 9007 LED headlight bulbs is Auxito's upgraded 20,000LM dual LED bulbs. They offer powerful light output, durability, and the longevity you expect from LEDs.
We've been testing and reviewing headlight bulbs for over a decade. So if you need help choosing the right type of bulbs for your use case, you came to the right place.
Keep reading for more information on the brightest 9007 LED headlight bulbs.
---
AUXITO 9007 LED Headlight Bulbs
OVERALL BEST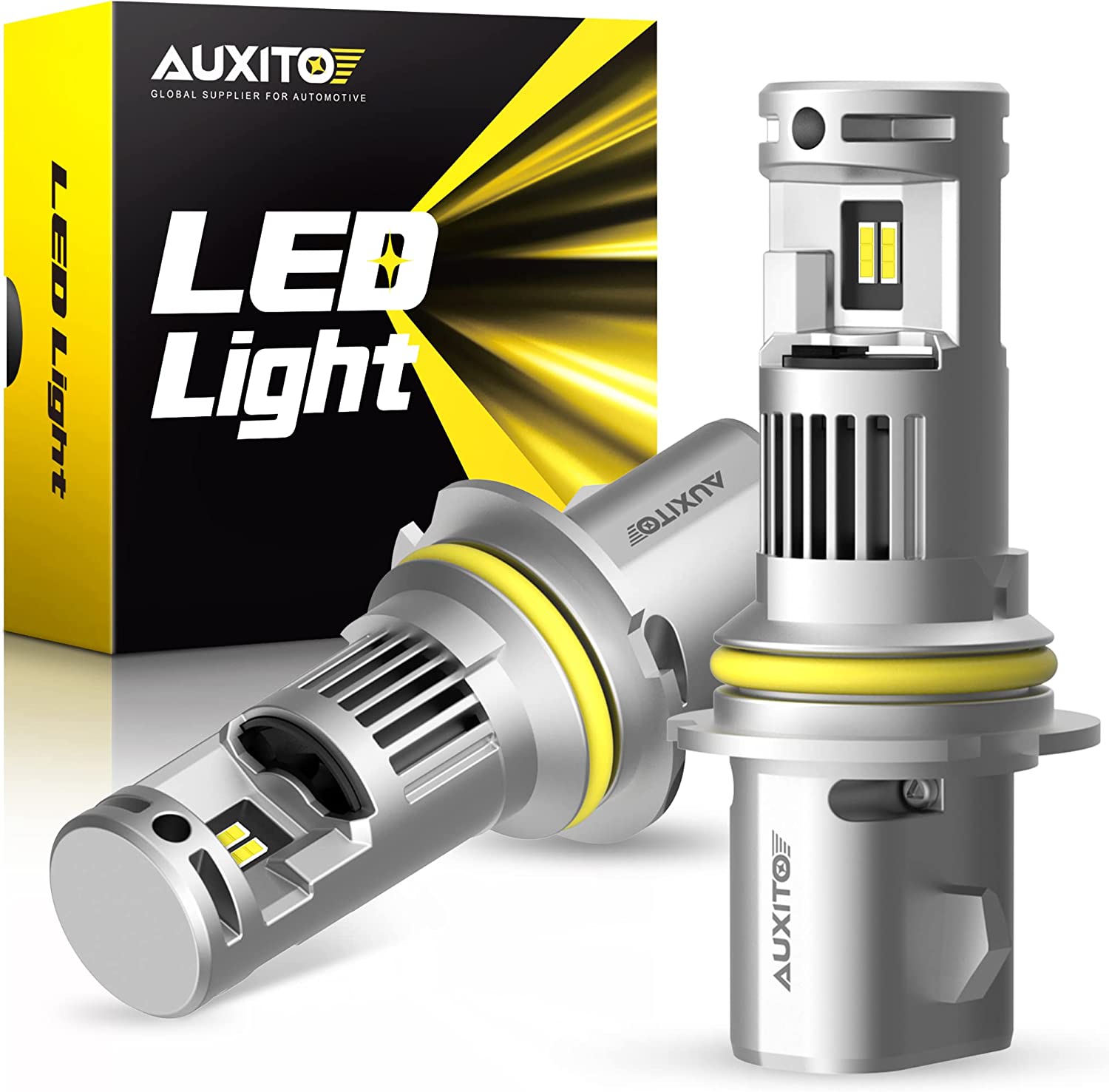 The moment I switched on Auxito's 9007 LEDs, I knew they were not your average LED headlight bulbs.
Auxito utilized its latest 12-piece 7035 LED chipset for this bulb, striking an excellent balance between performance and efficiency. These bulbs create a staggering brightness of about 20,000 lumens.
Imagine getting almost 600% more light than standard halogens and double that of the average LEDs!
They deliver a 1:1 beam pattern, identical to stock halogens, but with ultra-focused light. Their ultra-thin base board, just 0.039 inches, focuses the light brilliantly with a clear cutoff so as not to blind oncoming drivers.
Switching these bad boys on, I felt as if I could see every tiny dust particle on the road.
Apart from being intensely bright, the beam extended far down the road, offering more visibility. Plus, the wider projection angle let me see more of the roadside.
This ensured that unexpected pedestrians or wildlife wouldn't be a surprise, giving me more time to react and creating a full 360° safety net.
These bulbs emit a 6000K white color temperature. This pure white beam offers maximum visual clarity and detail without straining your eyes on extended drives.
On the downside, a pure white beam tends to bleach out colors, missing the alertness factor that blue beams offer during late-night drives.
Yet, some might prefer the crystal-clear snowy white beam for its unique aesthetic appeal, giving your car a modern and sleek look.
As for the build quality, no complaints there. The bulb is made from high-grade aviation aluminum, ensuring superior heat dissipation and a robust frame.
These bulbs also come with a 12,000 RPM cooling fan. While it effectively keeps the bulbs cool, it is a bit noisier compared to fans in other bulbs I've used.
A copper baseboard further aids heat dissipation by driving heat away from the LED chips. This triple-pronged approach to heat management explains why Auxito claims a lifetime of up to 50,000 hours for these bulbs.
Even our lux test confirmed their efficiency. Starting with a lux of 1,600, they retained 83% of their light output after running for 27 minutes.
With an IP67 rating, they are entirely dustproof and can withstand being submerged in water for up to 30 minutes.
All these features reduce the risk of damage during installation or daily wear and tear, promising a solid performance even under heavy-duty use.
With 50 watts per bulb, Auxito manages to be quite efficient for a high-powered LED.
Its integrated IC and high wattage design ensure it's similar to stock bulbs, compatible with most vehicles. The installation is a breeze with a plug-and-play design, although an external plug needs to be connected as well.
Thanks to being CANbus-ready, these bulbs are compatible with 99% of vehicles.
During testing, we noticed a bit of distortion with the vehicle's stereo/radio systems caused by these bulbs, but an additional decoder installation quickly resolved the issue. However, it's worth noting that most users won't face this problem.
Pros
Latest 7035 LED chips
20,000 lumens brightness
Beam stretches further down the road
Wider field of view
6000K color profile
Improved visibility
Noticeably easier to differentiate between obstacles
High quality aviation-grade aluminum body
High speed, 12,000 RPM cooling fan
Triple heat dissipation technology
CANbus-ready
Last around 50,000 hours
Ultra-focused beam with 1:1 halogen pattern
Cons
Fan tends to be a bit louder than others
Interference with stereo and radios on some vehicles
---
FAHREN 9007 LED Headlight Bulbs
BEST BUDGET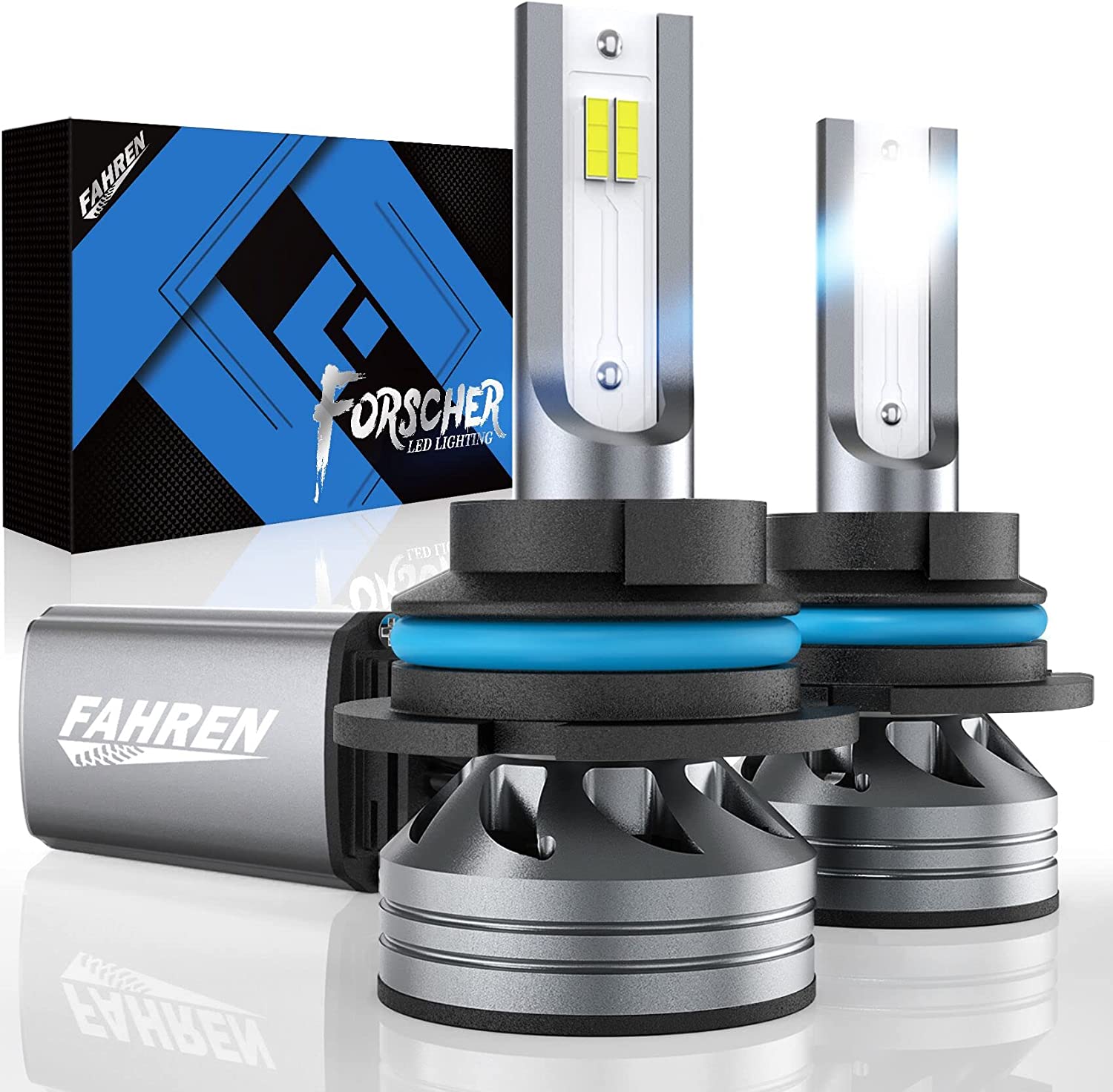 With a brightness of 14,000 lumens, Fahren's bulbs might not rival my top choice, but trust me, you'll notice a significant difference in nighttime visibility compared to your regular stock bulbs.
The moment I switched these on, the 300% power boost was instantly noticeable, effectively doubling my field of vision. I felt like I'd been given twice as much time to respond to any potential hazards on the road.
Despite being an underdog, it put on quite a show during our lux test, clocking in at 1,560 lux. Impressively, they retained their brightness for over 27 minutes longer than the Auxito. So, on extended drives, their brightness levels hold up quite well.
These bulbs emit a cooler light with a color profile of 6,500 kelvins. It's not immediately noticeable but brings some subtle perks. The hint of blue helps keep you alert and awake on long drives. Plus, I must admit, I found the slightly bluish hue more appealing.
Despite the cooler temperature, the light is close enough to pure white to ensure you don't lose any clarity, especially during nighttime driving.
This beam quality lets you easily spot a myriad of obstacles on the road, whether it's road signs, potholes, or sudden bumps. They just pop right out at you.
Thanks to the wider angle of projection, I had a broader view of the path ahead, making it easier to respond to merging vehicles, wandering wildlife, or pedestrians.
Although they're budget-friendly, Fahren didn't cut any corners in calibrating these bulbs. The beam is devoid of any dark spots or blurriness, ensuring a more relaxed and safer nighttime driving experience.
Fahren has also taken durability seriously in these bulbs. Their high-quality build, using aviation-grade aluminum, not only withstands potential installation damages but also aids heat management.
Combined with a 12,000 RPM cooling fan and a hollow carved heat sink, overheating or performance reduction due to heat issues were nowhere on the radar during my testing.
Fully rated as IP68, these bulbs are as dustproof and waterproof as they come. I would have no second thoughts about using them in adverse weather conditions or even heavy off-roading.
True to their brand, Fahren provides a comprehensive manual and all necessary tools for installation.
And speaking of installation, I found it a breeze, taking less than ten minutes. The only slight hiccup was finding an appropriate spot for the external CANbus driver. But thanks to the compact bulb design, aided by a 0.6-inch heat sink, fitting it in was no issue.
An intelligent IC driver is built-in, effectively eliminating any potential distortion or interference with your car's onboard systems.
However, there are a couple of minor snags. The high-performance design of these bulbs leads to higher power consumption. Additionally, some vehicles might require extra CANbus drivers to prevent flickering or error codes.
With a rated lifespan of over 50,000 hours, worrying about frequent replacements won't be on your agenda.
All in all, the Firehawk is a stellar budget-friendly option, especially if you're not seeking the maximum light output.
Pros
14,000 lumens
6500K color profile
Wider angle of projection
Uniform beam pattern
Adjustable ring
Aviation grade aluminum
12,000 RPM turbo fan
Compatc, 0.6-inch Hollow carved heat sink
IP68 water and dust proof rating
50,000 hour lifespan
Intelligent IC driver
Less prone to causing issues with your car's onboard systems
CANbus-driver included
Cons
Power consumption is a bit higher than other bulbs
---
Firehawk 9007 LED Headlight Bulbs
BEST PREMIUM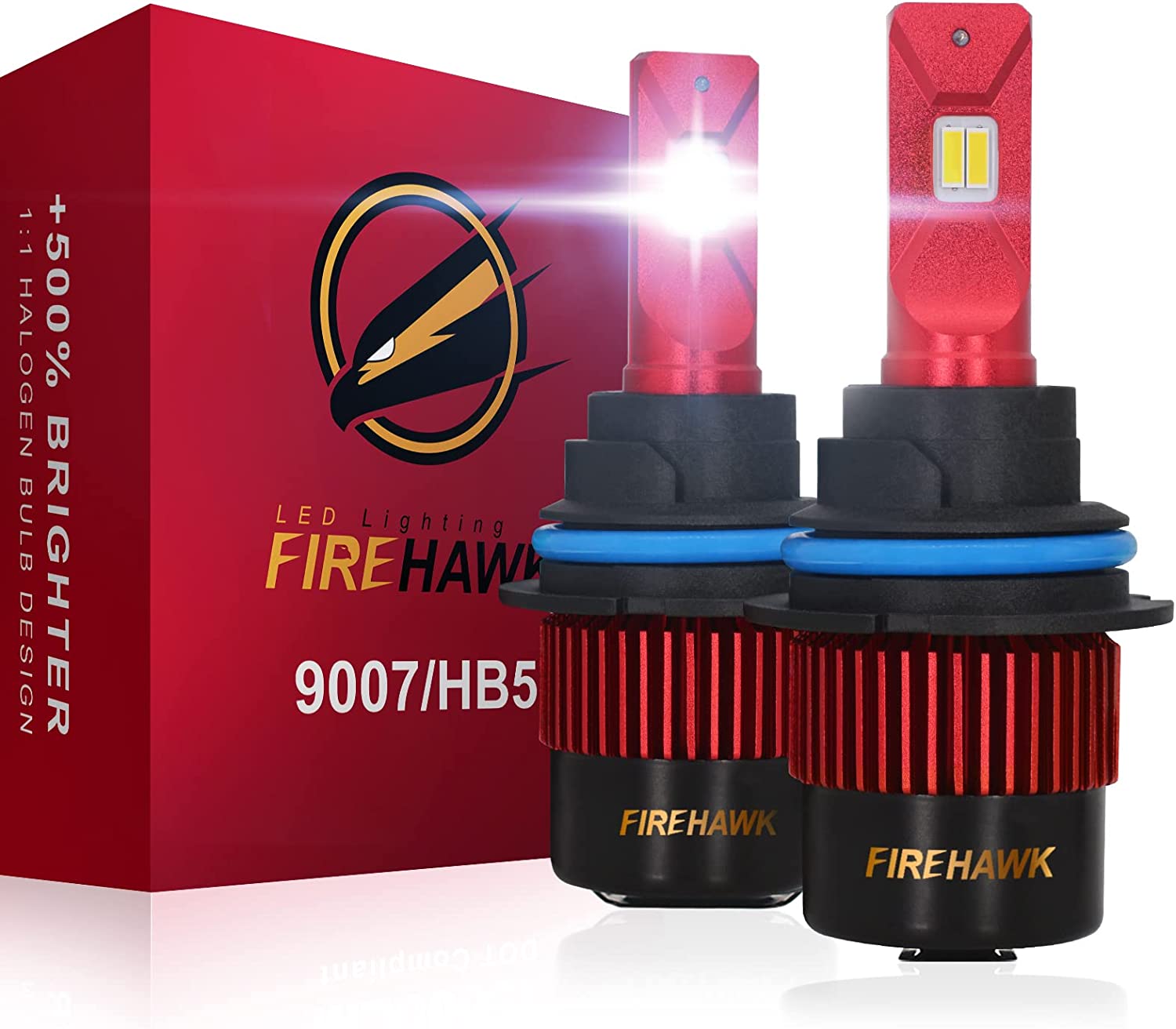 Firehawk's bulbs have consistently demonstrated solid performance in my testing sessions, and their 9007s don't break the trend.
The spotlight is truly on performance with these 9007 LED headlight bulbs. They blaze with a stunning 20,000 lumens of brightness, putting them in the same league as the Auxitos.
One Firehawk bulb alone is like having a hundred stock halogens at your disposal. Together, they offer a staggering 500% brightness boost compared to even the most powerful halogens.
And the benefits don't stop there. The bulbs feature a 1:1 halogen beam pattern, ensuring that you're not blinding oncoming drivers. Yet, the beam manages to reach further down the road, enhancing roadside illumination.
With these bulbs, I felt more confident reacting sooner to obstacles and spotting potential hazards that were outside my immediate field of view. Thanks to a 250% increase in nighttime visibility, I felt I had an extra 8 seconds or so to respond.
The Firehawks come with a 360°Adjustable Beam, which lets me tailor the beam pattern to my vehicle. This is particularly useful as different vehicles can impact the beam pattern in varied ways.
Yet, in my experience, the Firehawks required little to no adjustment. The bulbs are superbly focused and equipped with anti-glare technology.
During my test runs, I didn't encounter any significant dark spots or blurriness. The result? A crystal-clear view of the road ahead when driving.
I did note a marginally lower lux reading than either the Auxito or Fahren. However, with a still impressive 1,330 lux for projectors and 2,200 for reflectors, and 89% retention after 27 minutes, it held its own quite well.
The color temperature sits at a neat 6000K, delivering the same pure white light and clarity as the competition. I was particularly impressed by its reflectivity, which made reading road signs at night an easier task.
Despite their immense power, the Firehawks have a surprisingly low wattage. Clocking in at 31 watts per bulb (or 62 watts in total), they offer 38% more efficiency at the same luminosity, aiding heat management and bulb longevity.
The cooling solution is commendable, featuring a 12,000 RPM fan and a thickened copper body for rapid heat dissipation.
Even more impressive is the 40-piece aluminum heat sink. Despite its complex design, the bulb remains remarkably compact.
I didn't encounter any overheating issues during my trials. The bulb's high efficiency and smart technologies clearly seem to do their job well, with the cooling solution performing admirably.
The overall build quality is solid, boasting a quiet fan and a sturdy feel.
These bulbs also carry an IP68 rating, assuring total protection against water and dust. I can personally attest to this; after a downpour, my headlights were momentarily submerged, but the Firehawks didn't falter.
Whether you're off-roading or tackling harsh weather, these bulbs won't let you down.
Some isolated complaints about these bulbs failing prematurely exist, but they're few and far between. Thanks to their power-efficient design and durable build, most users can expect to get over 50,000 hours of usage.
Finally, a feature that sets these bulbs apart is their built-in CANbus driver, which is not a common sight in other bulbs. This helps to prevent interference with your car's stereo/radio system and eliminates error codes in the car interior.
Installation is a straightforward plug-and-play process that doesn't require worrying about polarity. Just bear in mind that there is some external wiring to handle.
Pros
20,000 lumens
6000K color temperature
Reflects off surfaces much more readily
Notice obstacles quicker
Wider angle of projection
Does not exhibit any dark spots or blurriness
High performance cooling solution
12,000 RPM fan
Aviation grade aluminum body
Rated IP68 water and dust resistant
Efficient power consumption
50,000 hour lifespan
Built-in CANbus driver
Distortion or interference with the radio/stereo
Cons
Competing bulbs offer even cooler color profile
---