After many hours of searching and reviewing the product lines, we came up with a shortlist of what we believe are the brightest H11 bulbs on the market.
SYLVANIA H11 SilverStar is the best and brightest h11 bulb in our opinion. These bulbs will give you a brighter and whiter headlight output than any standard halogen bulb.
But if you're looking for LED headlights, then HIKARI Acme-Xenon is our top-tier recommendation.
We'll cover our favorite picks and provide a run-down of what each one has to offer.
Keep reading to find out more.
IMPORTANT! – Make sure you have the correct bulb sizing and fitment so you don't waste your money, use this handy tool to double check.
---
Pros
Produces 1300 lumen of bright white light
Affordable H11 bulb
high-quality materials
Specially engineered filament
Less glare due to the cobalt blue nano-coating technology 
Wide beam angle  
Easy to install  
Amazing illumination
Legal for on-road usage
Halogen
Cool White colour
Compatible with all vehicles
Lightweight
Front headlights
Cons
Bright white light can be too intense for some people
---
Pros
Affordable price
Provides excellent lighting for the driver
Blue cap cuts down on glare
Fully street-legal
Easy to install 
1 year warranty
7000 lumens per bulb
6000K optics 
Xenon white
Non-polarity
Fanless
Smart cooling driver
Cons
Not quite as powerful or long-lasting as some other alternatives
---
Pros
Brighter than regular halogen bulbs
Cool White color reduces glare
Aluminum cooling heat sinks
More powerful beam pattern and wide coverage 
Advanced chip technology
Easy to install 
High-quality construction
LED lifespan of up to 50.000 hours
Quiet fan
Front headlights
LED
600K cool white
Broad beam
Street legal
---
The SYLVANIA H11 SilverStar is the best and brightest h11 bulb. It works like any other halogen, but it delivers a whiter light that's brighter and wider.
Packaging
The specially engineered filament emits a whiter, brighter light that generates more lumens while also minimizing heat. The unique halogen gas mixture and high-quality glass bulbs ensure a long-lasting product.
The SilverStar bulbs also include a cobalt blue nano-coating technology that enhances beam penetration and night vision clarity by producing a whiter light with less glare.
Brightness
These bulbs produce a good amount of lights, rated 1300 lumen, and are also legal for use on the road.The SYLVANIA H11 SilverStar is easy to install. The design of this bulb allows for a direct replacement, so it's compatible with almost all cars but always make sure to check the compatibility first.
The Bulbs
Since it's a halogen bulb, you can expect to get about 1,000 hours of usage out of this h11 bulb. That may sound like a lot, but consider changing it after two years so there is no need to worry about replacing it every season.
---
Phillips H11 bulbs are budget-friendly and great for anyone who needs to upgrade their stock headlight bulbs but doesn't want to spend much money on them. Despite their low price tag, these bulbs work just as well as any other headlight on the market and provide loads of bright white light perfect for increasing visibility at night.
Packaging
The blue cap over the bulb helps create a unique look, similar to what you'd get with an HID system. The blue light is not too overwhelming to glass and helps soften the white light's brightness so that you can expect crystal-clear visibility without any glare whatsoever.
It's fully street-legal, too, so you don't have to worry about getting pulled over for a ticket; these bulbs are designed to meet all of the legal requirements.
Brightness
These bulbs are also relatively easy to install. It's almost entirely plug-and-play, and if for some reason it doesn't work right away, Philips provides a one year warranty on their products, so they'll be sure to take care of it for you.
The Bulbs
These Philips bulbs provide enough brightness and clarity, but they don't shine quite as brightly or last quite long as more expensive options. Most people experiencing these issues won't need to replace their bulbs for approximately a year.
They're great if you want a budget-friendly choice that still delivers high quality and will last for a while.
---
These headlights are a fantastic choice for people who want to upgrade their halogen lights and gain a bit more clarity, brightness, and style. It's also ideal if you're looking for an energy-efficient light that will last long.
Packaging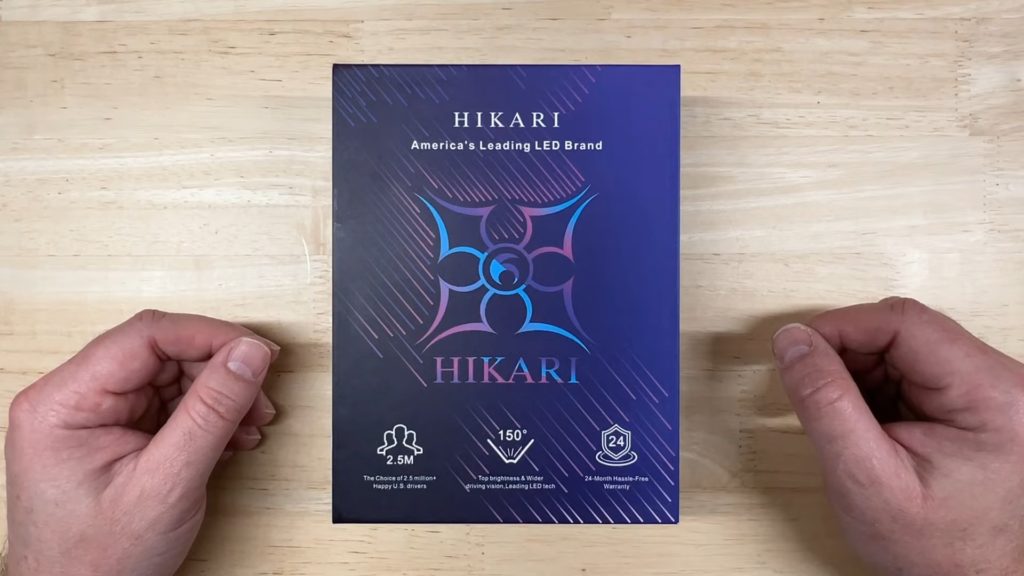 HIKARI Acme-X has a 6000K cool white, which is identical to Xenon light bulbs. It has that crisp feeling and is much sharper than H11 Halogen Light Bulbs. Its excellent white color reduces glare, so you don't have to worry about blinding other drivers or pedestrians.
This H11 LED Headlight Bulb has a high-quality construction with aluminum cooling heat sinks which ensure the LED bulb's stability. It is safer, more reliable, and durable, with 50.000 hours of operation.
Brightness
Hikari's bulb can easily be adjusted to the desired focus and feature advanced chip technology for a more powerful beam pattern and comprehensive coverage. It would give you an extra 10% of a viewing angle.
The HIKARI Acme-X H11 bulbs are easy to install, quick to connect. This bulb is designed to fit directly into xenon bulb housing.
One thing to note about the HIKARI Acme-X is that it's a bit pricier than other brands. But we found that this bulb is worth every penny because of its quality and performance.
The Bulbs
---