This is my buying guide on the best and brightest H3 LED headlight bulbs in 2023. Below is a quick summary of my top recommendations. Scroll further down to read my in depth, hands on reviews, for each H3 led headlight bulb. Photos and real world tests below.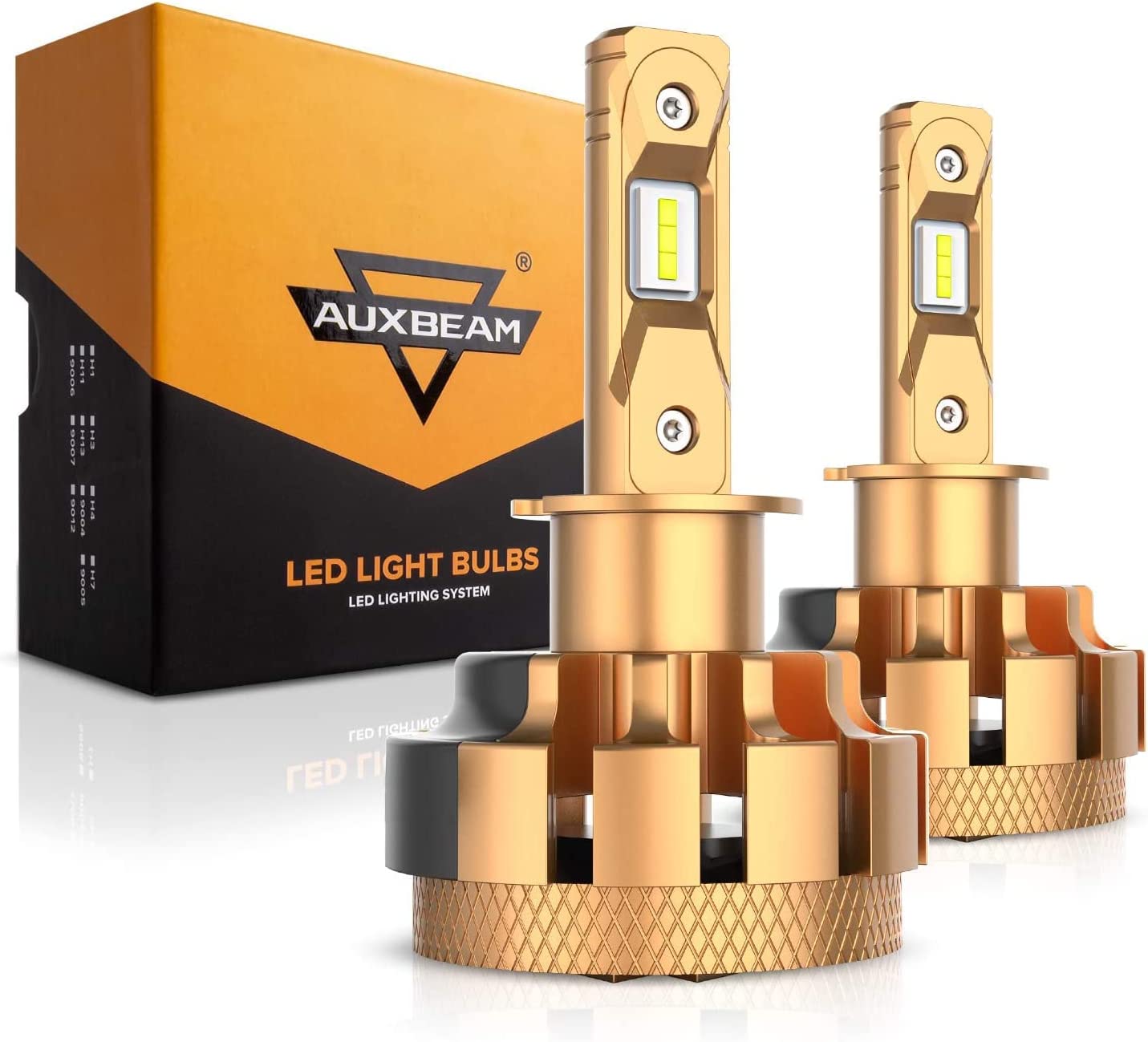 Auxbeam H3 LED Headlight bulb
Plug and play
14,000 lumens/set
6,000K Cool White
+500% brighter than halogens (advertised)
Brightest overall H3 LEDs
50,000-hour lifespan
140W per set
External CAN bus driver
360° super beam pattern
12000 RPM turbofan
IP68 Waterproof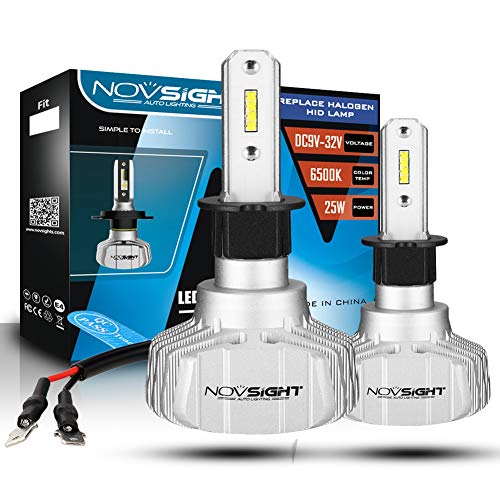 Novsight H3 LED Headlight bulb
Plug and play
10,000 lumens/set
6,000K Cool White
+500% brighter than halogens (advertised)
Best overall H3 LEDs
100,000-hour lifespan
50W per set
Internal CAN bus driver
360° super beam pattern
IP68 Waterproof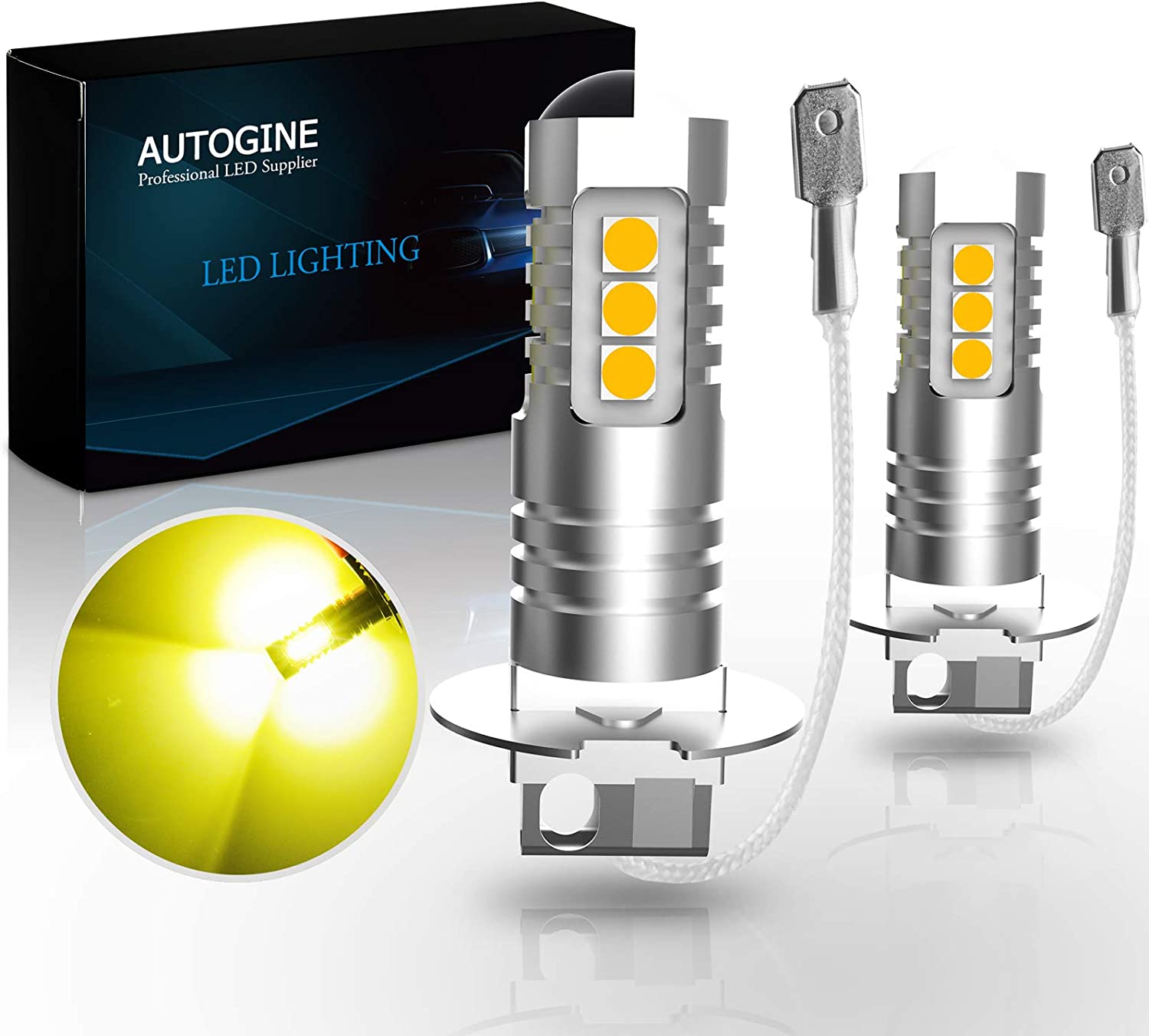 AUTOGINE H3 LED light bulbs
Plug and play
2,000 lumens/set
3000K Amber/yellow
+150% brighter than halogens
Best budget H3 LEDs
50,000-hour lifespan
17W per set
All in one unit
IP67 Waterproof
---
This is my guide on the best and brightest H3 LED headlight bulbs in 2023
Your factory-installed halogen headlights have a reasonably short lifespan and will need to be replaced shortly. H3s are standard bulbs in fog-light, low-beam, or daylight-running light fittings.
I've been testing car headlights for over ten years and have seen hundreds of different makes and models. In my opinion, factory halogens should always be replaced with LEDs, and you can find out why in my FAQ section below.
I tested twelve different H3 LED bulbs and came up with the best three. Starting with the best overall for both brightness and whiteness were the Novsight H3 LED headlight bulbs.
My pick for the brightest is the Novsight H3 LED bulbs, and I've followed this up with a worthy contender.
Get ready to discover your next H3 LED replacement headlight bulb.
IMPORTANT! – Make sure you have the correct bulb sizing and fitment so you don't waste your money, use this handy tool to double check.
---
Best Pick: Novsight H3 LED Headlight Bulbs
Taking the crown in my lineup are the Novsight H3 LED headlight bulbs. Their overwhelming brightness coupled with their clear, pure whiteness truly leaves me in awe.
Novsight's Claims
Novsight holds a strong reputation for crafting top-quality headlight bulbs, and these H3 LEDs certainly keep up the tradition. They come fitted with eight double-sided Seoul CSP Y19 LED chips.
Their boasted output of 10,000 lumens per set leaves one nearly blinded by their brightness, especially when you think about how standard H3 halogens struggle to churn out a mere 1,000 lumens apiece.
For me, what really stands out when compared to halogens is the Kelvin color temperature. While halogens typically give a dull 3,000 kelvins, these Novsight H3 LEDs turn up the coolness quotient with an impressive 6,500K, a cool white light that distinctly outlines objects in front of and around my car.
Novsight's bulbs feature a smart temperature control system but lack an internal fan. This results in quiet operation. But how much heat do they generate? You'll find out in my test results below.
With a power draw of 50W per set, they're not too heavy on power, which suggests they might have a decent lifespan, provided the fanless design holds up. Novsight backs these with a 2-year warranty and a projected lifespan of a staggering 100,000 hours. I'll confess, I'm somewhat skeptical about the latter as I've yet to encounter a bulb that lasts that long.
Novsight claims these bulbs emit a perfect 360° beam pattern with consistent output and zero dark or shadowed spots. My tests pretty much confirm this, barring minor exceptions.
Notably, these H3 bulbs carry an IP8 waterproof rating, the highest possible. So, whether you're traversing fog, snow, sandstorms, or heavy rain, these bulbs are built to withstand it all.
My Firsthand Experience
I have a certain fondness for Novsight's products; their thoughtfully packaged bulbs come with a cute little Novsight keychain.
Inside the box, you'll find an instruction manual which, in my opinion, is quite unnecessary. These bulbs epitomize plug-and-play, replacing your old halogens without a hitch.
The bulbs sport Novsight's trademark design, adorned with familiar accents and a generous sprinkling of silver.
Their lightweight yet sturdy feel is likely due to the lack of a fan.
In my book, the design of these bulbs is exceptionally well executed. And now, let's dive into my test results.
My Testing Process
My tests don't compare lumens to lux ratings; instead, I benchmark them against factory halogens to give you a clear picture of the benefits of switching to LEDs.
I ensure all tests are conducted uniformly. The bulbs are set up 20 feet away from my lux meter. The lux rating of halogens is 725 lux for the projector and 910 lux for the reflector test.
So, how do these Novsight H3 LEDs measure up?
The initial lux reading from the projector test was a staggering 1,985 lux, almost 300% brighter than halogens. Impressive, isn't it?
After 27 minutes, roughly the average U.S. commute time, the lux rating declined to 1,509, indicating a heat retention of 76%. Quite good, especially considering there's no fan.
The reflector test followed, starting with an initial lux rating of 4,320, which also dropped to 76% (3,283 lux) after 27 minutes.
The beam pattern was as good as promised. A clean cutoff with no dark spots or scattering, although there was a slightly more noticeable bottom hotspot due to the brightness.
Make sure to align these bulbs properly. Their extreme brightness could potentially blind oncoming drivers if misaligned.
The bulbs are advertised at 25 watts. My tests indicated a close match at 24.6 watts.
As expected, in the absence of a fan, they did heat up quite a bit, hitting 231°F after 27 minutes. This high temperature casts some doubt on the longevity of the bulbs, a concern echoed by other drivers.
What Other Drivers Are Saying
The revamped Novsight H3 LEDs are relatively new on the market and therefore have limited ratings. At present, they average 4/5 stars, but I anticipate this to rise as more drivers try out the product.
The reviews so far commend the whiteness, brightness, and the quiet operation due to the fan's absence.
Predictably, some drivers expressed concerns about the lifespan of the bulbs, with a few reporting burnouts before the warranty period ended, most likely due to the lack of a fan.
Conclusion
Upgrading from factory-installed halogen H3s to LEDs is a definite game-changer, and the Novsight H3 LEDs are an excellent choice in this regard. With a 300% increase in brightness and significantly improved clarity, considering this upgrade is a no-brainer.
Pros
Plug and play
10,000 lumens/set
6,000K Cool White
+500% brighter than halogens (advertised)
Best overall H3 LEDs
100,000-hour lifespan
50W per set
Internal CAN bus driver
360° super beam pattern
IP68 Waterproof
---
Top of the Brightness Charts: Auxbeam H3 LED Headlight Bulbs
Shining a spotlight on the most brilliant headlight bulbs out there, I've found my match in Auxbeam H3 LEDs. Their brightness is beyond anything I've come across before.
What's on the Label?
Auxbeam boldly advertises a stunning 14,000 lumens per set, asserting it's 500% brighter than your typical halogens. That's a tall claim, and my hands-on experience confirms their superior brightness, but I'm hesitant to rubber-stamp them as five times as bright.
With 6,000 Kelvins of cool white light, there's no question these bulbs ramp up visibility. Their laser-focused beam pattern extends as far as 490 feet, giving you a clear view of what's ahead.
Beneath the glass, these bulbs house double-sided, custom auto-grade 7545 SMD Chips, and run at an impressive 70 watts per pair. They're built with aviation-grade aluminum and sport a 12000 RPM ball-bearing turbofan. These bells and whistles made me wonder about possible heat issues. As it turns out, my testing confirmed this suspicion.
The potential for overheating casts doubt on the advertised 50,000-hour lifespan. However, Auxbeam softens the blow with a generous 2-year warranty, double the industry standard. So, these bulbs should give you at least a couple of good years of service.
Having an IP68 waterproof rating, you can confidently drive in any weather without a worry.
My First Take
Right out of the box, it's clear that Auxbeam isn't cutting corners. The packaging alone is meticulously designed and pleasing to the eye. The bulbs are securely nestled inside, and I even found a neat little Auxbeam sticker in there – a cool touch that didn't go unnoticed.
The set includes a comprehensive instruction manual, complete with detailed illustrations for installation. But given the plug-and-play nature of these bulbs, you're unlikely to need it.
The bulbs themselves have a sleek, futuristic design, complete with an external driver, adjustable collar, and built-in turbofan. I was curious to see how these elements played into heat retention – stay tuned for my test results below.
The units felt robust and well-crafted. They were an impressive sight, and I couldn't wait to test them out.
I breezed through the installation process. However, the extreme brightness of these bulbs may cause some interference, which could necessitate a CAN bus decoder in your vehicle.
Giving Them a Run
In my projector test, the bulbs kicked off with an eye-popping 2,190 lux, more than triple the brightness of standard halogens. After 27 minutes, the light intensity dropped to 74%, or 1,620 lux – not entirely unexpected.
The reflector test underscored my choice of these bulbs as the champion of brightness among H3s. They began with a whopping 4,570 lux, which, after 27 minutes, reduced to 74%, or 3,381 lux.
The light cut-off was incredibly precise, and the beam reached the promised 490 feet.
A word to the wise: these bulbs are super bright. Make sure they're correctly aimed to avoid blinding oncoming drivers.
While the bulbs are advertised at 70 watts, my measurements came in slightly lower at 66.6 watts. Indeed, they pull a bit of power and generate quite a bit of heat.
After 27 minutes, the main bulb heated up to a sizzling 211°F, with the driver remaining relatively cooler at 128°F.
Given these temperatures, I have reservations about the promised 50,000-hour or 2-year lifespan. High operating temperatures could lead to a shorter lifespan.
What Others Have to Say
These Auxbeam H3 LEDs maintain a solid 4.4/5 stars on Amazon.
Most users rave about the exceptional brightness and added clarity from the whiter light.
A few negative comments mention flickering and interference with radio/GPS, but these issues were generally resolved by installing a decoder. Complaints about lifespan didn't come as a shock to me.
My Final Thoughts
For those who put brightness at the top of their checklist, Auxbeam H3 LED headlight bulbs are a top contender. However, given the significant heat they produce, you might find yourself replacing them more frequently than other H3 headlight bulbs.
Pros
Plug and play
14,000 lumens/set
6,000K Cool White
+500% brighter than halogens (advertised)
Brightest overall H3 LEDs
50,000-hour lifespan
140W per set
External CAN bus driver
360° super beam pattern
12000 RPM turbofan
IP68 Waterproof
---
Top Pick for Budget Shoppers: Autogine H3 Fog Light Bulbs
For those of you who use H3s primarily as fog lights or daytime running lights, I've stumbled upon a fantastic find – Autogine H3 Fog light bulbs. They stood out to me, mainly because they're significantly cheaper by up to $30 compared to other models I've tested.
What They're Offering
Each Autogine H3 bulb houses 14 pieces of high-power 3030 LED chips. These bulbs generate only 2,000 lumens per set, which isn't as bright as some other bulbs I've tested. However, it's still a noticeable step up from halogens, making them the ideal pick for fog lights. To my delight, my hands-on tests revealed that they exceeded the brightness I was expecting.
The amber-yellow glow, clocking in at 3,000 Kelvins, enhances visibility more than the 2,600K halogens, adding that little extra clarity that can make all the difference.
Given the lower lumen count and Kelvin rating, these bulbs draw a mere 8 watts of power, suggesting they'll have a longer lifespan. The projected lifespan is 50,000 hours, which seems credible considering their minimal power draw.
These H3 bulbs are an all-in-one unit, with a built-in driver. They're encased in 6063 aviation aluminum, promoting rapid heat dispersion. There's no cooling fan, but the lower lumen output and wattage mean it's not necessary.
With an IP67 rating, you can have peace of mind knowing these bulbs can handle foggy, wet, or snowy conditions without damage.
Unlike many LEDs I've come across, these Autogine H3 LED fog lights have DOT approval, which speaks to their non-blinding brightness. That's a point in their favor!
Autogine backs these bulbs with a standard 1-year warranty. Compared to the competition, it could be better.
One slight downside – they're not CAN bus ready. Thus, newer models might need a decoder to prevent any interference or dashboard alerts.
First Impressions
The packaging's understated elegance immediately caught my eye. The black finish lends it a classy appeal, and everything inside is securely fastened.
The included instructions are somewhat generic, but you'll likely find these bulbs are so user-friendly that you won't need a manual.
The H3 LED bulbs themselves boast an attractive design, reminiscent of something you'd see in a Star Trek movie. They're bound to turn heads once installed.
They're lightweight yet sturdy to the touch. I've always appreciated all-in-one units for their simplicity during installation, and these bulbs were no exception. They slid right in without any hassle.
Time to Test Them Out
Given that these bulbs are just slightly more powerful than factory halogens, I wasn't expecting a world of difference. However, they managed to pleasantly surprise me.
In the projector test, the initial reading hit 915 lux, nearly 200 lux brighter than halogens. While they didn't reach the brightness of other bulbs I've tested, they were an undeniable improvement.
After 27 minutes, they retained 82% of their brightness, dialing down to 750 lux. This is still brighter than the initial halogen rating. Definitely a worthy alternative.
The reflector test gave me an initial reading of 1,540 lux, over 600 lux brighter than halogens. After 27 minutes, they held onto 82% of their brightness, falling to 1,263 lux.
I also noticed an improvement in the Kelvin color. The light was sharper and allowed me to spot objects a bit earlier than with halogens.
Given the lower brightness level, I expected a solid beam pattern. I was glad to find no blind spots or scattering.
The bulbs are rated at 8.5 watts, and my measurements confirmed this precisely.
Even with the lower lumen count, wattage, and lack of a cooling fan, the temperature after 27 minutes was a manageable 156°F. These may be the first LEDs I've come across that could genuinely last 50,000 hours.
What Do Other Drivers Say?
So far, the Autogine H3 Fog light bulbs don't have many reviews on Amazon, but the ones that exist are all positive. Drivers seem enthusiastic about the color change, easy installation, and excellent value for money.
In Summary
If you're using H3s primarily for fog lights or daytime running lights and you're partial to a yellowish tone, the Autogine H3 fog lights could be your perfect match. They're not only a bargain upfront but are also likely to save you money in the long run since they'll require less frequent replacements.
Pros
Plug and play
2,000 lumens/set
3000K Amber/yellow
+150% brighter than halogens
Best budget H3 LEDs
50,000-hour lifespan
17W per set
All in one unit
IP67 Waterproof
---
Frequently Asked Questions
What are H3 bulbs used for?
H3 bulbs serve a multitude of needs. They can be used as replacements for fog lights, daytime running lights, or as single low beams.
They're not considered the brightest in the group 1 range. The average lumens of an H3 halogen is 1,500, while LEDs are upwards of 6,000.
Are H3 bulbs interchangeable?
The HX series of bulbs all belong in the group 1 general headlights category but aren't interchangeable. It's imperative that you check your vehicle's user guide or click the Amazon Confirmed Fit button at the top of each product page to ensure they'll fit your make and model.
Why are H3 LEDs better than halogens?
Halogen bulbs have their place, but for the exterior lights of a car, I'm a firm believer in upgrading to LEDs.
For me, the most important difference is the Kelvin color. The stock 3,000 yellow halogens, I don't believe, make objects and hazards in front of your car as clear as they could be.
LEDs commonly start at the 6,000K color temperature, which is a crisp, clear white. The clarity of those objects is instantly noticeable by going this far up the color scale.
Halogens heat up faster than LEDs, so they burn out quickly and have to be replaced more often. LEDs have a much longer lifespan, saving you time and money on replacement parts.