This buying guide outlines the brightest H7 halogen headlight bulbs on the market.
We researched the vast majority of H7 halogens before deciding on the Top 3 brightest and most useful.
With years of experience working on cars and real world test results for each bulb at our disposal, we were able to find the most intense bulbs the market has to offer.
Sylvania impressed us with their SilverStar Ultra, a brilliantly bright bulb that also offers a fantastic set of features.
For more details about the brightest H7 halogen bulbs, read on.
IMPORTANT! – Make sure you have the correct bulb sizing and fitment so you don't waste your money, use this handy tool to double check.
---
Pros
27% brighter than stock
16% more white
Wider projection than stock
Blue capped bulbs
Brighter beam than stock
Cooler color profile
Wider field of view
Improves nighttime visibility
Better peripheral visibility
No flickering
Adds a lot of style
Available in different sizes for different vehicles
Cons
May not fit some older vehicles
---
Pros
Bright halogen bulb
3460k color
Best in class longevity
Blue coating on bulb
Brighter than stock
Cool white color
Wider field of view
Cool blue effect on headlight reflectors
Improved peripheral visibility
Uniform beam
DOT approved beam pattern
Color temperature is similar to premium bulbs
Longer lasting halogen
Lower power consumption
Cons
Not the brightest bulb we've seen in this category
---
Pros
10% brighter than stock
29% whiter at 3870k
Stylish look
Longer lifespan
Brighter than OEM
Cooler white tone
Great combination of brightness and Kelvin color
Improves down road visibility
Wider field of view
Awesome xenon style look
Perfectly illuminates longer stretches of road
Improves peripheral visibility
Cons
A bit more expensive than other options
---
---
Sylvania's H7 halogen offering is one of the brightest options on the market, with a cooler color tone and better road coverage to boot. It brings improved visibility and clarity to nighttime driving while also looking stylish.
Packaging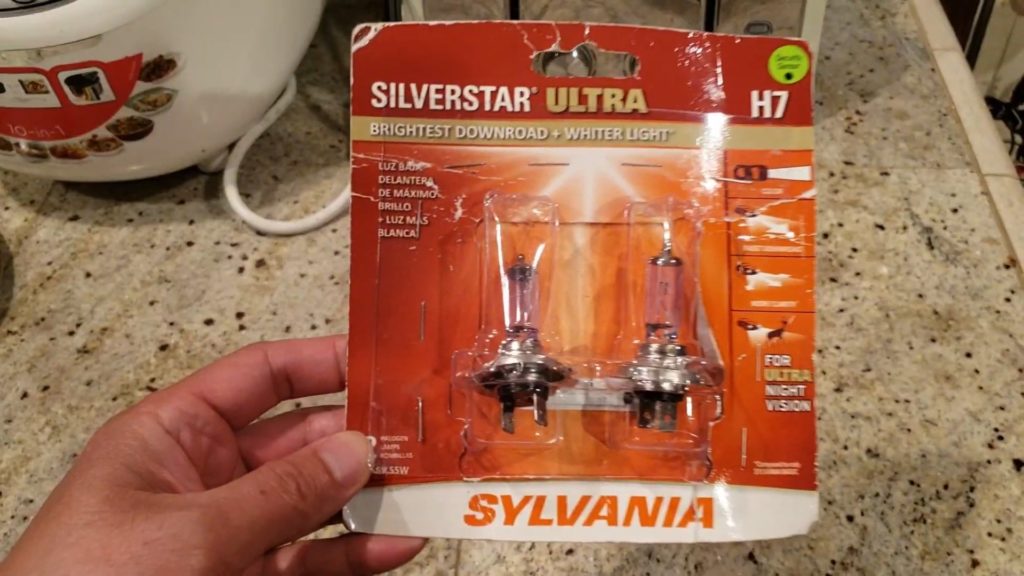 While testing, we found the SilverStars to be a whopping 27% brighter than stock halogens, resulting in a noticeable boost in visibility and clarity while driving at night. Our testing took us to well illuminated city streets and less well lit backroads alike. The SilverStars performed well in all settings, generating an intense beam of light that was more powerful than stock and stretched out further. A wider angle of projection helped with road coverage as well.
Just as important as brightness, your headlight's color temperature also sees a respectable improvement. In fact, at 16% whiter than the benchmark, it is cooler and more aesthetically pleasing. Beam pattern is uniform and does not exhibit any dark spots, nor does the light flicker when used for longer periods.
Brightness
These bulbs are capped in a blue color around the glass to help make the tone cooler and we can report that it is not just some gimmick but works.
Besides the improved brightness and look, these bulbs offer an extended lifespan over stock. Our tests put a lot of load on the bulbs but performance did not suffer. Drivers who have had this setup for longer periods report the same, saying these bulbs work perfectly even after months of regular heavy use.
---
The CrystalVision Ultra from Philips is a bright bulb that delivers excellent visibility, has a perfectly calibrated beam pattern, and substantially cooler white color, all for a price that won't make you think twice.
Packaging
For the average consumer, the CrystalVisions are the only bulbs you'll ever need. Using them on our test vehicle, we can report that they improve nighttime visibility, thanks to the longer, more powerful throw. W were able to see further and more clearly with this bulb. A wider field of view allowed for better peripheral visibility, with more of the road and its surroundings being illuminated.
Rated at 3460k, these H7 halogens are a good 18% whiter than stock bulbs. The tone is cooler and adds clarity to your headlight beam. Moreover, the beam is distributed evenly over your path and does not flicker or flash unnecessarily. Another plus point is that the pattern is DOT approved and therefore does not blind oncoming traffic or break any laws.
Brightness
While it isn't the most intense bulb we've ever seen, it is in contention for the most reliable. While our testing only yielded short term results, there is unanimous agreement between reviewers and actual daily drivers alike that these bulbs outperform the competition in terms of longevity. By consuming significantly less power, the Philips stays cool and prevents damage to sensitive components, lengthening the lifespan.
---
Another Sylvania bulb, the zXe Gold halogen bulb features an unparalleled Xenon white look, better road coverage, and a host of useful features, in addition to the powerful and bright light output.
Packaging
Our testing showed a 10% boost in brightness with this bulb installed, but that number doesn't do the zXe justice. In reality, the brightness gains are noticeable and far outshine the next best bulb. More powerful throw and wider projection make for a stellar combination that aids visibility and safety while driving.
Brightness
Another area of massive improvement is the color temperature. Here, we see a 29% upgrade over stock, making it the clearest white bulb on this list. We found the color temperature to be around 3870k, great for adding clarity and helping the driver pick out smaller details in their path. Furthermore, the look of these bulbs is unmatched by anything less than an HID or LED kit.
The Bulbs
Lifespan is similarly improved, with efficient cooling and power consumption resulting in more durability and longevity. We subjected this bulb to a lot of heavy usages and did not face any performance drops.
Finally, we can report that unlike lesser bulls, the zXe starts up instantly, is free from any flickering or flashing, and has uniform road coverage thanks to its perfectly uniform beam. While expensive, it does make for a compelling premium halogen bulb package.
---