In this article we take a look at the brightest H7 LED headlight bulbs.
New H7 LED headlight options seemingly come out every day. So, it can be hard to choose one that fits your unique needs and wants. That's why I put the majority to the test, to find which is actually the brightest
Speaking of, I found the H7 LED offering from Hikari fits the bill. It's a powerful LED with a pure white beam, with unmatched nighttime visibility.
I've been testing and reviewing headlight bulbs for over a decade.
So if you need help choosing the right one to put on your vehicle, you came to the right place. I'll give you an informed and unbiased opinion on the brightest H7 LED Headlight bulbs.
Keep reading.
---
HIKARI H7 LED Headlight Bulbs
OVERALL BEST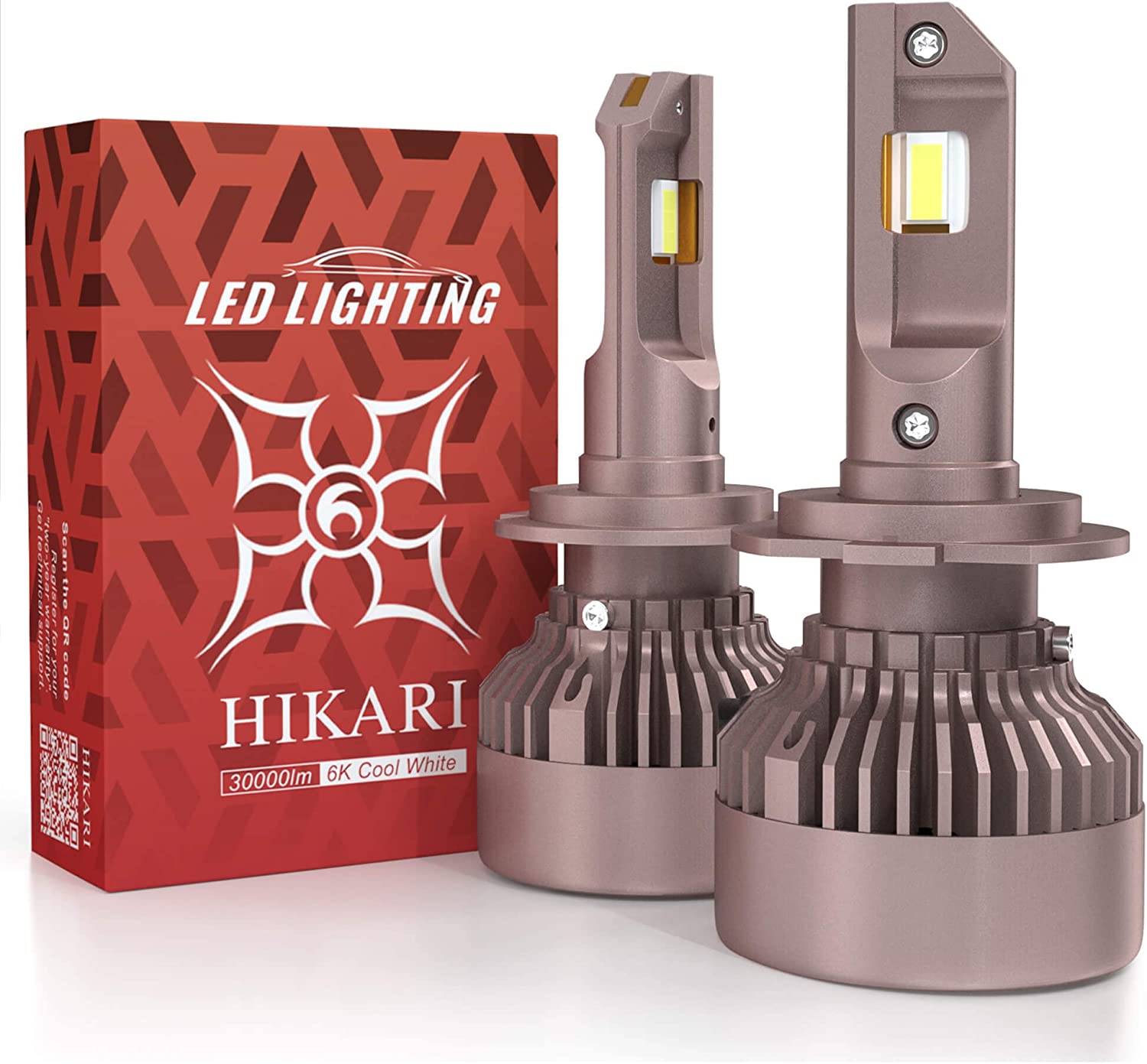 When I first laid eyes on the H7 LED headlight bulb by Hikari, I could tell they had poured all their expertise into its design. It's a light that's strikingly bright and cool in color.
Hikari's bulbs churn out a staggering 30,000 lumens of brightness, putting them in a league of their own. That's 30 times brighter than stock halogens and thrice as bright as similar LED chips, all thanks to 6 cutting-edge Titanova 7mm*4mm LED chips.
This immense light output equates to practically flawless illumination. Nothing could escape my view, allowing Hikari to create a beam that extends farther and wider without sacrificing power.
The beam design also ensures it doesn't intrude on the vision of oncoming drivers, a crucial feature for a light this potent, enhancing night-time safety.
Sometimes, I found the initial beam pattern not quite to my liking. However, with a 360° adjustable buckle, I could easily tailor it to perfection.
The result? I got to see more in every direction. The increase in my reaction time was noticeable.
Complementing this brightness is the cooler color profile. The bulbs clock in at 6000K, making the beam an appealing pure white.
The ultra-modern white beam is sure to capture the attention of car enthusiasts and add a contemporary edge to even the oldest of vehicles.
Besides its aesthetic appeal, it also offers practical advantages. The cooler beam aids in better identifying and distinguishing obstacles, while boosting reflectivity.
The results of my lux test were staggering. The beam came close to hitting 2,300 lux at 20 feet – almost three times what halogens can achieve.
After 27 minutes, it descended to about 1,850 lux, retaining 85% of its original power. With the reflectors on, it scored a whopping 3,400 lux, dropping at the same rate after 27 minutes.
This implies that you'll enjoy a consistent light output throughout your commute.
Hikari strikes me as one of those rare brands that genuinely take customer feedback into account. The latest Titanova showcases numerous improvements over older models to address customer concerns.
For instance, it uses an advanced CANbus system to stamp out flickering issues. They've also engineered the bulbs to be more compatible with other 55W and 65W systems, which means no error codes on the car's dashboard.
High-powered LEDs often face burnout problems due to high initial current, but Hikari has tackled this head-on by fitting the Titanova with a 6A overload capacity, making it up to 3 times more effective at averting burnout.
Despite their power, these bulbs impress with their energy efficiency. Running at 65 watts, they have an energy-to-light efficiency ratio of 60%, far surpassing the 18%-30% seen with lower-end LED chips.
The bulbs are rated to last over 60,000 hours, placing them among the top 5% of the bulbs I've tested. Even after months of rigorous testing, mine still looks and functions as if it's fresh out of the box.
Credit for this also goes to the high-tech heat management technology. Each bulb has a 20,000 RPM fan that efficiently keeps the heat at bay. It's quite remarkable how they've managed to keep such a high-powered fan utterly silent.
There's also a built-in heat sink in the body that offers additional heat dissipation.
Even after 30 minutes of operation, the internal temperature only reached 400°F. It may seem high, but for a bulb of this strength, it's an impressive feat.
Installation is a breeze with plug-and-play functionality, but like other bulbs of this kind, there's an external driver you need to connect. Fortunately, it comes in various configurations for different connector types, making it suitable for almost any compatible vehicle.
The manufacturer's two-year warranty offers an additional layer of peace of mind, which is welcome given its higher price tag compared to other LEDs.
There have been only a few complaints about these bulbs, with some users reporting early burnout. However, neither I nor the majority of buyers have experienced this issue.
Pros
30,000 lumen brightness is 30x more powerful than stock halogens and 3x more than LEDs.
A 6000K pure white beam highlights objects with perfect clarity.
The snow white color profile makes for comfortable viewing at night without strain.
Helps pick out and differentiate between obstacles to improve reflexes at night.
Enhanced reflectivity makes it easier to spot small obstacles and read road signs.
Wider angle of projection and longer throw illuminates more of the road for more reaction time.
A well-calibrated beam results in consistent lighting without impacting other drivers.
Integrated CANbus reduces flickering and makes for easier installation.
Highly efficient power consumption won't pull your battery dead and has better longevity.
Rated to last over 60,000 hours which will gives you years of perfect lighting.
20,000 RPM fan for better heat management results in longer lifespan and more consistent output on long commutes.
Adjustable buckle lets you tweak the beam pattern according to your preference and car.
2-years manufacturer's warranty covers you in case of defects or malfunctioning.
Cons
Color profile could have been even cooler, especially at this price point
Very expensive LED option
---
Fahren H7 LED Termitor Headlight Bulbs
BEST BUDGET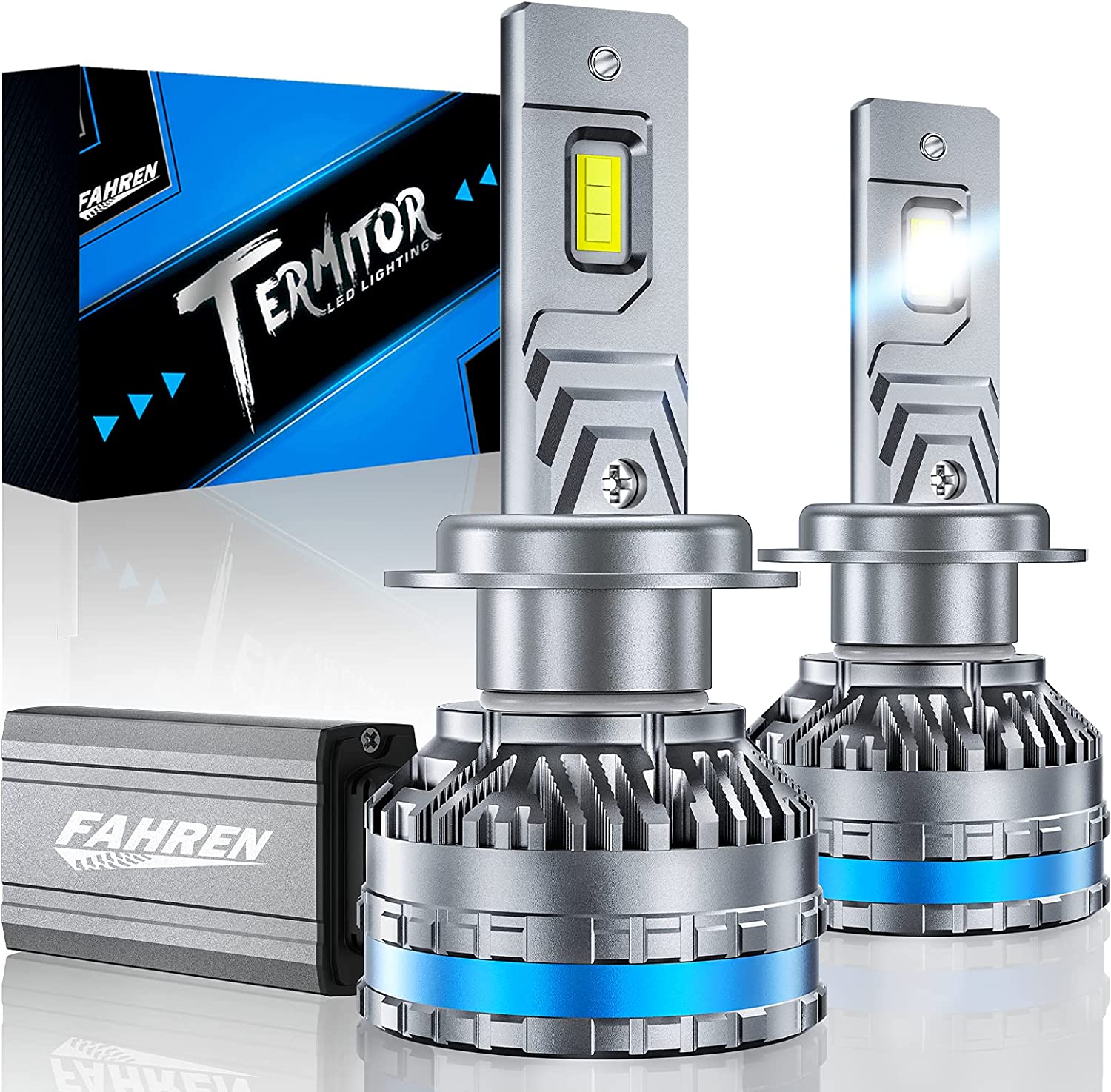 If you're looking to save a bit of cash, the H7 LED headlight bulbs from Fahren offer a fantastic deal. While they are budget-friendly, they can definitely hold their own against some of the more premium LEDs out there.
The Fahren bulbs clock in at 22,000 lumens, a bit dimmer than the Hikari bulbs. But don't be fooled, these are still classified as "ultra-powerful" LEDs, outshining their competition by a good margin. They emit a light that's 600% stronger than even the best halogens.
I found that their beam stretches significantly down the road, pulling in more of the roadside into view. This was great for spotting cars, pedestrians, and animals earlier. It gave me extra precious seconds to steer clear of any stationary obstacles.
What really excited me about these bulbs was how they addressed my only gripe with the Hikari – the absence of blue. These bulbs emanate a cool white light, around 6,500K, tinged with blue. This gave my car a futuristic and striking aesthetic that I absolutely loved.
Not only was the blue light aesthetically pleasing, but it also helped keep me alert during night drives. It created less color washout compared to pure whites. The trade-off, however, was a bit more eye strain over long hauls.
Despite the blue tint, the light was white enough to offer high reflectivity. It made other cars, pedestrians, and animals stand out vividly.
Similar to the Hikari, the Fahren bulbs have a 360° adjustable locker ring for at-home beam calibration. I found this to be really helpful for tuning the beam to work perfectly with my specific vehicle.
Fahren claims a viewing distance of 1,200 feet and, honestly, I thought that was just marketing fluff. But boy, was I wrong! These bulbs could really throw light that far!
One of the best features of these bulbs is their negligible warm-up time. At less than 0.1s, the time it took to fire up the high beams was imperceptible to me.
When I compared the lux readings of the Hikari and Fahren bulbs, I found some interesting differences. Initially, the Fahren bulbs gave a stronger lux reading. However, they dimmed faster and only retained 74% of their lux after 27 minutes. So, while Fahrens shine brighter at first, Hikari bulbs maintain a more consistent light output over time.
Given that, I'd say the Fahren bulbs are better suited for short drives, while the Hikari would be ideal for longer journeys.
The beam from the Fahren bulbs was free from any dark spots or blurriness. The calibration resulted in an almost perfect beam pattern that was reassuring during night drives. I never found myself squinting or straining because some part of the beam wasn't lit uniformly.
This was intentionally engineered by using a thin body that brings the chip closer to the surface. The result was a beam that was super focused. It provided me with consistent lighting while also ensuring it didn't blind oncoming traffic.
While some budget headlight bulbs are made with subpar materials, the Fahrens are constructed from high-grade aviation aluminum. They felt solid in my hand and seemed to be highly resistant to damage during installation or rough use.
When it came to heat management, the bulbs had a bolted-on 12,000 RPM cooling fan. It wasn't as powerful as the one on the Hikari bulbs, but it was adequate given the less powerful LED chip that didn't require as much cooling.
It also had a sizeable heat sink at the back. Combined with aviation-grade steel and two heat-conducting copper pipes, its temperature control was impressive.
Available in H7, H1, 9005/HB4, and more variants, I found it easy to pick one that fit my car. It also came with an external driver, which meant a few extra steps during installation, but at least I didn't have to find one myself. It was a lifesaver in preventing typical issues like stereo interference and error codes.
The robust fan guard was another feature I appreciated because it let me apply some force during installation without damaging the fan.
Another bonus was that these bulbs are IP68 water and dustproof. I didn't need to worry about rain splashes or the occasional off-road adventure damaging these bulbs.
One downside I noticed was that power consumption was slightly higher than other LEDs at 120W. It didn't affect my day-to-day usage much, but it was noticeably less efficient than the Hikari bulbs.
In my tests, these bulbs reached a temperature of around 211°F. That's pretty hot, but cooler than the Hikari bulbs.
A definite advantage of these bulbs is their longevity. They're designed to last well over 50,000 hours, so you won't need to worry about changing the bulbs anytime soon!
This quality is reflected in the customer reviews. Almost no one complained about the bulbs themselves. The only grumble I came across was about Fahren's hard-to-reach customer support. However, when I contacted them, they were more than happy to provide me with advice during installation.
Pros
22,000 lumens overpowers halogens, HIDs, and most other LEDs
6500K color profile offers a cool white color for a unique style and improves visibility
Blue white color tone improves alertness for late night driving
Wider angle of projection perfectly lights up the roadside for better cross-traffic alertness
Uniform beam pattern perfectly lights up the road ahead along all axes
Adjustable ring allows for perfecting the beam pattern according to your exact vehicle and preferences
Aviation grade aluminum makes these bulbs highly durable and enhances heat dissipation.
12,000 RPM turbo fan offers exceptional cooling for such powerful chips.
Hollow carved heat sink with guard manages heat buildup over longer drives.
IP68 water and dust proof rating means it can handle heavy offroading or extreme weather conditions.
50,000 hour lifespan should give you years of ultra-powerful LED lighting.
Intelligent IC driver and CANbus-ready makes it ess prone to causing issues with your car's onboard systems
1:1 halogen bulb design and robust fan guard makes installation a breeze.
Cons
Power consumption is a bit higher than other bulbs
Does have higher light output dropoff on longer drives than the Hikari
---
Firehawk H7 LED Headlight Bulbs
WORTH CONSIDERING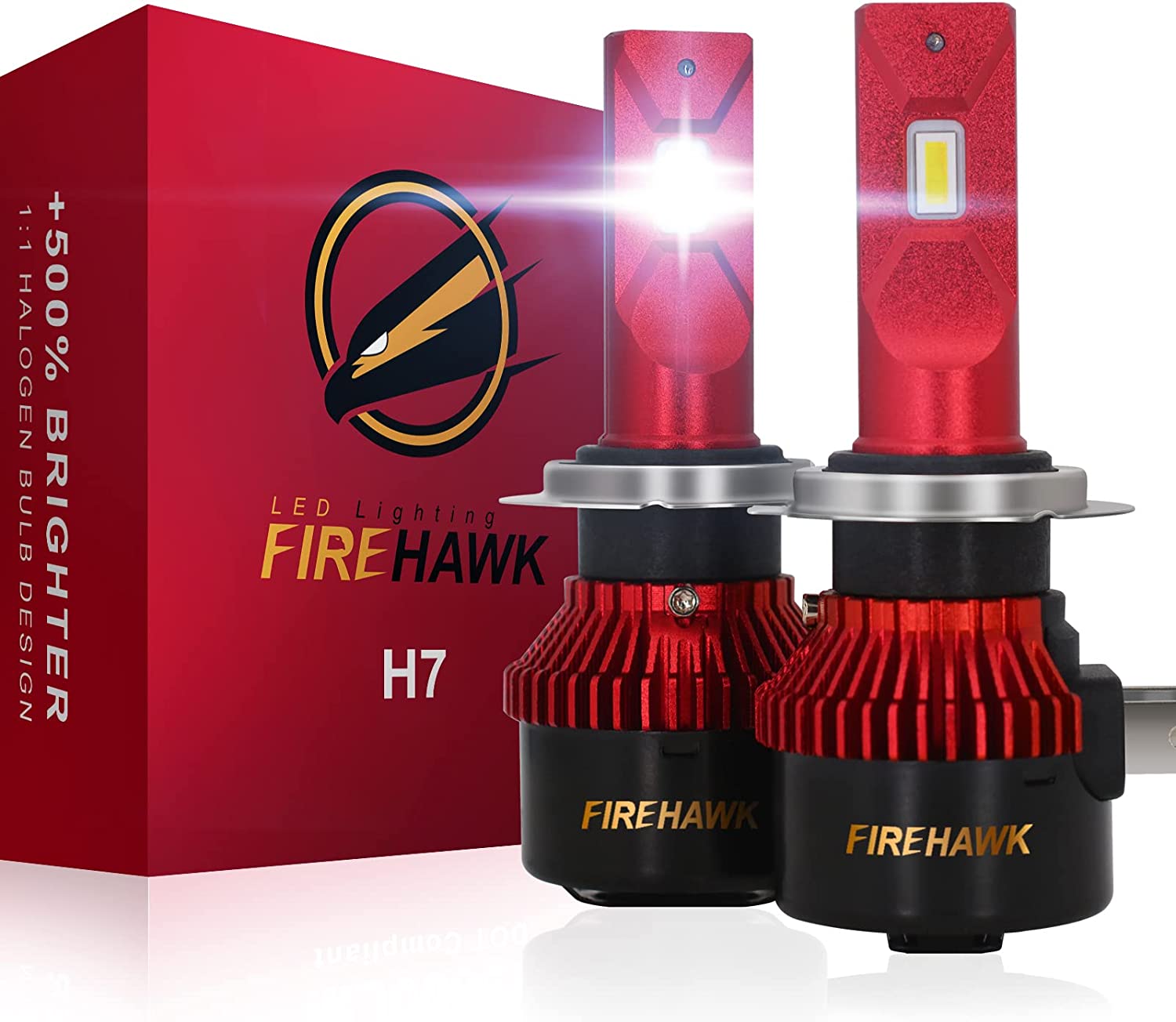 When it comes to high-performance LED lighting, Firehawk is a top-tier brand you can trust. The value for money these bulbs provide is exceptional, offering similar specs to the Fahren bulbs but at a more affordable price.
The Fahren and Firehawk bulbs share a rating of 20,000 lumens, a luminosity that leaves most other LEDs in the dust. However, I was a tad disappointed with the Firehawk's lux readings, which fell short when compared to the Hikari and Fahren bulbs.
The Firehawk bulbs had the lowest initial lux reading at 1,374. It was evident to my naked eye that the Firehawk was less intense at a distance.
Interestingly, though, the Firehawk bulbs boasted the highest lux retention at 88%. Despite their low starting lux, they might potentially close the gap with prolonged usage, but even after 27 minutes, they just couldn't catch up.
Now, bear in mind that I'm comparing these to some of the most powerful LEDs I've ever tested. In their own right, the Firehawk bulbs offer plenty of visibility for nighttime driving. If you're used to halogens, you'll be amazed at how much safer and more comfortable night driving becomes.
The Firehawk bulbs emit a pure white light at a color temperature of 6000K. This light beautifully highlights objects at night and reveals every detail in the road surface, like potholes. The one thing missing, though, was the bluish tones that bring along their own set of benefits.
In terms of beam calibration, the Firehawk bulbs held their own, even against my top pick. I didn't find a single dark spot or a hint of blurriness to mar the perfect beam pattern.
While the beam is great as it is, the adjustable collar allows you to fine-tune it further if needed.
The extra performance of the Firehawk bulbs allows the beam to stretch further down the road. The viewing angle is narrower compared to the other LEDs, enhancing forward visibility and reaction times.
Thanks to the low cutoff, these bulbs are also less likely to disturb oncoming drivers.
Officially, each bulb is meant to consume 31 Watts. During my testing, I found they were so efficient that they only consumed 29 Watts. This makes the Firehawk bulbs gentler on your battery while also requiring less heat management.
The powerful 12,000 RPM fan manages to keep temperatures low with relative ease. This probably explains why the Firehawk bulbs have such a low dropoff, even during extended use.
I was particularly impressed by the engineering of the bulb body, made up of 2mm thickened red copper with a 40pc aviation-grade heatsink.
This clever design offers two key benefits: durability and temperature efficiency. Durability is further boosted by the bulb's IP68 water and dust resistance rating.
The Firehawk bulb was the easiest LED to install on my list. Thanks to its 1:1 halogen bulb design, I didn't have to fuss over polarity. Plus, it offers full plug-and-play functionality with all compatible vehicles.
The all-in-one design of these h7 led headlight bulbs means that all the drivers, including the CANbus, are built-in. This meant I didn't have to connect any external parts or worry about internal error codes. In my experience, I didn't encounter any radio interference or unexpected flickering.
Thanks to efficient heat management and power consumption, the Firehawk bulbs promise a lifespan of 50,000 hours. Firehawk even suggests that this is a minimum projection and the bulbs will likely last much longer in reality.
The only complaints I could find were from a small minority of users who reported premature bulb failure. However, I've had no issues with my pair so far and don't foresee any reason to worry.
Pros
20,000 lumens
6000K color temperature
Reflects off surfaces much more readily
Notice obstacles quicker
Wider angle of projection
Does not exhibit any dark spots or blurriness
High performance cooling solution
12,000 RPM fan
Aviation grade aluminum body
Rated IP68 water and dust resistant
Efficient power consumption
50,000 hour lifespan
Built-in CANbus driver
Distortion or interference with the radio/stereo
Cons
Competing bulbs offer even cooler color profile
---