In this review, we will be taking a closer look at the Philips VisionPlus halogen headlight bulbs.
We tested the Philips VisionPlus and considered things like bulb performance, efficacy, and even the value it provides. Coupled with our vast experience testing and reviewing bulbs, the first hand testing helped us better gauge the quality of these bulbs.
Philips makes some awesome halogen headlight bulbs, and the VisionPlus lives up to the hype. It is reasonably brighter than stock bulbs, and the color profile is a bit closer to white than the OEM alternative. While they won't burn your eyes with intense brightness, they are a nice upgrade over your current halogens.
Read on for more details about the Philips VisionPlus halogen headlight bulbs
Our verdict
Philips' headlights feature a decent boost in brightness and more appealing color temperature. The VisionPlus bulbs bring slightly better visibility and road coverage to the table, while the efficient power consumption allows them to last for longer than other bulbs as well.
In fact, we would say that the VisionPlus is ideal for the driver who needs a durable headlight bulb above all else. The build of this bulb is top notch and helps it stay effective long term.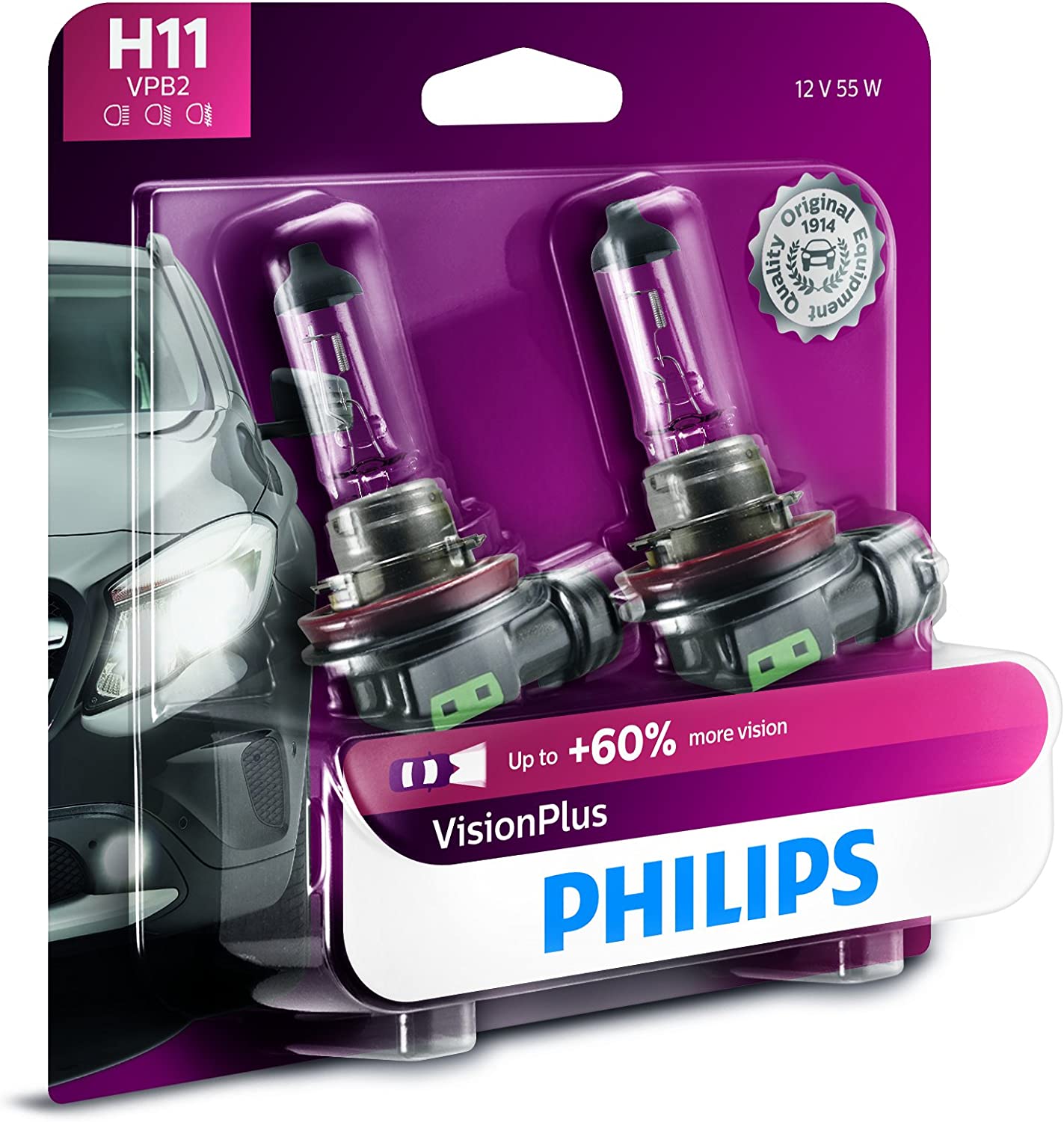 Pros
Decently brighter than stock
Longer throw
3000k color
Wide projection
Better road coverage
Improved peripheral visibility
Flicker free
Plug & play installation
Significantly longer lasting than stock
Uniform beam pattern
No dark spots
Instant startup
Cons
Brighter options are available
---
Longevity and build quality
One of the VisionPlus' best features is its unparalleled build quality, enabling better performance and lifespan. The aluminium build is durable and helps dissipate heat more efficiently.
While testing, we put the Philips bulbs under extreme load for longer periods of time, allowing us to gauge their performance and durability. We are happy to report that these bulbs really took a beating and did not exhibit any flickering or flashing.
Long term, you can expect the Philips to last longer than stock bulbs, as evidenced by the overwhelmingly positive reviews by other drivers who have had them installed for longer.
Colour and brightness
As for the brightness, we are of the opinion that Philips' halogen headlight bulbs could have been a bit brighter. While they provide a respectable 8% boost over the benchmark, it is not the most noticeable boost in brightness.
We did, however, appreciate the farther throw and wider viewing angle of this bulb. It makes for enhanced visibility, both down the road and to the sides. In fact, the wider coverage meant more of the roadside was brought into view, increasing peripheral visibility.
Color temperature sees an equal 8% improvement. It is noticeably cooler, though still not the biggest difference. We can attest to better clarity and an easier time making out objects, vehicles, and pedestrians in the road.
Another point in favor of the VisionPlus bulbs is that they startup instantaneously and do not exhibit any dark spots.
Perks and features
The VisionPlus are certified DOT compliant and do not distract or dazzle oncoming traffic, making them more user friendly. Installation is easy and intuitive thanks to the near stock mounting points. Moreover, the beam pattern is well calibrated and does not feel blurry or unfocused.
Power consumption was surprisingly lower than stock, making the bulbs more efficient. In our testing, there were no spikes in temperature or any other heat related issues.
Conclusion
In a nutshell, the Philips VisionPlus headlight bulbs provide a decent boost in brightness and color temperature, though we would have preferred more power. That said, they are vibrant and quite a bit better than stock bulbs.
The standout feature is the durability and lifespan of these bulbs. Combining high quality build with low power draw, the Philips VisionPlus are able to deliver best in class lifespan that we just don't see with any other bulb.
So, if you're tired of having to swap out your headlights every few months, pick up a pair of Philips' VisionPlus bulbs.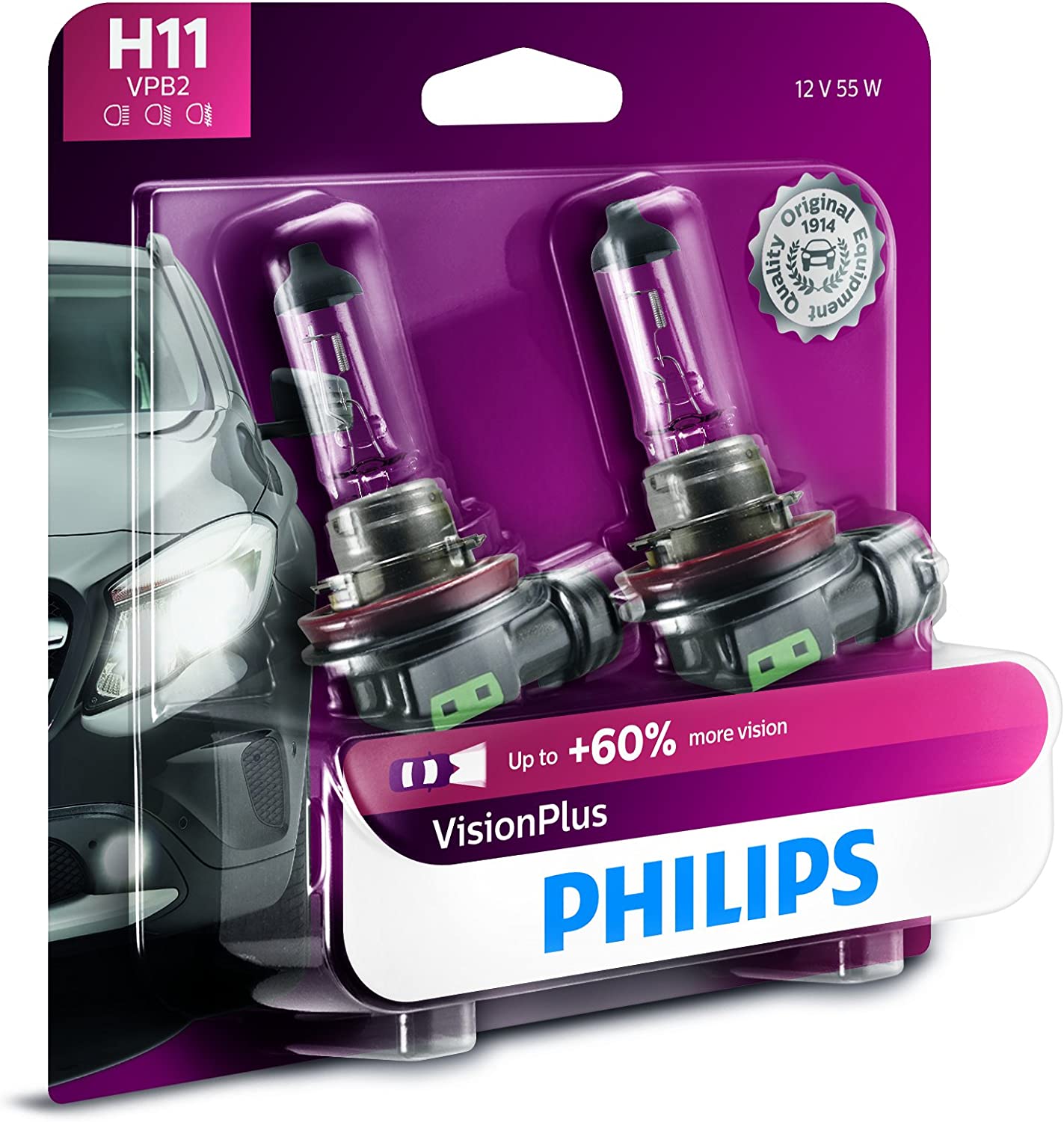 ---