This is my buying guide on the best and brightest H4 LED headlight bulbs in 2023. Below is a quick summary of my top recommendations. Scroll further down to read our in depth, hands on reviews, for each headlight brand.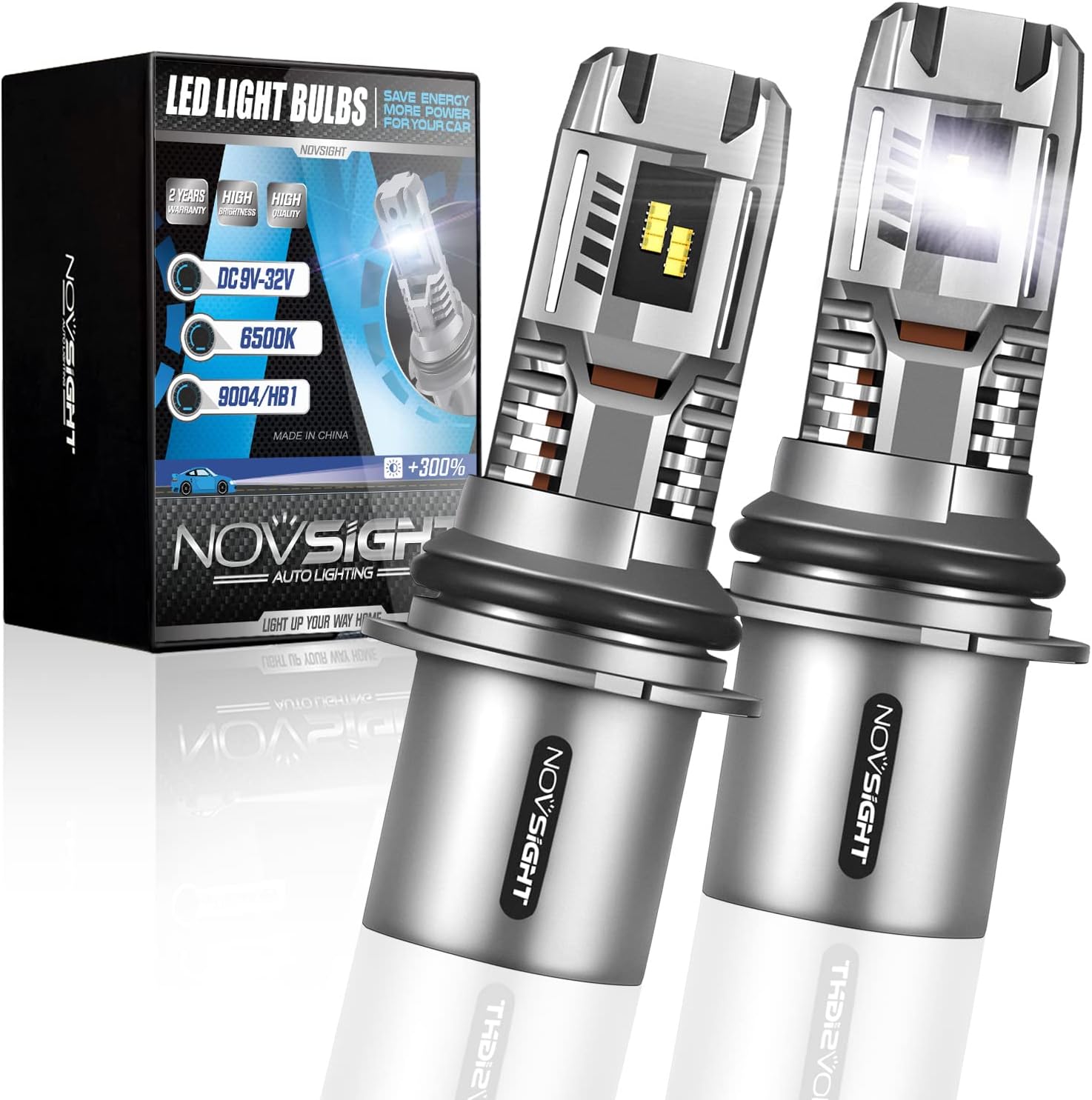 Novsight N30 H4 LED
Headlight Bulbs
Japanese CSP LED chip
12,500 lumens each
All-in-one unit
12,500 RPM silent turbofan
Excellent 88% heat retention
31 watts
50,000 hours longevity (advertised)
Only 122°F hot after 27 minutes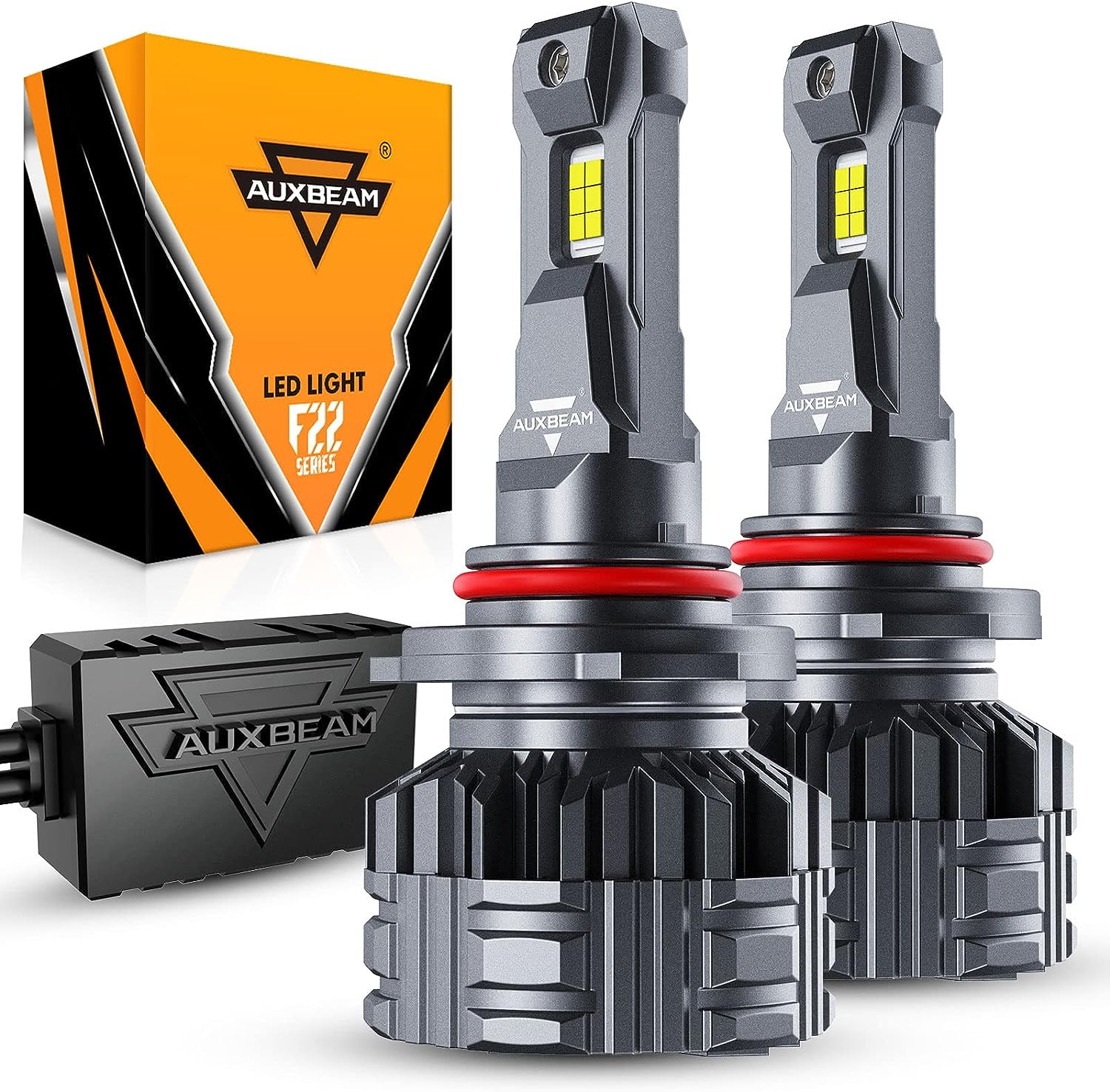 Auxbeam 2023 F22 H4 LED Headlight Bulbs
12 PCs Blade-X LED
12,000 lumens each
Sturdy units
Finger guard over the fan
79% heat retention
55 watts
5-layer cooling system
Firehawk H4 LED
Headlight Bulbs
Japanese CSP LED chip
12,500 lumens each
All-in-one unit
12,500 RPM silent turbofan
Excellent 88% heat retention
31 watts
Only 122°F hot after 27 minutes
---
H4 headlight bulbs used to be the standard in all vehicles. Things have changed, and with new upgrades to lighting, they're still widely used, but not always.
The H4 bulb is a dual filament bulb, which means it can be used for both high and low beams and belongs in vehicles with a single light casing for each headlight.
Stock factory-installed H4s are usually halogen bulbs, which have an extremely short shelf life and burn out very quickly.
The solution? Upgrade to H4 LED headlight bulbs. They'll last longer, shine brighter, and have better clarity than stock bulbs.
So which H4 LEDs are best for you? I've been testing vehicle headlights for as long as I can remember and have seen them come and go.
This year I tested 15 H4 LED bulbs and narrowed it down to the top 3.
The Auxbeam 2023 F22 H4 LED bulbs are my pick for overall best because they're bright and have excellent heat retention, not something I always find together.
I've followed those with my pick for overall brightness and a budget option.
Are you ready to find your next H4 LED replacement? Read on.
Overall Best
Auxbeam is a leader in LED headlight bulb design. For me, its 2023 F22 H4 offering is the best out there. It's bright and has excellent heat retention, but most of all, it was impressive when I took it on the road. Here's a deeper look.
Advertised Specifications
Upon first reading the specs of the Auxbeam 2023 F2 H4 LED bulbs, I found myself quite impressed.
With 12 PCs Blade-X LED chips providing 12,000 lumens per bulb, the promise of being 700% brighter than standard halogens intrigued me. This was no mere claim; these bulbs were designed to revolutionize my nighttime driving experience at high or low beams.
What stood out was the meticulous 1:1 halogen filament position design, coupled with an ultra-thin 0.0074in chip spacing. This meant a super-focused beam pattern with 360° full lighting for my car's H4 headlights, promising no dark spots, shadows, or blinding oncoming traffic.
The 6500K cool white color temperature added to the appeal, promising a clean and modern light output. This is a huge step up from halogen bulbs' 3000K amber-yellow color.
A rapid 0.1-second startup time, IP68 dust and water resistance rating, and a pull of 55 watts added to the specifications that made me feel I was about to experience a substantial upgrade over my existing halogen bulbs.
Furthermore, the compatibility with 99% of car models without the need for electrical circuit modification or dust covers damage was a big plus for me, ensuring a perfect fitting in the H4 housing.
The two-year warranty offered a bonus, a reassuring statement of the quality of these bulbs.
With all these features, I knew I was in for a transformative experience with my high and low beams.
However, one important note was that Auxbeam doesn't recommend them for daytime running lights.
Neat Features
The cooling system is a highlight: a unique five-layer cooling design combining 36PCs dendritic heat sinks, red copper substrates, double liquid-cooling copper tubes, a 6063 aviation aluminum lamp body, and a 12,000 RPM turbofan.
This technology promised to directly double heat dissipation, ensuring consistent performance. But did it all work? Check out my results below.
What's in the Box?
First up, the box itself. I like the gold foil packaging. It's an extra bit of effort Auxbeam adds, which I appreciate.
Upon unboxing, I found the H4 headlights, an instruction manual, zip ties for the external drivers, and even a nifty Auxbeam branded keychain.
Initial Impressions
As soon as I had the Auxbeam's 2023 F22 H4 LED headlights out of the box, I could see that this was a well-made and good-looking light. Auxbeam certainly knows how to add the finishing touches; I was taken with the color and finish.
The little Auxbeam logo etched on the light and the intricate design of the heat sink caught my eye. With many fins, the heat sink looked promising for heat dissipation.
The guard on the fan was another thoughtful addition, as it would prevent any damage during installation.
Looking at the relatively compact driver, again with the Auxbeam logo, it was clear that it wasn't too big or too small and should fit in most H4 housings comfortably.
The sturdiness of the external driver impressed me as well. It felt heavy and durable. Overall, the light had a robust feel to it, and I got the sense that it would hold up just fine. This was indeed a well-crafted product, and I was eager to see how it would perform in my car.
My Tests
To keep things fair, I test every LED bulb the same. I've set up a projector and reflector casing 20ft from a lux meter. I pop a bulb into each and compare the brightness and beam patterns against factory halogens.
Projector Test
The Auxbeam 2023 F22 LED headlight bulb in the projector test initially showed an impressive 1,742 Lux, 1,017 over the halogen's 725 Lux measurement.
After 27 minutes (which happens to be the average commute time in the United States), it retained 79% of that light output, resulting in 1,376 Lux or 651 over halogen.
While the cutoff was clear, I noticed that the distance above the hotspot was higher than I would prefer, so aim this one carefully. The common weak spot in my testing was better than average, which was a pleasant surprise.
Overall, the light output met my expectations based on the specifications and what I've tested previously, performing well in a projector.
Reflector Test
When it came to the reflector, the Auxbeam 2023 F22 really shined with an initial measurement of 4,270 Lux, which is 3,360 over the halogen 910 reflector Lux.
Once again, after 27 minutes, it kept 79% of that light output, resulting in 3,373 usable Lux or 2,463 over halogen.
These are excellent results in a reflector.
The Auxbeam 2023 F22 LED bulb stood out for its excellent reflector output, with very little blurriness on the top and bottom cutoffs, and it was also very full in areas that typically start to fade. Unlike other lights where these areas might be dimmer, this unit maintained brightness.
Heat Management
The heat management test revealed some interesting insights. Despite a published rating of 55 watts per light, I only observed 41.4 watts.
After 27 minutes of runtime, my thermal camera recorded 239°F for the main unit, which is a bit on the higher side. However, the driver runs on the cooler side at 128°F.
While the main unit's temperature was higher than expected, the cooler driver balanced it out. It will be essential to consider the specific installation and environmental conditions to ensure these temperatures are within acceptable limits for your H4 headlights.
Taking the Auxbeams Out on the Road
Installing the Auxbeam 2023 F22 bulbs into the headlight housings in my car was the first real test. The process was smooth, and I could already notice a difference in the appearance of my vehicle. But I knew the real evaluation would come from an actual road drive.
Putting the Auxbeams to the test in my car, I immediately noticed a dramatic improvement over the standard H4 halogen bulbs, especially in brightness and clarity. The transition was quite astounding.
Driving down familiar roads, I could see a clear difference in both the high and low beams.
The high beams penetrated far into the distance, transforming the night into day, which allowed me to see potential hazards much earlier than before. The low beams, on the other hand, provided a consistent and clear illumination of the road just ahead of the car.
The brightness translated into a real-world experience that was simply unmatched by the halogens. Everything was more visible, from road signs to the edges of the road, enhancing my confidence while driving at night.
The clear cutoff and fullness in areas that typically start to fade were also evident on the road. These weren't just numbers on a test; I could actually see the improvements in the way the light was distributed.
What struck me most was how the Auxbeams managed to provide this level of brightness without any glaring issues, thanks to the proper alignment observed during the tests. The light pattern seemed designed to work seamlessly with my car's H4 headlight configuration.
In short, taking the Auxbeams out on the road confirmed my lab observations: these bulbs were not just about better figures; they provided a noticeably superior driving experience. My night driving felt safer and more comfortable, all thanks to this upgrade to my H4 headlights.
What Other Drivers Are Saying
Like me, other drivers are fans of the Auxbeam 2023 F22 H4 LEDs, rating them at 4.5/5 stars.
The sheer brightness compared to halogens and the clearer nighttime forward vision are the takeaways from most customer reviews.
Some drivers had Can BUS errors after installation but resolved these by installing a decoder.
Final Thoughts
After thorough testing and real-world use, I can confidently say that the Auxbeam H4 LEDs are a valuable upgrade for my car. The balance of top-notch performance, special features, and a fair price point make them an excellent investment.
Their standout heat management and the improvement they brought to my on-the-road experience left me highly satisfied. Whether you're looking for aesthetics or functionality, these H4 LEDs are worth considering.
Pros
12 PCs Blade-X LED
12,000 lumens each
Sturdy units
Finger guard over the fan
79% heat retention
55 watts
5-layer cooling system
Cons
Can BUS errors with some vehicles
---
Best Budget
If you're on a budget for less than $30 a pair, the Novsight N30 H4 LED headlight bulbs are an excellent product. Read on.
Advertised Specifications
Diving into the advertised specifications of the Novsight N30 LED headlight bulbs for my H4 headlights, I found many appealing details.
These bulbs come with top LED ultra-thin ZES chips, emitting a staggering 13000 lumens each, 350% brighter than traditional halogens.
Their ultra-focused beam pattern spans up to 1,000ft, ensuring bright light without any spots or blind spots.
The bulbs offer a cool white 6500K color temperature, and each consumes 55 watts.
They're encased in an aviation aluminum lamp body with a built-in high-speed, noiseless fan and an internal driver, all part of the compact all-in-one design.
The IP rating is 68, guaranteeing durability with an impressive 50,000-hour lifespan.
Although there's no adjustable collar, these bulbs boast 99% vehicle compatibility, eliminating concerns like flickering lights, instrument panel errors, or radio interference.
A reassuring two-year warranty accompanies the package, making it an appealing upgrade for my high and low-beam needs.
Neat Features
The neat features of the Novsight N30 extend beyond the headlights themselves. In the package is a nano traceless magic sticker. It's a quirky addition that allows you to adhere objects like a cell phone to a surface, and it's a pleasant surprise. Not branded by Novsight but pretty cool nonetheless. There's also a Novsight keychain.
What's in the Box
Upon unboxing the Novsight N30, I was greeted with a small, compact package.
Inside was a thank-you card and a brief product manual instructing on replacing the headlights (removing the old ones and installing the new ones). There was the magic sticker and keychain and the units themselves.
First Impressions
My first impressions of the Novsight N30 were quite positive. The all-metal body, with no plastic to be found, gave it a solid and robust feel. The compact, all-in-one style is well-executed, and it feels very sturdy, not cheap at all.
I was particularly taken with the bead-blasted type of satin finish and the small Novsight logo at the base. Overall, the build quality conveyed a sense of durability and reliability, promising good performance for H4 high and low-beam headlights.
Testing the Novsight LED Headlights
I decided to dive deeply into the performance of the Novsight N30 LED headlights, explicitly designed for H4 compatibility with high and low beams. Here's what I found:
Projector Test
In the projector testing phase, the Novsight N30 performed quite impressively, achieving a result of 1,320 lux, 595 over the standard halogen lux measurement.
After 27 minutes, the light output surprisingly retained 77% of that brilliance, resulting in 1,016 lux or still 291 over halogen. This retention rate was unexpected, as all-in-one units often get hot and lose light more than that.
The light pattern itself had a flat cut-off and some common fuzziness, but the typical weak area wasn't too noticeable. The light band was a bit narrower vertically than stock but still performed adequately.
Reflector Test
Moving on to the reflector test, the Novsight N30 reached 2,340 lux, a substantial 1,430 over the halogen 910 lux.
Even after 27 minutes, the lux reduced to 1,801, still 891 over stock, almost twice as bright in the reflector.
Comparing this to the stock pattern, it replicated quite well without scattering much on the top cut-off. I noticed that it performs exceptionally well in a reflector housing, perfect for H4 high and low beam functionalities.
Heat Management
Heat management is crucial in an all-metal all-in-one unit, and the Novsight N30 didn't disappoint. With a published rating of 27.5 watts per light, I observed 22.1 watts in my testing.
The temperature recorded by my laser thermometer after 27 minutes was 121°F at the hottest point. This performance was admirable, considering all-in-one units often struggle with heat management.
Taking the Novsight N30s Out On the Road
As I slid behind the wheel for the first time with the Novsight N30s installed, the difference from my previous halogen bulbs was immediately noticeable. The high beam was remarkably intense, casting a broad and vibrant swath of light that penetrated the dark with precision.
Even the low beam offered a vast improvement, with a focused and consistent beam pattern illuminating the road without blinding oncoming traffic. The color temperature provided a clear and cool xenon white light that heightened visibility.
After spending several evenings on different terrains and under various weather conditions, the superiority of the Novsight N30s over the old halogens truly shone through. The light's 360° adjustable super-focused beam pattern eliminated dark spots, and the shadows that used to lurk on curvy roads were now brightly lit.
Whether maneuvering through tight bends or cruising down the highway, the high and low-beam functionality was seamless, and the light transition was smooth.
The Novsight N30s not only improved my driving experience but also added a sense of security and confidence to my nocturnal journeys, aligning perfectly with H4 headlights' specifications.
What Other Drivers Are Saying
72% of customers rate the Novsight N30 LED headlight bulbs as 5 stars.
Best value for money due to their longevity and superior brightness were the dominant comments.
Some drivers noticed some flickering which they resolved with a decoder.
Final Thoughts
For a budget product, I love the Novsight N30 LED headlight bulbs. They're specifically designed for H4 headlights and offer a substantial upgrade over traditional halogens.
Pros
Japanese CSP LED chip
12,500 lumens each
All-in-one unit
12,500 RPM silent turbofan
Excellent 88% heat retention
31 watts
50,000 hours longevity (advertised)
Only 122°F hot after 27 minutes
Cons
May not last the advertised hours
---
Overall Brightest
When it comes to super-bright high beams, I couldn't go past the Firehawk H4 LED headlight bulbs. They're not only bright, but they've got fantastic heat retention. I loved taking these out for a spin. Read on.
Advertised Specifications
As I began exploring the Firehawk LED headlights, specifically designed to fit H4 high and low beam slots, I was eager to understand what set them apart from others on the market. Here's what I found:
CSP Japanese Chip: This is a central feature of the bulbs, boasting 25,000 lumens per pair, a staggering +500% brightness increase compared to typical halogens.
360° Adjustable Beam: The super-focused beam pattern ensures no dark spots, shadows, or blinding oncoming traffic — a great addition for precise customization.
Color Temperature: A clean and crisp 6000K xenon white that adds a modern and sleek appearance to your vehicle's front end.
Built-in Canbus Driver: This all-in-one unit, complete with anti-radio interference, ensures that there is no delay; it turns up in 0 seconds, providing immediate illumination.
Power and Efficiency: Running at 31 watts, these bulbs are energy-efficient while delivering powerful illumination.
Durability: With an IP rating of 68, they're protected from dust and water, enhancing longevity. The typical hour rating of 50,000 and a two-year warranty further affirm their durability.
Adjustable Collar: A convenient feature that allows for customization in alignment, ensuring the perfect fit for your H4 headlights.
These specifications were impressive on paper, but I was keen to see how they translated to real-world performance. As I continued to discover their neat features and put them to the test, the Firehawks' capabilities would be fully revealed.
Neat Features
As I examined the Firehawk LED headlights, I was particularly impressed by the advanced cooling system. The 2mm thickened red copper, 40 pieces of aviation aluminum heat sinks, and the 12,000RPM silent turbofan were a marvel of engineering.
I could see how this combination would ensure that the H4 headlights, both high and low beams, would remain cool and perform optimally.
What's in the Box and First Impressions
Upon unboxing, I found a standard manual, and as they're all-in-one units, I expected the installation to be a plug-and-play solution.
It was my initial observations of the bulb itself that really piqued my interest. With a nice red anodized finish, the Firehawk stood out. Red isn't a color commonly used in headlight units, and I like the novelty.
I'm a fan of adjustable collars, and I appreciate that Firehawk thought of that.
The compact fan is a potential concern for temperature regulation; see my test results below to see if my worries were justified.
The materials were relatively standard, nothing extraordinary but solid. The all-in-one design was compact overall, fitting my expectations for a no-fuss upgrade to my car's H4 headlights.
The Firehawk LED headlight left me curious and eager to see how it would perform for both high and low-beam functions.
Testing the Firehawk LED Headlights
I was eager to put the Firehawk LED headlights to the test, mainly focusing on their performance with high and low-beam headlights. My excitement stemmed from the promising advertised specs, and now it was time to see how they performed.
Projector Test
Starting with the projector test, the Firehawk LED bulbs displayed an initial reading of 1,332 lux, 607 lux over the halogen's 725 lux. This result was rather impressive.
Even after 27 minutes of continuous use, they retained 88% of that light output, making it 1,172 lux or 447 over halogen. That's fantastic heat retention, proving my concerns about the compact fan were unwarranted.
A close examination of the projector light pattern compared to stock revealed some fuzziness near the middle top. I noticed a very low cutoff compared to the hot spot, a positive trait, although the common weak spot was a bit more pronounced than other lights I'd tested.
It was likely a result of the high lux reading, but overall, the performance was commendable for H4 headlights.
Reflector Test
Next, I tested the reflector, which came in at 2,280 lux, 1,370 over the halogen's 910 lux. After 27 minutes and with 88% retention, it reduced to 2,006 lux or 1,096 over halogen.
Analyzing the reflector light pattern compared to stock, it was pretty decent considering the brightness. I observed some scattering and a common spot that was more pronounced, though not terribly so.
This would only be an issue if the headlights were aimed very poorly, so proper aiming is essential. It further reinforced the need for correct alignment with my H4 headlights, mainly to avoid any glare for oncoming traffic.
Heat Management
Heat management was one of the critical concerns for me, especially considering the compact fan design. After 27 minutes of operation, my laser thermometer recorded 122°F for the unit at the hottest point.
The performance was very good at managing heat, quelling my initial concerns.
Additionally, the actual wattage reading was close to the published rating, 29 watts compared to the stated 31, which was just two less and not bad at all.
Taking the Firehawks Out on the Road
I installed the Firehawk LED headlights in my car's H4 high and low beam slots, eager to test them on the road.
The immediate difference in brightness was striking, offering a level of illumination far beyond my old halogen bulbs. The high beam revealed roadsides and street signs earlier without blinding oncoming traffic, thanks to the low cutoff.
Switching to the low beam, I found a robust, broad field of vision with no dark spots, enhancing my driving comfort on dim or winding roads. The transition between high and low beams was seamless, and the substantial improvement in both convinced me of their worth.
These Firehawks, with their compatibility with H4 headlights and enhanced performance, proved to be a wise investment.
What Other Drivers Are Saying
Over 4,000 drivers weighed in and rated the Firehawk LEDs at 4.3/5 stars.
The exceptional brightness topped the list as the reason for the positive score.
Many customers, however, mentioned that they didn't last the advertised 50,000 hours.
Final Thoughts
The Firehawk LED headlights proved their mettle in these rigorous tests, showcasing their compatibility and performance with H4 high and low-beam headlights.
Despite a few minor quirks, the impressive brightness, clear patterns, and efficient heat management satisfied me with their real-world application.
Pros
Japanese CSP LED chip
12,500 lumens each
All-in-one unit
12,500 RPM silent turbofan
Excellent 88% heat retention
31 watts
Only 122°F hot after 27 minutes
Cons
May not last the advertised hours
---