This is our buying guide for the brightest 9006 LED headlight bulbs.
9006 headlights are one of the most common types of headlights on modern cars. And with so many to choose from, it can be hard to pick one that fits your unique requirements.
That's why I put most of those options to the test.
And topping the leaderboard is SEALIGHT's 9006 LED bulbs. They have an intense light output balanced with a perfect 6,500K bluish-white color. It offers flawless nighttime visibility with superior eye-comfort thanks to its consistency.
I've been testing and reviewing headlights for over a decade. My experience allows me to offer an informed opinion. So if you need help choosing the right kind of headlights for your use case, you came to the right place.
Keep reading for our full review of the brightest 9006 LED headlights.
SEALIGHT 9006 LED Headlight Bulbs
OVERALL BEST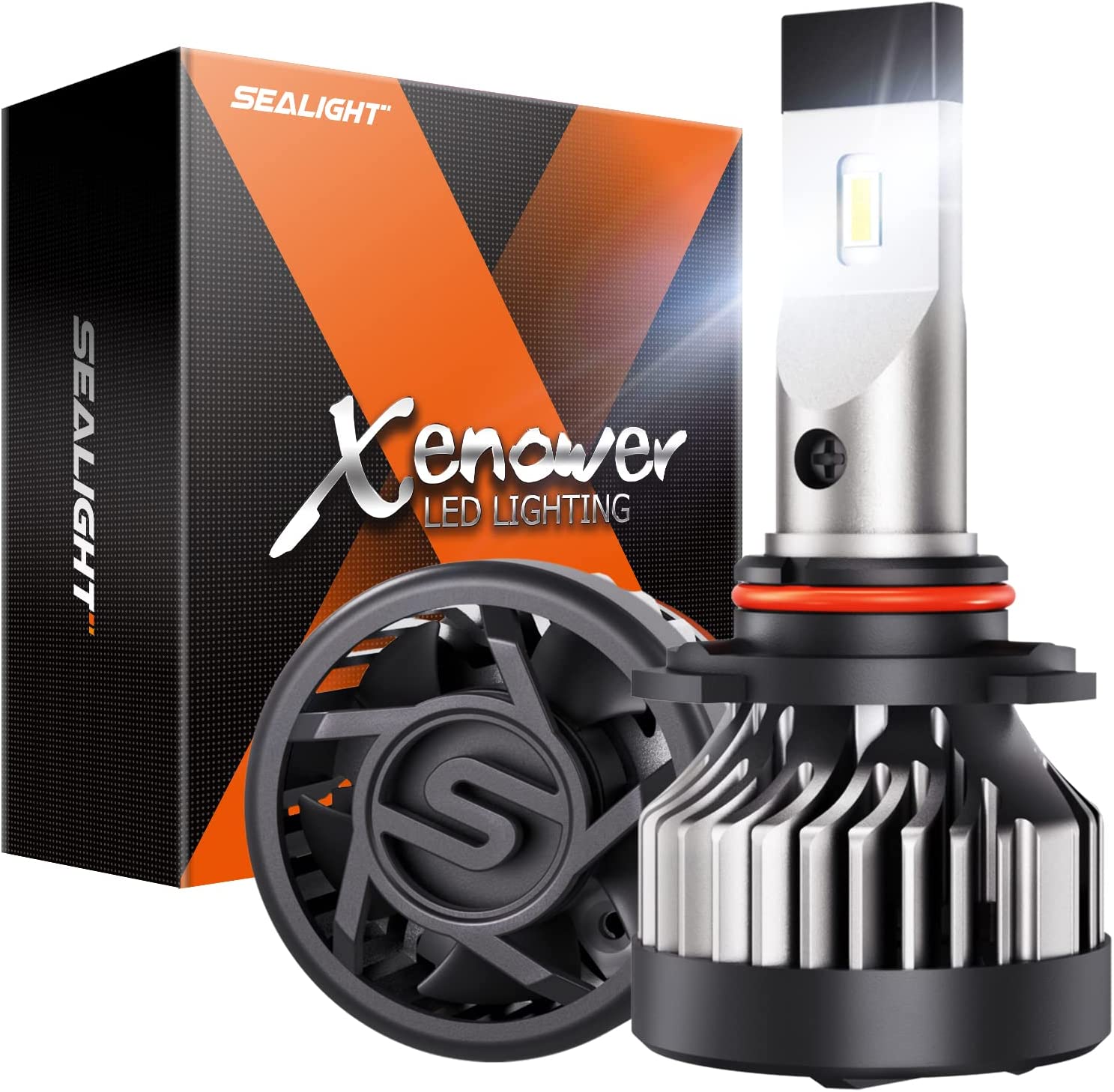 SEALIGHT is one of the best vehicle performance lighting brands, so we weren't surprised to see it win. In fact, the X2 is considered by some to be the best SEALIGHT LED yet.
Its specs are impressive with a 20,000 lumen light output, powered by the latest 7035 LED chips. That equals 600% the brightness of stock halogens. While it's not the most powerful on this list in sheer lumens, it makes up for it in other ways.
The cutting-edge LED chip creates a seamless light output and higher beam accuracy. It's expertly calibrated, delivering a flawless beam for most vehicles and conditions.
It doesn't have the brightest lux reading, scoring around 1,740 lux in our test. But, it only faded by 12%, so it performs better on longer drives.
In general, SEALIGHT went for consistency over sheer power with these bulbs.
That being said, we have some concerns regarding the beam. In some car housings, the cutoff is higher compared to the hotspot. So, it's not quite 1:1 with stock bulbs and doesn't always project as far as other LEDs.
This is not a problem on 99% of vehicles as it still has a much further throw than halogens. But, because it's not adjustable, you'll have to make do with what you get. Shining as far as 1,600 feet, you'll have more than enough reaction time.
One thing we did appreciate is that it nicely fills in the weak spot many bright LEDs have in the bottom center.
The beam is a pure, snowy white, even compared to other LEDs with a 6,500K color profile. This comes down to preference, but it delivers exceptional visual clarity at night. Signs, reflectors and lane markings stand out, particularly in rural or mountainous roads.
For cooling, it uses an ultra-powerful 20,000 LM silent turbo fan. And, the thin, 0.6-inch heat sink leaves plenty of space for air circulation, making the fan more effective.
The bulb is also designed from the ground up for heat management. It's made from aviation-grade 6063 aluminum.
This bulb's cooling is mind-blowing. It barely feels hot after a 30-minute test run on high beams. It also passed a 30-day 90° F test.
Installation is easy plug-and-play. We were impressed with how snug and secure the bulb feels in its housing. This is thanks to the shockproof, wobble-free design. We can also only imagine that it plays a big role in stopping wear and tear.
Being CANbus-ready, there will be minimal internal error codes and we didn't pick up any interference either.
It also has an IP67 rating, which means it will stand up to almost any conditions.
All of this is more than enough to counteract the high 150 watt power consumption (75 watts per bulb).
It's no surprise that this bulb can last up to 50,000 hours or 10 years. There are also almost no complaints about early burnouts or other technical defects. That being said, you're just getting what you pay for as these bulbs are somewhat pricey.
Pros
20,000 lumens 
6500K color profile
Wider angle of projection 
Consistent beam pattern
Aviation grade aluminum
200,000 RPM turbo fan 
Ultra-thin 0.76-inch heat sink 
IP67 water and dust proof rating
50,000 hour lifespan
CANbus-ready
Plug-and-play installation
Cons
Power consumption is a bit higher than other bulbs
Beam pattern not perfect on all vehicles
---
Hikari 9006 LED Headlight Bulbs
BEST BUDGET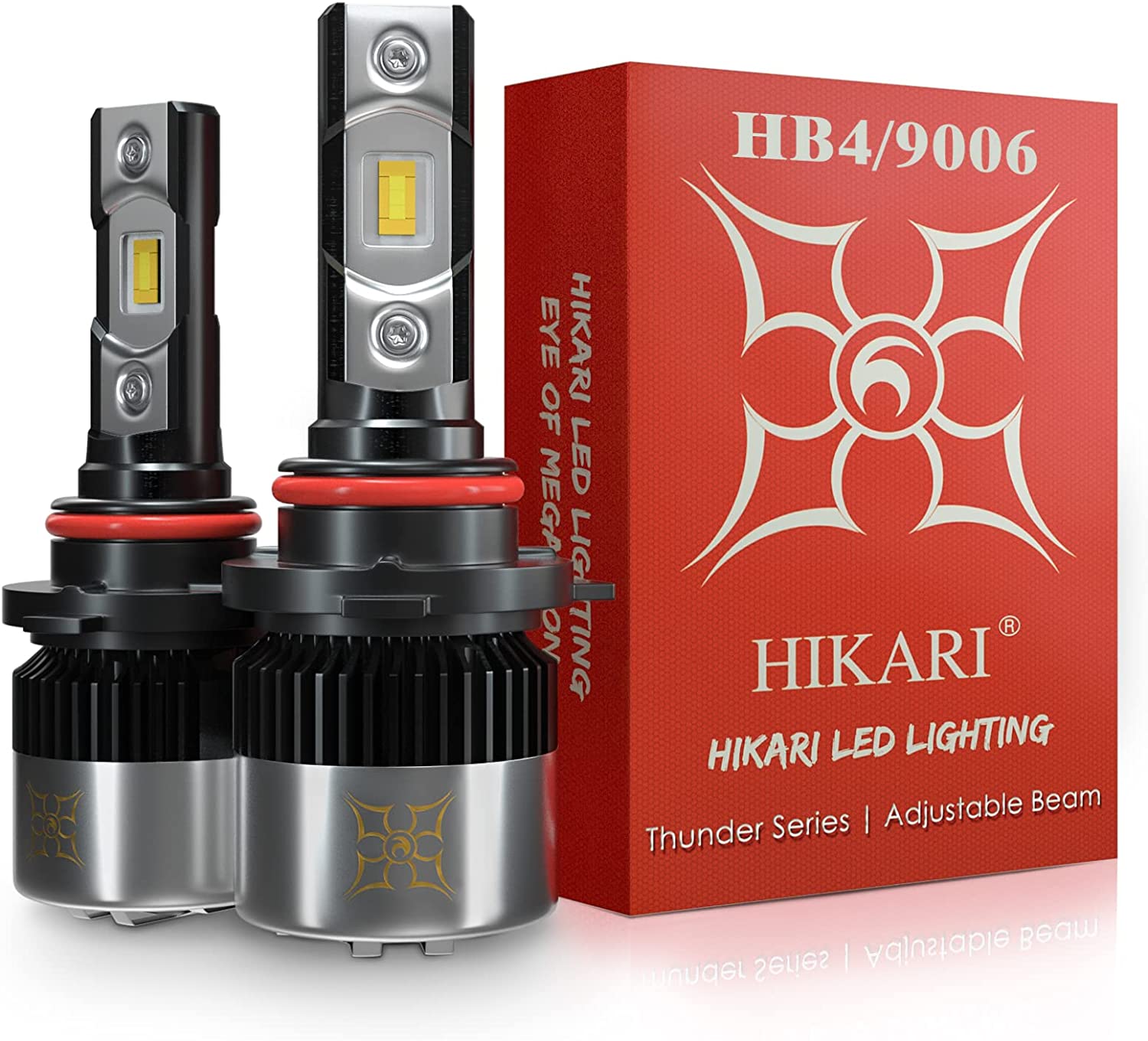 For the price-conscious among us, Hikari's H13 LED bulbs are a godsend. And, you only have to make do with 15% less brightness.
The Hikaris generate 12,000 lumens of brightness, which is still 330% more than halogens. Everything within the beam is lit up, almost as if it's a sunny day.
With 6 customized led chips per bulb, the beam is extremely well-calibrated. There isn't a single dark spot to mar the beam pattern, and we didn't have to put up with any blurriness either.
The result is a clearer sight line for the driver, as well as improved road coverage.
The lux reading was somewhat lower at around 1,500 lux. This is slightly above average and what we expected of a high-quality 12,000-lumen LED.
With a 6000K color profile, Hikaris produces a pure white beam. This will treat you to much higher beam clarity, making it much easier to spot obstacles on the road or read signs.
The cool white look is also a significant style upgrade over stock bulbs.
If the beam is not perfect for your car or preferences, you can customize it using the adjustable collar.
High-power bulbs often struggle with longevity and consistency. But, the Hikari Thunder has plenty of technology under the hood to prevent that.
An intelligent IC driver regulates power consumption and keeps everything running smoothly. It prevents overheating and filament degradation even under heavy use. The driver has special technology that keeps the bulbs from overloading.
The bulbs also come with CANbus integrated into the design. While this does stop error codes or flickering in most cars, it's not perfect. Some will need to install external error cancellers or resistors.
Cooling is handled by a 10,000 RPM fan. Sure, that's not as high-velocity as the ones in other bulbs we've tested. But, the Thunder doesn't need such a powerful fan due to its impressive heat management.
It also means that the fan runs much quieter than 12,000 or 20,000 RPM ones. And, it contributes to the bulbs' low 30-watt individual power consumption.
Even after running for 7 days straight, these bulbs did not go over 300°F. Still, they do run hotter than premium LEDs, like the SEALIGHT and AUXITOs.
Lifespan and longevity also benefit from this enhanced efficiency and cooling. You get over 50,000 hours of lighting, which is pretty much the best you can expect from LEDs in this category.
The only thing we were disappointed by was that the beam's light started a bit further from the car. This leaves a small blind spot right in front of the car. The tradeoff is that you can see much further ahead.
Pros
12,000 lumens
Longer throw and wider angle of projection 
Better road coverage
Precise beam pattern 
Free of dark spots
6000K color profile 
Integrated CANbus eliminates error codes and flickering 
Dual 10,000 RPM cooling fans
Intelligent IC driver keeps power consumption efficient
Latest CSP chips provide anti-overload protection 
Rated to last around 50,000 hours 
Low 30-watt power consumption
Very affordable
Cons
Dual fans can get loud at times
Operating temperatures can get high
---
AUXITO 9006 LED Headlight Bulbs
BEST PREMIUM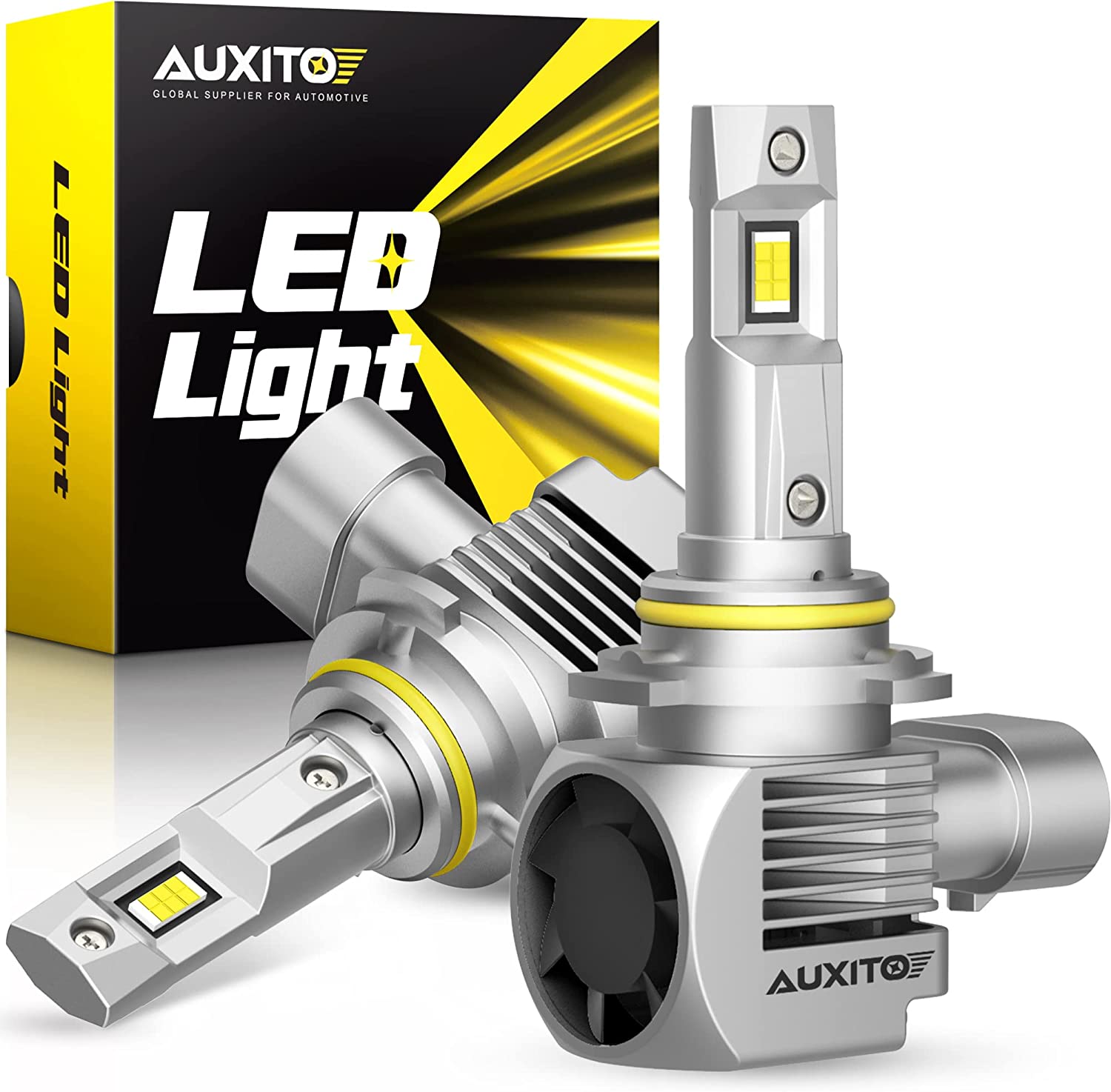 These 9006 LEDs may be a bit pricier than the competition, but it's well worth it, in my opinion.
Auxito uses the latest LED technology in the form of 7035 series chips. These are more efficient, powerful, and long-lived than older generations. On the performance side of things, you get 20,000 lumens of brightness, ideal for driving at night.
Twelve chips result in a more uniform and highly-calibrated beam. While also being up to 6x brighter than stock halogens, and at the higher-end of LEDs.
It also has one of the thinnest baseboards we've seen at 0.3 inches. This brings the chips closer to the light-emitting area of halogen bulbs. That's how they get a 1:1 360° beam without black spots.
There is also very little glare, which is safer for other drivers.
Its lux reading was good, but not amazing, at 1,560 lux using the projector test. The reflectors scored around 2,000 lux. But, like most Auxito bulbs, it has a somewhat high light drop-off of about 30%.
The color temperature is 6000K. It's nearly identical to the Hikari, but closer to pure white than the SEALIGHT. I personally prefer some blues in my light, but this comes down to personal taste.
Regardless, the beam makes it a lot easier to differentiate between obstacles. I can't fault it in terms of visibility and reflectivity.
Your vehicle's front end also gets a massive style improvement, as the cooler beam gives a more modern look. Still, we would have preferred the pure bluish-white of 6500K.
An aviation-grade aluminum offers the high build-quality we expect of top LEDs. These bulbs are much less prone to any physical damage.
We also appreciate the all-in-one design. The built-in driver and fan takes up less housing spaces. It also removes any unnecessary steps from the installation process. It's literally a once-off plug-and-play installation, no extra wires or connectors.
Cooling mainly comes from a 12,000 RPM silent turbo fan. We thought this is a bit underpowered for a 20,000-lumen bulb. But it also has a copper baseboard to conduct heat away from the sensitive components.
It also helps keep power consumption low at 50 watts per bulb.
Plus, the 50,000 hour lifespan doesn't lie. It's a direct result of efficient cooling and power consumption.
We did notice a bit of stereo/radio interference on select makes and models. But this is nothing out of the ordinary with aftermarket LED bulbs. You can easily remedy it by installing an additional decoder like I did.
The good news is it's IP67-rated. This means the Auxito's can take the most punishing conditions with ease. The manufacturer is so confident that they offer a 2-year warranty. That's very long for a LED headlight.
Pros
Latest 7035 LED chips 
20,000 lumens brightness
Beam stretches further down the road
Wider field of view
6000K color profile 
Improved visibility 
Noticeably easier to differentiate between obstacles 
High quality aviation-grade aluminum body 
High speed, 12,000 RPM cooling fan 
Last around 50,000 hours
2-year warranty
IP67 rating
Efficient 50-watt power consumption
Cons
High light drop-off after 27 minutes
Interference with stereo and radios on some vehicles 
---