Built in Y19 CSP 1.9X1.9mm chips
6000K Daylight White
6063 aviation grade aluminum heat sink
1.41inch diameter mini base design
16000 Lumens
Japanese produced
Universal fit type
LED bulb
1200 RPM fan
2 year warranty 
High luminous efficacy flux
Compatible with vast majority of vehicles
Marsauto provide great customer service
At least a 50,000 hour lifespan
Trusted brand
Great customer reviews
Extra wide illumination
Easy installation
No modifications needed
10 year lifespan according to Marsauto
40% higher heat dissipation compared to stock bulbs
Reasonable price
20% more illumination range than stock bulbs
Minority of customers complain of poor fitting
Van owners complain of incompatibility 
Cold White 6000K
12000 lumens
Adjustable mount 
Built in cooling fan
Aviation aluminum heatsink
10,000 RPM fan
LED
Plug and play
Built in EMC system
Maximum lifespan of 50,000 hours
Water resistant
Fits in nearly all vehicles
Easy installation
Similar size to standard halogen bulbs
A budget bulb that has a fan
Great heat dissipation for price
EMC system reduces conflicts with FM radio
Antifreeze
Not as bright relative to higher price points
Poor instruction manual 
Supplied O ring can be too small in some cases
Does not fit a 2007 Chevrolet Silverado
In rare cases causes interference on FM radio's
20,000RPM High Speed Silent Fan
600K cool white
16000 lumens
50Watts per bulb
4500LUX per bulb
2 year warranty 
Multiple voltage protection
Double ball bearing fan
Aviation Aluminum Body
Overwhelmingly positive customer reviews
Total reach of 1600 FT
600% brighter than standard halogen bulbs
Focused beam doesn't blind other drivers
Manufacture promises a 20 year lifespan if you drive 6 hours a day with the bulbs on
Outlasts 180 standard halogens
Passed 90F-30 days of high temperature testing
Easy fitment and installation
Similar sized to standard halogens
Upgraded circuit chips prevent ensures no flickering or error warnings
Waterproof
Kit comes with zip ties and wires
In rare cases some vehicles need anti flicker harness
Expensive
When searching for the brightest 9006 bulbs, you're going to be spending a little more than your average headlight bulb. I always try to find the best prices for my readers but just beware since this is a guide on the brightest 9006 bulbs, prices will be marginally more expensive because we're on the lookout for the brightest.
I've made sure to provide different options depending on your price point and what will suit your needs.
When choosing new headlight bulbs remember to check if your car requires two bulbs per headlight for low beam and high beam, or a single bulb that switches between low and high beams.
Marsauto 9006 LED Headlight Bulbs
Compatible with vast majority of vehicles
Marsauto provide great customer service
At least a 50,000 hour lifespan
Trusted brand
Great customer reviews
Extra wide illumination
Easy installation
No modifications needed
10 year lifespan according to Marsauto
40% higher heat dissipation compared to stock bulbs
Reasonable price
20% more illumination range than stock bulbs
Minority of customers complain of poor fitting
Van owners complain of incompatibility
Marsauto has to be one of my favorite headlight brands, they produce superior bulbs and I struggled to find any real problems with their 9006 bulbs. I chose these bulbs firstly because they're a great combo of affordability, longevity and fantastic brightness.

In terms of brightness, these 9006 bulbs will work well because they use a 600k daylight white, as you can see in the picture below it will pick up anything in front of you with ease. The high beams were especially strong and gave me vision for a few hundred metres in front of me. They've added a new chip set and while I'm not familiar with the part itself, the wideness of illumination as promised was obvious. 
With a total of 1600 lumens this is a bright 9006 bulb and it's stated it's rated highly on the luminous efficacy flux. This is a test of how much light, a light source produces. Here's a photo of what the lights look like from another perspective. 
While brightness is all well and great, another important factor is just how long these bulbs will last you? Marsauto's 9006 bulbs are produced in Japan and you can feel just holding them. They feel weighty and firm. It's not a cheap feeling and it's not surprising Marsauto states they'll last 10 years. 

These bulbs are dust proof, shockproof and waterproof. The wiring is covered well so that any water that manages to seep in wouldn't get into the electronics. In terms of a crash the bulbs feel strong and it's stated they're shock proof.
My favorite part about Marsauto's 9006 bulbs is their superior heat reduction and dissipation. For a mid tier headlight bulb they've used 1200 RPM fans, what this means is that the heat that the bulb produces is dissipated very quickly. Less heat equals the headlight lasting a longer time. This model has an aluminium cover at the base, meaning the heat is funneled downwards with the help of the fan, getting as far away as possible from the bulb itself.
Car Rover 9006 LED Bulbs
Maximum lifespan of 50,000 hours
Water resistant 
Fits in nearly all vehicles
Easy installation
Similar size to standard halogen bulbs
A budget bulb that had a fan
Great heat dissipation for its price
EMC system reduces conflicts with FM radio
Antifreeze
Not as bright relative to higher price points
Poor instruction manual
Supplied O ring can be too small in some cases
Does not fit a 2007 Chevrolet Silverado
In very rare cases causes interference on FM radio's
If you're short on money don't fall into the trap of going for the cheapest option, the upfront cost will be low but the bulbs longevity will be low as well. I chose Car Rover's cheaper 9006 bulbs because they're affordable while still maintaining a long life span, an impressive 50,000 hours. While they're many better choices for the brightest 9006 bulb if you're on a budget then these bulbs are your best bet.
What stood out to me about these 9006 bulbs was the fact that for a cheaper price point they've got some great heat reduction technology. Most budget bulbs don't contain high RPM fans but in this case Car Rover do. LED bulbs are significantly brighter than halogens, because of this they also create a lot more heat. WIthout a heat reduction system the bulbs wouldn't last very long. Car Rover comes with a 12000 RPM fan which isn't as powerful as the Marsauto but still adequate. Lastly the heat sink is made of aluminium so that the heat is funneled as far away from the bulbs itself.
Car Rover's 9006 bulbs come with 12000 lumens and a cold white 6000k beam. I always recommend white beams because anything in their shine stands out. They're far better than yellow, orange or red. When looking for the brightest headlight bulbs, LEDs are a given. I've attached a photo of what these bulbs look like when installed. You can very easily see their cold white color.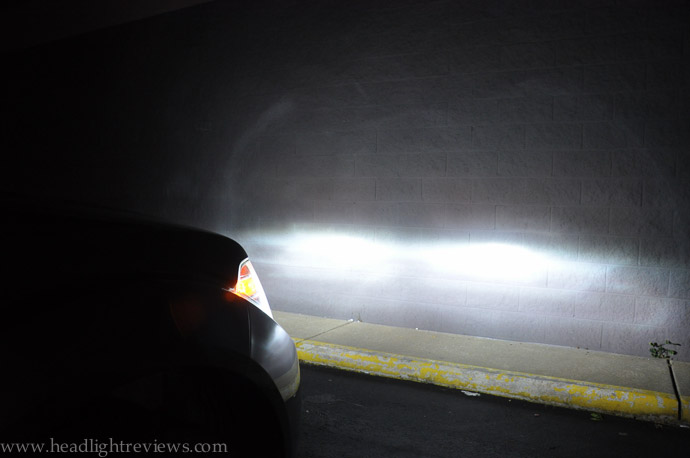 Other features that come with most headlight bulbs are waterproof, and Car Rover is no exception, they're similar sized to standard halogens so they're an easy fit for any car. They've antifreeze for those who live in colder climates, which is something a lot of bulbs skip out on.
They're easily installed and they even include EMC technology which prevents interference with FM radio's, although in rare cases I've seen people complain that these 9006 bulbs interfere with their FM radio.
SEALIGHT X2 9006 High Beam, Low Beam LED Headlight Bulbs
Overwhelmingly positive customer reviews
Total reach of 1600 FT
600% brighter than standard halogen bulbs
Focused beam doesn't blind other drivers
Manufacture promises a 20 year lifespan if you drive 6 hours a day with the bulbs on
Outlasts 180 standard halogens
Passed 90F-30 days of high temperature testing
Easy fitment and installation
Similar sized to standard halogens
Upgraded circuit chips prevent ensures no flickering or error warnings
Waterproof
Kit comes with zip ties and wires
In rare cases some vehicles need anti flicker harness
Expensive
For the brightest premium quality 9006 bulbs that excel in every category I landed on Sealights X2 9006 series. I found they ticked every box and while they are expensive they do provide great bang for your buck.
Sealight X2 9006 bulbs are some of the brightest that you can purchase legally. I've attached a photo of what their shine looks at night, it's stated they're 600% brighter than standard halogen bulbs and I can verify they're most probably around that percentage.
They rate 4500 lux per bulb. To give you an idea, office lights are rated at 500 lux per bulb, so these 9006 bulbs will be 9 times brighter than what's in a standard office. You might not know but that's significantly stronger than the rest of the bulbs reviewed in this article. The colour of these bulbs is a cool white, it's easy to spot far away objects, up to 1600ft, which is an awesome length for any headlight bulb.
With great brightness comes great heat, tons of heat actually. Luckily Sealight has brought a 20,000 RPM Fan that I wasn't able to hear while driving. Like most bulbs it's got a cover made of aviation aluminium. What this means is that the heat is sucked downwards as far away from the bulb as possible. 
The bulbs themselves are quite heavy even though they're similar sized to standard halogens, just bulkier around the bottom. They come with a two year warranty but it's stated they'll last for 20 years, if you drive 6 hours a day with the bulbs turned on. It's a big promise to make although when holding them they're weighty and feel like real quality.