Many people confuse the H9 and H11 led bulbs to be the same bulb. Although they are similar, they actually have different features and major changes when it comes to their performance. Which is why today, we are doing an H9 vs H11 comparison.
They're both very similar although what it comes down to is their filament and the different characteristics each filament possesses. The H11 uses a nominal filament, specialised for a long life span at the expense of lower luminance and flux.
While the H9 uses a filament optimized for flux and luminance but at the expense of a shorter lifespan. Generally you'll want to use the H9 for your high beams and the H11 for your low beams.
IMPORTANT! – Make sure you have the correct bulb sizing and fitment so you don't waste your money, use this handy tool to double check.
H9
Shorter Lifespan
Higher luminance (brightness)
Best as high beam headlights
H11
Longer Lifespan
lower luminance (brightness)
Best as low beam headlights
Hands Down best h9 and H11 Bulbs
---
Pros
Up to 100% more light output than standard bulbs
Very trusted brand
2 Bulbs
3600 K light color
Street legal
---
Pros
1.5x brighter than halogen bulbs
No tools needed for installation
20 year lifespan
Won't blind other drivers
Pure white color lighting
Street legal
Fanless Design? 
last for 20 years even if you drive for 6 hours a night
Great customer reviews
---
What's the difference between H9 and H11 LED Bulbs you Ask?
Well, at first glance, everything? from the trim tab to the connector of both H9 and H11 bulbs looks similar. However, if you look more carefully you will notice that the H9 bulb has a tab at the top of the female side which is not present in the? H11 led headlight bulb. Also, the top lugs on each bulb are identical in the H9. This is not the case in the H11 led bulb, where they are asymmetrical and opposite.
The performance of the H11 led bulb definitely overcomes the H9 headlight power, which is why the H11 comes as a great re-aim on your headlights.
As we continue with our H9 vs H11 headlight comparison, we'd like to state that for the fog light, the H9 bulb fits better with a slight modification. The whole science behind all this is the performance in lumens. An? H9 headlight bulb? modification can give you 2100 lumens than the standard 1450 lumens, with only a 10-watt and 2-amp increase. The benefit from all this, though, will be a much brighter light than stock.
If you see more carefully, you will see that both of them consist of a base that can be trimmed. The portion of this base should be trimmed measures around 3mm from the left side of the top lug in order to allow the headlight bulb to fit in the top light housing. Also, the bulbs should be maintained with debris which must be wiped down with a soft towel and 91% Isopropyl in order to clean off the debris.
Update: HID Headlights are slowly being replaced by LED technology.?  One of the? better LED headlight kits? we've come across is the XenonPro.?  They make a great kit, and they're a solid, reputable company.?  Check them out!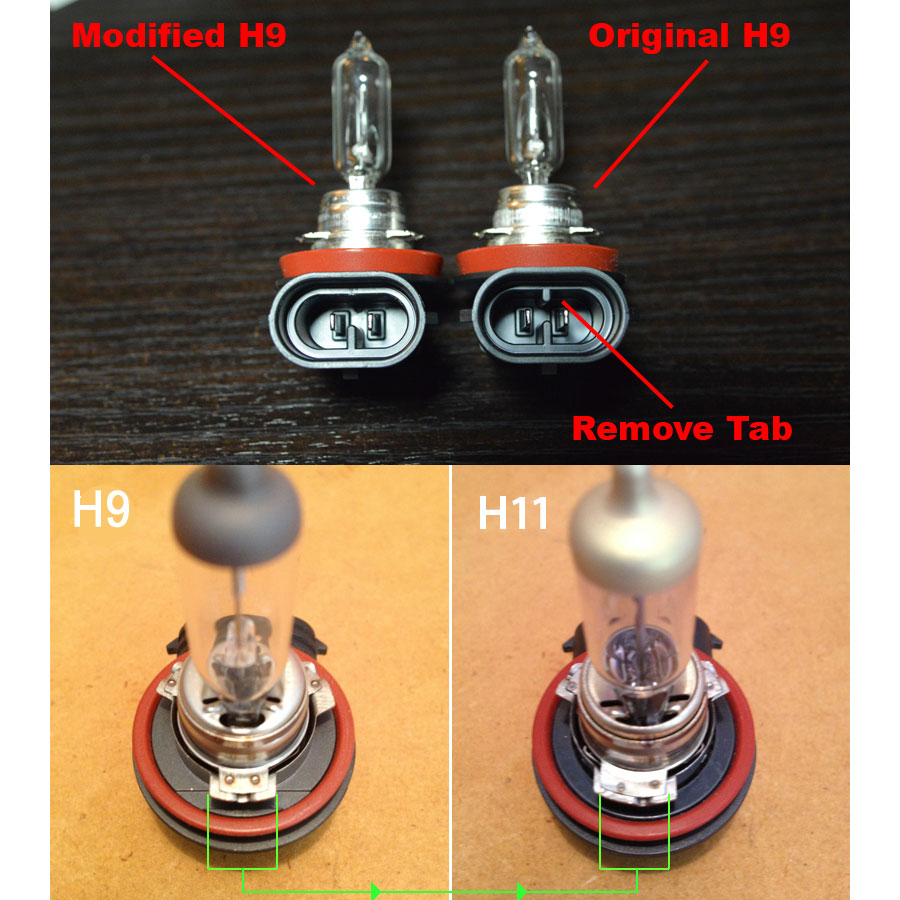 In case you want to use a regular H9 as your H11, you can always remove the tab top on the female side by using a small sharp chisel and a rubber mallet.
At last, we can come to the conclusion that the H9 bulb has a harder driven filament, no glare cap, higher wattage but also a shorter life. However, it remains a significantly higher output. Therefore, it is a significant upgrade you may consider.
What H9 Bulb Should I Consider?
If you're looking for the best H9 bulb on the market and for what ever reason don't want to use an adaptable H11 Bulb then I would recommend using the? HELLA H9 2.0TB High Performance Bulb. It's a top quality brand which I've used throughout the past, although it won't have such a long life as the H11 although it should shine a lot brighter.