In this article, we take a deep dive into the Sylvania zXe Gold halogen headlight bulbs.
We were able to test the zXe bulbs and really put them through the ringer. We considered bulb performance, features, efficacy and the value it provides for daily use.
One of Sylvania's most popular halogen offerings, the zXe provides a noticeable upgrade in bulb brightness, an unprecedented improvement in the color profile, and longer lasting design.
While we would have liked to have seen even more brightness, the zXe is still plenty powerful and aids visibility. Not to mention, the color temperature is unlike any other halogen we've tested.
Keep reading for more of our thoughts on the Sylvania SilverStar zXe Gold headlight bulbs.
Our verdict
Over the course of testing the zXe bulbs, we were impressed by the dramatic improvement in light output and visibility. Even more surprising, the color profile of these bulbs is cooler and more appealing than any other halogen we have tested over the years.
The zXe Gold is geared towards the driver who requires a high quality build and awesome performance from a bulb, but also a stunning look and better longevity. If that sounds like you, the Sylvania SilverStar zXe Gold headlight bulbs have our seal of approval.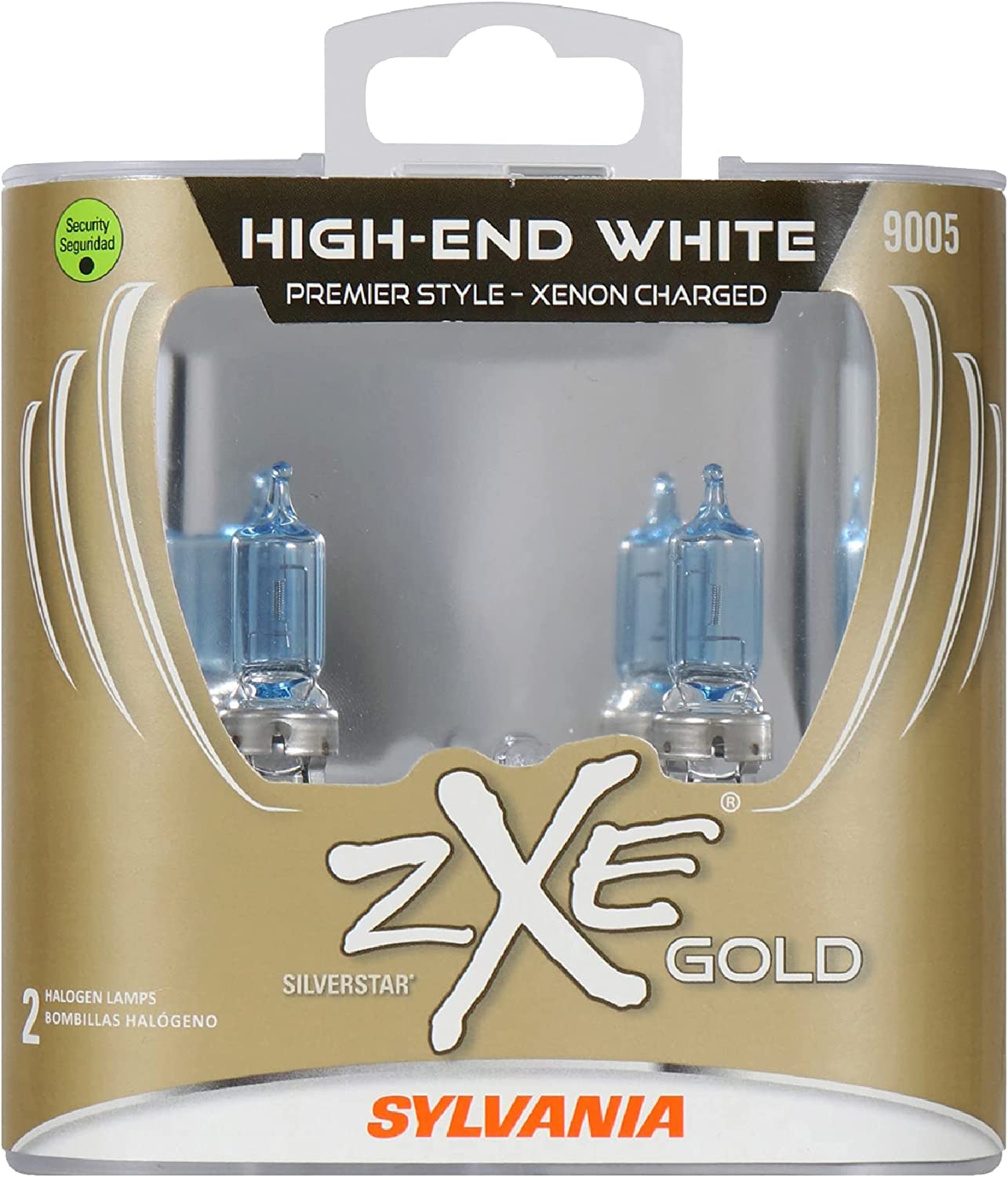 Pros
10% brighter than stock
29% whiter at 3870k
Stylish look
Longer lifespan
Brighter than OEM
Cooler white tone
Great combination of brightness and Kelvin color
Improves down road visibility
Wider field of view
Awesome xenon style look
Perfectly illuminates longer stretches of road
Improves peripheral visibility
Cons
A bit more expensive than other option
---
Longevity and build quality
Like other Sylvania headlights we've reviewed, the zXe bulbs feature top notch construction and build quality. Premium materials like aluminium make for a longer lasting bulb. The glass also resists scratching, improving beam definition.
Sylvania have refined the design of their bulbs for over 100 years and it shows in the construction of the zXe. It is durable and can easily outlast any stock bulb. We put excess load on the bulb in order to see how it holds up to abuse and were surprised to find that it did not exhibit any drops in performance; not so much as a flicker or flash.
Ease of installation is another plus point of the zXe. OEM mounting points and a wider compatibility make the process quick and easy.
Power consumption is also significantly more efficient than stock thanks to the unique design. The high quality materials resist heat damage and accidental damage during installation.
Colour and brightness
While we would have liked to see even better performance, the zXe holds its own against similarly priced alternatives. It generates a powerful beam of light with crisp focusing and stellar calibration. A 10% increase in brightness isn't the most dramatic we've seen, but still noticeable.
Visibility benefits from this increased brightness. The powerful throw extends further down the road and the wider projection helps you stay aware of your surroundings.
The real star of the show however, is the color profile of this bulb. At 3870k, it is an astounding 29% cooler than stock. We were treated to a brilliant beam of light that makes noticing and avoiding pedestrians, other vehicles, and stray animals a lot easier.
Perks and features
Sylvania's zXe bulbs have a unique blue treatment on the bulb caps that gives these halogens a slightly cooler tint. It is a cobalt blue coating that is done using a laser-ablation process, allowing the lens surface to stay free of micro scratches that could affect the beam quality.
Another convenient detail about the zXe bulbs is that their beam pattern is DOT compliant and does not dazzle oncoming traffic as some aftermarket bulbs tend to do.
Conclusion
So to sum up, the Sylvania zXe Gold headlight bulbs are a stellar aftermarket bulb option that features more powerful light output and a stunning color profile which combine to provide enhanced visibility and a sexier look for your car's front end.
Durability is top notch thanks to the premium build and efficient power draw. Lifespan is expected to outlast stock bulbs by a good margin, and long term drivers report facing no issues. All said and done, the zXe Gold is a worthy option for anyone looking to upgrade their stock bulbs to something better performing and better looking.
---