This is my review of the Philips CrystalVision Ultra Halogen Headlight Bulb.
I'm a car enthusiast on a mission to improve driver safety and comfort. And I've reviewed hundreds of aftermarket headlights.
Today, I'll be taking an in-depth look at the Philips CrystalVision Ultra. In the end, you'll be able to decide whether it's the right upgrade for you.
Philips is a leading international consumer electronics brand. It also has a fine selection of car lights & accessories.
Overall I found the Crystal Vision Ultra to offer a good balance between visibility, style, and price.
Below, I'll investigate many angles, such as performance, fitment, and style. On top of looking at its features, I've done hands-on testing and researched reviews from customers.
In this review you'll get real, unbiased advice to make a smart buying decision.
Keep reading to discover why the Philips CrystalVision Ultra is worth it for your next pair of halogens.
Philips CrystalVision Ultra Product Overview
The Philips CrystalVision Ultra is an aftermarket halogen headlight. It can replace your existing or stock halogens on compatible models.
It's for car enthusiasts that want to upgrade their ride's style and nighttime visibility. It's DOT-compliant, so it's suitable for everyday use on the roads.
Thanks to a variety of technologies, the CrystalVision Ultra provides significantly improved visibility. Its key features are its perceived brightness, focused beam, and white color profile.
It's also a convenient option for most drivers with compatible vehicles. They ship in pairs and work as low and high beams as well as fog lights. You can also find variations with different color profiles or different vehicle models.
Our review will focus on the Philips CrystalVision Ultra 4,700K for H7 vehicles.
Philips Crystal Vision Ultra: Feature Breakdown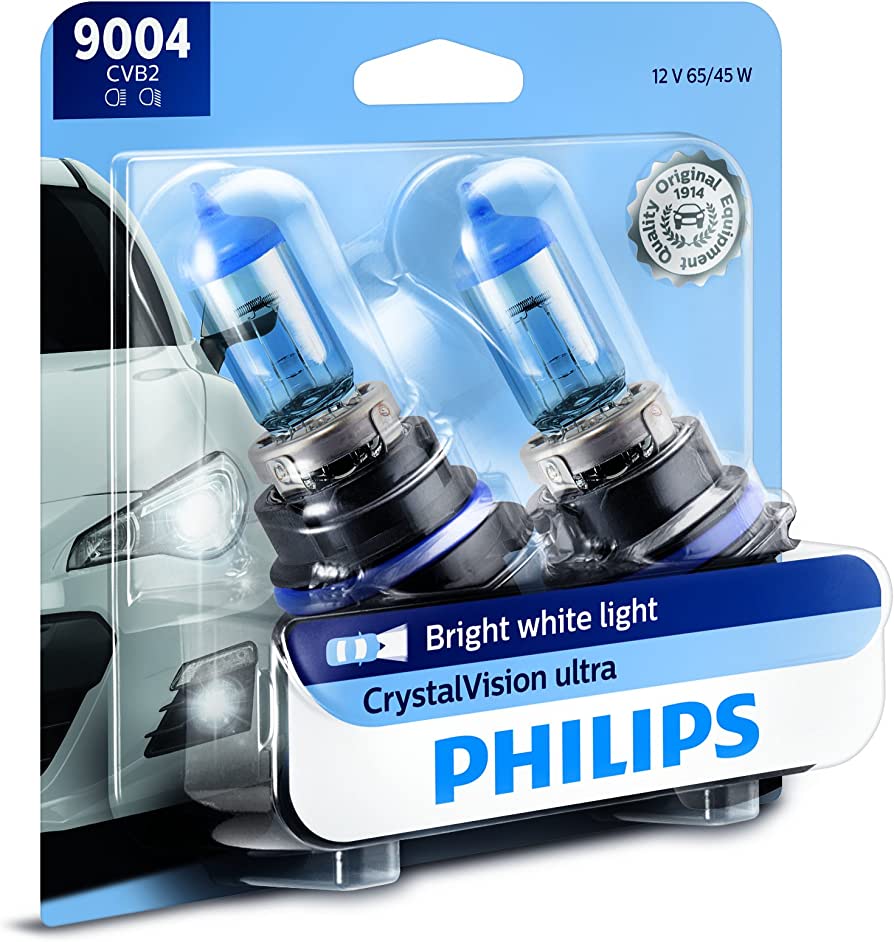 I've analyzed the most important features of the Philips CrystalVision Ultra below. Read each category to make sure it's the right aftermarket lighting upgrade for you:
Brightness
Most stock halogens produce around 700-1,200 lumen of brightness. The CrystalVision Ultra is actually 5% less powerful than stock bulbs. But, there is a catch.
Firstly, they are only 5% less powerful than top, modern halogens. So, they produce around 1,000 lumen. This is still pretty high, and better than the majority of halogens.
Another benefit is that these bulbs are still DOT/SAE compliant. Many aftermarket halogens have pumped-up brightness that makes them unsafe for the road. They can blind oncoming drivers, for instance.
However, you can still drive with the Philips CrystalVision Ultra in most jurisdictions. It is completely legal in the US and Canada.
The Kelvin color of the light bulb is another reason why its brightness is misleading. The whiter color profile has the effect of boosting the perceived brightness.
These bulbs appear much brighter than stock halogens, while actually being less powerful. This is especially true at night.
Philips designed these bulbs with a more focussed beam pattern. This also helps boost its potency in the field of view. It's also more consistent without any dim spots or light falloff.
When you take all this into account, the bulb has 30% better visibility than stock halogens. You can also go with the Platinum version for up to 60% better visibility.
Still, it is one area where these bulbs could conceivably improve.
Kelvin Color
The Philips Crystal Vision Ultra has a color temperature of up to 4,700 Kelvins. This gives it a cool white color profile that's closer to HID headlights than halogens.
Typically, stock halogens have a color temperature of between 2,000K-3,000 Kelvins. So the bulb's light is a more fuzzy, yellowy look. This is great for driving in mist and fog. However, it's not as effective for nighttime driving.
A whiter color profile more crisply highlights objects in the dark. Pedestrians, vehicles, road signs, etc. clearly stand out against the backdrop.
This makes it easier to spot any potential hazards, like potholes or crossing animals. It felt like it gave me much more confidence and improved my reaction time at night. It also made it easier to make out details and read road or street signs.
The bulb has a blue cap for a slightly bluer tinge. Some prefer this because it doesn't wash out colors as much as pure white light.
The crisp blue/white light also helps you feel more alert and wakeful. Warmer light from stock halogens can have a sleepy effect on long drives.
So, it's definitely a plus for safety. Particularly if you drive late when there is a higher risk of falling asleep.
While some stock halogens have a near-white color profile, blue is unheard of.
As a bonus, it looks much more modern and sleeker than stock halogens. Your car will get some extra style points, particularly at night.
Unique Features
Let's look at some other features that make the Philips Crystal Vision Ultra stand out from the crowd:
Stylish Aesthetics
The standout feature of this product is its cobalt blue tinge. This has a much more attractive and aesthetically pleasing look than stock halogens. It's most noticeable at night. But, it will also create a visible cool blue effect in the headlamp's reflector in the daytime.
Improved Lifespan
The Philips Crystal Vision Ultra has a rated lifespan of around 400 hours. That will give you over a year of life if you commute an average of 1 hour per day. You can expect these bulbs to put out a consistent performance throughout most of that time.
OEM Replacement
These bulbs are designed for plug-and-play installation on all cars with the correct socket. It has no extra connectors, cables, or parts. Just plug out the old stock halogens and plug these in. You don't have to worry about installing drivers and decoders, or doing any modifications.
All-In-One Pair of Bulbs
The Philips Crystal Vision Ultra comes in a set of two. So, you can replace both your stock bulbs at the same time. Each bulb comes with all-in-one functionality, including high beam, low beam, and fog lights. So, there's no need to shop or install separate bulbs.
Price
These bulbs are exceptionally affordable for high-performance aftermarket halogens. They cost below the average for similar products on the market. Since they last longer and come in a pair, that's great value for money.
Power Consumption
Consuming about 55 Watts for both bulbs, they have standard power consumption. This is impressive given their capabilities.
Variations
There are a variety of models from the CrystalVision line. You can find options for different car sockets and color temperatures. The good news is they are all still high-quality and DOT compliant.
1-Year Warranty
Philips offers a 1-year warranty if you buy from recognized dealers. This will cover you in case of defects or malfunctions. This shows Philip's confidence in its product and should give you peace of mind.
Philips Crystal Vision Ultra Customer Reviews
Reviews are very positive for the Philips Crystal Vision Ultra. This is impressive for a headlight bulb
that has sold nearly 12,000 items on Amazon alone. Roughly 70% of its reviews are 5-star.
Most buyers praise the bulbs' increased brightness and whiter color profile. Many say that it clearly improved their experience driving at night. Some were impressed with the focused beam and reflectivity.
"These fit perfectly on my 2018 Hyundai Tucson. Stick with the OEM specs, avoid blinding drivers in front of you, and see the road better with the type of bulb intended for the projector lamp housing design in your car."
– Amazon reviewer
There are some negative reviews, but less than 10%. Most complaints are from users who expected much brighter lights. Or who were expecting a whiter temperature.
However, the bulbs clearly work as advertised. 4,700K is already very white for halogens. Plus, these bulbs are meant to be DOT-compliant and roadworthy. So, they can't be too bright.
There are also some complaints about early burnout. But, mine still works fine after half a year on my 2014 Sonata.
Overall, the majority of customers are highly satisfied with the Philips CrystalVision.
Philips CrystalVision Worthy Alternatives
The Philips CrystalVision Ultra is an excellent upgrade over stock halogens. However, it's not universally the best choice for everyone. If you're not convinced, here are some other options we recommend:
SYLVANIA XtraVision Halogen Bulbs – Budget Option
Costing less than the Philips CrystalVision, the Sylvania XtraVision is a budget-friendly option.
It still has some impressive specs. Whopping 1,345-lumens of brightness, which is significantly more than stock halogens. It also has a 6,000 kelvin color profile, which is a pure white you usually only get with HIDs or LEDs.
At around 900 lux, it has slightly better light performance at 20 feet.
This already gives you great nighttime visibility. However, the Philips will perform better in fog.
The bulb is also designed for a longer download beam. This helps you see further and gives you more reaction time.
It's also DOT-compliant, which means it's street legal.
SYLVANIA SilverStar zXe Halogen Bulbs – Premium Option
This bulb costs nearly double and triple that of the CrystalVision and XtraVision. However, it comes with the specs to warrant this price tag.
The bulbs use proprietary Xenon halogen gas technology. This results in exceptional brightness and a LED-like white beam. At the same time, it is still 100% DOT compliant.
These lights produce 1,700 lumens, making them super powerful. While the color temperature is 4,200K, blue coating filters give them a cooler appearance.
The SilverStar easily tops the lux meter when it comes to halogens at over 1,000 lux.
Philips Automotive Lighting H7 X-tremeVision – Worthy Consideration
These are the upgraded version of the CrystalVision. They cost a bit more for slightly better specs. This makes them worth considering if you have the budget.
They offer up to 100% better visibility compared to stock halogens. This is partly thanks to the whitish 6000K color temperature.
As the whitest lights, here they offer the best nighttime performance. The reflectivity makes reading signs a breeze.
Scoring 850 lux at 20 feet, it lies in between the CrystalVision and Sylvanias.
My overall thoughts
I recommend Philips CrystalVision Ultra for aesthetics plus to improve nighttime driving.
These bulbs punch above their weight class at an affordable price. The cooler color temperature does a great job of highlighting objects and signs in the dark.
Although they aren't the brightest, they enhance your visibility. This is thanks to the white color profile and Philips' focused beam pattern.
You'll immediately notice the difference while driving at night. And, your car will also turn heads with new Cobalt-blue tinted headlights.
Plus, it takes no extra effort to install thanks to the OEM connectors. Just plug them in, and you're good to go.
It's an easy and affordable way to improve your safety and comfort driving at night.